Disclaimer: The information in this article should not be taken as legal or financial advice.
If you're reading, you may have already decided that an online will is sufficient for your sitch. But if you haven't really given this much thought yet, make sure you read Online Wills: Should I Even Bother? first. We explain who should go straight to an estate planner and who can get by with an online will until they can prioritize an attorney down the road.
Moving on! Rather than provide you with an endless list of options, we've rounded up what we feel are the best no-nonsense will tools online. Our unbiased reviews of each are below. The list is short so you can poke around quickly to figure out the right tool for you. FYI: We do not receive any compensation from the companies listed below.
Tip (and plug for Cake): Once you create your will, upload it to a free Cake end-of-life planning account for safekeeping and sharing with your family. A will is no good if people can't find it or access it! Cake can also help you plan and organize all the other stuff your family would need if something happened to you. You're on the Cake blog right now.
Top 2 FREE Online Will Tools
If your motto "if it's free, it's for me!" — then we've got you covered with these easy-to-use options. Free doesn't always mean you have to compromise. These tools will help you create a basic will in a matter of minutes. Once you're done, upload your signed will to a free Cake account for safekeeping and sharing with your family.

The Scoop: This is a super-fast way to spin up a will you can download and sign. The team at Fabric really worked hard to make this easy and pleasant to use. Dare we say, fun? You can designate a guardian if you have children, make specific bequests (designate specific assets to be given to certain people), and record some basic wishes for your funeral. Start to finish, their process takes less than 5 minutes.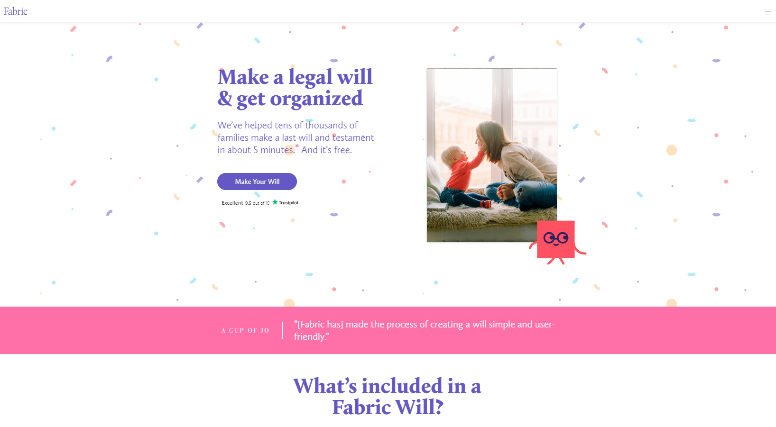 Why it's free: This tool is provided by Fabric, a term life insurance company. So just go into it knowing that you may see some life insurance ads/emails as a result. But if you also need life insurance, that may not be a bad thing. Fabric has 9.5 stars on Trustpilot, so people appear to really find value in their life insurance offering.
Make a will with Fabric
(Remember to upload it to Cake after!)

The Scoop: Yup. That's what it's called! Simple and straightforward. The process is very similar to what you'll experience with the Fabric will tool —albeit with less pizzazz. If you don't need or want to hear about life insurance, you may want to check out this tool instead.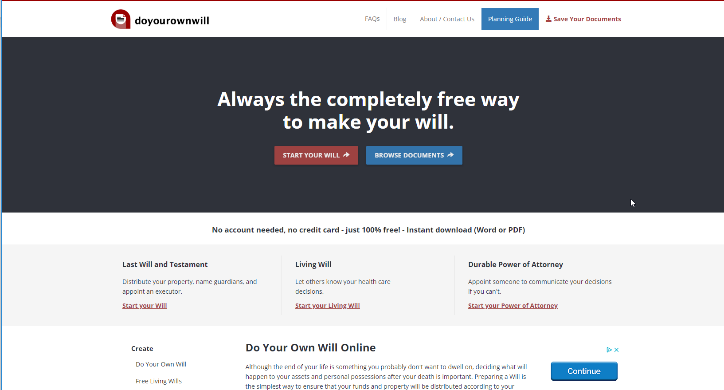 Why it's free: They accept donations to keep their free service going. It also appears they make some money off ads placed on the site. Be aware that these ads are designed to look like they are part of the website but actually take you to paid sites like LawDepot when clicked. We think that's a little sneaky. So just be careful where you click.
Make a will with Do Your Own Will
(Remember to upload it to Cake after!)
Top 2 PAID Online Will Tools
We know some people feel odd getting something for free. If you feel more comfortable paying for a will that comes along with some basic protections, we recommend these options. However, the output isn't much different from what you'll get with the free tools above.
The Scoop: This website has a modern feel and doesn't host any intrusive ads on its site. Super easy, taking you from no will to completely covered in about 10 minutes. Modern look and feel.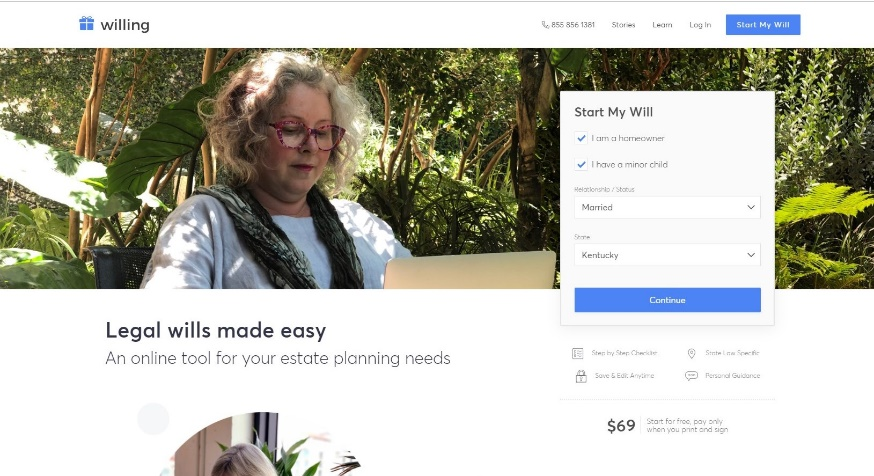 What it costs: Free to start, $69 to print out your completed will
Make a will with Willing
(Remember to upload it to Cake after!)
The scoop: Easy to use. Also includes a HIPAA Authorization form and Living Will form. It's easy to amend your documents on their site (you get unlimited document updates for the 1st year). They also offer services for declaring guardianship and making trusts at an additional cost.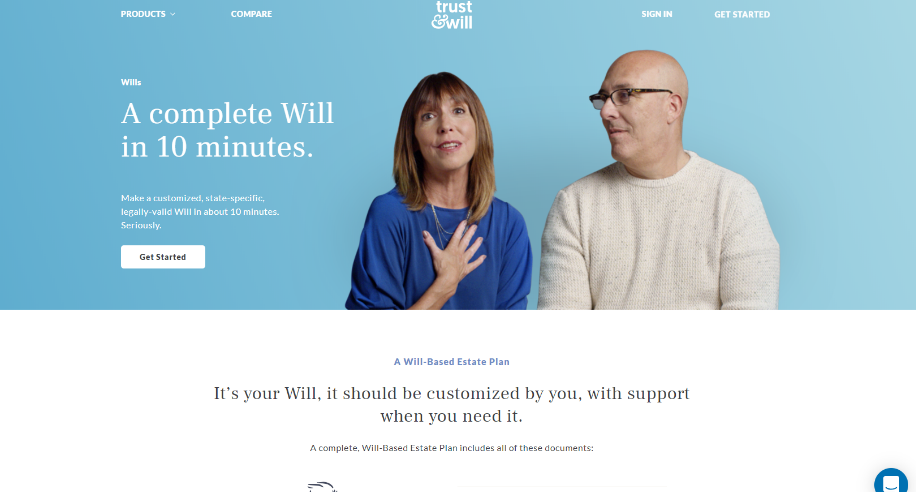 What it costs: $69 (+$60 to include a spouse) | There is a 30-day money back guarantee.
Make a will with Trust & Will
(Remember to upload it to Cake after!)
Signing your will
These online will sites only help you prepare the will. After you print it, you still need to sign it the right way. Make sure to check your state's laws to find out what's required for signing your will. Typically, two witnesses and a notary are required, so don't just sign the will as soon as you print it!
Don't forget to plan for everything else
The concept of making a will is usually the first thing that comes to mind when people hear the term "end-of-life planning" or "getting your affairs in order." The reality? A will is just one piece of the pie. Some might argue it's not even the most important piece of planning to have sorted when you consider other things like advance directives or life insurance.
If you're looking to make a will, chances are you're reaching a life milestone. Maybe you've just bought your first home or had a child. Perhaps you're preparing for retirement. Or you may be faced with a serious illness that makes this planning all the more urgent.
Whatever your motivation to create or update your will, make sure you don't forget all the other important pieces of a comprehensive end-of-life plan. Cake can help you!
Cake is a free end-of-life planning website (you're on the Cake blog right now) that helps people document and share all their critical healthcare, estate, funeral, and legacy decisions. Responsible adults of all ages should do this — both for themselves, and the family members they want to protect and unburden after they are gone. Life is unpredictable, but planning can offer real peace of mind. It's also a huge gift to leave behind for those you care about most. Make your free Cake End-of-Life Plan today!
Disclaimer: The information posted on this site is provided solely for informational and educational purposes and is not legal advice or tax advice. Contact an appropriate professional licensed in your jurisdiction for advice specific to your legal or tax situation.