Just like our humans get hurt or sick all the time, so do our pets. The difference is humans might have a medical plan available to absorb the cost of care. So, you might be thinking wouldn't it be great if your pet did, too?
Jump ahead to these sections:
Many of your pet's advanced veterinary treatments and medications won't be cheap. And some people might have to use savings, use a credit card, or borrow from a loved one to pay the vet's bill.
And other times, there just isn't enough cash or credit available to help. The beauty of a pet insurance policy is that it can keep you from saying "no" to medical care for your dog or cat simply because of the price tag.
Sounds great, but is it right for everyone? And if it's right for you, how do you go about finding the best pet insurance plan? Let's find out.
What Is Pet Insurance?
Pet insurance is basically health insurance for your pets. In essence, you pay a monthly premium in exchange for partial or full coverage of your pet's medical needs.
Pet insurance covers some or all of the medical bills for your pet's vet care when they get hurt or sick. Of course, you can also get pet insurance that has extra wellness benefits that'll pay for procedures like heartworm testing, spaying/neutering, and vaccination shots.
Just like health insurance, pet insurance has premiums, deductibles, waiting periods, copays, maximum benefits, and an application process.
There are quite a few different pet insurance companies, as well as a few different types of plans. You can shop, get quotes, and compare policies until you find the right fit for your pet, just like you would for other types of insurance.
How Does Pet Insurance Work?
In a nutshell, pet insurance works like this:
Pick your deductible either per year or per incident

Decide on a copay percentage or reimbursement level

Pay a monthly premium for the policy

Go to any veterinarian you want for medical care

Pay the vet, then submit a claim to the insurance company

Get reimbursed for covered treatments
What does it typically cover or not cover?
First, know that every pet health policy is different, but most will not cover any pre-existing conditions, which are any medical conditions that your cat or dog had before you bought the coverage.
Things like diabetes, heart disease, cancer, arthritis, orthopedic issues, hyperthyroidism, dental disease, and hip dysplasia won't be covered by a new pet insurance plan. Keep your eyes open because there are a few pet insurance plans that will cover a pre-ex condition that's been cured for a certain amount of time.
Unless you buy a policy that specifically includes wellness benefits, then your vet bills for routine immunizations and tests, flea and tick treatments, grooming, boarding, micro-chipping, special diets, holistic or homeopathic treatments, and routine check-ups won't be covered either.
Finally, if you do anything that's looked at as unnecessary or inhumane, don't expect your pet insurance to pick up the bill. That means you'll be on your own when it comes to the expense of ear cropping, declawing, or tail docking.
So, your pet health insurance will usually cover everything else that happens to your pet as long as it's medical care caused by a new illness or injury.
How do premiums, claims, and payouts usually work?
It's key to understand your pet policy premiums, claims, and payouts, so you can find the best policy.
Premiums: This is the monthly cost you'll pay each month for your pet's health insurance, and the amount will depend on a few factors, such as your deductible amount or type of coverage.
It's important to remember that the more the insurance company is willing to pay, whether you get a lower copay percentage or have a high annual maximum amount, the higher your premium. And, when you buy add-on coverage to juice up your policy, you'll pay more.
Here are a couple of things to keep in mind when it comes to pet health insurance premiums:
Younger pets are cheaper to cover since they usually have few health issues

Cats cost less than dogs to insure

Male dogs have the highest premiums and female cats the lowest premiums

Big dogs tend to cost more to insure because they usually have more health problems and shorter lives

Pure breeds are more likely to get hereditary diseases so they can cost you more for coverage

Pet parents living in the 'burbs usually pay less than those living in the city
Claims: You pay out-of-pocket to the vet's office and then file an insurance claim afterward. The insurance company will review your claim, including your final receipt and treatment notes.
Once the claim is approved, then you'll be reimbursed via a paper check or a direct deposit. Claims for pet insurance are typically quick. We're talking two or three business days for basic claims. If you have a more complicated medical bill, then expect to get your money back in about a week or two.
Payouts: Your pet's insurance will most likely have a maximum payout amount. The payout may be capped per year, per incident, or per the policy's lifetime. Of course, if you look closely, you can find a few pet health policies that will skip the payout maximum.
What Are the Different Types of Pet Insurance?
Picking the right type of pet insurance will make a big difference in what you pay and how happy you are with the coverage. Here's a summary of the main types of pet insurance, including the good and bad.
Accident-only pet insurance
Accident-only pet insurance will only pay medical bills related to an accident, so bills for illnesses or wellness treatments aren't covered.
This type of pet coverage can be a good choice for pet parents on a tight budget or someone that has a senior pet with pre-existing conditions. People wanting to insure multiple pets may prefer an accident-only policy, too.
The pros
Good option for energetic dog breeds or kittens and puppies, who are more likely to injure themselves

Older pets can still qualify for an accident-only plan

Cheaper than the other types of pet insurance

Pets that have a long term illness may be eligible for accident-only plans
The cons
No coverage for illnesses

Doesn't cover wellness checkups

The only choice for pets 15 years old or older.
Wellness (routine care) pet insurance
This type of pet insurance is also called "routine care" coverage. The idea behind this type of pet insurance is to cover all the proactive treatments needed to keep pets from developing chronic health conditions.
The pros
Not as costly as a comprehensive pet policy

Routine care for your dog or cat will be covered, like blood work, immunizations, flea and heartworm prevention, urinalysis, some diagnostic tests, and check-ups.
The cons
More expensive than a basic accident-only pet policy

Injuries and illnesses (new and old) are not covered

Many times, routine care can cost you less out-of-pocket each year than the premiums for a wellness pet policy, so it isn't always the most cost-effective choice
Comprehensive pet insurance
Comprehensive pet insurance is the most complete policy you can get for your pet. That's because it includes both accident and illness coverage. Sometimes you can even find a high-level comprehensive plan that covers wellness treatments, too.
The pros
The most robust pet insurance you can buy for your pet

The younger the pet, the better the pricing

Covers dental disease,

Rx therapeutic diets or supplements, alternative and holistic treatments, and hereditary or congenital conditions

May include protections for surgical treatments, putting your pet to sleep if medically necessary, and cremation or burial

A great option for senior animals that are more likely to develop chronic health conditions

Good for breeds that are known for having certain diseases tike osteoporosis or diabetes
The cons:
The most expensive pet insurance being sold

You may pay quite a bit in premiums and never use all those extra coverage
What Are the Key Features of Pet Insurance Policies?
Once you figure out the best type of pet insurance for your faithful companion, it's time to customize the coverage's key features like the ones below.
Deductibles
This is the amount you'll pay out-of-pocket until your insurance policy kicks in.
Same as your own health, home, and car insurance, you'll have to decide on a deductible for your pet insurance plan. The higher your deductible, the lower your monthly premium will be.
Reimbursement levels
Each pet insurance policy will pay a specific percentage of the covered medical costs, and it will vary among plans. Insurance companies typically cover anywhere from 60% to 90% of covered medical care.
Waiting periods
Most pet insurance companies will put a waiting period on their pet health policies. During the waiting period, pet parents can't submit a new claim. They have to (you guessed it!) "wait it out." Waiting periods can vary from state to state and insurer to insurer. It's common for waiting periods to last anywhere from 14 to 30 days.
The reason for waiting periods is to make sure you aren't signing up for pet insurance because you already have a vet bill ready to submit.
Enrollment age requirements
There is usually a minimum age (weeks) and a maximum age (years) that your pet must be to sign up for coverage.
The age requirements can be different for dogs versus cats. Different breeds may also have different age requirements.
Spending limits
This is the maximum amount the insurance company will pay towards your pet's medical bills. The lower the spending limit, the lower your premium will be.
There are normally four different types of spending caps, and you'll have to decide which is best for your pet.
Lifetime limits:

Maximum dollar amount for the life of your pet. Once your pet reaches the maximum dollar amount for this type, the policy is done. You won't have any more benefits available.

Annual limits:

Maximum dollar amount per year. When the new year comes, the Annual Limit starts over again.

Per incident limits: Maximum dollar amount per accident or diagnosis.
Policy exclusions
Just like your own health or life insurance plan, there will be a list of treatments that won't be covered by the pet plan. It's so important to take a look at and understand the exclusions under your pet health insurance plan.
Depending on the type of pet insurance you pick, you might see exclusions listed like this:
Acupuncture and/or alternative medicine

Hospitalizations

Dental care

Chronic conditions (e.g. diabetes or arthritis)
When Is Pet Insurance Worth It?
Buying a pet insurance policy is really a long-term investment in your pet's future. You'll want to consider all the options before you sign on the dotted line. If you're struggling to decide whether pet insurance is worth it, take a look at this list below.
You might need pet insurance if...
You want to choose your vet

: Freedom to have your pet treated by any veterinarian, animal clinic, specialist, or emergency animal hospital that you want. There aren't any network restrictions, like with health insurance.

You may not be able to pay the vet in full

: Pet insurance deductibles are almost always lower than the vet's invoice. Coming up with the money for a deductible will be a lot easier than paying for all the medical charges in full.

You can afford $1.29 per day

: You could possibly get coverage for your pet that costs less than a cup of coffee. Comprehensive pet insurance for dogs averages $1.29 per day ($39.23 monthly). For cats, the price averages $0.78 per day ($23.75 per month).

You like to keep it simple

: Pet insurance is a heck of a lot easier to understand than human medical coverage. You can compare policy quotes from a few different pet insurance companies for free, and there's no underwriting like with health insurance plans.

You want to avoid "economic euthanasia"

: It would be heartbreaking if you had to decide between going into debt paying for your pet's health care versus putthing them to sleep because they're ill.
You might not need pet insurance if...
You're worried about paying for care upfront

: If coming up with cash upfront to treat your pet will cause financial hardship, then pet insurance may not be very helpful.

You don't want to pay for anything

: Even the most robust pet insurance policy will still expect you to kick in about 20% of the total bill. That doesn't include your monthly premiums.

You don't want any coverage limitations

: That's not something you can really avoid. All pet insurance plans will have some excluded injuries, illnesses, or medical treatments. Most pet coverage also has maximum benefit limits either per-incident, per year, or per lifetime.

You just want to save on shots and check-ups

: Unless you get a more expensive pet plan that includes wellness benefits, you'll still end up paying for routine care. Plus, you'll be paying a monthly premium. In this case, it might be better to skip the pet insurance.

You have a tight budget

: Older pets, comprehensive policies, pre-existing conditions, breeds with lots of medical problems. All of these types of things can really drive up the price for pet health insurance, possibly more than $50 per month.
What Are the Steps for Buying Pet Insurance?
Maybe you're ready to move a little closer to getting your pet to getting their very own pet health insurance plan. There are a handful of steps you can take right now to get closer to insuring your pet.
Step 1: Start researching
Get to know different pet health insurance companies. Begin by talking with your vet, asking around among friends and co-workers, talking with your insurance agent, or doing old-fashioned online research.
Step 2: Get quotes
Most pet insurers let you run online insurance quotes. Run a variety of quotes from different companies so you can get the best price.
Step 3: Read carefully
Once you get the insurance rates, be sure you also get policy outlines that'll give you info about deductibles, exclusions, maximum limits, pre-existing condition terms, and other features.
Read carefully through all the details to be sure you understand what you may (or may not) be buying.
Step 4: Run the numbers
Sit down with your calculator and do some figuring. How much is the premium, copay, deductible? How much does your vet charge for different services? Can you afford the pet policy? Or the bigger question: can you afford to go without it?
Popular Pet Insurance Companies in the U.S.
When you get a pet insurance quote, you'll likely see several of the companies below. Here's what you need to know about the policies they offer, where they're available, and other key information.
Trupanion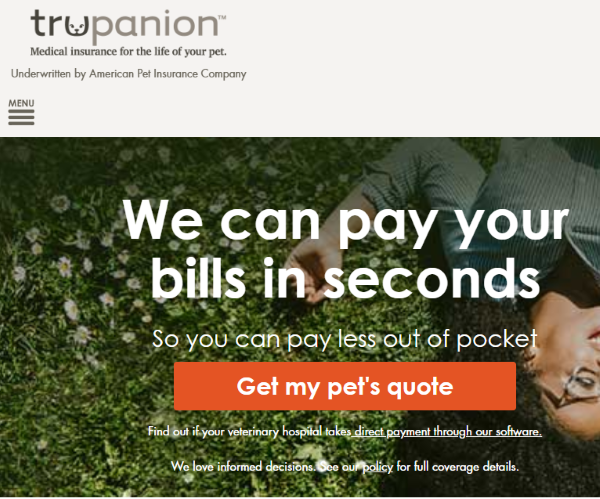 Types of pet insurance offered? Comprehensive pet policy
States it's available? All 50 U.S. states, D.C., Puerto Rico
Offers online quotes? Yes
Since 2000, Trupanion has been a popular pet insurance carrier choice. You'll get 24/7 assistance, as well as specialized benefits that you can't find anywhere else.
For instance, Trupanion swears they'll never go back and revise your policy exclusions after renewal just to keep you from getting certain coverages for your four-legged baby. Maybe the best feature Trupanion gives is basing new premiums on your pet's age at signup instead of the actual birth date.
Progressive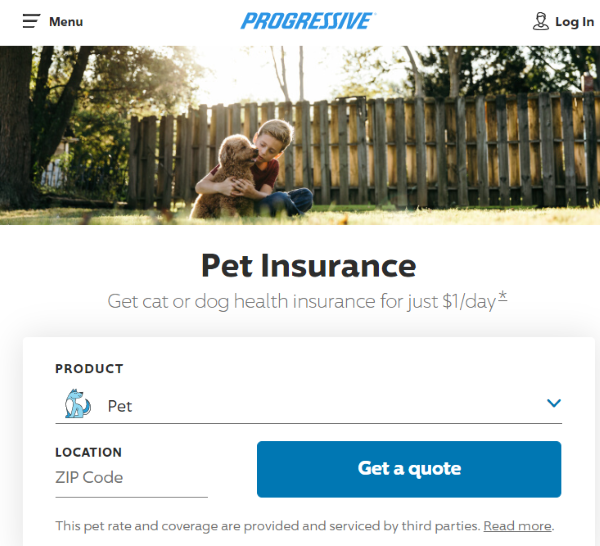 Types of plans available: Comprehensive, accident-only, and wellness routine care
Available states: All 50 states, D.C., Puerto Rico
Offers online quotes? Yes
Flo doesn't just look out for your car, house, motorcycle, or boat. You can also make sure your pets are protected by a Progressive pet insurance plan.
Once your cat or dog turns seven weeks old, you can get them covered under a comprehensive policy with up to a 90% reimbursement level. Progressive says their BestBenefit Accident and Illness Plan can be as low as $1 per day, even with a generous 90% reimbursement.
ASPCA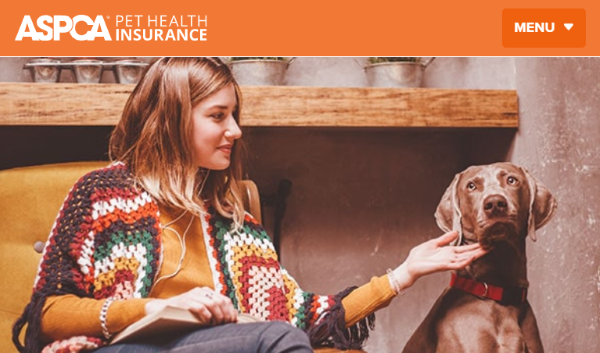 Types of pet insurance offered? Comprehensive Pet Policy
States it's available? All 50 U.S. states, D.C., Puerto Rico
Offers online quotes? Yes
ASPCA Pet Health Insurance is probably one of the first pet insurance companies as they've been on the scene for 23 years.
Over the last two decades, ASPCA has processed 1.6 million claims and covered more than 400,000 pets. Getting a comprehensive ASPCA pet policy to cover illnesses, accidents, hereditary conditions, and even behavioral problems. You can pick from three different deductible options, as much as 90% in reimbursements, and annual coverage limit that goes to $15,000.
Embrace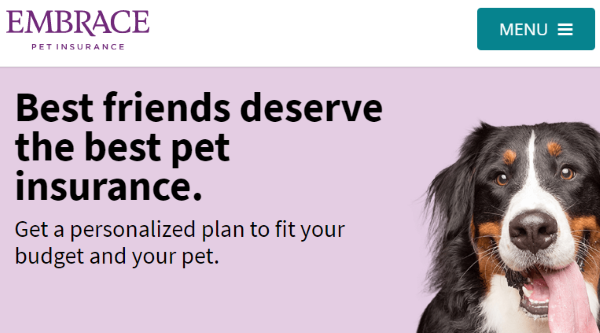 Types of pet insurance offered? Comprehensive pet policy, wellness rewards
States it's available? All 50 U.S. states and D.C.
Offers online quotes? Yes
Founded in 2003, Embrace burst onto the pet health scene to find interesting coverage choices. Embrace sells comprehensive pet policies that give you the choice of reimbursement, annual maximum amount, and annual deductibles.
Even better is getting a "healthy pet deductible" (also known as a diminishing deductible) that's reduced by $50 every year that you don't file a claim. Plus, you can try to get a 10% multi-pet discount if you have more than one animal to insure and/or a 5% military discount. Finally, you might get a kick out of Embrace donating $2 to a pet-related charity for every policy sold.
Geico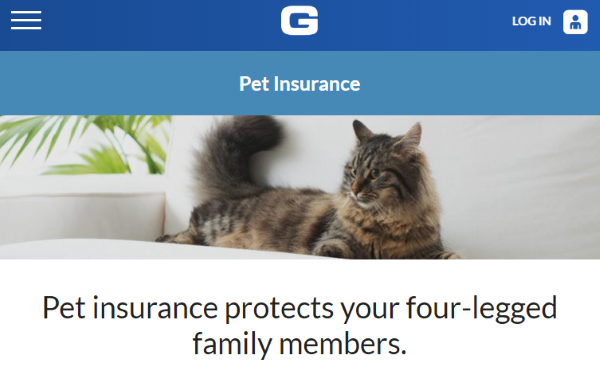 Types of pet insurance offered? Comprehensive pet policy
States it's available? All 50 U.S. states and D.C.
Offers online quotes? Yes
Geico is another famous property and casualty insurer that's mostly known for car and home insurance. Let's face it, they aren't dummies.
Geico knows how much Americans love their pets and want to protect them. It kind of makes sense that Geico would get into pet health insurance by selling a comprehensive accident and illness pet policy. It just so happens that Geico's pet insurance is affiliated with Embrace.
Healthy Paws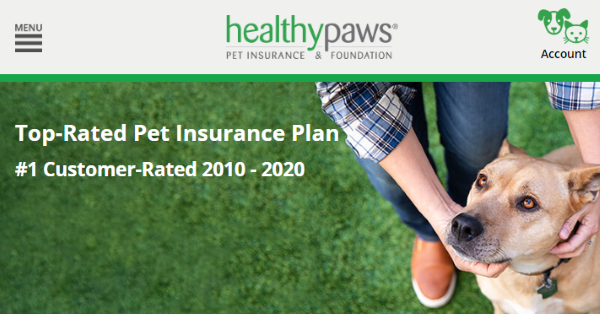 Types of pet insurance offered?

Comprehensive pet policy

States it's available? All 50 U.S. states and D.C.
Offers online quotes? Yes
Healthy Paws Pet Insurance was founded in 2009 and is currently safeguarding 450,000 pets. This insurer's pet insurance has no maximum annual or lifetime benefit limits.
Plus, Healthy Paws says it takes an average of two days to process 99% of all their pet claims. Finally, you may be thrilled to know Healthy Paws will cover alternative treatments for your pet, things like acupuncture.
Figos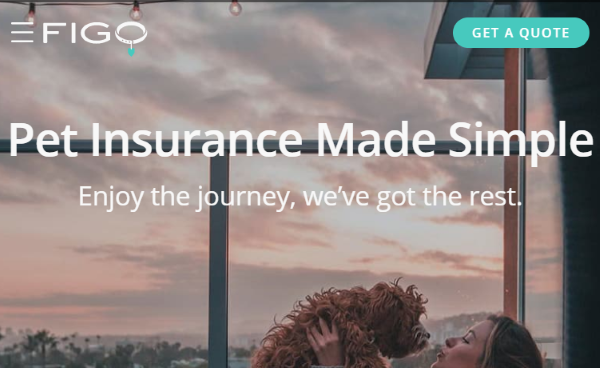 Types of pet insurance offered? Comprehensive pet policies (Essential, Preferred, Ultimate levels)
States it's available? All 50 U.S. states and D.C.
Offers online quotes? Yes
Figo often wins awards for their generous pet health plans. You can get 100% reimbursement, no per incident benefit limit, and one annual deductible. We can't forget their quick claims turnaround, as well as benefits for congenital and hereditary conditions.
Figo also caters to tech-savvy people that will enjoy managing their policy via a slick mobile app. The pet insurer also has a few nice perks that can be added to a pet policy like 24/7 live vet chat, cremation, and pet tags.
Petplan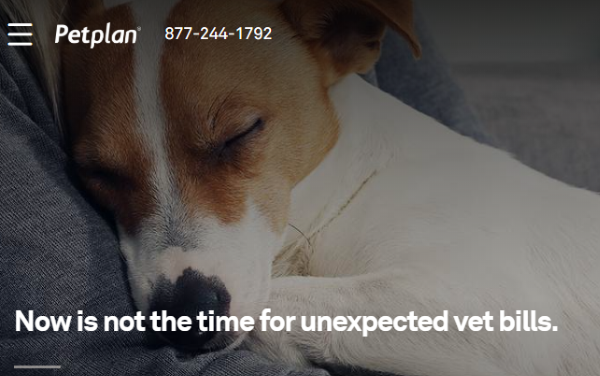 Types of pet insurance offered? Comprehensive Pet Policy (excluding wellness benefits)
States it's available? All 50 U.S. states and D.C.
Offers online quotes? Yes
Petplan enjoys working with pet parents that have the life motto "be the person your dog thinks you are." And Petplan policies are unique.
You can build great protection for your pet that has comprehensive dental coverage, doctor's office sick visits, holistic therapy (for example, chiropractic care), chronic and hereditary coverage without needing a rider.
PetFirst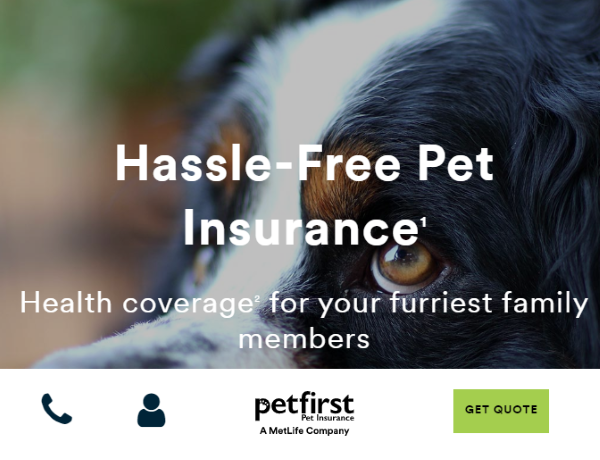 Types of pet insurance offered? Comprehensive pet policy, routine care rider
States it's available? All 50 U.S. states and D.C.
Offers online quotes? Yes
PetFirst was founded in 2004 and acquired by a giant insurer, MetLife. The pet insurer claims to have protected tens of thousands of cats and dogs. Like most of the pet health carriers,
PetFirst also offers customizable plans that allow you to pick your deductible and reimbursement rates. Not to mention, the chance to buy a Routine Care Rider that can be added to your main policy to cover wellness care. On the PetFirst website, they break down insurance plans by breed and your pet's age.
Pets Best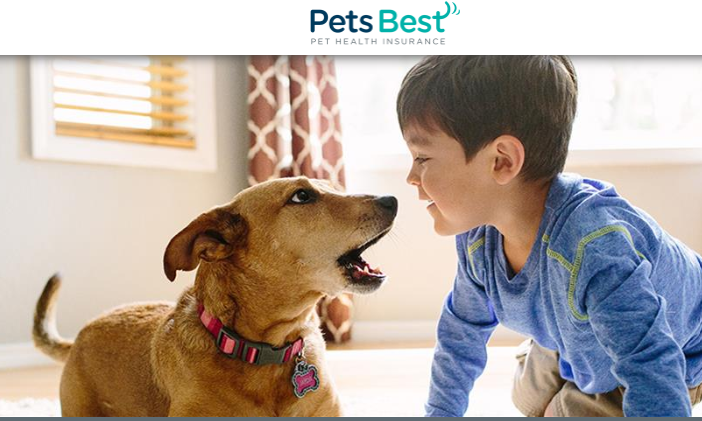 Types of pet insurance offered? Comprehensive Pet Policies (e

ssential, plus, and elite benefit levels)

States it's available? All 50 U.S. states and D.C.
Offers online quotes? Yes
Pets Best has been insuring pets since 2005. The carrier currently insures more than 100,000 U.S. pets. You can buy add-on benefit riders, pick from a big range of deductibles ($50 to $1,000), select coverage levels of either 70%, 80% or 90%, and choose from four different annual policy limits.
They sell customizable pet plans, as well as a unique 5% military discount and a 5% discount for insuring multiple pets.
Buying Pet Insurance: Frequently Asked Questions
Let's sniff around pet insurance a little more by going over some frequently asked questions.
How much does pet insurance typically cost per month?
Consumer Reports estimates comprehensive pet insurance for dogs averages $39.23 monthly.
For cats, the premium averages $23.75 per month. Accident only coverage for dogs is around $13.16 per month and $11.00 per month for cats.
How long does pet insurance take to kick in once you've signed up?
The average waiting period for most pet insurers is 14 days. You'll have to read the fine print on your pet policy to be sure.
Is there a difference in buying pet insurance for cats, dogs, or other animals?
Most pet insurance companies only cover dogs and cats. However, a few that will insure snakes, turtles, birds, rabbits, and other exotic animals. You'll want to check with the carrier you're interested in or talk with a licensed insurance agent.
Are there special pet insurance policies that cover multiple animals?
Yes, you can find pet insurance policies that will cover multiple animals. You can also get a multi-pet discount from some insurance companies, too.
Picking the Best Pet Insurance Policy
Now you know plenty about pet insurance, both the pros and cons. It's really up to you whether your pet is ready for their own medical insurance.
Think of it this way: would having an affordable, comprehensive pet insurance policy help you make better medical choices for your pet? If the answer is "yes," then it's time to start shopping for a pet policy.