If you're reading, you're either wondering if you need to buy life insurance or if you have enough of it. It's a confusing topic to navigate, so we wrote this guide to arm you with the essential knowledge needed to make a good decision for your family.
For those of you who like to jump ahead, here are some links:

STEP 1: Understand How Life Insurance Works   |   STEP 2: Figure Out If You Need Life Insurance    
STEP 3: Understand the Differences Between Term & Whole Life Insurance    |   STEP 4: Learn How to Buy a Term or Whole Life Policy   |  STEP 5: Notify Beneficiaries of The Insurance Policy  
APPENDIX:  Other Kinds of Life Insurance
STEP 1: Understand How Life Insurance Works

The two most common types are term and whole (permanent) life policies.
Term life policies protect your family or loved one in the event you die unexpectedly. People generally purchase this to provide supplemental income to help cover temporary financial needs (e.g., paying off mortgage, children's education). Term policies last for a designated number of years (usually 10, 15, 20, or 30 years), and, the policy only pays your beneficiary(s) if you die before your term expires. Premiums are paid monthly. These policies do not build a cash value. It's common for people to choose policies that pay between $250,000 – $1 million dollars, depending on their current financial health.
Whole life policies work a bit differently.  Those who purchase whole life are generally people of retirement age or older that want to leave behind an inheritance or ensure family won't have to assist with final expenses after death. The policies are also paid monthly. So long as you keep current with your fixed payments, your beneficiaries will receive a payout when you die. These policies do build a cash value. More on that later.
Before we go into a more detailed rundown of the two, let's start by figuring out if you need any life insurance at all!

STEP 2: Determine If You Need Life Insurance
Who needs life insurance, anyway?

The general rule of thumb is that if you have dependents, you'll need some sort of life insurance policy. If you fall into one or more of these 8 categories, we strongly suggest you consider it.
New or expecting parents [essential]
After the birth of a child, the way you think about the future is instantly reframed. You're suddenly figuring out a new role: the protector. In this case, life insurance ensures your child and spouse/partner will have an adequate financial cushion if you die unexpectedly. Typically, the main breadwinner of the household buys a policy – but it's not uncommon for both parents to have a policy – especially if they both intend to contribute financially to the household through income or domestic work that would need to be paid for in the event of that parent's death
Anyone with a mortgage [essential]
Whether you're buying a home with a spouse or hoping to be able to leave it to someone someday – an unpaid mortgage is debt that you need to protect them against. Life insurance can provide your beneficiaries with the funds needed to pay off a mortgage or keep making regular payments to avoid a foreclosure. Life insurance is essential protection for anyone with a mortgage.
Business owners [essential]
If you're a business owner, your family may be responsible for debts after your death. At the very least, the loss of income would impact your spouse or dependents. You also have people outside of your family to take into consideration. You may have partners and employees who depend on your expertise to keep the business afloat and profitable. For this reason, business owners often buy two policies: personal and business life insurance (sometimes called "key person insurance") to cover their families and their partners/employees.


Newlyweds [strongly recommended]
Marriage is a great time to consider buying a policy, especially if you are in your younger years when policies are cheapest to obtain. A policy would protect your spouse against financial hardships caused by your untimely death – loss of income, medical expenses not covered by insurance, burial costs, and any other debts you jointly shoulder. If you're getting married and already have children, it's essential.


Anyone caring for aging parents [strongly recommended]
More adult children are considering this financial protection to provide their parents with peace of mind, should anything ever happen to them. This is particularly important if your parents depend on you physically or financially. Would they be able to afford day-to-day personal care and living expenses in your absence? If you're not helping to care for them now, could that change in the next decade? You may want to think about a policy now, while it's cheaper for you to obtain.


Anyone caring for someone with special needs [strongly recommended]
If you provide care and/or financial support for a loved one with a disability, life insurance can provide a safety net to maintain the quality of their care, should you die unexpectedly.


People entering retirement [recommended]
Depending on your financial health, you may want to consider life insurance as you enter retirement. Term life insurance policies can be harder or more expensive to obtain at this stage of life. Many retirees are still eligible for whole life policies. It's a different sort of protection that guarantees a payout when you die, but it tends to be fairly expensive to obtain. The most common reason people purchase these policies is to make sure family will have easy access to funds to cover things like final health expenses, funeral costs, and other debts they may leave behind. Another common reason people buy whole life insurance is that they want to leave behind a larger inheritance.


New employees [recommended]
If you already have life insurance through your employer, but you're thinking of changing jobs, you may want to take a close look at your policy. Employer-provided life insurance policies may not be transferable if you leave for another company. The default benefit amount may also be on the low end. For that reason, many people decide to buy a separate, more substantial personal life insurance policy in addition to their company-provided policy.


 Who (probably) doesn't need life insurance?
High net worth individuals, without debt
If you have a private jet parked in the backyard, you might not need this safety net.


Single people without children or adult dependents
Caveat: if you have aging parents, you may want to consider the possibility they could become your financial dependents in the future. Or, if you want to ensure your final expenses are covered (e.g. funeral, medical bills), then you may want to consider whole life.
STEP 3: Understand the Differences Between Term & Whole Life Insurance
The next step is to understand the key differences between term and whole life policies. Here is a quick visual summary of what typically triggers someone to purchase one type over the other.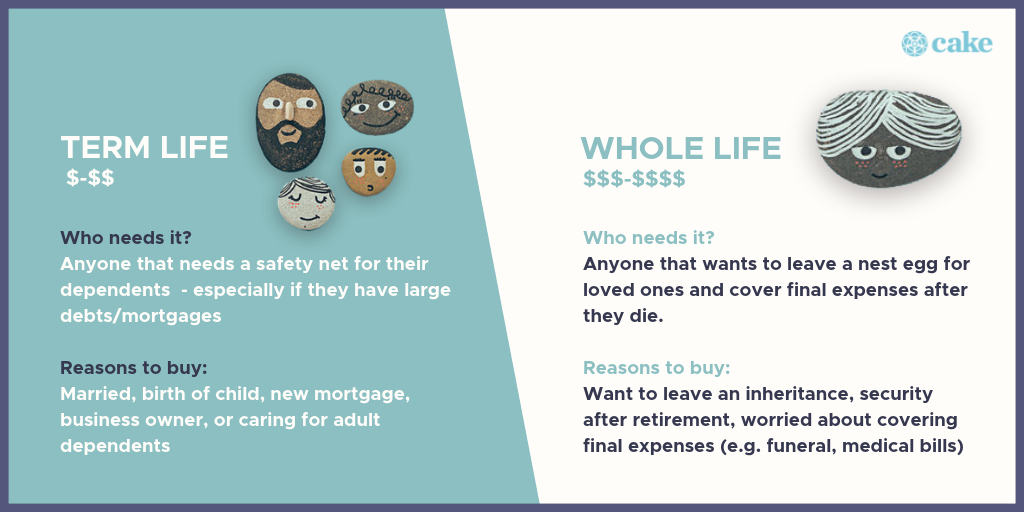 Here is a side-by-side comparison of the major differences between Term & Whole Life policies:
| | | |
| --- | --- | --- |
|   | TERM LIFE | WHOLE LIFE |
| Monthly premium costs | Affordable, especially for younger people | Costly, especially for seniors or anyone with health conditions. |
| Coverage period | A chosen term length (e.g., 10, 15, 20, 30 years) | Lifelong, so long as you pay the premium |
| When the benefit pays | Only if you die during the policy term | Upon death, anytime |
| Cash value | Does not build cash value: Your term policy will terminate without any cash value if you survive the term. | Builds cash value:  You may be able to borrow from your policy to obtain low-interest loans or withdraw a portion of your benefit for other uses prior to death. |
| Application process | Simple and fast online options available, doesn't always require a medical exam | Online options available, often involves a medical exam |

Cost Differences Between Term & Whole Life
From the chart above, you can see that whole life offers a cash value benefit advantage that term doesn't, so you're probably curious about the cost difference.
As premiums widely vary based on numerous factors like age, health, and location, we'll provide an example for illustration:
Term life: A 40-year-old man in relatively good health might expect to pay from $30 to $40 a month for a $250,000, 30-year term benefit.
Whole life: The same man might expect to pay $300-$400 a month for the same guaranteed death benefit.
As you can see, the guaranteed cash value benefit whole life offers comes at a significant cost. Younger families often find term life insurance to be a better solution.
It should also be noted that whole life insurance policies don't typically provide a big return on investment. Many financial and estate planners will tell you that there may be better ways to safely invest and grow your money to cover final expenses and leave behind a gift for loved ones.
STEP 4: Learn How to Buy a Term or Whole Life Policy
Click on a link below to learn about the process of buying a policy. We'll help you think through the right amount of coverage, and point you in the direction of companies we trust.


How to Buy Term Life Insurance      |       How to Buy Whole Life Insurance
How to Buy Term Life Insurance
1. Choose a term length that aligns with your family's financial goals
Most insurers offer term lengths of 10, 15, 20, or 30 years. Think about your goals and how they align with one of these term lengths. For example:
If you have a 30-year mortgage, you may decide that a 30-year term life insurance policy is the betterchoice.
If you expect your children to have finished their education or a retirement plan to vest within 20 years, then you might choose a 20-year term policy.
2. Estimate how much money your family would need 
Younger families with children and a mortgage typically consider policies that range from $250,000 to $1 million. This simple life insurance calculator from Haven Life can help you calculate the right amount of coverage for your unique situation.
If you're more of a "back of the envelope" kind of person, ask yourself the following:
If you have children, how much money would you want to ensure they have for education?
If you have a mortgage, what would it cost to pay off tomorrow?
How much money would your family need each month to maintain their comfort?
What monthly bills your family would have to shoulder?
What debts would have to be settled on your behalf?
How much would be covered by my savings?
Tally it up!

3. Get a quote or start a term life application
We strongly recommend these three forward-thinking companies that use technology to make the process simple, fast, and affordable. On top of that, they are committed to offering a great customer experience.

MassMutual
MassMutual offers high-quality, competitive term life policies through a quick online application process.

Get a quote, apply, and receive an immediate decision to purchase a policy within minutes. Healthy, qualified individuals can start immediate temporary coverage upon submission of their complete application. MassMutual Direct Term policyholders also have the option to convert their term life policies to permanent (whole) life policies if the need arises. Not every term life insurer offers that flexibility —life can be unpredictable, so we think that's a good option to have in your back pocket.

Ladder Life
Ladder Life is another tech-first insurance company that offers a five-minute online application, the flexibility to adjust options as needs change over time, and in some cases, instant online approvals.  They've been named as one of the Top 10 Most Innovative Companies for Finance by Fast Company, and have a 9/10 customer rating on Trustpilot.  We've gone through the online application, and it's pretty simple!

Policygenius
Policygenius provides you with quotes from top insurance companies for side-by-side comparison and efficient decision making. They have some great educational content and focus on providing you with quotes from the best companies so you can make an informed decision before moving ahead. They have one of the higher customer ratings we've seen on Trustpilot: 9.6/10.  

Sponsored content disclosure: Some of the services and products listed may compensate Cake if you purchase or sign up. This helps us keep Cake free for you. We only feature reputable companies that we trust and strongly recommend.


JUMP TO:  STEP 5: Notify Beneficiaries of The Insurance Policy 


How to Buy Whole Life Insurance
 1. Determine your goal
Cover final expenses: If your primary concern is burdening your family with funeral costs, you may opt for a modest policy under $25,000 for your own peace of mind.


Pass on an inheritance: Some individuals choose much larger policies as a way to cover any final expenses and provide a nest egg to their beneficiaries.
It should be noted that there may be better ways to pass on an inheritance than using a whole life insurance policy. If you have a high net-worth, we recommend consulting with an estate planner about the best ways to protect, grow and pass on your wealth, as whole life policies do not tend to provide a high return on investment.
2. Understand the costs
As with term life, your whole life insurance premiums could depend upon your age when you apply, your relative health, your location, and the insurer.

As an example, a $250,000 whole life policy might cost almost $300 a month for a 40-year-old man and somewhat less for a woman of the same age.
3. Get a quote for a whole life policy
Buying whole life may require medical exams, more complex applications, and often, a long underwriting process before acceptance. There are, however, more forward-thinking companies making this process easier.

We strongly recommended Policygenius as the best resource for obtaining whole life quotes.
Policygenius works with top insurance companies to offer you a much simpler, faster, and more transparent whole life application process online.  We're also a big fan of their educational resources.
Sponsored content disclosure: Some of the services and products listed may compensate Cake if you purchase or sign up. This helps us keep Cake free for you. We only feature reputable companies that we trust and strongly recommend.
Step 5: Notify Beneficiaries of The Insurance Policy
Several years ago, Consumer Reports revealed that over 1 billion in life insurance benefits had not been claimed from life insurance companies. Why? Life insurance companies don't always have up-to-date contact information for beneficiaries. They aren't always notified that the insured person has died.
The best way to protect against this scenario is to make sure your beneficiaries are aware the policy exists, and what insurance company they need to contact after your death.
How can you notify them?  
We think the easiest way is to store and share your life insurance information online using a free Cake profile. Cake is a free end-of-life planning website  (you're on our blog right now!) that helps you discover, store, and share your last wishes and important documents with loved ones.
Store and securely share your life insurance information with Cake to make sure your investment pays off, if or whenever it's needed.


Notify Beneficiaries with Cake
If you prefer to do this without using Cake, you should share hard copies of your policy information with your beneficiaries, estate executor, and lawyer (if applicable).
We hope you've found this guide to be a helpful resource. We're always open to feedback. If there's something you feel this article is missing, drop us a line at support@joincake.com to let us know!
Appendix: Other Kinds of Life Insurance
We've focused on comparing basic term and whole life policies. You can also find both term and life policies with extra options, features, and benefits that may address some of the disadvantages of either. For instance, some insurers will allow you to convert your term policy to permanent coverage in case you change your situation, requirements, or even your mind.
Besides finding term or life with additional benefits, you may also decide to explore other kinds of life insurance:
Universal life: Like whole life, universal life insurance is permanent and can grow a cash value. Within limits, premiums and death benefits are flexible. People may choose universal life when they're interested in life insurance and a tool for savings.


Final expense: Often called burial insurance, these are small, whole life policies that insurance companies usually offer to people from age 50 up to age 80 or even 85. Death benefits might range from a few thousand up to about $25,000. Typically, insurers make final expense insurance easier for older people to apply for and get accepted for. Since the face values are modest, many people find final expense insurance affordable.


Variable life: This kind of permanent life insurance has a cash account that works more like a mutual fund than a simple savings account with a guaranteed return rate. Because variable life may offer more returns and also more risks, you purchase them from brokers who are licensed to sell securities. 


Business life insurance This type of policy protects your business partners and employees in the event of your death. If your business is adversely affected by your death, this policy will protect the company. It is sometimes referred to as "key person insurance."