Losing a pet can be just as devastating as losing a member of the family. For many people, pets become members of the family. They're included in family photos, taken on vacations, and enjoy living life right alongside their favorite people. When these beloved creatures pass away, it can create a sense of emptiness in the house and the hearts of those left behind.
Overview: Our Top Picks
Personalized Cat Memorial Gift Ideas
DIY Cat Memorial Gift Ideas
Simple, Inexpensive Cat Memorial Gift Ideas
Cat Memorial Gifts for the Garden
Statue Cat Memorial Gift Ideas
Jump ahead to these sections:
While memorial gifts certainly won't bring a pet back, they can help family members cope with the loss of their furry friends. If you're looking for a memorial gift for a friend or family member to help with the loss of a cat, use these gift ideas to bring a smile of remembrance to their face.
Personalized Cat Memorial Gift Ideas
Personalized cat memorial gifts are unique items that inspire pet owners to think about the good times and happy memories they had with their pets. These gifts are especially meaningful and sentimental since they can be personalized for each pet that is part of a family.
1. Suncatcher or windchime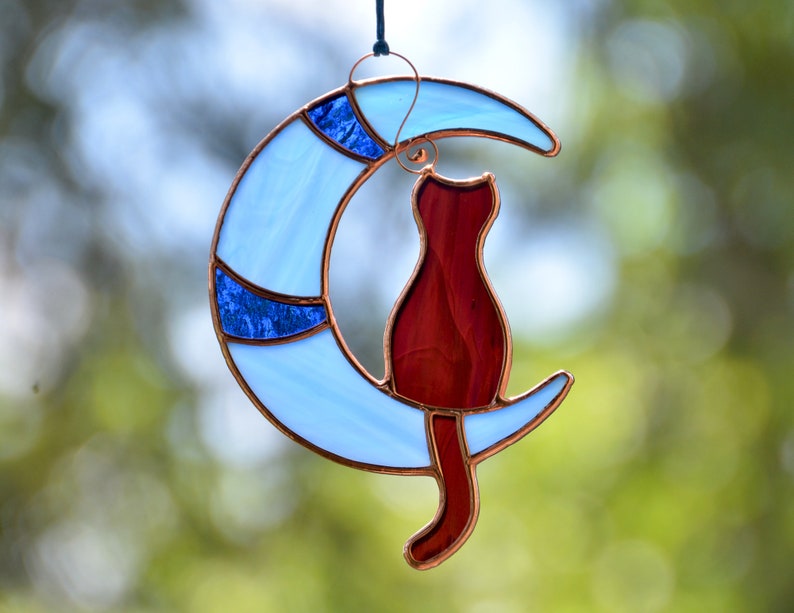 Suncatchers and wind chimes are not only beautiful pieces of artwork, but they bring beauty into our lives through the chimes and sounds they create. Just like the animals we love, a wind chime is present to provide an owner with joy.
These can be customized in several ways. You can have the cat's name and dates inscribed on the clapper that hangs down or have their picture printed on it. Some wind chimes have room for an inscription at the top or provide the option to add a cat charm to the clapper for an extra measure of personalization.
2. Personalized memorial stone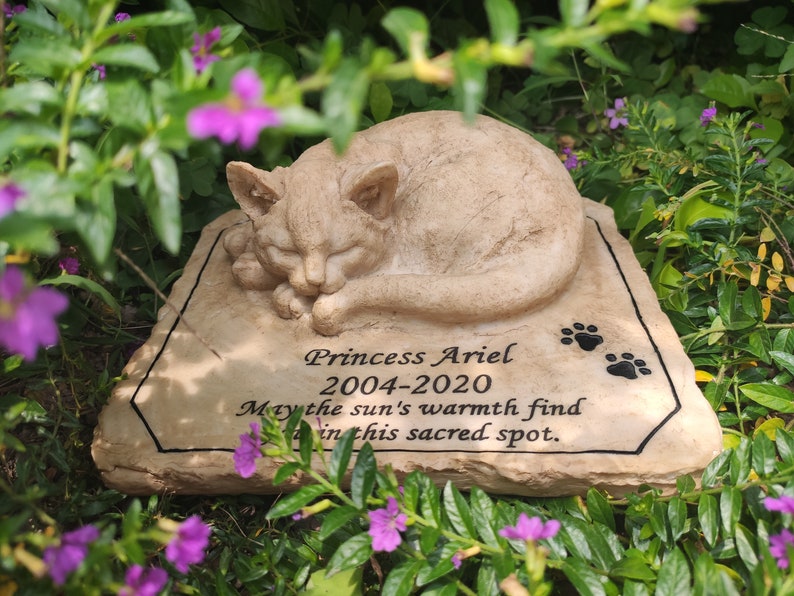 Memorial stones make a perfect accompaniment to a pet memorial garden. These come in a variety of styles and can all be customized. Some options to consider for your pet or a friend's pet include:
Pawprint impression memorial stone.

Painted picture memorial stone.

Colored stone or broken ceramic memorial stone.
Pro tips: Be sure to include the name and date of the kitty the stone is for along with a phrase such as, "In memory of."
Keep in mind that pawprint impressions need to be taken while the kitty is still alive. These stones come in kits with the Plaster of Paris and everything needed to decorate the stone. They can be made ahead of time and then gifted to a friend after their cat passes away.
Painted memorial stones will need to be sealed with a clear all-purpose, all-weather sealant to preserve the painting against the wind, rain, snow, and sun if placed in a garden.
If you're looking for something smaller and more tangible, companies like Parting Stone create beautiful, handheld cremation stones to help someone grieving keep their loved one close by.
3. Cremation jewelry
Cremation jewelry is one of the more unique pet keepsake ideas available to grieving pet owners. There are as many types of cremation jewelry as there are pet owners so take your time in choosing something you know your friend or family member would enjoy wearing in tribute to their beloved pet. Here are several types you can choose from:
Necklace urns: Small pendants in numerous designs that can contain a portion of the cat's ashes.
Bracelet urns: A bracelet that looks like a fine piece of jewelry with a small inconspicuous charm that holds a portion of a cat's cremains.
Keychain urns: Small pendants that contain a portion of a cat's ashes, often with an accompanying charm that has the cat's name and dates engraved.
4. Memorial pillow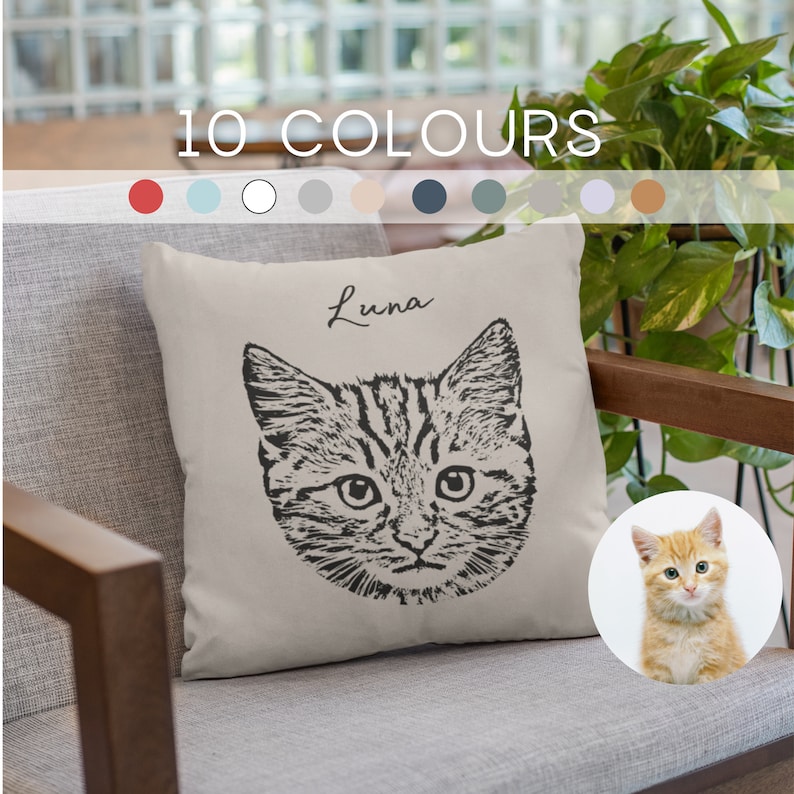 A memorial pillow can bring comfort and provide a sense of the cat's presence. These often contain a picture of the cat along with the name, dates, and a phrase such as, "Gone but not forgotten" or "See you at the rainbow bridge."
If you want something more unique than the traditional pillow with a picture, opt for a custom cat pillow that is made into the shape of a cat using the cat's full picture. These work best with cats when they are sitting up or laying down. Once in pillow form, it looks like the cat is sitting on the couch just like they always did.
5. Memorial sleeping cat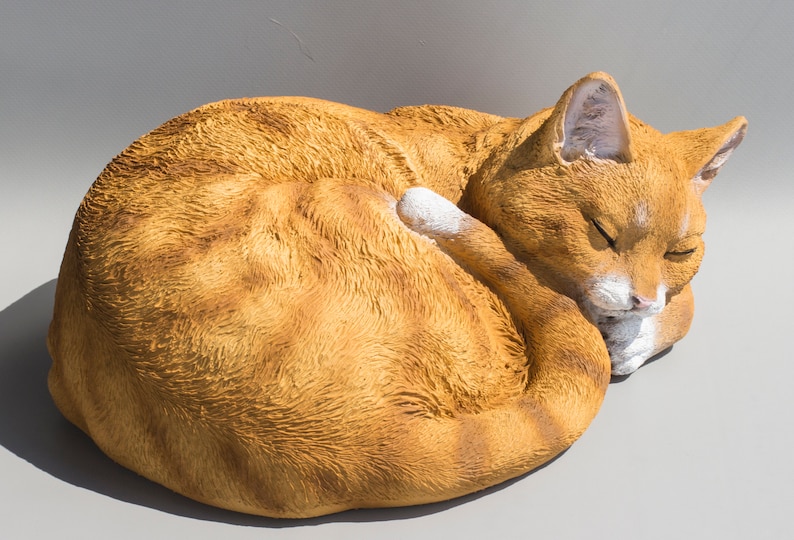 It can be hard to figure out what to say when someone loses a pet. Sometimes, you can purchase a memorial gift for them that is so unique you don't need to say anything at all. A memorial sleeping cat is one such gift.
A sleeping cat is often used to represent a cat that has passed away. There are numerous sleeping cat figurines available in metal, glass, and ceramic. Some can even be handpainted to look like the cat that passed away. This is a beautiful memorial that can be placed anywhere in the house for a discrete but fitting memorial to a family's furry friend.
6. Personalized canvas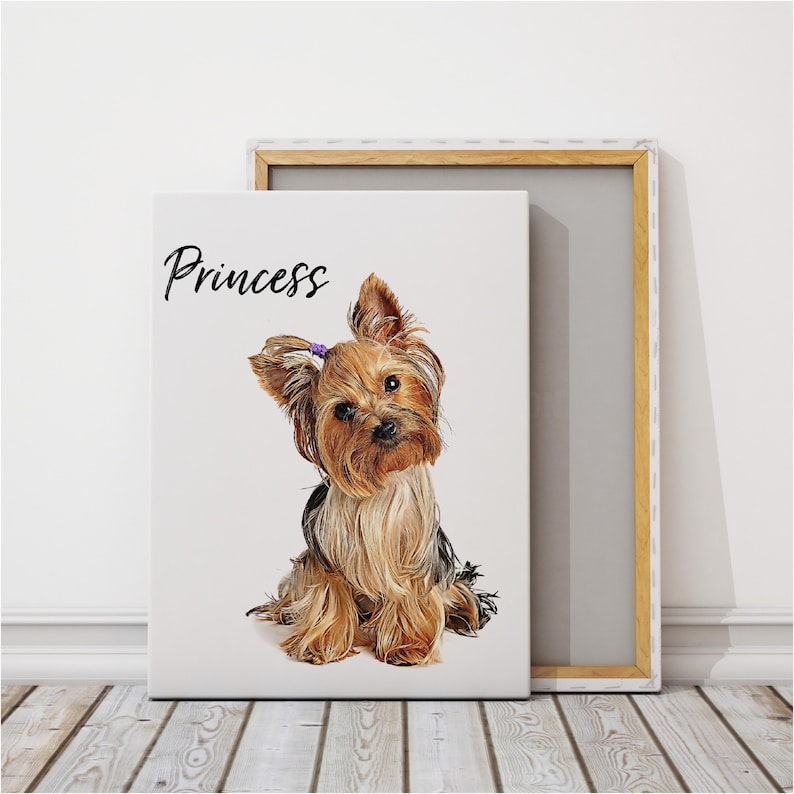 A canvas print of a family's favorite feline is a perfect memorial gift. These are 100% customizable, from the size you choose to the picture you print to the wording you place on the canvas.
Pro tips: Large canvas sizes need pictures to be high-resolution. If they are low-resolution, such as pictures taken with a cell phone, they might come out blurry when they're printed on large canvases. Check with the software or website to determine if the picture you want to use has a high enough resolution.
7. Puzzle picture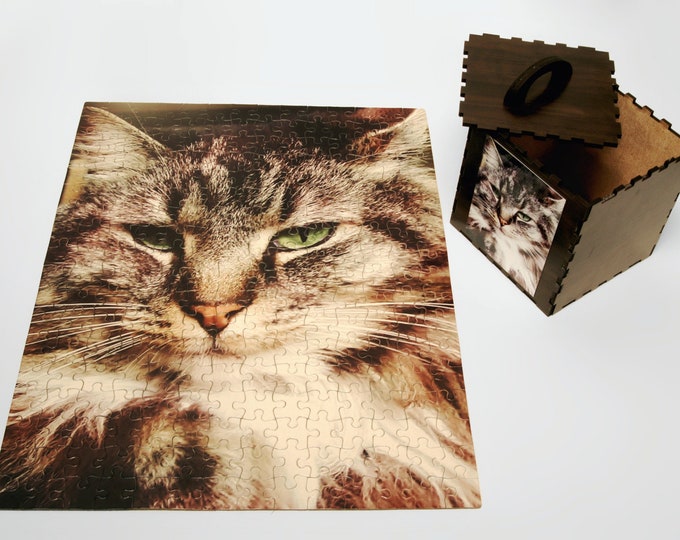 A picture puzzle uses a picture of your friend or family member's pet and superimposes it over a puzzle form. Once printed, the puzzle is then broken up, so the gift will need to be solved. The completed puzzle is pictured on the front, similar to any jigsaw puzzle you've seen. Options range from 100 to 500 pieces.
This gift is a unique option for a pet's passing and works best for creative and crafty pet owners. Picture puzzles also work well for the anniversary of a pet's death. This is a fun and lighthearted way for a family to gather together and share memories of their pet while completing the puzzle.
DIY Cat Memorial Gift Ideas
If you'd rather put together a gift yourself, there are many crafty memorials you can easily DIY and send to a friend or relative.
8. Shadowbox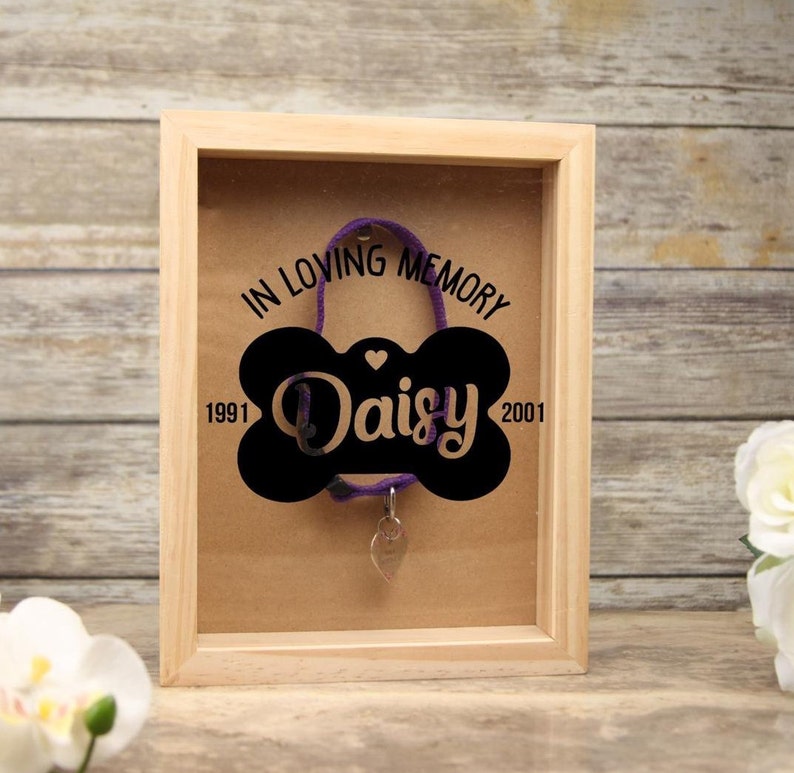 A shadowbox contains pictures and mementos from a cat's life. DIY a shadowbox with pictures you have and include the name and dates of your friend's cat. Leave enough room for your friend to add their cat's collar and trinkets they wish to include.
9. Picture frame
Choose a standard-sized picture frame and DIY-personalize it with paint, embroidery, mod podge, or twine. If you prefer a more rustic feel, choose a small wood board and attach a length of twine with a clothespin to hang a single picture. On the edge of the frame, write the cat's name and the dates it lived.
This is a gift that is well-received even if you don't have a picture to place in or on the frame.
10. Create a picture
If you're particularly handy with a paintbrush, consider painting a picture of the cat on canvas to give the family. Choose a favorite family photo of the cat, or create a scene of your own. At the bottom, write the cat's name and dates they lived.
If you're not the painting type, consider alternative methods for capturing the cat's portrait. Sketch a picture with a pen or pencil. Create a mosaic with different colored pieces of paper. You could even create a vintage-style piece with Victorian button art.
11. Photo desk calendar
A small desk calendar with pictures of their best kitty friend could be just what is needed to bring a smile to their face. This will also help keep the memories of their pet close all year long. These are budget-friendly and easy to make on numerous DIY sites where you can choose the pictures, templates, and colors you want for the calendar.
Simple, Inexpensive Cat Memorial Gift Ideas
Memorial gifts don't have to be incredibly expensive to be meaningful. These gift ideas are unique, customizable, and budget-friendly.
12. Memorial keychain
Memorial keychains are a sweet and simple way for a friend or loved one to remember their furry friend.
These can be personalized with the name and dates of their cat, a charm that looks like their pet, and other baubles such as a rainbow or a bead in the color of their cat's birth month.
13. Personalized mug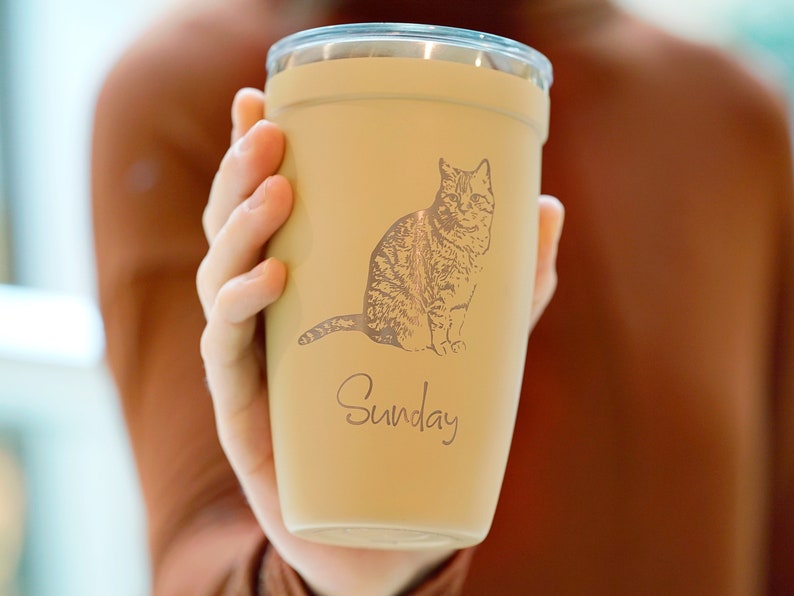 A personalized mug is a very practical memorial gift for those who like to incorporate the love for their pets into their everyday lives. There are several types of memorial mugs, all of which can be personalized, and all very budget-friendly. Consider the type you think their owner would like the most such as:
Photo of cat, name, and dates

Caricature of cat

Caricature of cat and owner

Caricature of cat and other pets in the family
14. Personalized ornament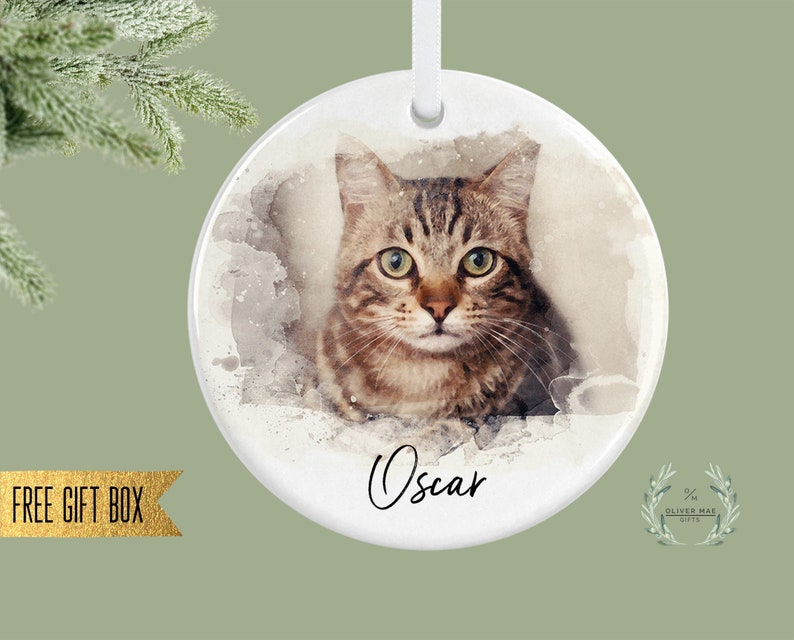 A Christmas ornament is a sentimental gift for a pet owner, especially if their cat passed away during the holiday season. Ornaments also make excellent gifts for remembering a pet that has died when the holiday comes around.
You can choose from numerous styles such as a pawprint, a glass or plastic ball with the cat's picture and charms inside, a hand-painted ornament, or a classic mini picture frame with a picture of their kitty.
Pro tip: If you purchase a generic kitty ornament, write, "In memory of" and the cat's name on the flat underside or back of the ornament.
Cat Memorial Gifts for the Garden
It might be helpful for a cat lover to have a reminder of their furry friend in a tranquil location, such as a back or front yard garden. Choose one of these all-weather memorial ideas to give your friend or loved one a constant reminder of their precious pet.
15. Cat memorial stone
A cat memorial stone for the garden is more than a stone with their name on. These stones can be made in the shape of a sleeping or a curled-up cat. These stones are simple and don't even have to be personalized to make an impression. They speak for themselves and serve as a constant reminder of the life of a furry friend.
16. Cat memorial garden statue
Memorial statues are perfect for the garden since they're made for all weather conditions. A statue can get rained on, sit in the snow, and stand up to the unmerciful heat of summer.
Statues can be large or small depending on the size of the garden it's going in. Popular statues include a cat leaping up toward a butterfly and a cat sitting on top of a pillar.
17. Planter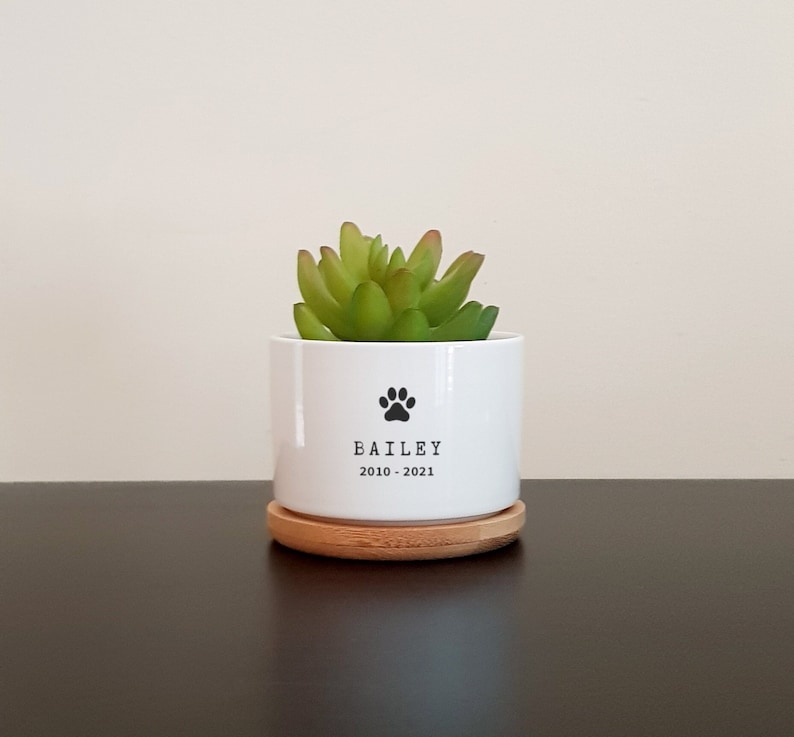 If the person who lost their furry friend enjoys gardening, consider getting them a small planter with a memorial plaque in honor of their cat. If they only have indoor space, get them a windowsill planter for an herb garden.
For larger plants, consider painting a terracotta pot with a picture of their cat on it. If you're not a particularly good artist, hire someone to paint the picture by ordering a custom-made planter on Etsy.
18. Cat bird bath
A cat bird bath is a sweet and sentimental gift that will bring joy to anyone who likes spending time in their garden. Many bird baths include whimsical cat features such as a cat chasing a bird or a butterfly.
19. Garden stake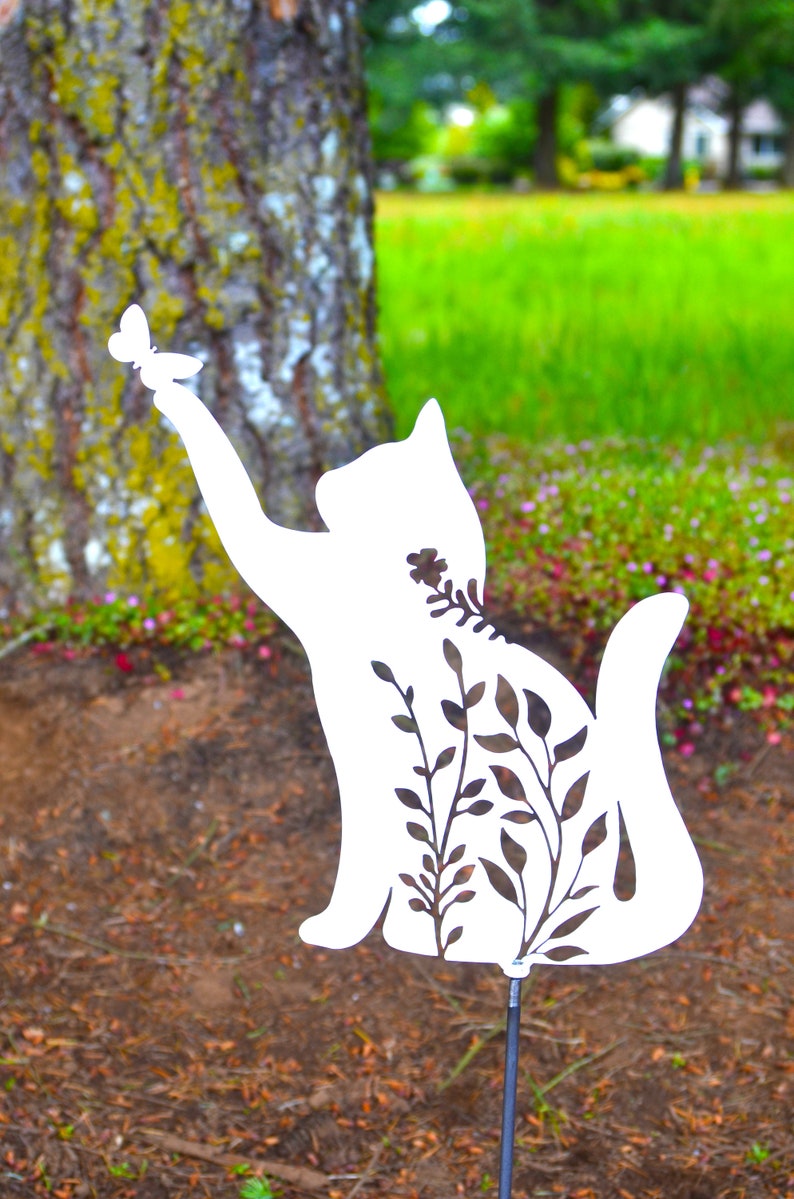 Garden stakes come in a variety of shapes and sizes. Some feature a cat sleeping, jumping, or lying in the sunshine. Other garden stakes have a cut-out saying such as, "Pawprints on my heart" along with a picture of a cat. This is perfect for the person who loves cats and enjoys spending time in their garden.
Statue Cat Memorial Gift Ideas
Statues come in a wide variety of shapes and sizes, and they might just be the perfect memorial gift for someone who has the room. Statues are often made of an all-weather material and can be placed outside or inside.
20. Concrete cat figurine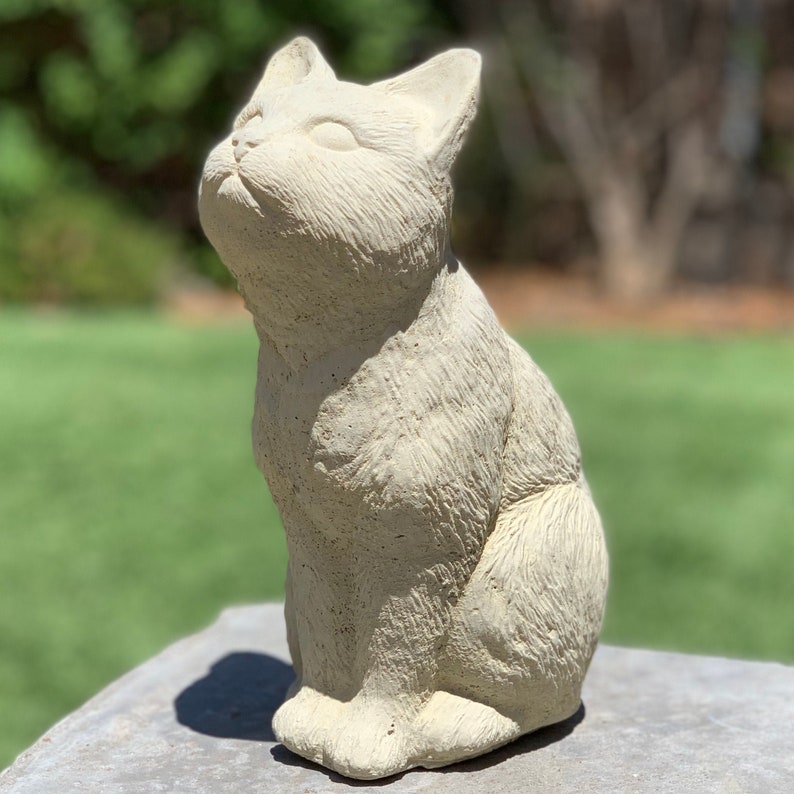 Cat figurines made of concrete are often life-size and can be custom ordered to reflect the breed of your friend or loved one's cat. If the cat wasn't a specific breed, then you can choose options like American shorthair, longhair, or tabby to get as close to their cat as possible.
Some crafters will dye the concrete to mimic the colors of a cat, as well. This option is ideal for cats that had predominant colors, such as a black cat with white paws.
21. Cat with angel wings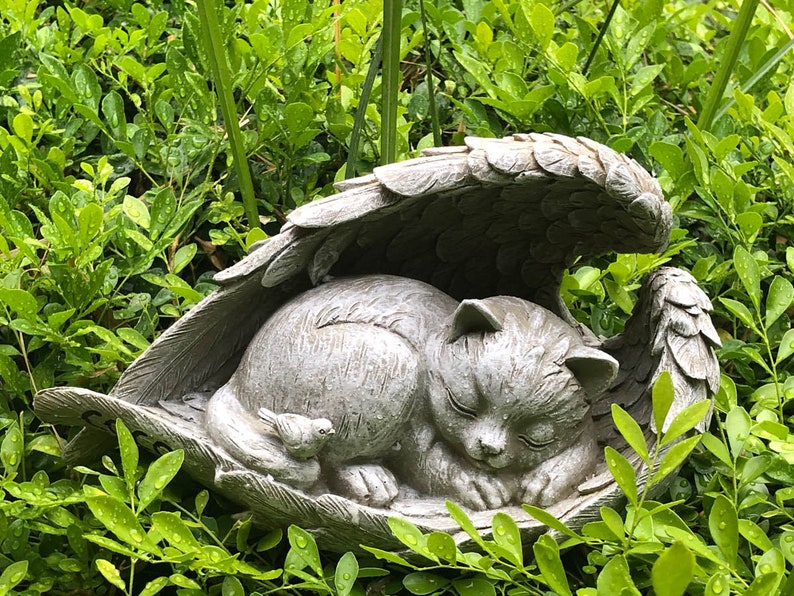 If you want the statue to reference the fact that your friend or loved one's cat is now playing beside the Rainbow Bridge, consider giving them a cat statue with angel wings. Some cat statues feature a sleeping cat while others feature a cat sitting up. Either way, the statue is a meaningful reminder of their furry friend.
Pro tip: Customize it with a plaque featuring the cat's name and dates.
22. Angel and cat statue
One option for a statue is an angel holding a cat in its arms. This sends a clear message that the cat is still being loved and cared for while they're waiting to reunite with their owner in heaven.
23. Cat with food bowl statue
Is there any better reminder of a beloved furry friend than remembering them as they were? This statue features a kitten eating out of a food bowl, doubling as a bird feeder. The statue is so real it looks as if the cat could come to life and rub up against your legs or look up at you and meow their thanks.
Pro tip: Consider painting the cat's name on the food bowl to personalize it.
Remembering Our Furry Friends
Even though a pet may no longer be physically present, their presence and memory never quite leave. Help a pet owner you know to keep the memory of their furry friend alive with a meaningful memorial gift.