Have you recently lost your beloved cat? If so, you may be looking for a way to commemorate your pet's life. You can find many pet memorial items available at brick-and-mortar or online stores such as memorial plaques, garden stepping stones, and windchimes.
Jump ahead to these sections:
These items are beautiful but they sometimes get lost within the clutter of your home. Instead of adding another item to your bookcase or another wall hanging, why not purchase a piece of commemorative cat memorial jewelry to memorialize your cat?
Here are some types of pet memorial jewelry items. The first section will highlight pieces that you can find at online stores, and the second section describes items that you can make with a few tools.
Types of Custom Pet Memorial Jewelry
It doesn't have to be obvious that pet memorial jewelry honors a deceased pet. You can purchase any piece of jewelry that reminds you of your beloved cat. You may be attracted to a particular gem because it looks like the color of your cat's eyes. Maybe movement from a pair of dangly earrings reminds you of your cat's tail as he walked away from you.
Here are some more cat-specific pieces of pet memorial jewelry to search for at a store near you.
» MORE:
Save $$$ and time with our tools.
Start now.
1. Cat paw pendant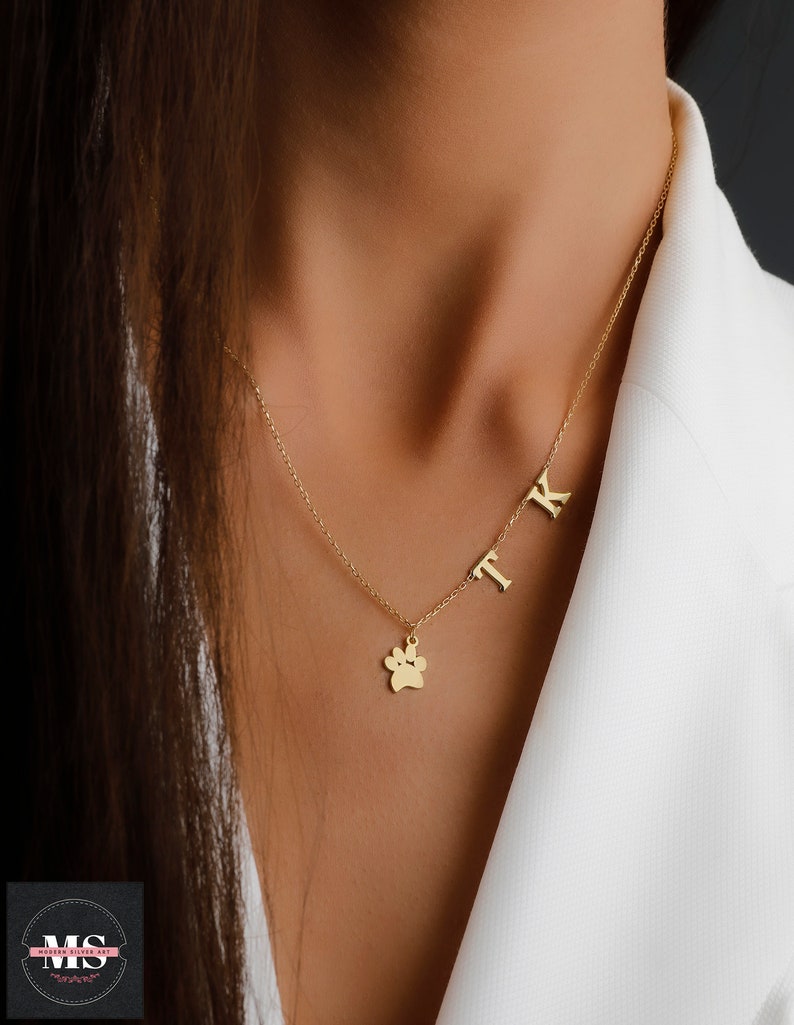 You can find many different cat paw pendants available online. You can find a pendant shaped like a cat's pawprint or you can find a heart-shaped necklace with a pawprint engraving.
Since there are so many of these available online, you can find a pendant in almost any size, color, and quality. You may also be able to pay extra to have the pendant engraved with the name of the pet you lost.
2. Cat companions pendant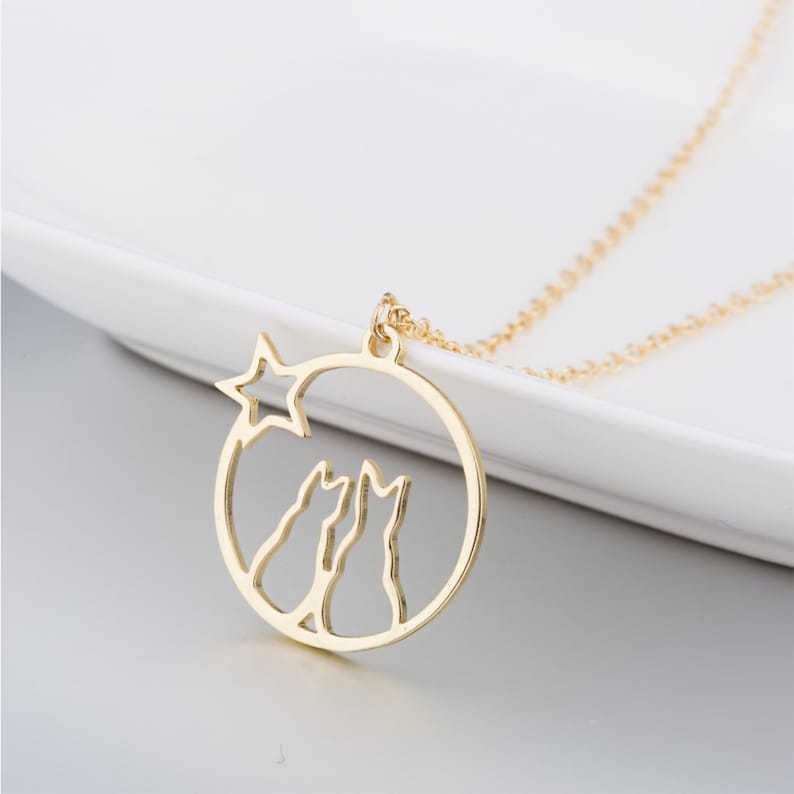 Are you mourning the loss of two important cats in your life? If your cats were best friends and worst enemies, consider celebrating their unique relationship with a pendant that looks like two cats sitting next to each other.
3. Cat pendant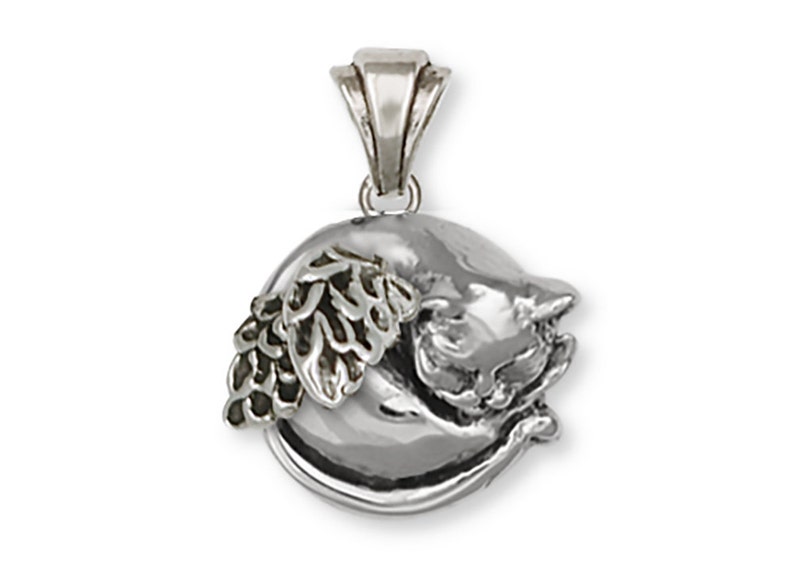 You can find plenty of cat pendants available. Some are in the shape of a cat head, while others look like a cat body. Some show the back of the animal, while others depict a smiling cat face. You can even purchase a cat angel pendant so others can see that you are honoring a deceased cat.
You can find pendants in all colors and sizes. Some jewelry manufacturers allow you to customize your piece with a specific gem. While these items can be attractive, you may have a difficult time matching your pendant's look to the exact look of your cat.
4. Photo necklace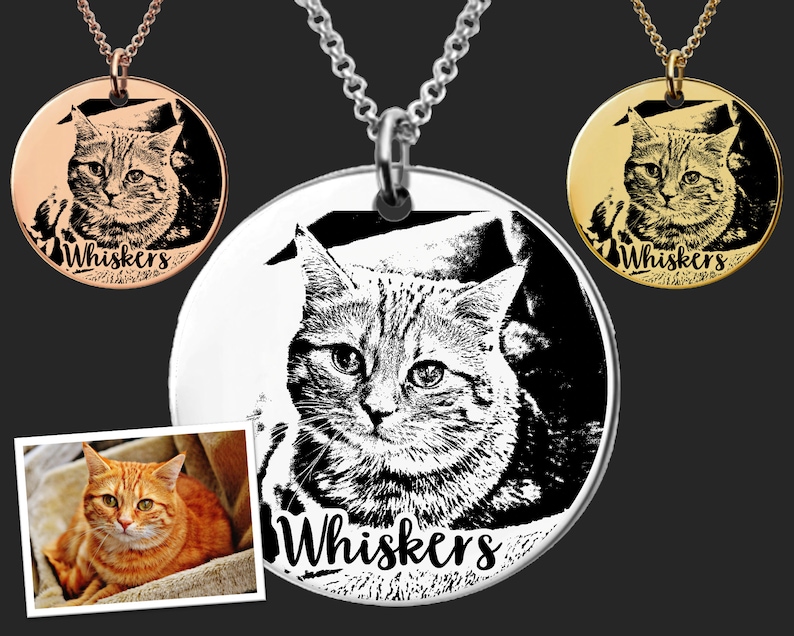 If your pendant must look exactly like your cat, search for a company that creates photo necklaces. These pendants are etched to look precisely like the high-quality photograph you provide. The pendant is then cut around the edges to match your pet's distinct shape.
5. Necklace with small charms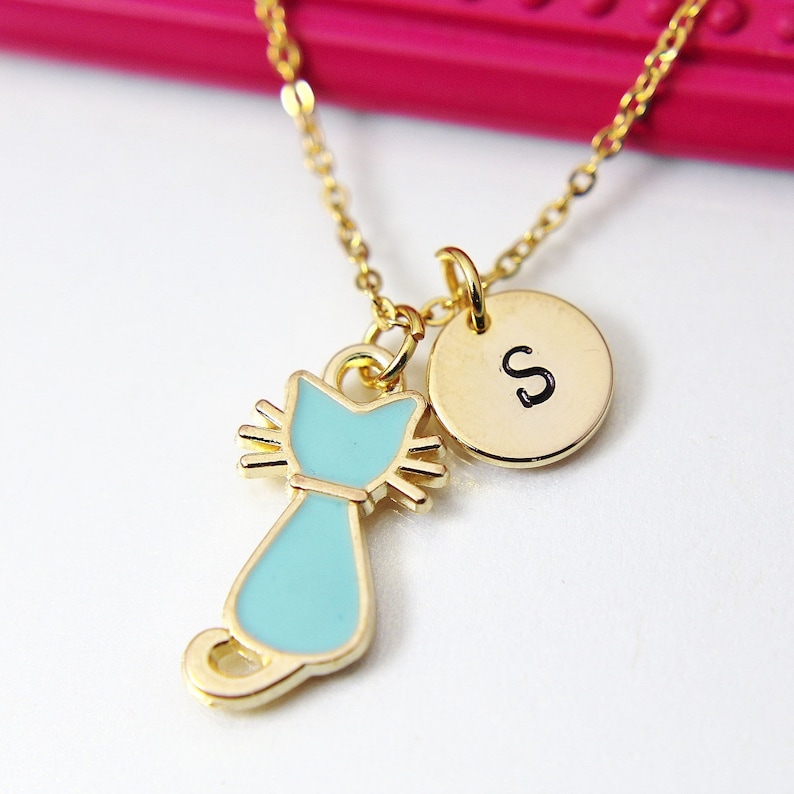 Jewelry designers have used small delicate charms in their designs for decades. If you like the layered look, search for pieces of memorial jewelry personalized with small charms commemorating your cat. On the same necklace or bracelet, include charms depicting a pawprint, angel wing, cat, and a gem in a meaningful color.
Some of these charms can hang on the same chain, while other companies can create a floating locket. That way, the charms can move inside a glass container that hangs at your neck.
6. Cremation jewelry that holds cremains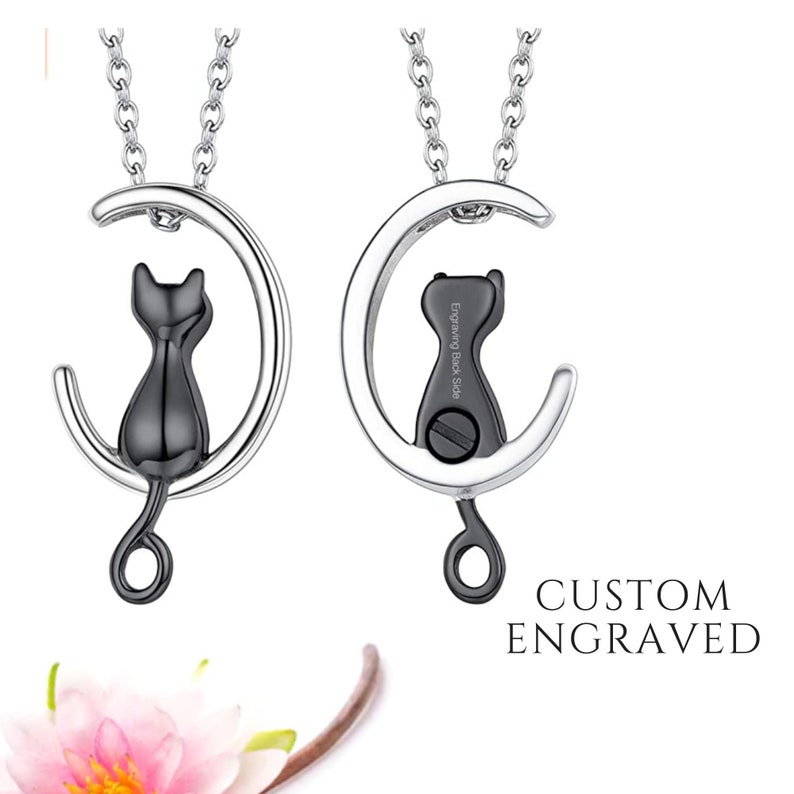 For generations, it was rather common for people to show affection for a loved one by wearing a locket with a lock of hair tucked inside. While you can do this for your cat, you can take it one step further by purchasing a piece of cremation jewelry. Cremation jewelry often includes a pendant shaped like a vial. This container is large enough to hold a tiny amount of cremains of your loved one.
Cremation necklaces are common, but you can purchase cremation rings and bracelets as well.
While you can purchase a generic piece of cremation jewelry, you could also find cat-specific jewelry. Consider engraving the small vial with your cat's name.
7. Cremation jewelry made with cremains
You may be surprised to learn that you can find a second type of cremation jewelry. Some companies create a piece of glasswork using the cremains from your cat's cremation. You can choose the style, size, and colors of the piece since each pendant is custom-made.
Search for artists who specialize in this type of jewelry. Make sure you look through artists' portfolios to find a craftsperson who appeals to your style.
We recommend Eterneva, a company that makes gorgeous diamonds from the deceased's ashes or hair.
Easy DIY Cat Memorial Jewelry Ideas
Some people deal with the loss of a cat by creating something in memory of the pet. The act of creating is often cathartic for many people. If you feel an emotional release from designing and working on a project, consider completing one of these relatively easy DIY pieces of jewelry.
If you aren't particularly crafty or skilled with a glue gun, you may consider ordering a piece on Etsy. Don't forget to search for all sorts of memorial items — not just ones that commemorate a cat's life.
» MORE:
Our members can save an average of $1000 when funeral planning.
Join now.
8. Cat photo pendant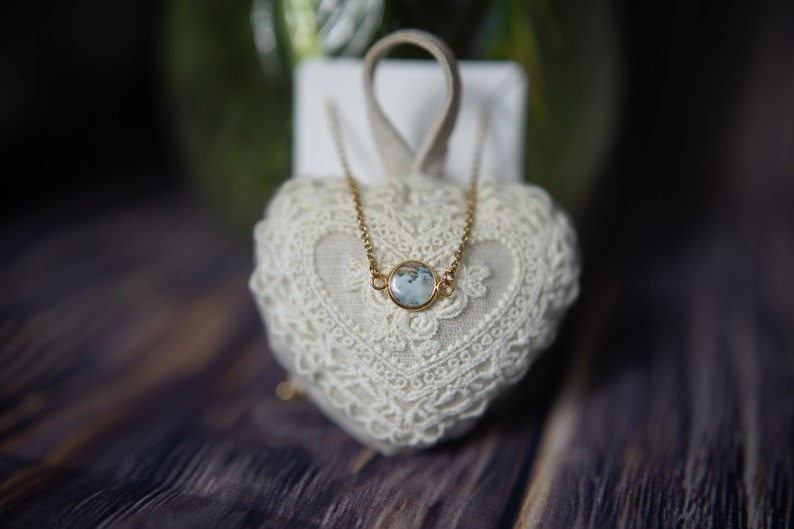 Search online for instructions on how to make a glass-covered photo pendant of your cat. You can complete this project with a clear, circle glass piece, a quality photograph, and a steady hand.
9. Rainbow bridge necklace or bracelet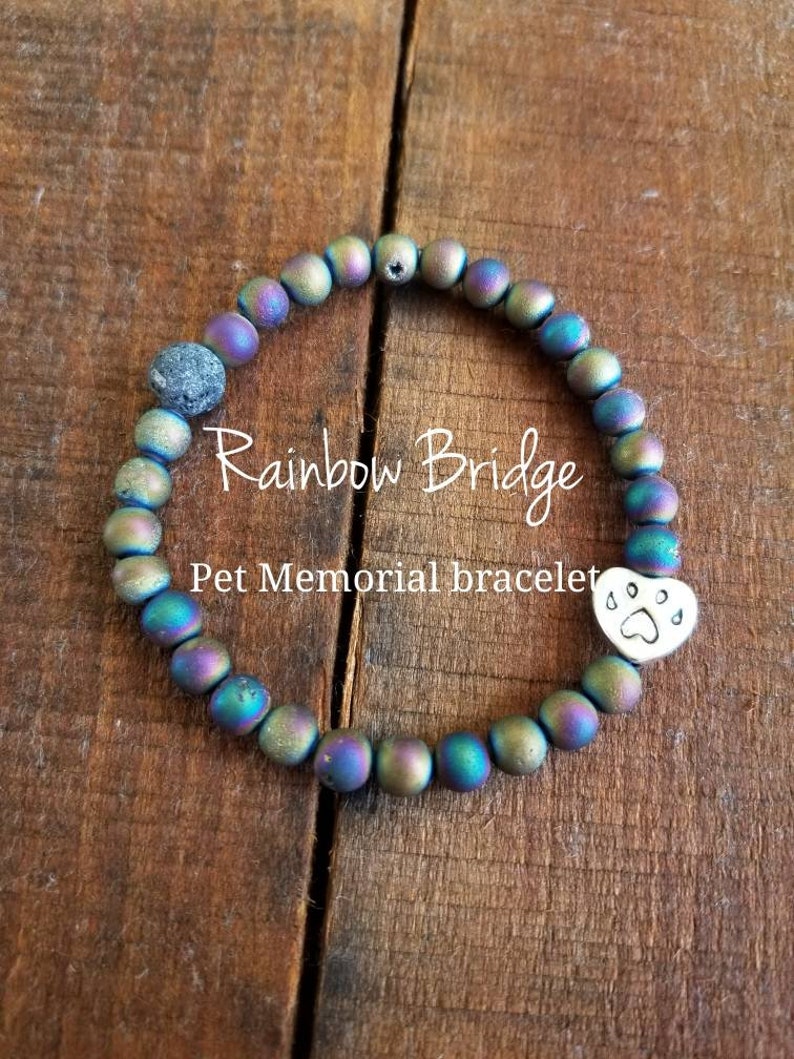 Most people are aware of the imagery of the rainbow bridge. When a pet crosses the rainbow bridge, your pet arrives at beautiful pet-filled heaven with all of your animal's favorite things.
Consider making a rainbow bridge bracelet or necklace out of multicolored beads. Purchase a cat-shaped charm to place in the center. This project can be striking and relatively inexpensive to create.
10. Pressed flower necklace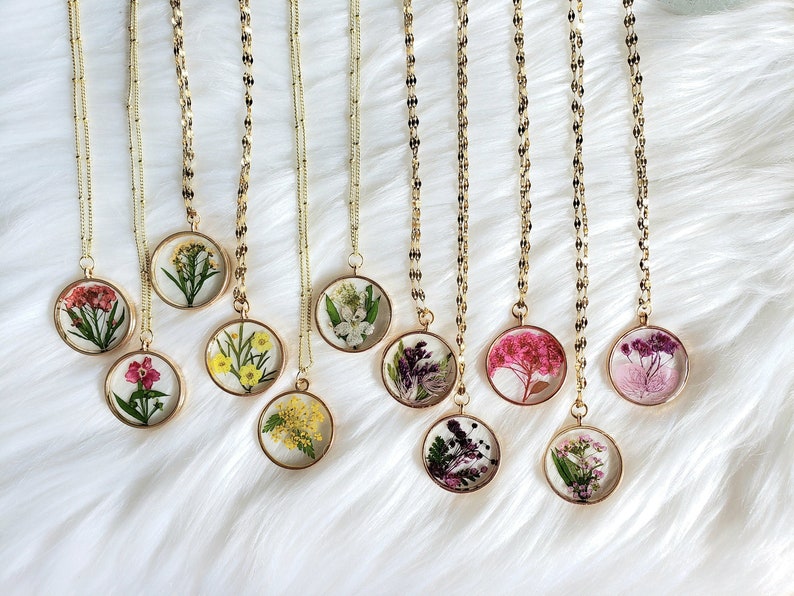 Are you looking for a beautiful and delicate reminder of your lost cat? Consider creating a pressed flower necklace pendant to remind you of your deceased pet. Flowers would be especially appropriate if your cat had a botanical name or was known to pounce and play among wildflowers. You may also choose to include a bit of your cat's fur or whiskers in the pressed necklace.
11. Washer jewelry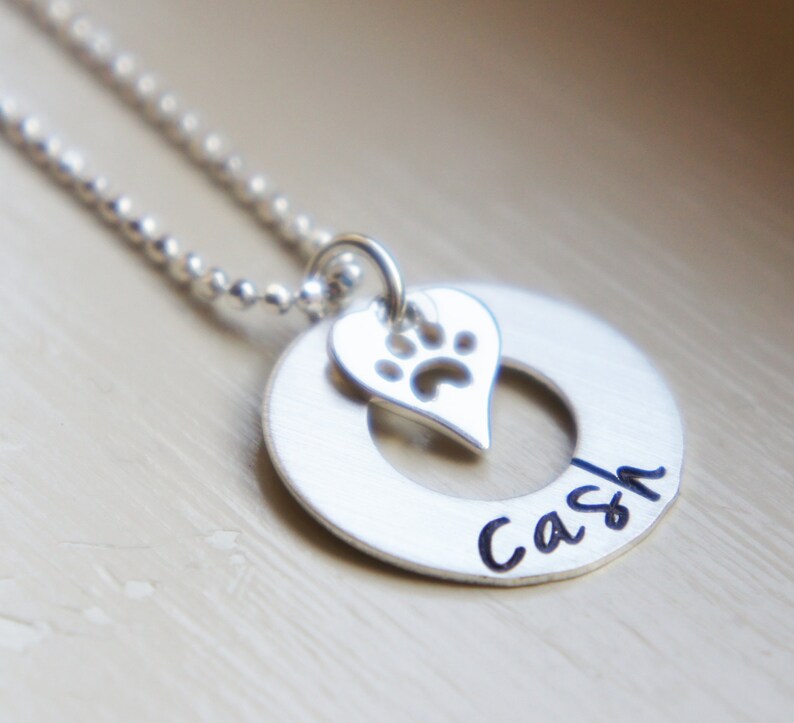 Create a simple necklace using a washer and a bit of leather or ribbon. Make it a piece of memorial jewelry by delicately painting the name of your cat on the face of the washer with a permanent marker or nail polish. This craft is economical and would be a great creative outlet for someone with a steady hand.
12. Cricut earrings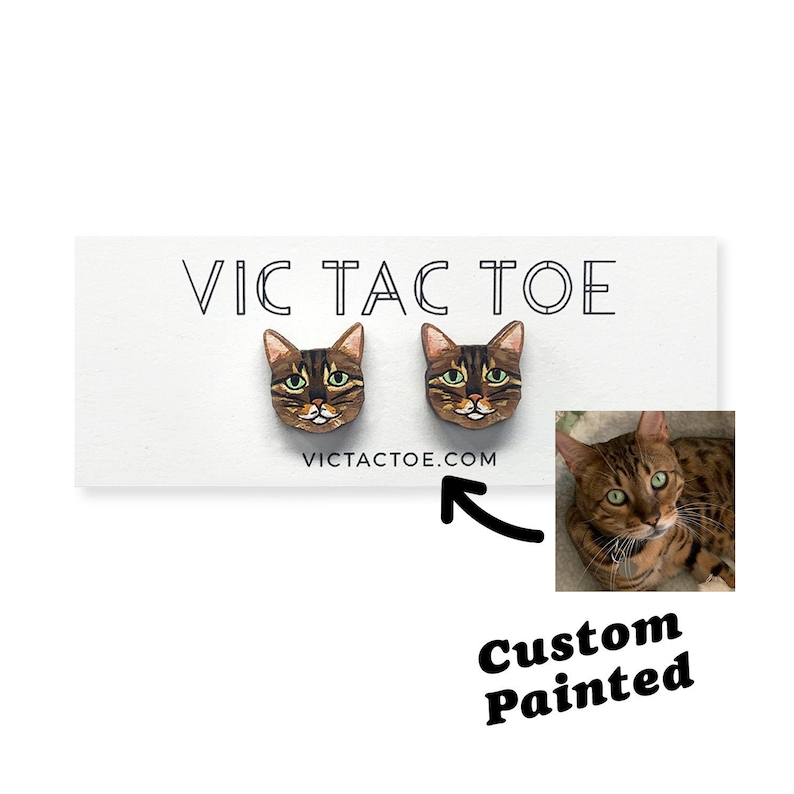 Cricuts are precise cutting machines that can be programmed to cut any shape you desire. Many people use these machines to create dangly earrings. Consider using your Cricut to make some memorial earrings for your cat.
13. Pet tag memory pendants
Why not keep your pet's identity tag close to your heart? Look online to learn how to add decals or other charms to make the tag more decorative. A pet tag project would be super inexpensive and you could place the tag on the chain of your choice.
14. Braided leather bracelet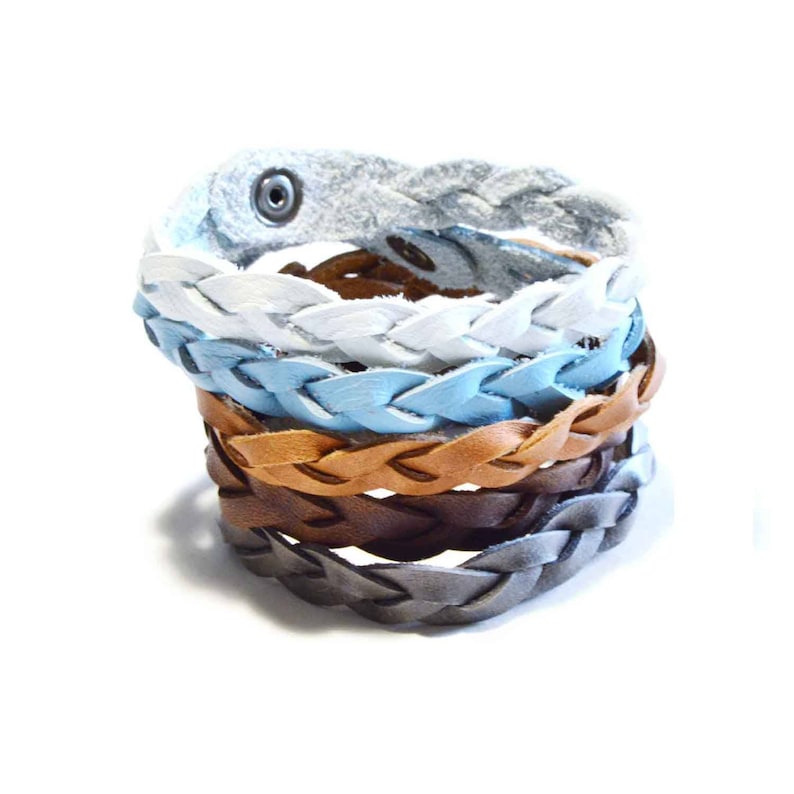 Look online to learn how to make a braided leather bracelet. This project should be relatively inexpensive and should only require the purchase of leather, a bracelet clasp, and perhaps a pendant depicting an angel cat or wings.
Cat Memorial Jewelry Ideas Made Out of Cat Hair
It's worth repeating that you can use a small portion of your cat's cremated remains or a few pieces of hair to make a diamond or gemstone. Still, perhaps you would rather have a piece of memorial jewelry made directly from your precious cat's coat.
Several companies specialize in cat hair jewelry, and many of them sell their products through Etsy. Here are some ideas for cat hair jewelry made from the fur of your animal.
15.
Pet heart keepsake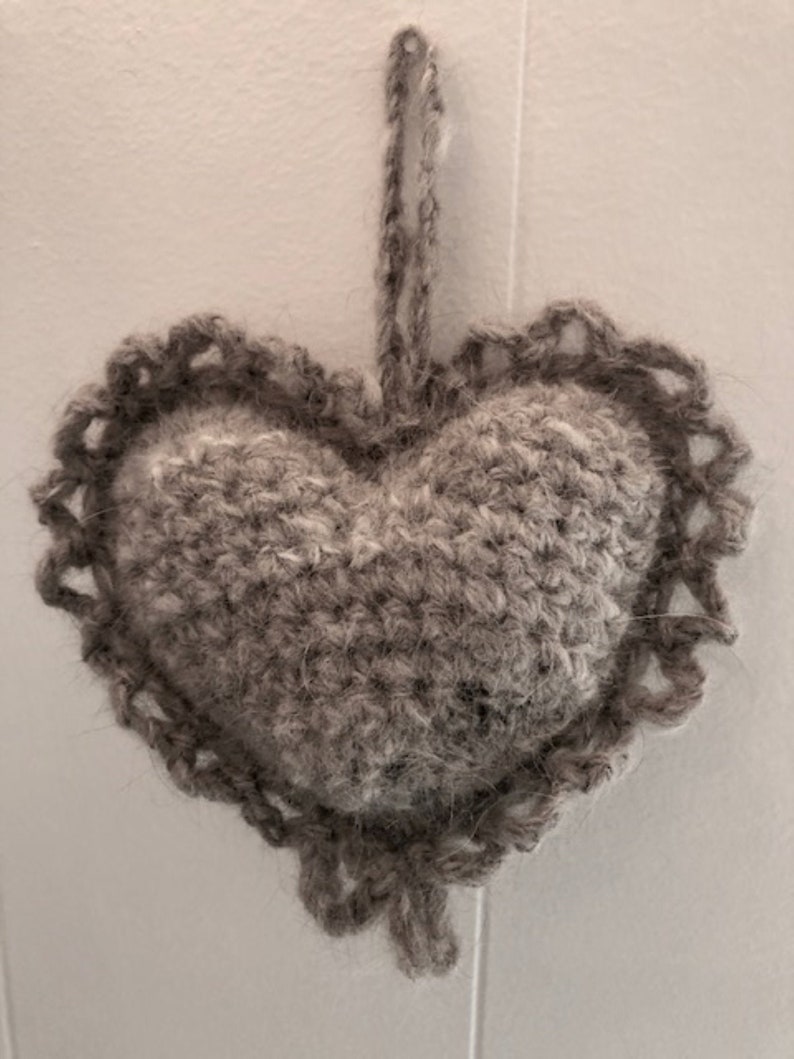 This palm-sized pet heart keepsake can be used as a pendant or keychain, and it is made of your cat's hair. Please note that the company that creates these products (Nine Lives Twine) will only work with the hair that comes from brushing your cat.
Once you have created an order, the company will give you instructions on how to submit the hair. The company will then make the hair into yarn, which will be used to create the keepsake.
If you wish, you can also just purchase the yarn made from your cat's hair to use for your own projects.
16.
Kumihimo bracelet
Nine Lives Twine will also create a kumihimo bracelet out of your cat's hair, but you need to order it directly from their website instead of through Etsy. Kumihimo is a braiding technique that comes from Japan. The bracelet will be created from the yarn that is made from your cat's hair.
View Product on Nine Lives Twine
17.
Resin jewelry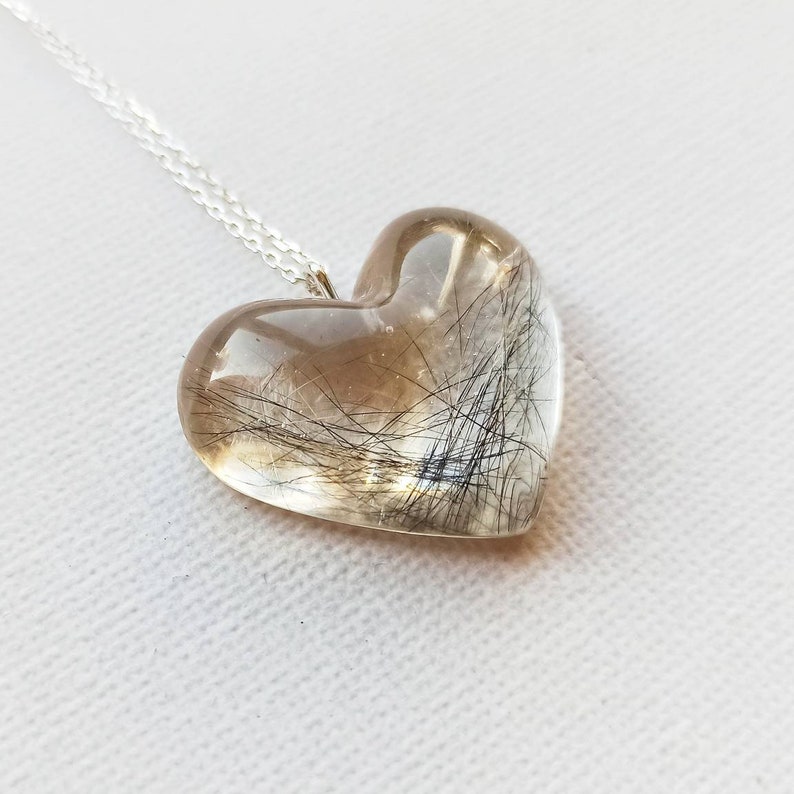 If you would like to protect your cat's hair for eternity, consider having a piece of resin jewelry made that covers the cat hair fibers. While you will no longer be able to stroke the actual hair of your cat, the strands can be seen through several layers of clear resin and worn close to your heart forever.
Resin jewelry comes in numerous styles, shapes, and colors. There are many companies on Etsy that specialize in this service. You can also preserve the hair of your human loved ones using this process.
18.
Cat tail necklace
Precious Creature specializes in memorial taxidermy and skeletal preparation. Follow the company on Instagram to see examples of their work, such as this cat tail necklace. This necklace made from the actual tail of your cat will make you feel as if you are "receiving a hug from the other side."
Pawprint Cat Memorial Jewelry Ideas
Maybe seeing your cat's pawprint makes your heart go flitter-flutter. If you would like to preserve your cat's pawprint on a piece of memorial jewelry, here are some available resources.
19.
Pawprint pendant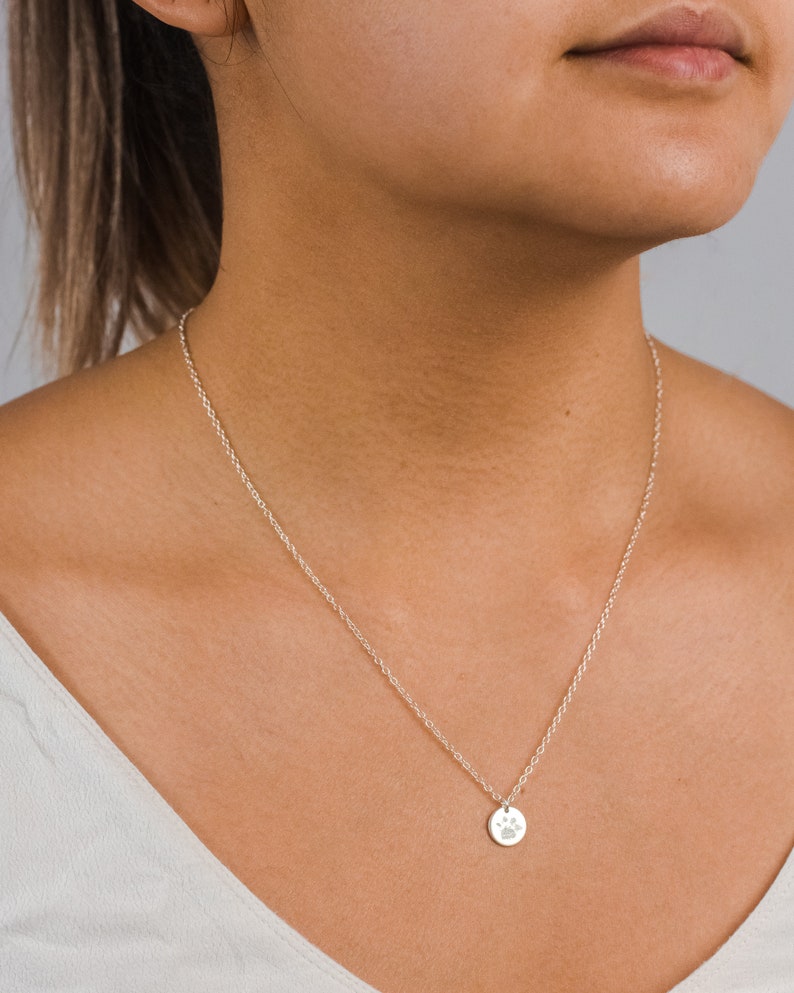 Several online companies on Etsy will create an engraved pendant of your cat's pawprint. This particular company can use a photograph of your cat's paw, a photo from a casting, or an image from an ink print.
We think you'll like this particular pendant because you can feel the engraving. If you would like to have something to touch when thinking about your pet, consider hanging this pendant from a necklace.
20.
Pawprint ring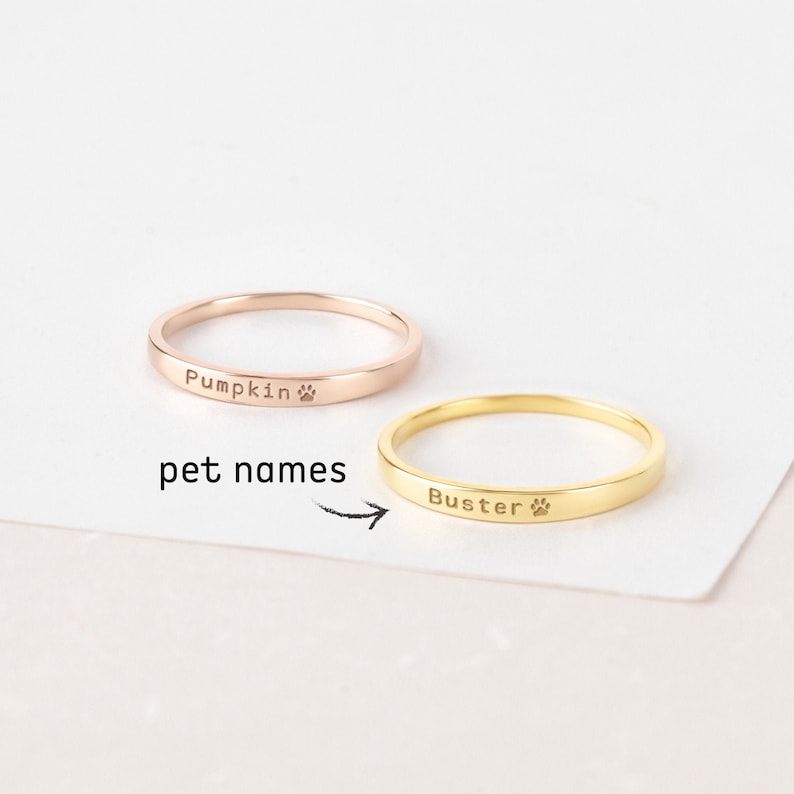 Unlike a necklace, you can easily see a pawprint ring as you go through your typical daily tasks. Each time you glance down at the tiny replica pawprint on your silver, gold, or rose gold ring, you'll be able to think back on those special moments with the cat you lost. You can further personalize the ring with an engraving if you wish.
21.
Pawprint bracelet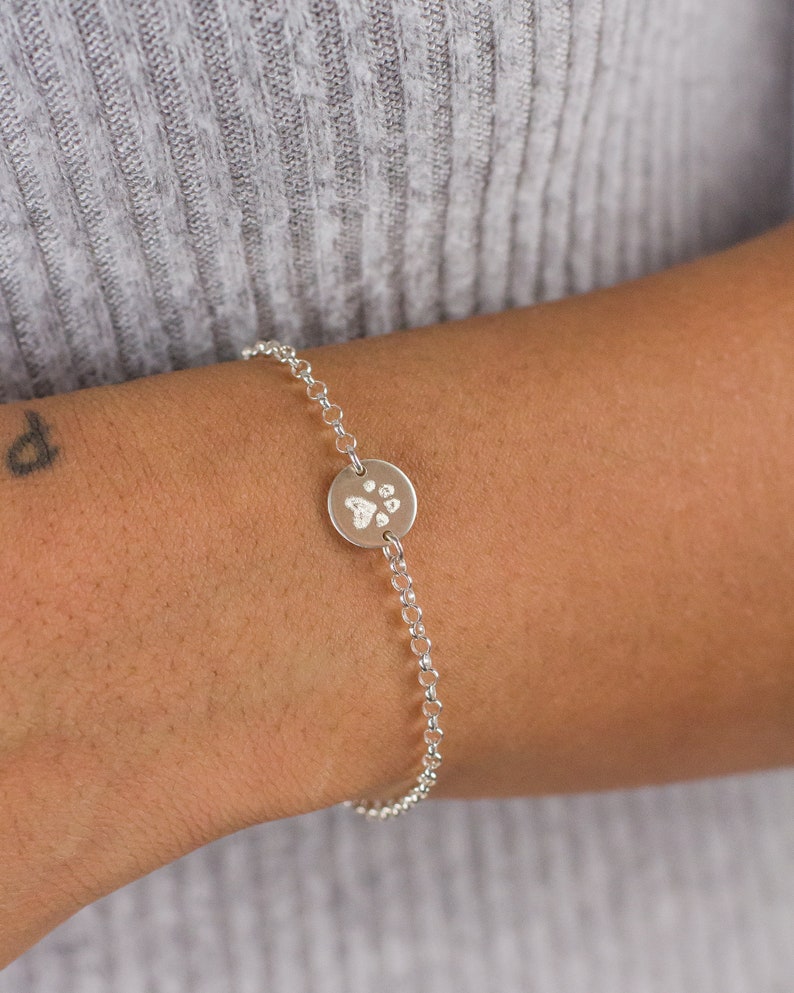 Customized pawprint bracelets can be made the same way as paw print pendants or rings. Again, several companies on Etsy will complete this project using photographs of your pet's paws.
The charm on these particular paw print bracelets is tiny, but you can choose to have your pet's name engraved on the back as a further reminder of the pet you lost.
Other Ways to Remember the Life of Your Cat
You had a personal relationship with your pet, so why not wear something to help you honor this connection?
Memorial jewelry, especially pieces you make yourself, can be extremely economical as well. It may appeal to you if you wish to live as simply as possible.
Memorial jewelry pieces also can act as a conversation starter. Other cat lovers will be attracted to your jewelry and may ask you about your beloved pet.