No matter your age or situation in life, having a will is a must. There's no way to predict the future, and staying on top of your end-of-life decisions eases this burden for your loved ones when the time does come. One thing we all have in common is death, so we might as well get our plans in order while we can.
This used to mean having to work with an attorney or learn how to write a will yourself. But now, there are a variety of online tools, both paid and free, to help you create your own will in just a few minutes. There are even online services like GatheringUs to help you arrange virtual funeral and memorial events.
No matter your legal experience (or lack thereof), you can build your own simple will.
Jump ahead to these sections:
One of the oldest free tools for building a will online is Do Your Own Will. This platform is an effective way to protect your assets and end-of-life wishes. How does Do Your Own Will compare to other will tools? What are the pros and cons, and is this tool with it?
Our team, Michael T. Flannery, an attorney and estate planning expert, and I, sat down and created wills using Do Your Own Will. We took notes on things like premium features, pricing, user experiencing, as well as any legal considerations. This review mostly comes from my perspective as a married twenty-something, but you'll find Michael's comments throughout the article labeled as "attorney's note."
So, let's find out if Do Your Own Will is worth it with this in-depth review.
Overview: Do Your Own Will Review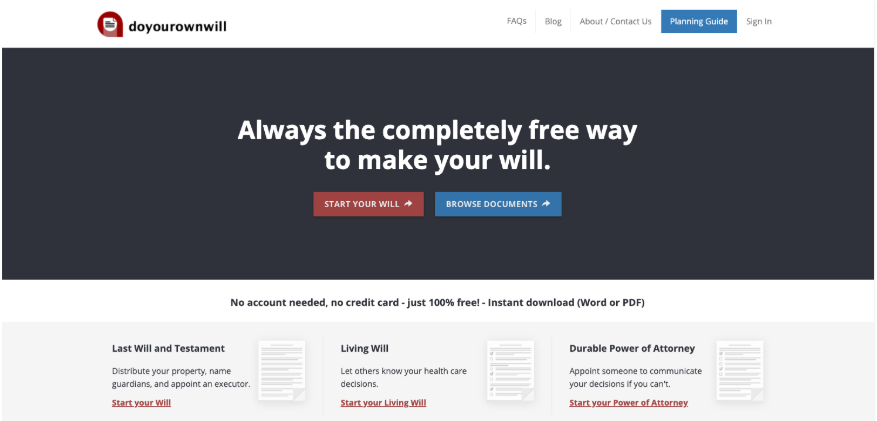 Cost:

Free

How you receive your will:

PDF for download

User experience:

Stylish interface, easy to understand

Time to complete:

15 minutes

Policy for updating:

Update easily through account

Support:

No support
Since Do Your Own Will's parent company launched in 1999, it's reached over nine million people and created over 15 million documents. Today, Do Your Own Will helps people from all backgrounds create a simple will they can trust. While not fully comprehensive, Do Your Own Will is perfect for the majority of people who don't have a complicated family or estate situation.
With its simple interface and easy-to-understand questionnaire, Do Your Own Will is an accessible option for anyone trying to make a simple will in just a few minutes. Better yet, it's free to use. There are no add-on or premium features, so getting started doesn't require any money.
Pros
Modern, functional website design

Comprehensive and fits most life situations

Free tool with no paid features
Cons
Limited for more complex situations

No support
When we reviewed 13 online will platforms, Do Your Own Will made it on our "Best Value" list. Check out our picks for the best online will platforms for the full results.
Do Your Own Will's Pricing and What You Get
Do Your Own Will is completely free. There is no need to enter any credit card information or start a trial to access your documents. It's rare to find an online will tool that's 100% free, so this is a huge perk of choosing Do Your Own Will over another service.
According to their FAQ, this platform makes money by collecting revenue on relevant advertisements placed on the bottom and side of the webpage. They also have affiliate relationships with other third-party companies. That means if you use another product or service through Do Your Own Will, they might receive a small commission at no extra cost to you.
Situations DoYour Own Will Does and Does Not Cover
All online will makers have some limitations. Unless you're working with an attorney directly, it makes sense for there to be some gaps in coverage since it's hard to fully customize the offerings. That being said, Do Your Own Will has a large range of coverage to suit the average user.
What situations does Do Your Own Will cover?
Do Your Own Will covers the majority of situations the average user would need. Compared to similar tools, there is a comprehensive range of offerings, especially considering this is free to use. Do Your Own Will covers:
Guardianship: If you have minor or dependent children, you can name a legal guardian (and alternative guardian) to take over the care of children if necessary.
Pet guardian: If you have pets, assign someone as their caretaker just in case.
Trust: With Do Your Own Will, you can also create a simple trust for any beneficiaries, particularly children. The main difference between a trust and a will is that a trust sets clear guidelines. For example, you might allow minor children to claim their trust at age 18.
Bequests: You can list certain property as gifts for friends, family, or even charity.
Memorial preferences: Share your wishes for your end-of-life arrangements, like your funeral service.
Living will: A living will goes into effect immediately and relates to your healthcare decisions. Express wishes for the type of medical care you'd like to receive and who you'd like to make decisions on your behalf.
Durable power of attorney: Name someone to communicate your decisions if you're unable, including a health care power of attorney.
General power of attorney: If you're unable to sign documents for yourself (due to illness or disability), you can name someone to do so for you.
Digital assets: Share access to your digital files with someone you trust.
For most people, this is all you would need to stay protected. However, it's always a good idea to review your specific needs with a qualified attorney.
What doesn't Do Your Own Will cover?
While you can see above just how comprehensive Do Your Own Will is for most users, there are some things that aren't included in their tool. Their FAQ outlines specific situations when you would want to create a more complex plan with an attorney. For the most part, those with over $5 million in assets would see the greatest benefit by working with a professional. Do Your Own Will does not cover:
Homeownership:

If you own your home, you might look into a more specific estate plan for your property.

Estate planning:

For those with a large estate, you'll need something more customized to your situation. This is something an estate attorney could help you with to avoid issues with the probate process.
When in doubt, review the guide to whether Do Your Own Will is right for them on their website. There is a simple net worth calculator to guide you in the right direction.
Attorney's note: I attempted to make the children the primary beneficiaries rather than the spouse, and unless I was missing something, it forced me to choose a spouse as the person I'd give my remainder estate to. It didn't let me choose my children or anyone else. In other words, it assumed that because I was married, I'd want my estate to go to my surviving spouse. I may have been missing some other way to change the variables, but even if it were my fault, that's not good.
Likewise, when I set up a trust for children, the only options it provided were that the children receive their benefit at either age 18 or 21. What if I wanted to choose 25 or 30? This service offered limited options.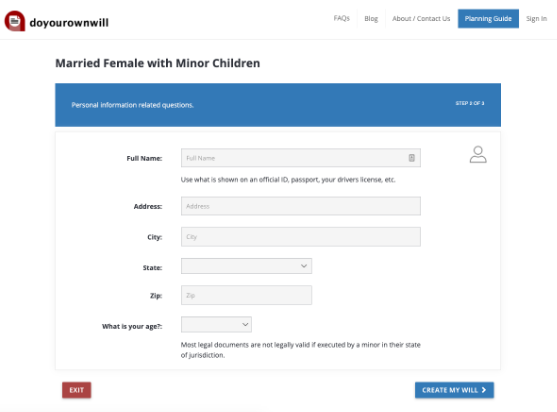 Do Your Own Will's Policy for Updating Your Will
It's easy to update your will on Do Your Own Will. While you don't need an account to start using their online tool, it's a good idea to create one. This is how you'll log in later to update your will at any time.
If you have another will from a different tool or an attorney but want to start one with Do Your Own Will as well, make sure you destroy any earlier versions. You want to make it clear to friends and family which document is up-to-date.
Do Your Own Will's User Experience
For a free service, Do Your Own Will packs a big punch. The overall user experience is a pleasant one. Everything is organized from start to finish, and it's easy to access additional free forms if they're a good fit for your situation.
While Do Your Own Will does partner with affiliates and other service providers, particularly with life insurance, there is no pressure or advertising that gets in the way of the process. Everything is explained simply, and there are additional definitions available for those who need extra help. Overall, Do Your Own Will is a fantastic free tool that fits most situations.
Attorney's note: There wasn't much legal instruction, although it did make a few assertions of law. For example, it said that a witness can't have an interest in the will. This isn't necessarily true in many states.
And although it clearly stated that the will was state-specific, as a lawyer, I wondered whether the preclusion of interested witnesses was a product of accurate legal research for this particular state or a product of the need for simplicity. No good lawyer worth their salt would not feel compelled to look this up to confirm that it was accurate. But a garden-variety user isn't going to question this.
Do Your Own Will's Customer Support
Because Do Your Own Will is completely free, there is no support available. While you're able to contact their support team via their email address or contact form, they are not a law firm. They cannot provide legal advice or answer any legal questions.
However, Do Your Own Will does have a large range of FAQs and helpful guides to help you understand all the specific parts of the will process. Most basic questions are easy to answer through their existing tools.
Are There Any Extra Steps to Legalize Your Will With Do Your Own Will?
Once you complete your will with Do Your Own Will, you'll be instructed with specific next steps to legalize it. In theory, your will is legal as soon as it's completed and signed. However, most states require additional steps to ensure your will is enforceable in court. These steps are:
Witnesses:

You'll need two non-relative witnesses who aren't included in your will.

Signature:

Your completed will needs to be printed and signed.

Notary:

While not always required, it's a good idea to have all legal documents notarized.
Check the specific laws in your state to ensure your will is legalized properly. From there, store your will somewhere safe and share it with family and friends.
Attorney's note: Do Your Own Will's service has sufficient elements to make a valid will.
Should You Make a Will With Do Your Own Will?
If you don't have a will and testament already, now is the time to make one. With free tools like Do Your Own Will, it's simple to get started, no matter your budget or time restraints. Making a will has never been easier, and you don't need any legal experience to get the coverage you need.
Protecting your future means taking steps today. While it's hard to give thought to your end-of-life plan, the more prepared you are, the easier this process is for your loved ones. There's no reason to delay. Begin your online will process today with the right platform for you.
Still aren't sure if you should use Do Your Own Will? Head on over to our picks for the best online will makers, take our online will maker quiz, or take a peek at our top picks below.
Best online will makers

| Online will platform | Cost | Key features | Get started |
| --- | --- | --- | --- |
| | $69, one update per year | Easy to use, most comprehensive | |
| FreeWill | Free, update anytime | Sleek interface, better suited for simple estate situations | |
| Willing | $69, update anytime | Simple to use, may need to upgrade for more complex will | |