Creating a will has never been easier, thanks to the variety of online will tools available. There are even options for virtual funeral and memorial events now, with online services like GatheringUs.
Gone are the days of costly attorney visits or learning how to write a will on your own. Today, it's easy to make a will yourself online in just a few clicks. However, because this is such an in-demand service, there are also more tools to wade through than ever before.
Jump ahead to these sections:
One of the most popular tools is eForms. This platform brings a variety of legal documents to consumers without the stress. Designed to help businesses, real estate professionals, or individuals, there's a lot of flexibility in the eForms platforms. How do you find the right online will maker for your needs?
Michael T. Flannery, an attorney and estate planning expert, and I went through eForms will-making process ourselves. We took notes on features like if it can produce a valid will, pricing, user experience, situations they do (and don't) cover, and more. While this review will mostly from my perspective as a married twenty-something, you'll find Michael's comments (labeled "attorney's note" throughout the article.
So, how does this platform compare to similar services? Read this review to explore the pros, cons, and whether eForms is worth it.
Overview: eForms Review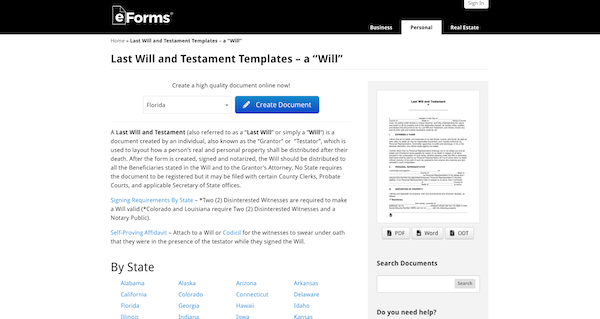 Cost:

Free with seven-day trial or $45 for unlimited access to a single document

How you receive your will:

PDF or Word Doc for download

User experience:

Outdated interface, easy to understand

Time to complete:

25 minutes

Policy for updating:

No updates without paid plan

Support:

Option to talk to non-attorney support agent
Try eForms' Last Will & Testament Templates
Since 2016, eForms has helped people from all backgrounds access the legal forms they need without the hassle. With a variety of free and paid options, this is one of the more flexible, affordable legal platforms on the web.
The platform itself, having been built within the past few years, is modern and easy to use. eForms also has a variety of helpful articles and guides to simplify the process even further.
Pros
Easy to use, modern platform

Multiple download options (PDF, Word, ODT)

Comprehensive coverage
Cons
Limited support

Need to enter credit card info to access completed document
When we reviewed 13 online will platforms, eForms didn't make it on our "Best Value" or "Best Overall" list. Check out our picks for the best online will platforms for the full results.
eForms' Pricing and What You Get
While eForms is one of the free tools online for making your own will, it isn't initially clear how their pricing system works. It is true that you can access your completed forms for free, but users need to sign up for a free trial of the premium membership to access it. The trial is for seven days total, then users are charged for a monthly subscription.
Monthly membership ($39):

For individuals, monthly memberships begin at $15 per month. This is available as a seven-day trial for users who enter their credit card information.

Single document ($45):

An alternative to the subscription or trial is to pay a flat fee for access to a single document.
When users begin their will with eForms, there is no clear indication of the price, which could be frustrating for some users. However, it's still affordably priced overall compared to similar tools.
Situations eForms Does and Does Not Cover
Not all online will makers cover every situation. Though comprehensive, these tools have limitations and, eForms is no exception. It's important to recognize what eForms does and does not cover before you begin making your will.
What does eForms cover?
With the eForms platform, it's easy to make a basic will. This coverage likely is enough for average users. eForms includes coverage for the following:
Special bequests:

These are gifts you give to specific individuals if you so choose. With so many

assets to include in a will

, a lot of people choose to leave specific things to those they love.

Guardians:

If you have any children or dependents, you can name a legal guardian to take over their care in case of an emergency.

Pet guardians:

Our pets are like family, so name a guardian to take over care of your pet if you're no longer able.

Predeceased family:

While most people leave their assets to their spouse or another trusted heir, what happens if this person dies before you? A predeceased family clause identifies where your property goes if this happens.

Digital assets:

Digital assets include things like photos, accounts, software, and so on. You can leave access to these things in your will.

Special requests:

Finally, with eForms, you can list any special requests about your final resting place, funeral, and so on.
While these things above are likely a good fit for the majority of the situations, it's not a one-size-fits-all solution. When in doubt, check with an attorney about which documents you specifically need.
What doesn't eForms cover?
Like other online will makers, eForms has limitations. It doesn't cover everything, and this should be expected for the cost. As we mentioned above, it does fit the "average" user, but that doesn't mean it's the right fit for you. Here are things eForms doesn't cover:
Homeownership:

If you own a home, it's important to protect your property with clear guidelines. This is not included in the eForms will and testament generator.

Trust:

Many people don't recognize that there is a

difference between a trust and a will

. If you need a trust, you'll need an additional document.

Medical:

eForms does not include any medical documents like an advance directive.

Power of attorney:

Power of attorney forms give someone the ability to act legally on your behalf. This form is not included within eForm's will-maker.
If you are interested in these other forms, many are available through eForms. However, you'll need to pay an additional fee and restart the process. Depending on your time and budget needs, this might not be the best option.
eForms' Policy for Updating Your Will
With eForms, you'll need to pay attention to your membership when it comes to updating your will. While most people won't need to make updates frequently (or at all), they do happen. If you have children, get married or divorced, or want to distribute your assets differently, you'll need to update your will.
If you have a paid premium membership, you can update your will with eForms anytime. Otherwise, you'll need to have paid for single-file access ($45) to continue updating your will. If you have a free trial only, access ends after your trial period.
eForms' User Experience
Compared to other platforms, eForms is simple to use. Because it was built only a handful of years ago, the interface is modern and simple. All terms are explained in words that are easy to understand, no matter your experience.
Overall, eForms has a good user experience compared to other tools. However, many users are likely to be frustrated when they need to input credit card information to access their documents. Even with a free trial, it would be helpful to have more warning of these steps prior to beginning the will questionnaire.
Attorney's note: eForms was comprehensive and seemed to be fairly balanced in terms of effectiveness and simplicity. It was limited to providing for a spouse for primary devise, but included unique provisions, such as those about other property, beneficiaries who predecease, and omitted heirs.
I thought the one section on the sub-rules for witnesses could have explained the rule a little better. Overall, it was satisfactory, but fairly standard as far as online will makers go.
eForms' Customer Support
Similar to other low-cost and free platforms, eForms has limited forms of support. Users can reach a customer service agent through live chat, phone, or email. The support agent can help with basic questions, but they cannot provide legal advice. eForms doesn't offer any form of legal guidance.
However, eForms does have in-depth guides for each stage of the will process. These are ideal for anyone hoping to understand the different sections of the will creation process and any coverage they might need.
Are There Any Extra Steps to Legalize Your Will With eForms?
Like with all online will makers, you'll need to take additional steps to ensure it's legal once you download your completed form. From there, the specific requirements depend on the state. Most states require the following:
Witnesses:

You'll need signatures from two witnesses who must not be related to you or included in your will.

Signature:

Your completed, printed form needs to be signed by you.

Notary:

Most states also require your legal will to be notarized. This is a generally good practice with all legal documents to ensure they hold up in court.
Once your legal will is completed with these steps above, store it somewhere safe. Share your document's location with trusted loved ones so it's easy to find.
Attorney's note: eForms has sufficient elements to make a valid will.
Should You Make a Will With eForms?
Making an online will has never been easier thanks to tools like eForms. While it's not an all-in-one solution, eForms fits more situations and is affordably priced. Depending on your specific needs, eForms might be the right choice for you when it comes to protecting yourself and your assets.
No matter which online will maker you choose, it's important to create the right legal form for your needs. Even a basic will and testament goes a long way towards helping you stay on top of your end-of-life wishes.
Still aren't sure if you should use eForms? Head on over to our picks for the best online will makers, take our online will maker quiz, or take a peek at our top picks below.
Best online will makers

| Online will platform | Cost | Key features | Get started |
| --- | --- | --- | --- |
| | $69, one update per year | Easy to use, most comprehensive | |
| FreeWill | Free, update anytime | Sleek interface, better suited for simple estate situations | |
| Willing | $69, update anytime | Simple to use, may need to upgrade for more complex will | |