We're excited to announce a new helpful feature in Cake -- your free, personalized end-of-life planning checklist. When you create your free Cake account (Cake is free forever, by the way), you'll answer a few simple questions about yourself and the planning you've done so far. Cake then creates a personalized checklist in priority order to highlight what you need to do, and the order in which you should do it.
How the end-of-life planning checklist works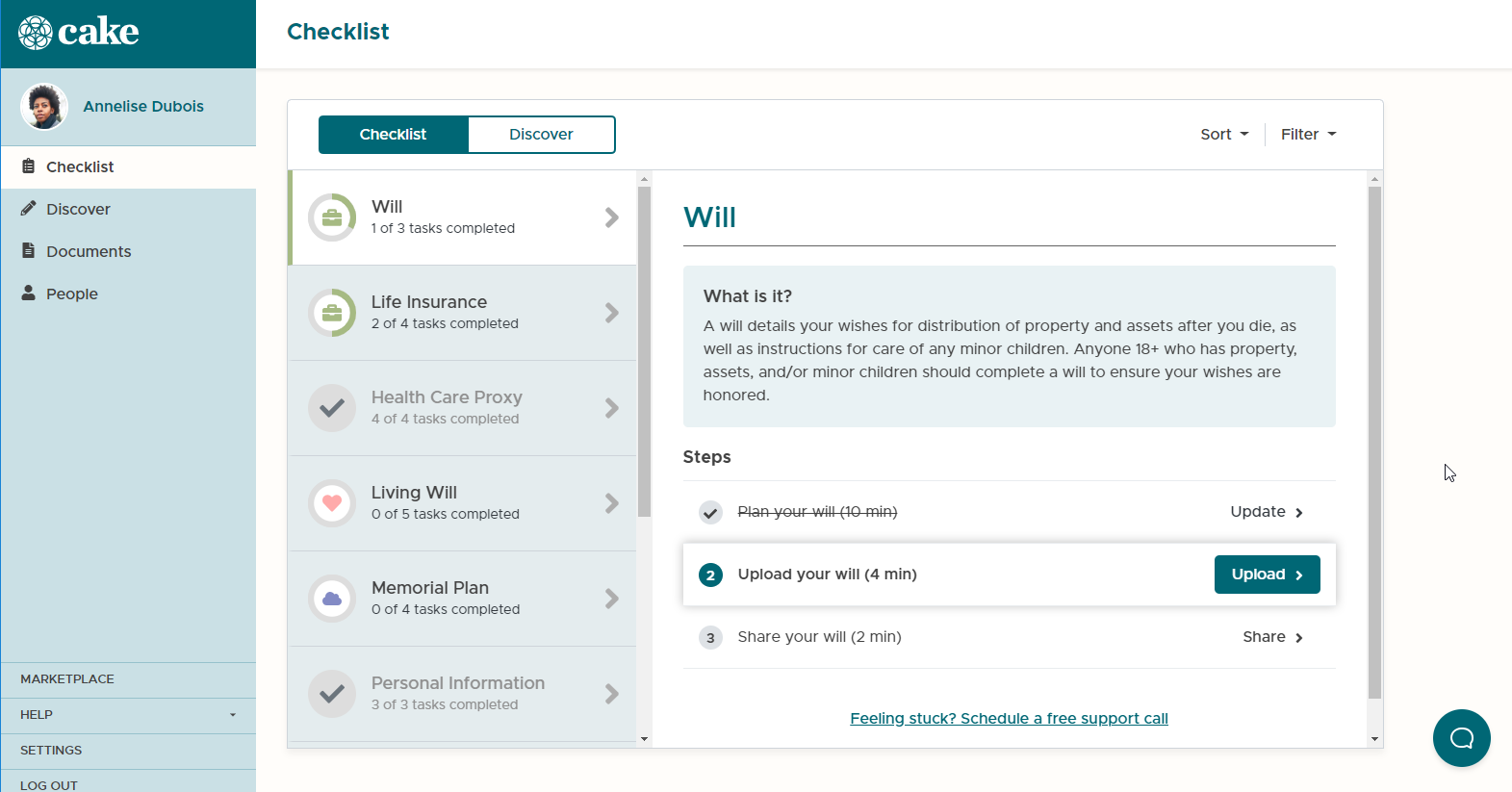 We recognize that making progress on anything difficult requires some guidance, accountability, and a place to keep track of all the moving parts. That's how we designed the checklist to work! Here's how you can use the checklist to meet your planning goals:
Get a birds-eye view of all the planning that should be done, in priority order


Sort and view planning topics based on what interests you most


Receive guidance on each step of the planning task at hand


Keep track of what you've completed and what needs to be done


Navigate Cake and update anything in your plan with ease
Documents you are able to create/upload from the checklist:
Healthcare documents (advance directives): health care proxy, living will, and an advance care plan


Legal documents: will, life insurance policy, power of attorney for finances, and a pet care plan


Funeral documents: body/burial preferences and memorial/funeral preferences


Legacy documents: decisions about your digital accounts after death, a bucket list, and how you want to be remembered
How to get your personalized end-of-life checklist
Sign up for a free Cake account. Cake is free forever — no catches!


After you sign up, we'll ask you a few simple questions about your life situation


Next, we'll ask about what planning documents you may already have created


After answering these questions, you'll see your personalized end-of-life checklist. It will look similar to the image above
That's it! If you check out our checklist feature and have suggestions for the kind of functionality you would like to see added, please send us a note with your thoughts to support@joincake.com.
Note: If you already have a Cake account, but haven't logged in for a while, you'll be prompted to answer these questions next time you sign into your account. We'll create your personalized checklist based on your answers, in addition to the planning you've already done on Cake.