If you're named the executor or personal representative for an estate, you are taking on a lot of responsibilities. Even the most comprehensive estate planning cannot eliminate all of the tasks that an executor must fulfill after the death of a close friend or family member.
Jump ahead to these sections:
Executors used to have two choices when administering an estate. Either hire an attorney or try to administer the estate on their own. Hiring an attorney could be extremely expensive, and trying to do it alone is often overly burdensome, leaving many important tasks overlooked or ignored.
Now, executors have additional options like online estate settlement or probate services. Just like online will tools, it's possible to do a lot of this process digitally. With so many online options, how do you know which one is right for you? In this guide, we compare some of the leading online estate settlement and probate services. Our analysis includes costs, features, and any standout services.
What is An Estate Settlement or Probate Service?
Let's start by discussing the purpose of an estate settlement or probate service. After someone dies, their family is usually left with the task of settling their estate. There are a number of tasks that must be completed to settle even the simplest estate. An estate settlement or probate service helps you complete those tasks.
The simplest programs provide straightforward instructions and guidance. Some of the more comprehensive programs offer attorney services and plans that start before death. One service even allows you to name the service provider as your corporate executor. This means that the corporate executor would handle all estate matters after your death.
What Do Estate Settlement or Probate Services Typically Provide?
Just like every estate is different, every estate settlement or probate service we looked at was different. However, at their most basic level the online providers typically offered the following services:
Online support in some format (email, phone, chat)
Online instructions
Probate forms
What is typical depends on the service provider. Two of the most popular service providers that we looked at offered a variety of plans so you could select the one that best suited your needs.
The most comprehensive service offerings go beyond guidance to coordinate a bulk of the estate settlement process. While this does not remove all of the executor's responsibilities, it greatly reduces what an executor would have to do on his or her own. Some of the more extensive services offered included the following:
Review of probate documents
Case manager
Electronic filing and signature of court documents
Coordination with family members
Professional services such as legal services representation with other people and institutions
Not all services are going to offer everything that you need, and some may offer services that you don't need. While we can't tell you what is right for you and your family, we can tell you that thinking about potential estate issues now can help guide your decision.
For example, if you have concerns about discovering all of the deceased's assets, then a dedicated asset discovery plan may work best for you. We also looked at service providers that provided more personalized assistance. These types of providers may best suit a more complicated estate.
How Much Do These Services Typically Cost?
The price of these services varied by the company and selected plan. We also were not able to gather prices for every service we researched because two of the service providers did not list their rates. Other factors that influence price include the following:
Plan: First, the type of plan matters. The most basic plans were less expensive than the premium plans.
Location: The state where the plan was going to be used changed the price for one provider.
Payment type: Additionally, it matters whether a customer was going to pay a flat fee or use a payment plan. The flat fee tended to offer a minimal discount.
Duration: How long is the plan duration?
Add-ons: Finally, optional add-ons like one-on-one support can increase the cost.
The least expensive, most basic level plan we reviewed cost $600. The most expensive basic level plan we reviewed started at $2,948. The most expensive premium plan we reviewed started at $7,388. The only attorney plan we found cost $5,000.
If you are considering one of the more expensive plans from an online service provider it may be beneficial to talk to an estate planning attorney or probate attorney licensed in your state. Depending on how much the attorney charges for estate settlement or probate services and how much time they think the matter will take, the costs could be comparable.
Should You Use an Estate Settlement or Probate Service?
When it comes to estate settlement and probate matters, you have a few options, including using an online service, using an attorney, or handling the matter on your own. Whether you should use one over the others is entirely up to you and your needs. Before you make your decision, however, you should consider the following.
You should use a service if…
If you have accepted the appointment of executor, you're going to have a number of tasks that need to be timely completed before the estate can be closed. It can be overwhelming and time-consuming to figure out the probate process on your own.
You should use a service if you want a solution that is going to provide support and guide you through the entire process. Of course, you have a number of options when selecting an online service. The best option is the service that fits your needs and the needs of the estate. The more extensive the estate, the more services you may need to purchase.
An important factor when considering this option or any of the options may be cost. Keep in mind that you may not have to pay this cost out of pocket. Most costs associated with estate administration can be paid for by the estate. However, if the estate has few to no funds, this may not be a practical option.
You should hire an attorney if…
If you're an executor and have questions about the estate settlement or probate process, you should consult with an attorney. If necessary, an attorney can answer your questions and assist you with the estate settlement or probate process. The decision to hire an attorney will depend on the estate's needs, your capabilities, and your budget.
Every estate is different. Some estates are simple while others are complex. You should hire an attorney if the estate has many assets, multiple beneficiaries, or the estate is being contested.
Not everyone can fulfill the role of executor on their own, and that is okay. Geography, time, emotions, and experience can all limit an executor's capabilities. If you feel limited in your capabilities as an executor, you should hire an attorney or other professionals as needed.
Just like any other service, attorneys cost money. While it may be possible to pay attorney fees from the estate, this is only an option if the estate has enough money available to pay for these costs. Otherwise, you may end up having to pay the attorney fees out-of-pocket. Always consider the big-picture budget.
You should go the DIY route (no specialized attorney or service) if…
Finally, it's possible to complete your executor role on your own. This means that you don't need to hire an attorney or utilize an online service. If the estate has limited assets, debts, and beneficiaries, you should go the DIY route.
States have different laws regarding the probate process, and many have laws regarding the administration of small estates. What qualifies as a small estate varies from state to state. However, most small estates are those without real property (house or land) and that fall below a certain value threshold. Check the laws of your state to see if the estate qualifies as a small estate.
You may also choose to go the DIY route if you have training or experience that gives you the skills to administer the estate on your own. You don't necessarily have to have finance or legal experience to be a good estate administrator. However, you should have the ability to communicate with others, stay organized, and meet deadlines. These skills may be the very reason that your friend or loved one named you executor.
Remember, even if you go the DIY route, it is never too late to retain professional services to help you when necessary.
How Did We Compare Each Estate Settlement or Probate Service?
Before comparing each estate settlement or probate service, we came up with criteria for measuring each tool. The two primary tools we evaluated had a range of plans offering various services. This meant that we compared the basic plans to the premium plans and add-ons. We also evaluated two additional service providers.
However, these service providers required contacting the service provider and creating a customized plan for individualized pricing. This made evaluation for many of the features more difficult. Even with this limitation, we were still able to get an idea about the services offered.
Once we came up with the criteria, we looked at each service and tested out their website. Most of the information we needed was readily available. This allowed us to rate each tool and identify the gold standard for each feature.
Services offered: Which features offered more customizable, comprehensive options? Similarly, which is a better fit for one-size-fits-all DIY needs?
Price: Products ranged from $600 to top-tier plans starting at $7,388. This range is helpful for different situations.
Email or phone support: Not all of the plans listed unlimited email and phone support. Support can be helpful, especially throughout this process.
Case manager: We looked at whether or not the feature included a case manager. If you need a little extra assistance, a dedicated case manager can guide you through each step.
Attorney support: We evaluated whether or not the plan offered attorney support. Most services offer limited to no attorney support. EZ-Probate's attorney plan is the only plan that clearly states it provides attorney representation in court. ClearEstate included probate application review by a will and estate attorney, if required, for all plans. If you need dedicated attorney support, you should consider hiring an attorney on your own.
Intake process: We examined the intake process for all providers to see which was the most user-friendly. We preferred clear guidance on how to make contact to begin the intake process, how long the intake process will take, and what to expect during the intake process.
What audience is this best for?: Everybody has different needs. We tested each service to determine which audience is right for each tool.
Payment plan: We looked at whether the service provider offered a payment plan. Both ClearEstate and EZ-Probate clearly stated that they offered payment plans. The two other providers did not display payment information on their website.
Price includes public notice: None of the prices indicated that public notice was included. This means you'll still need to pay additional fees to complete the probate process.
Price includes filing fee: None of the prices indicated that a filing fee was included.
Chat support: None of the services offered 24/7 chat support which could be a little frustrating if you are dealing with estate or probate matters outside of normal business hours. We did appreciate that outside of normal business hours, ClearEstate provides a chatbot that lists business hours and the option to leave a message or schedule a free consultation call.
Now that you know how we evaluated each service, keep reading to see how they compare with each other.
What Are the Best Estate Settlement or Probate Services?
According to our assessment, here are our expert picks for the best estate settlement or probate services. These are based on the criteria above and our own experiences with each platform.
Best overall: ClearEstate
Best DIY: EZ-Probate
We wouldn't recommend any other service unless you're already working with an attorney or clearly understand the probate process. While there are many services that provide supplemental administrative help, these aren't as comprehensive as ClearEstate and EZ-Probate.
Best Estate Settlement or Probate Services Compared
At the most basic level, almost all estates must complete certain steps during the administration process. However, every estate and every executor is different. What is the best option for you ultimately depends on the estate, your unique needs, and your budget. As one service pointed out, it may also depend on your tech savviness.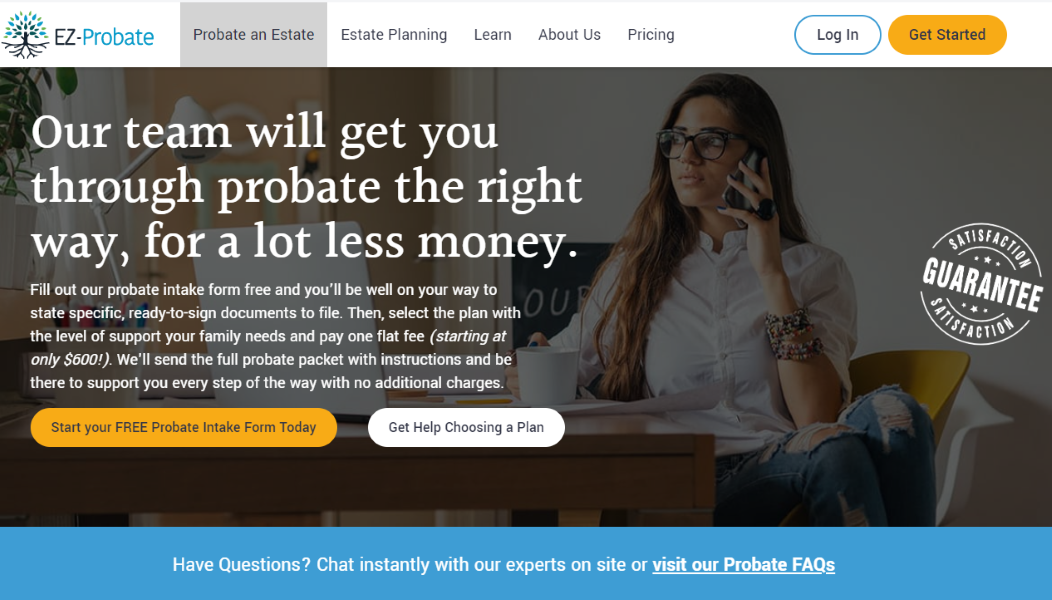 EZ-Probate seemed to be the most straightforward online service. It was the least expensive of those compared, and it promises to get you started within 20 minutes. EZ-Probate offered the following three plans:
DIY plan $600
Concierge plan $1,750
Attorney plan $5,000
For simple probate cases, we preferred the EZ-Probate DIY plan over the other plan types because of its price and the ease with getting started. The EZ-Probate plan offers the following:
Fully completed probate forms
Video tutorials
Phone consultation with a probate expert
Unlimited email and chat support
The EZ-Probate attorney plan was a unique option when compared with the other services. If you need more comprehensive estate settlement or probate services, being able to pay a flat fee for direct support from a licensed probate attorney could be very useful. Compared to hiring an attorney in your own area, this is more accessible and affordable.
Best for: EZ-Probate is a great all-in-one guidance tool for those with simple situations who feel confident handling things independently with some education and help. With a range of pricing options, there's something to suit most situations.
» MORE:
Save $$$ and time with our tools.
Start now.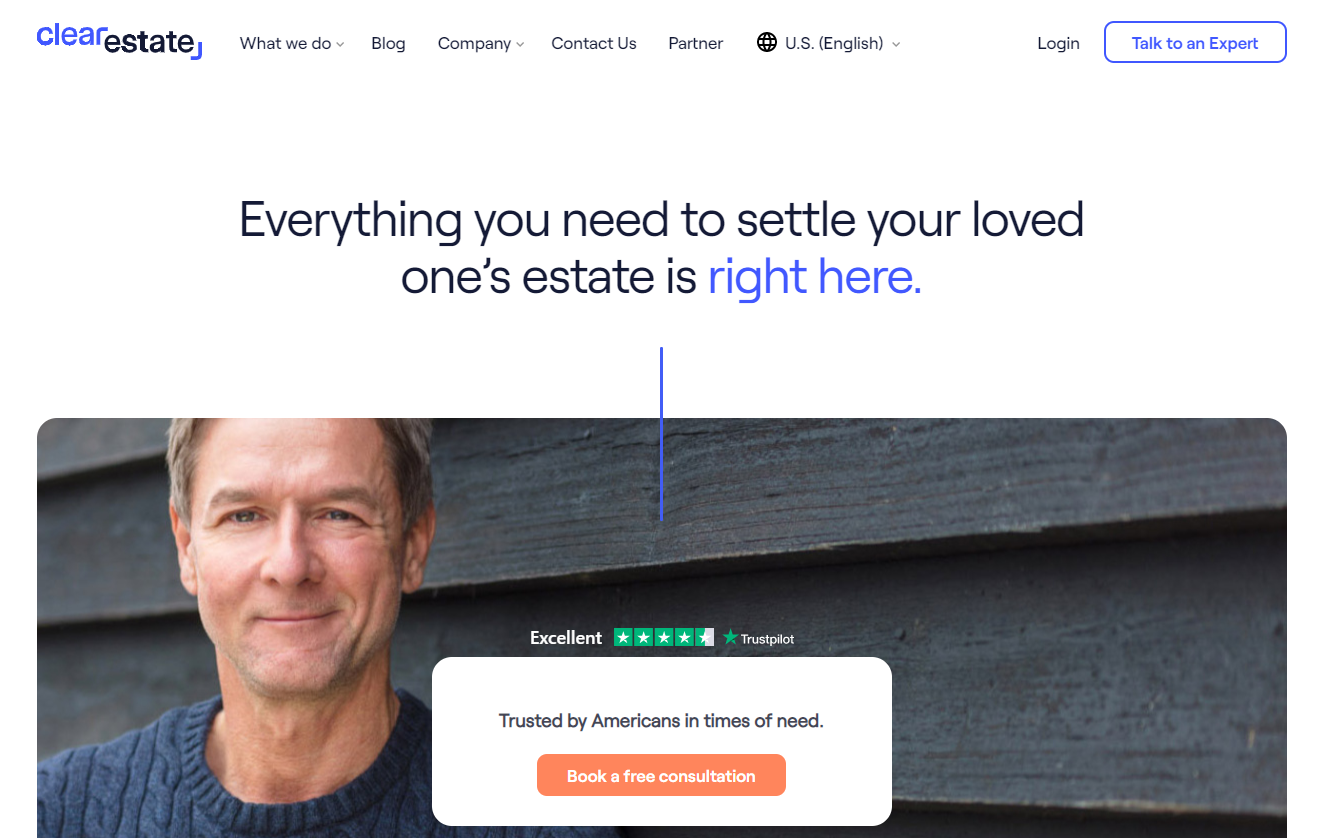 Next, ClearEstate probably would have been our top choice as a comprehensive online tool, except it still has some limitations. First, it's more expensive than EZ-Probate. The most basic ClearEstate plan (essential) started at $2,748 compared to $600 for EZ-Probate.
The other factor that preventing ClearEstate from being our clear favorite (pun intended) was that it only offers its services for the following states:
Arizona
California
Florida
Nevada
New York
Texas
Speaking of cost, the costs for the different plans also varied by state. This means that what you would pay if you were getting a plan from Arizona would be different from what you would pay if you were purchasing a plan for California.
A unique add-on that ClearEstate offered, unlike the other services, was the option to name ClearEstate as your corporate executor for your future estate settlement. If naming an executor has been something you have been struggling with, then this could be a solution for you. However, it would be beneficial to speak to an attorney to understand the potential consequences before naming a corporate executor for your future estate settlement.
Best for: is a powerful, comprehensive service that's best for someone who needs professional guidance throughout the full probate process. This is a simple, transparent settlement process to give executors and loved ones full peace of mind.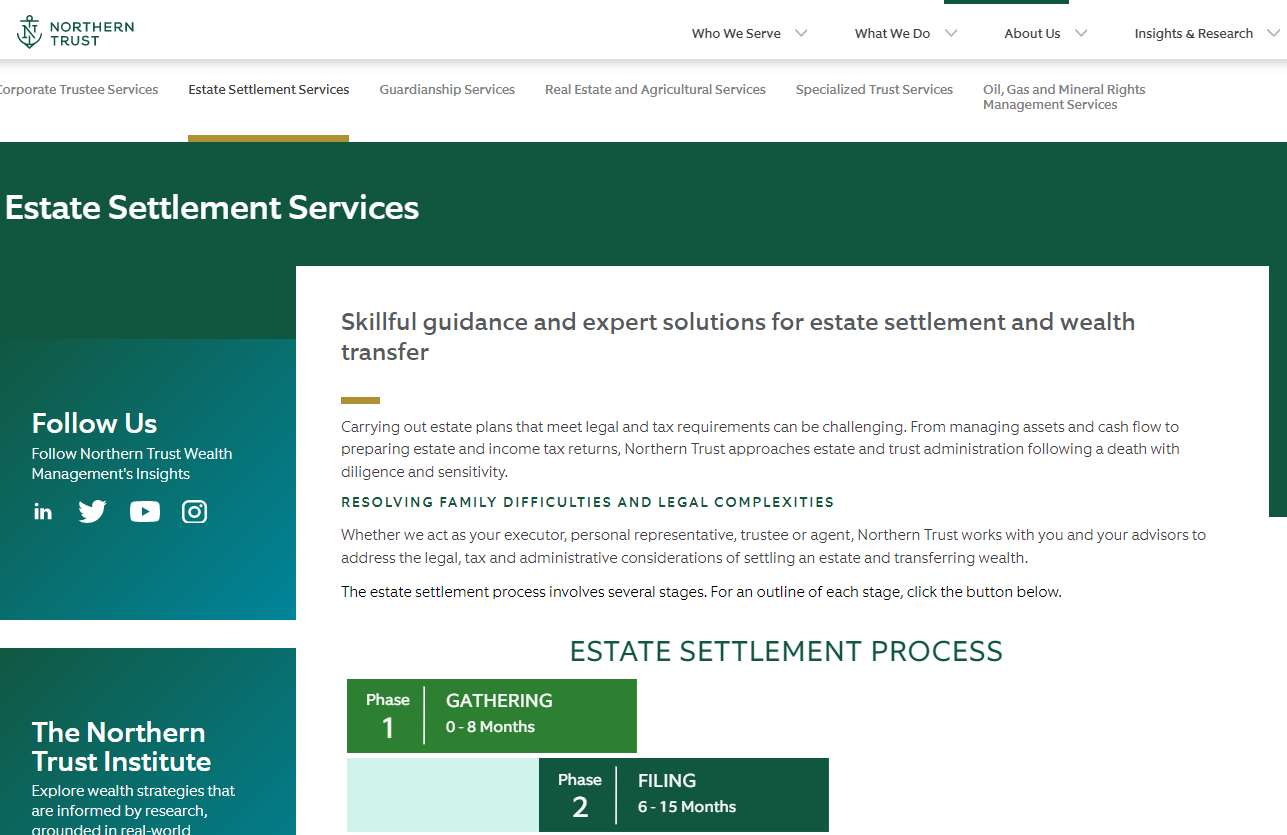 Similarly, Northern Trust provides more advanced estate settlement and probate services. If you are looking for a DIY estate settlement or probate service option, then this is probably not for you. Northern Trust assumes you already have other professionals working on the estate and would work with them. Specifically, this would include an attorney, accountant, and other advisors.
Northern Trust provides more personalized management services, including:
Works closely with your other professional service during the estate settlement process
Manage assets
Manage cash flow
Prepares estate and income tax returns
Estate administration
Trust administration
Can act as an executor, personal representative, trustee or agent
Provides advice, guidance, and solutions for estate settlement and wealth transfer
Northern Trust is not a DIY option. It is a better option for a more complicated estate or an estate with a number of assets. Their pricing is on a case-by-case basis, and you'll need to contact a wealth advisor to determine the plan that's right for you.
Best for: Someone who already has an estate attorney who wants supplemental help protecting his or her wealth and legacy.
Learn More About Northern Trust
If you don't like performing administrative tasks, then this may be the service provider for you. Estate Settlement Services, Inc. provides administrative assistance to help with the settling of the estate. Its services include the following:
Contacting Social Security
Contacting the IRS
Contacting employers (current or past)
Contacting banks
Contacting insurance companies
Contacting investment firms
Gathering forms and assistance in filling them out
Title transferring of assets
Canceling no-longer needed insurance
Obtaining death certificates and letters testamentary
Receiving Estate ID number and opening an estate bank account
These services are not everything that an executor needs to handle. However, the services could greatly reduce the administrative burden put on the executor when fulfilling executor obligations. Depending on the cost, this may be a nice add-on service to compliment another DIY service option. Again, the cost is based on your situation, so you'll need to contact them directly for pricing.
Best for: Anyone who only needs administrative assistance with the probate process, like contacting providers (banks, etc).
Learn More About Estate Settlement Services, Inc.
Start Your End-of-Life Planning Today
End-of-life planning may seem overwhelming, but it doesn't have to be. The more proactive and communicative you are now, the easier it will be for your loved ones to handle practical matters after you are gone.
The best time to start your end-of-life planning is today and Cake is here to help. Aside from planning for the probate process, create your free end-of-life plan with Cake today to share peace of mind with your loved ones.