"Everyday Hero" is a feature on the Cake Slices blog about people who make the world a better place in their own unique way. Cake is free a website that helps adults of all ages "get their affairs in order" for more peace of mind and to live more purposefully in the present.
---
Some people march to the beat of their own drum – in costume. Sandy has been doing just that for the last 27 years, donning elaborate costumes to her drug store job in celebration of both common and obscure holidays.
International Safety Pin Day, anyone? Yup. Sandy has a costume for that. Over the decades she has accumulated "hundreds and hundreds" of costumes. And whether she's dressing for Pickle Day or Easter, she's all in.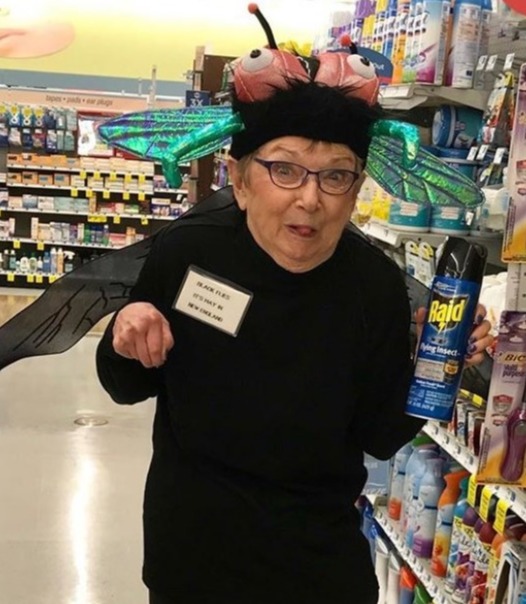 Dressed as a pesky house fly
Thanks to her hobby, she has cultivated a following of dedicated patrons. "Sometimes people come into the store just to see what I'm wearing that day." Sandy's costumes are a highlight, especially for ill individuals filling their prescriptions at the pharmacy.
And that's probably why the management of this national chain drug store makes a big dress code exception for Sandy. "The store has changed hands several times over the years, but my special dress code has been grandfathered in each time."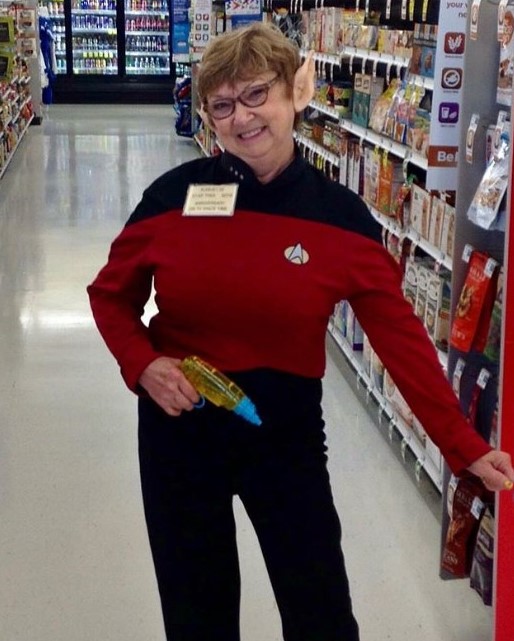 Any Trekkie fans?
Sandy is known for her trademark big smile and outgoing nature, but she wasn't always a social butterfly. She described herself as a shy child. "My mother had to drag me out to Girl Scouts. Even when I first got married, I was still very shy." But years of dressing in costume and talking to curious customers changed that.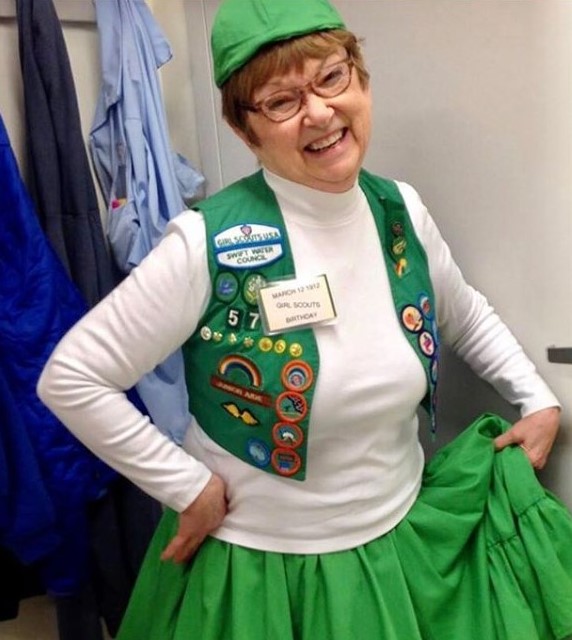 No longer a shy girl scout
"I'm also not shy about letting people know when I'm interested in something they have. One time I told a customer that I'd love to have his Heinz ketchup T-shirt when he was ready to get rid of it someday. An hour later, he returned with the shirt washed and folded!"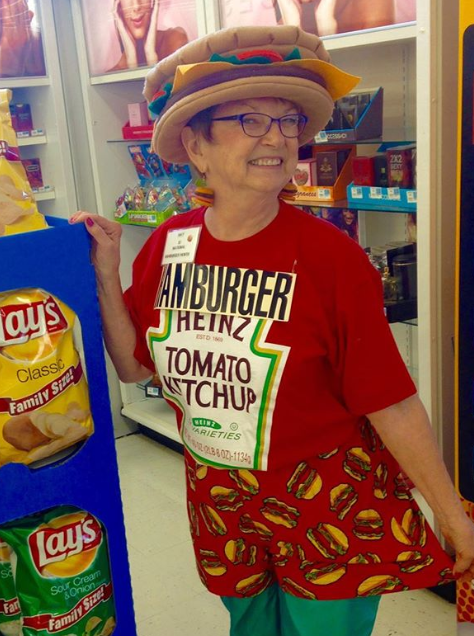 Dressed for National Hamburger Month
It takes a village
Occurrences like that aren't uncommon. While Sandy and her husband Andy are the masterminds behind most of the costumes, it has become a community effort to dress Sandy.
Her customers, coworkers, and wider community members are always on the lookout for ideas and costume pieces to send her way. "They'll pick things up at yard sales and such to bring in for me. 'I bet Sandy can use this' they say." One of her favorite haunts is the local Goodwill where she hunts for ideas.
Christmas is one of her favorite holidays to dress for. "For the last 8 years, one customer has brought in his Grinch hat and hands so I can borrow them for Christmastime. I return them after."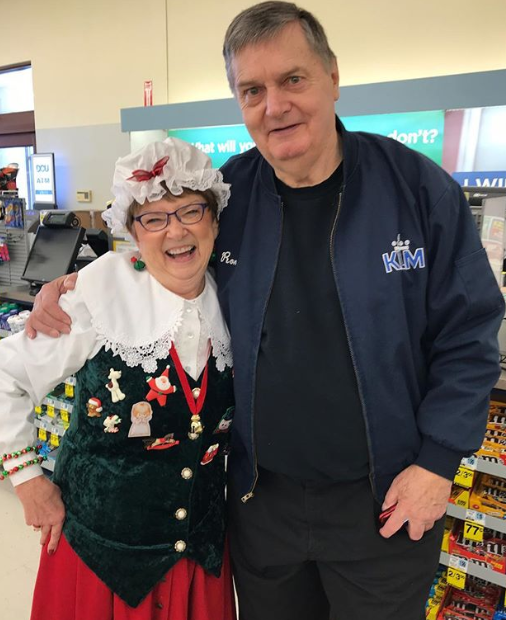 One of many Christmas-themed costumes
Ironically, Sandy doesn't dress up for Halloween. "It got to the point where I felt I couldn't keep topping last year, so I stopped. For Halloween, I now dress up as a drug store employee. Everyone gets a kick out of that. It's the one day I get to appreciate everyone else in costume."
Life goals
When asked what keeps her dressing up after all these years, her answer is pretty simple, "Because it makes people smile. And it makes me smile. It gives me a positive attitude and makes me joyful. Sometimes people ask me if I get paid to dress up for the store. No! I wouldn't want to do it if I got paid. I think it would take all the joy out of it for me."
"I've never had an angry customer," she remarks. "Sometimes people go about their day without smiling once. I like to change that. One time I met a woman whose husband had died some time ago from cancer. She told me this was the first time she had smiled in a long time. That really stuck with me."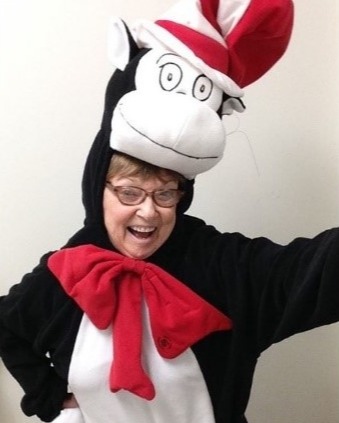 It's no surprise what Sandy wants to be remembered for someday – "Just that I made people smile." We think there's a strong likelihood of that, Sandy!
You can follow Sandy's costumes-of-the day on Instagram: @sandydboop
Join Cake's monthly newsletter.
Learn all you need to know about end-of-life.
Thank you for subscribing.
Building a legacy
We feature stories about people like Sandy who are living their lives fully and on their terms. But what about you? What do you want to be remembered for someday? It can seem like a daunting question to answer, but one that can lend clarity to your purpose and goals in life. We think that's well-worth noodling on!
Cake is free end-of-life planning website (you're on the Cake blog right now) that helps adults of all ages "get their affairs in order" and think about the important questions in life. If you're looking to be better prepared for all the "what-ifs" and have more clarity on what's most important to you, make a free Cake end-of-plan.
---
Know of an Everyday Hero in your community? Shoot us a note at support@joincake.com. We might just feature them!