Everyone needs a will and testament to make sure their final wishes are met. However, creating one used to be a complicated and costly process. The only way to make a legal will was through an attorney or to do it yourself. It's easy to see why these weren't accessible options for everyone.
Today, there are a variety of online wills that simplify this process. One of these tools is Fabric. Fabric launched an online will tool in 2017, and it's one of the many free options online today.
Jump ahead to these sections:
But, should you use Fabric or one of its competitors? To answer this question, we set out to learn whether each online platform can produce a valid will, as well as observe user experience, pricing, and any legal implications. Both myself and Michael T. Flannery, an attorney and estate planning expert, went through Fabric's online will process and took notes. This review will mostly come from my first-hand experience, but you'll see Michael's tips, tricks, and comments throughout labeled as "attorney's note."
So, with so many comparable tools, how does Fabric's platform add up? Is this the best tool for making a will yourself, and how does it work? In this guide, we'll review Fabric's online will maker to assess its pros, cons, and cost.
Overview: Fabric's Online Wills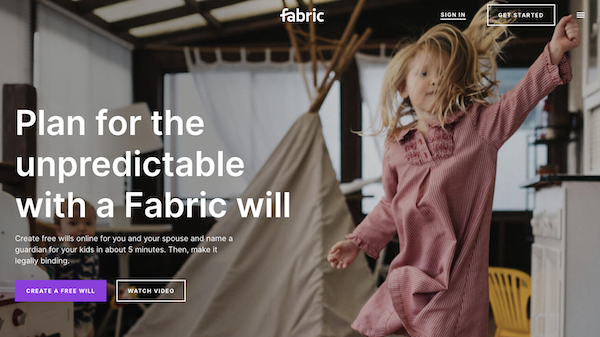 Cost:

Free

How you receive your will:

PDF download of your will through email

User experience:

Good design, mobile app available, hyper-focused on life insurance

Time to complete:

10 minutes

Policy for updating:

Update online easily

Support:

Option to talk to a non-attorney agent
Try Fabric's Online Will Maker
Fabric prides itself on being an easy-to-use platform for everyone, no matter how new you are to the will-making process. It claims to take around five minutes to complete, and it covers a wide variety of situations to make sure people are covered no matter what.
One of the best assets of Fabric, aside from its modern design, is its cost. Fabric is a free service that costs nothing to use. Fabric makes money by partnering with life insurance companies. Throughout your questionnaire, Fabric learns more about your specific life insurance needs to offer a quote if you choose to proceed through their platform.
» MORE:
An online memorial is a perfect ending to honor and celebrate someone's life.
Create one for free.
Pros
Simple to use

Easy to understand terminology

Sleek, modern design
Cons
Limited coverage depending on your needs

Heavy focus on selling life insurance
When we reviewed 13 online will platforms, Fabric didn't make it on our "Best Value" or "Best Overall" list. Check out our picks for the best online will platforms for the full results.
Fabric's Pricing and What You Get
As mentioned before, Fabric's will tool is completely free. Unlike other platforms, you don't need to have a paid membership or pay any fees to access your legal document. There are no trial accounts or credit card information necessary. However, you do need to create an account through Fabric to access your will. From there, the PDF is emailed to you directly.
It's important to note that Fabric makes money through their life insurance platform. Once you've completed your online will questionnaire, it directs you through the process of finding a life insurance quote. Though this is optional, it might be helpful to have the two services tied together if you're in the market for life insurance.
Situations Fabric Does and Does Not Cover
All online will tools have some limitations. Fabric is no exception. While very comprehensive for a free tool, it's important to be aware of the type of coverage included. When in doubt, work with an attorney who can assist you in knowing which aspects of a will (and additional documents) you need.
What does Fabric cover?
Fabric covers a wide variety of life situations for a free tool. Throughout the will-making process, it guides you through different documents depending on your answers.
Spouse will: It's easy to create a will for your spouse at the same time. Fabric uses your answers and reflects them for your spouse.
Guardianship: If you and your spouse pass, name a guardian to take over in your place for any dependent children.
Special bequests: If you have any assets you'd like to specifically give to someone (like a favorite necklace), you can do so with Fabric. Many people have a lot of assets to include in a will, so this is a good option.
Executor: Name someone who is responsible for carrying out your wishes in your will.
Contacts: Within Fabric, you can easily share your completed document with your friends and family, as well as those included in your will.
Final arrangements: Fabric makes it simple to choose from preset options for final arrangements as well as your memorial ceremony. You can also leave special requests.
Again, don't hesitate to consult with an attorney about anything not included in the documents above. If you need additional coverage, this might not be the tool for you. However, Fabric does a good job meeting the needs of most users.
What doesn't Fabric Cover?
Fabric doesn't cover every situation. If you have more specific or complex needs, this might not be the right online will maker for you. Here are some of the things not included in Fabric's tool:
Trust: A lot of people don't understand the difference between a trust and a will. If you wish to set specific rules or requirements for your assets, you'll need a trust.
Homeownership: If you're a homeowner, it's a good idea to create specific documents ensuring your home deed is properly transferred to your heir.
Digital assets: Fabric doesn't have any section for customizing the treatment of your digital assets.
Pet guardianship: Fabric also doesn't have any guardianship section for your furry friends.
Medical and healthcare: Finally, Fabric does not include an advance directive, living will, or any medical documents.
While not everyone needs these specific types of coverage, it's important to keep them in mind when completing your online will with Fabric's tool.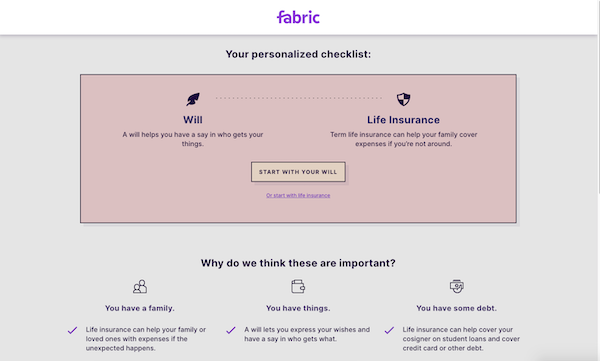 Fabric's Policy for Updating Your Will
You can update your will anytime by logging into your Fabric account. As long as you're a member, you can access your will and make updates. There is no fee to make changes to your will.
The easiest way to update your will is through the mobile app. However, it's important to note that Fabric continues to encourage users to apply for life insurance quotes through their online tool once you've completed your will.
Fabric's User Experience
The Fabric will platform is incredibly simple to use. Each question is asked in terms that anyone can understand, no legal experience necessary. No matter your comfort level with legal forms, you can get through Fabric's questionnaire with ease. In addition, each question is asked one at a time, reducing visual clutter and making the process feel pain-free. Fabric also has a mobile app for taking your will on-the-go.
However, Fabric's focus on life insurance gets in the way of its usability. It's clear from the beginning of the questionnaire that selling life insurance is Fabric's top priority. While this is understandable, there is no way to opt-out.
Once the questionnaire is complete, Fabric immediately funnels users through the process of securing a life insurance quote. There is no clear way out of this next step, which is frustrating. For users who are only interested in an online will, these extra tasks are unnecessary and confusing.
Attorney's note: Fabric seemed to offer very black-and-white statements of law (i.e., witnesses cannot be named in the will), but, this is not necessarily accurate in most states. So, again, I was left to wonder, is this provision accurate for the state I live in?
On the other hand, it made some specific provisions of law, like offering that Ohio and the District of Columbia do not use self-proving wills and that Louisiana requires notarization. This made the user experience a tad inconsistent and could be confusing for users who aren't familiar with state law.
Fabric's Customer Support
Fabric offers support in the form of instant messages or email. Support is available during normal business hours, and a representative gets back to you as soon as possible. Support agents are there to help with creating your will, but they cannot provide legal advice.
Fabric does not offer attorney support. It does not act as an attorney-client relationship, and responsibility for legalizing the will relies upon the user.
Are There Any Extra Steps to Legalize Your Will With Fabric?
To legalize your will with Fabric, you'll need to take a few extra steps. Your will is emailed to you immediately after you complete the questionnaire. From there, it needs to be printed. The specific legalization steps depend on your state, so always check with your local guidelines. Most states require the following:
Witnesses: Most states require two witnesses to sign your will. These must be individuals who are not related to you and who are not included within the will as beneficiaries.
Signature: You have to sign your will digitally or in-person.
Notarization: You'll need your will notarized.
These are the simple steps needed to legalize your will in most states. From there, store your document somewhere safe. Be sure to share it with friends and family, so everyone has access to it just in case.
Attorney's note: Outside of legalizing your will, the service offers practical tips on keeping your documents organized and how to ask the executor and witnesses to serve in these roles. It also ended with a more specific list of circumstances to see a lawyer before you legalize your will, which many of the other online will making services lacked.
Should You Create an Online Will With Fabric?
Fabric is one of the many online will tools that simplifies an essential process. No matter your experience level, having a will and testament is a must. Not only does it protect your assets, but it also helps your family know what to do when you pass away. While it's hard to think about, this is a situation we'll all be in at one point or another.
With Fabric, making a basic online will is easy. There are no complicated questions or legal jargon. In just a few minutes, you could have a legal form at your fingertips. Have you created your will?
Still aren't sure if you should use Fabric? Head on over to our picks for the best online will makers, take our online will maker quiz, or take a peek at our top picks below.
Best online will makers

| Online will platform | Cost | Key features | Get started |
| --- | --- | --- | --- |
| | $69, one update per year | Easy to use, most comprehensive | |
| FreeWill | Free, update anytime | Sleek interface, better suited for simple estate situations | |
| Willing | $69, update anytime | Simple to use, may need to upgrade for more complex will | |