Every year, Father's Day is a special time to celebrate and appreciate your grandpa. Whether you are celebrating with a barbecue, long-distance phone call, or something in between, we want to help you find the perfect gift to show Grandpa you care.
Our Top Picks
DIY Gifts
Practical Gifts
Last-Minute Gifts
Personalized Gifts
Gifts from Baby
Jump ahead to these sections:
As your grandpa gets older, gift-giving can get trickier. He seems to have everything he needs, so the key is finding a useful, unique, funny, or meaningful gift to show him how special he is.
We've come up with a list of 25 gift ideas for Father's Day for Grandpa.
DIY Father's Day Gifts for Grandpa
Nothing says, "you are special to me" quite like a handmade gift. Show your grandpa how much you care with one of these unique DIY (do it yourself) gifts.
1. Family tree
A truly special and unique gift for the patriarch of the family is creating your very own family tree. There are so many ways you can get creative about this. You can make one online, in a collage format, or design, print, and frame it.
Not sure where to start? Check out this helpful family tree guide.
2. What I love about my grandpa book
You can buy a pre-made book on Amazon and fill in the blanks, or you can make this yourself at home! Use any journal or notebook that you think he will like.
You can even use loose-leaf papers or note cards tied together with a ribbon. If the front cover is super plain, you can fill it with a picture collage. Fill in each page with different things you love about Grandpa. Bonus points if you include pictures!
3. T-shirt tote bags
If your grandpa has old shirts that he doesn't wear anymore, ask him if you can transform them into something he can use. You can upcycle his old, favorite tees (with just a pair of scissors in less than 10 minutes) into tote bags that he can use when he runs errands.
4. Basket of baked goods
Make Grandpa's favorite baked treats and arrange them in a cute basket. You can even decorate them with hearts, his favorite sport, or spell out "Grandpa" in frosting or edible letters. This gift is always a crowd-pleaser.
5. Handmade card
We love to scour the internet for all things DIY. When we searched handmade Father's Day cards for grandpa, Pinterest didn't disappoint!
From cards shaped like shirts and ties, to guitars and grills, there are unlimited fun and unique options for all skill levels. Elevate your card by writing a special poem about your grandpa.
Practical Father's Day Gifts for Grandpa
You know your grandpa best. If he would prefer a practical or useful gift to a handmade or personalized gift, we've got your back.
6. Newspaper front page puzzle
As people get older, doing puzzles and word games are useful for keeping their minds sharp. Many grandpas grew up reading the New York Times or other newspapers.
You can get your grandpa a puzzle version of the front page of his favorite newspaper. If he loves crosswords or other word games, a collection of puzzle books is another great gift.
7. Art supplies
If your grandpa is creative or looking for a new hobby, gifting him painting, drawing, or other art supplies is a really thoughtful and useful gift.
8. Golf clubs
Does your grandpa love to stay in shape on the golf course? This Father's Day, get him a new set of clubs. This is a generous and practical gift that will make you the favorite grandchild for years to come.
9. Grill master kit
If your grandpa won't let anyone else near the grill at family barbecues, a grill master kit is the perfect gift for him. The kit could include grilling tools, exotic meats and sauces, and a grill master chef's hat and apron.
10. Fun eyeglass holder
A fun eyeglass holder is a thoughtful and extremely practical gift for a grandpa. You can find noses, animals, and other fun shapes.
Last-Minute Father's Day Gifts for Grandpa
It happens to the best of us. All of a sudden it's June, it's Saturday, and you realize Father's Day is tomorrow! Here are some thoughtful last-minute gift ideas that will still wow your grandpa.
11. Museum membership
If your grandpa has a favorite museum, you can gift him a yearly membership. Most of the time, you can buy memberships online, making this the perfect last-minute gift. Make sure to check for senior citizen discounts!
12. Surprise meal
A meal can be a very special gift that takes little to no planning. So many memories are made around the dinner table.
If your grandpa has a favorite meal that you cook, run to the store for the ingredients and surprise him with a delicious home-cooked meal and quality time together. If cooking isn't really your thing, treat him to dinner at his favorite restaurant.
13. Gift bag of favorites
Does your grandpa love whiskey? Beer? Wine? Or is he more of a jerky guy? Does he have a favorite type of gourmet cheese? Chocolate?
Run to the store and fill up a bag or box with all of his favorite goodies. A little bit of tissue paper and some flowers go a long way in sprucing this gift basket up.
14. Cross an item off his bucket list
If your grandpa is one cool dude, he's probably got a list of things he wants to do before he "kicks the bucket."
Take him on a surprise day trip and cross an item off his bucket list. This is the kind of gift you'll both remember for a lifetime.
15. Tickets to the game
Tickets to a sporting event are a great last-minute gift. You can print them out and stick them in a card. If sports aren't really your grandpa's thing, concert or theater tickets are also great options.
Personalized Father's Day Gifts for Grandpa
Make Grandpa feel extra special with a personalized gift this Father's Day. He'll know you put a lot of time and thought into his gift this year.
16. Funny or meaningful mug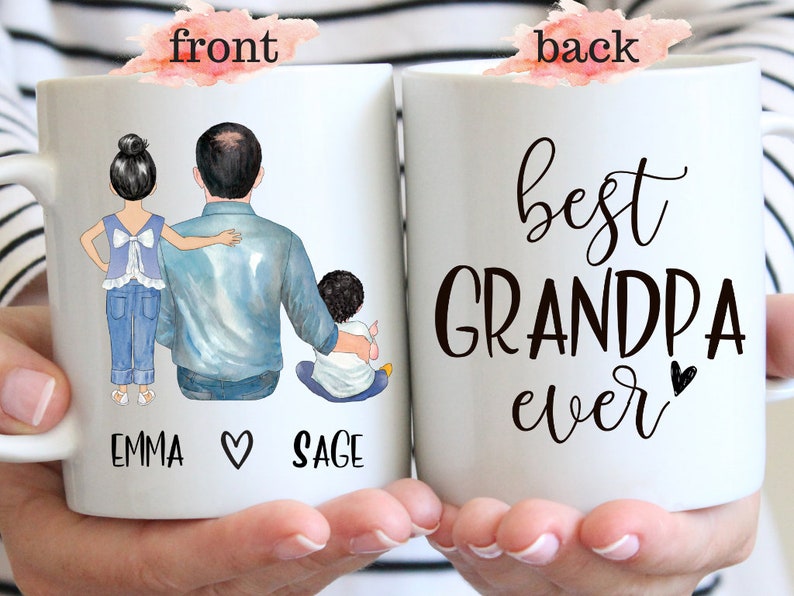 If your grandpa loves his morning tea, coffee, or hot chocolate, a funny or meaningful personalized mug is the perfect Father's Day gift.
17. Fun t-shirt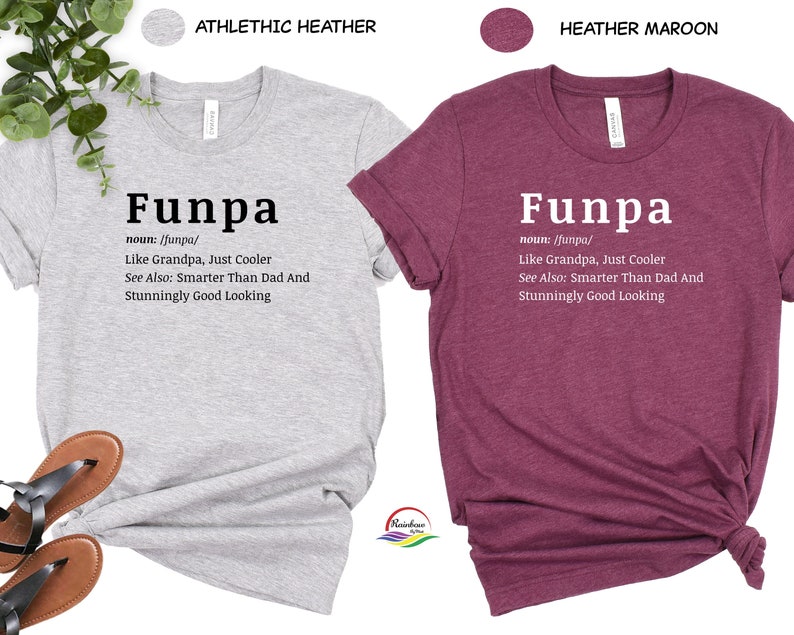 Is your grandpa a "Funpa?" Find a t-shirt that says so! Is he a Star Wars fan? An "I am your grandfather" shirt is sure to be a big hit.
» MORE:
Our members can save an average of $1000 when funeral planning.
Join now.
18. Photo calendar
Use a picture of 12 different family members for each month, or keep it simple with 12 different photos of you and Grandpa in a photo calendar.
You could also elevate this gift by finding 12 pictures from a different year of his life or 12 major milestones. For example, a baby picture of him with his parents, his prom picture, college graduation, wedding, first child, first grandchild, and more!
19. Money clip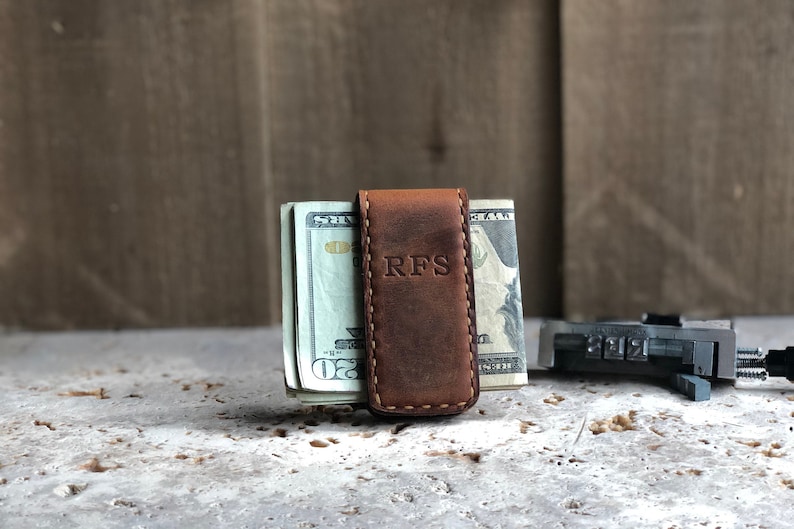 If your grandpa is old school, he probably thinks cash is king and that credit cards are for chumps. Let him know you get him by gifting him a personalized money clip.
You can personalize these with his initials, his name, a message, or even a picture of you two.
20. Custom family art
Commission an artist locally or online to make some personalized family art for your grandpa. You can have a drawing made of the whole family at a sports game or other event.
You can have a family portrait painted. The options are unlimited for this unique gift that Grandpa will cherish forever.
Father's Day Gifts for Grandpa from a Baby or Toddler
If you want to surprise your dad with a gift from his new grandchild, here are some adorable options that are sure to make him say, "Aww!"
21. Framed toddler art
Unless you're raising a prodigy, your toddler's art probably isn't museum-worthy. However, grandpa probably thinks anything his grandchild creates is a work of art.
Frame a picture just for Grandpa that he can proudly display.
22. Hand or footprints
There is something so unbelievably precious about little baby hands and footprints. You can use your kiddo's hands or feet to make animal shapes or hearts, or simply frame a hand or footprint with a picture of your little one and grandpa.
23. Photobook
A photobook is a wonderful way to celebrate a new grandchild and all the wonderful memories that go along with such a momentous life event.
Make sure to include lots of pictures of grandpa with your baby or toddler. You can order one online or make one at home scrapbook-style.
24. Recorded video message
Press record on your camera and try to get your toddler to clap, wave, or blow kisses. We give you major props if you can get them to say "I love you, Grandpa!"
25. Night sky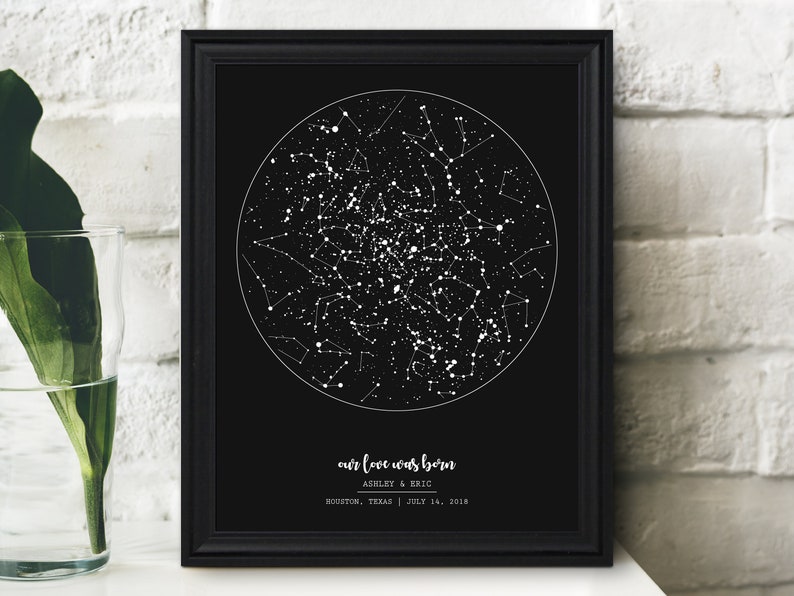 Are you celebrating the new arrival of the first grandchild in your family? Get Grandpa a beautifully framed print of the night sky on the magical day he became a grandpa.
Quality Time Is the Best Gift of All
Father's Day is a day to celebrate your dad and grandpa for everything they've done for you and your kids over the years. Give back to Grandpa by making new memories and spending time with him.
As grandparents get older, the best gift you can give them is quality time. Sitting down and helping them sort through old things, begin end-of-life planning, and reminiscing on the good old days is a gift in and of itself.