If you recently lost a loved one, you may be looking for a piece of commemorative jewelry to continually wear to keep your loved one in your thoughts. While some mourners spend thousands of dollars to have a memorial diamond grown from a loved one's cremains or strands of hair, you may want to take a less expensive route.
Jump ahead to these sections:
If you want a personalized piece of jewelry unique to your loved one, why not consider fingerprint memorial jewelry? Let us tell you what fingerprint jewelry is and the types available in the online marketplace. We will also tell you how much fingerprint jewelry costs and how to make your own.
Whether you buy the fingerprint jewelry or complete it as a do-it-yourself project, you can feel comfortable knowing that the piece is as unique as your loved one.
What's Fingerprint Memorial Jewelry?
Fingerprint memorial jewelry is a custom-made piece of jewelry that includes the printed or etched fingerprint of the deceased. Of course, some people may have custom-made fingerprint jewelry made for people who are still alive, but memorial jewelry is for those who are deceased. Do-it-yourself versions can be made when the finger is pressed into a malleable material.
Of course, some pieces of jewelry may be made with a generic fingerprint, but memorial jewelry is made with your special person's exact prints.
Even if your loved one has already been cremated or recently passed away, you may still find his or her fingerprints on certain personal effects. You still may be able to obtain a print — keep reading to learn how.
If your loved one faces death, you may consider taking the necessary steps to get a fingerprint now. Explain to your loved one that you are making something special but you don't have to describe it as a memorial item.
How Much Does Fingerprint Memorial Jewelry Usually Cost?
Fingerprint memorial jewelry costs, on average, between $50 and $200. The price depends on the size and quality of the piece.
Some companies create a customized piece at a discounted rate, while others only offer premium products that could be passed down as a family heirloom.
How Do You Get a Thumbprint or Fingerprint from a Deceased Loved One?
You may be wondering how to get a thumbprint or fingerprint of your deceased loved one. Here are some ideas.
If your loved one's body is at the funeral home, contact the staff to see whether the funeral home has a fingerprint scanner on hand. Many funeral homes keep this piece of equipment and most would be happy to capture high-quality prints for you to use for a custom-made piece of jewelry.
You could also take a high-resolution digital photo of a print on a birth certificate or another piece of identification that uses fingerprints or footprints. Your photograph should fill the frame as much as possible without cutting off any part of the fingerprint. It should be saved as a JPG and uploaded to the fingerprint jewelry company.
You could also use the traditional method of obtaining a fingerprint using black ink on white paper. If you are uncomfortable doing this, you may ask the funeral home director or a good friend to complete the process.
Custom, Store-Bought Types of Fingerprint Memorial Jewelry
You can find a few different types of fingerprint memorial jewelry. Here are some types you can consider.
1. Earrings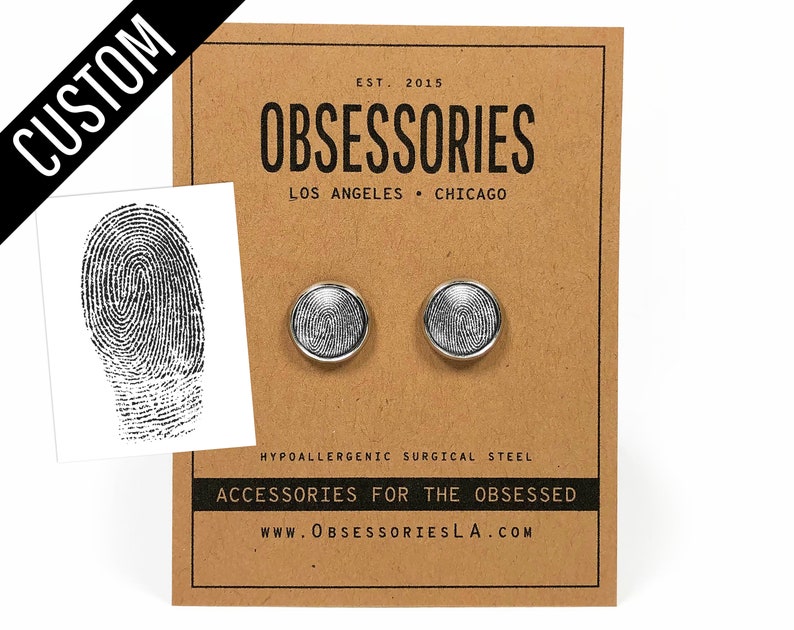 Use your loved one's fingerprints to create a pair of earrings. Usually, these earrings are dangly and hang away from the earlobe. The same fingerprint appears on each earring.
2. Fingerprint heart pendant
Have your loved one's fingerprint etched on a silver or gold heart. Depending on the design, some of the fingerprints may be cut off along the edges.
3. Fingerprint cross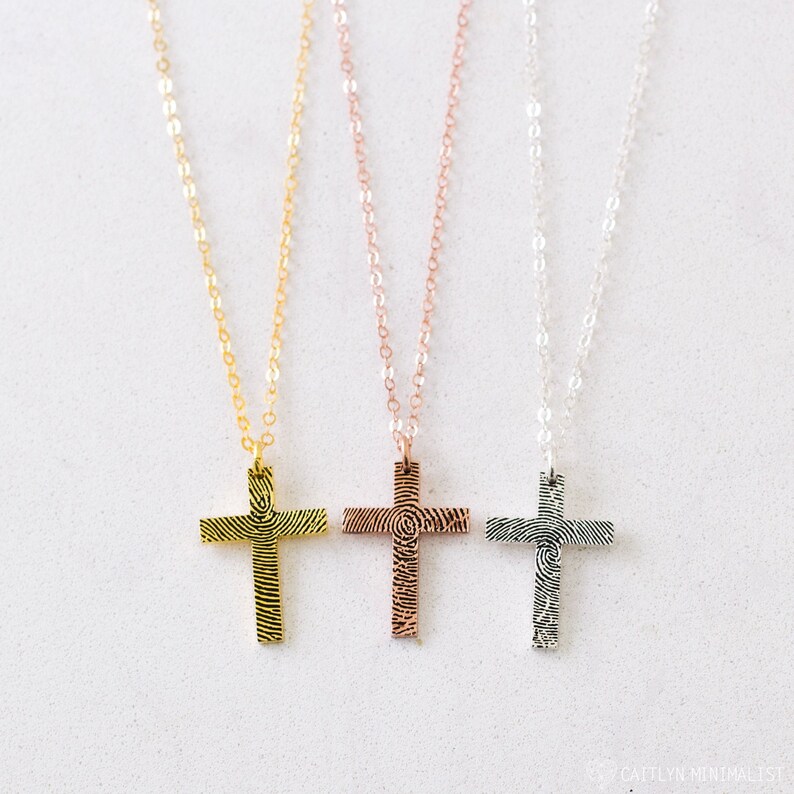 If your loved one was a Christian, you might consider having a section of his or her unique print etched on a metallic cross.
4. Dog tags
Dog tags can be personalized with your loved one's prints, as well as their name, birth date, and death date.
5. Charm bracelet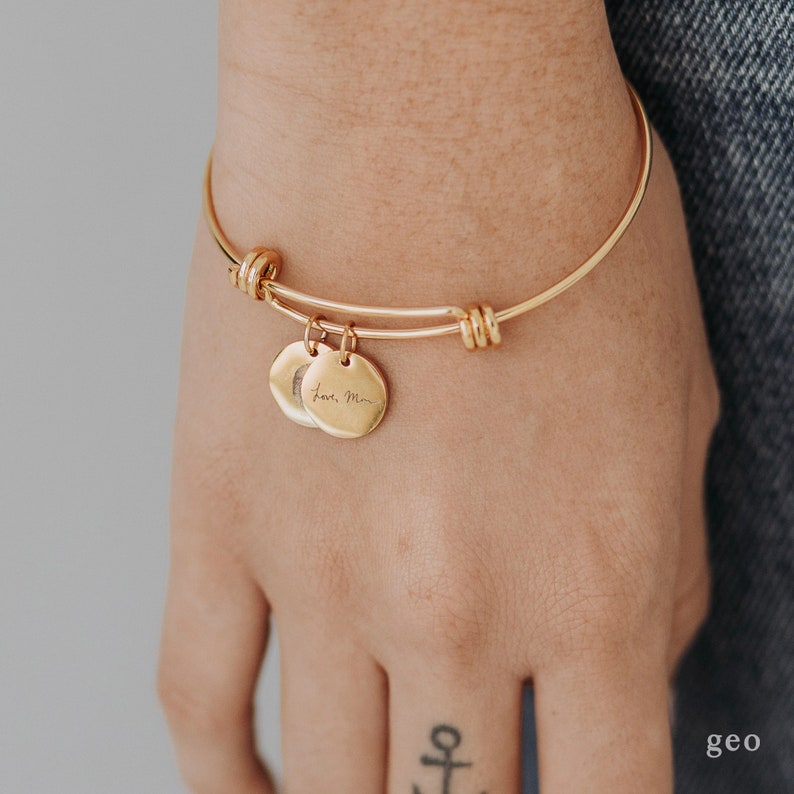 Have your loved one's fingerprint etched on a charm. Add other charms that remind you of your loved one.
6. Token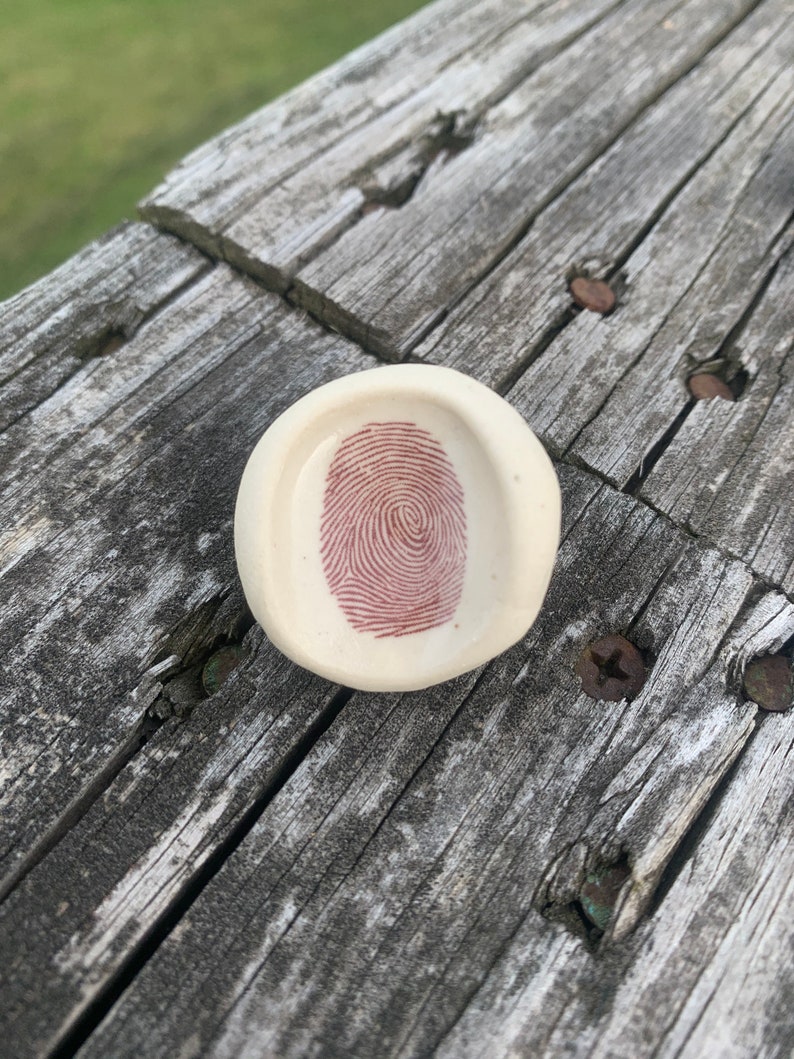 Some people don't like wearing jewelry, but they may want a little token to carry with them in their pockets. This token can be inscribed with your loved one's name and fingerprint.
7. Fingerprint ring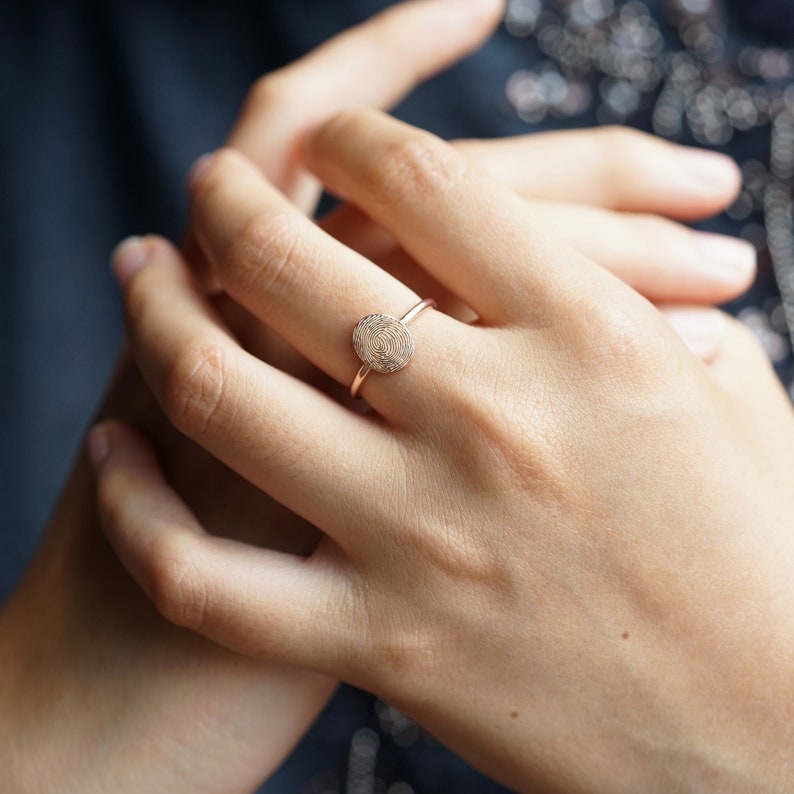 You can choose between several types of fingerprint rings and most of them have the fingerprint etched on the flat top part of the ring.
8. Guitar pick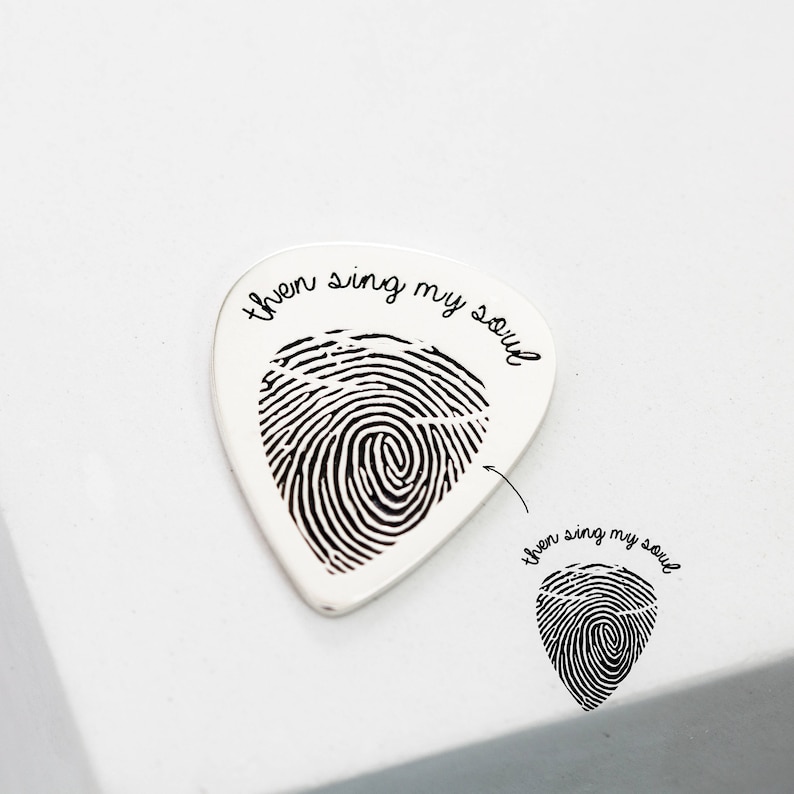 Did you share a love of music with the person you lost? A fingerprint guitar pick may be the perfect commemorative item.
9. Pocket knife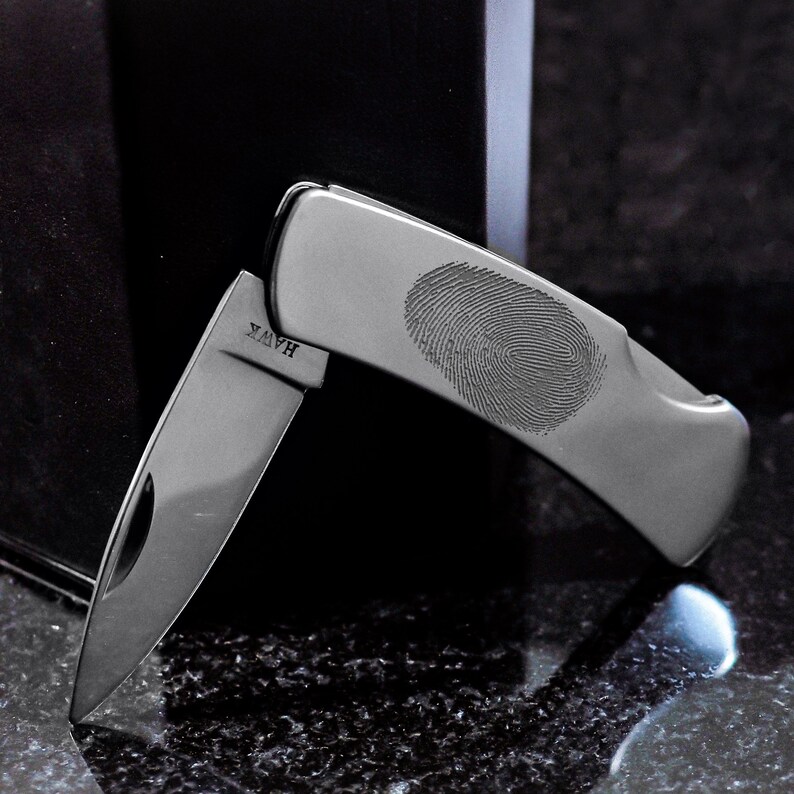 If you are a practical person, why not choose a commemorative item that you can use? Have your loved one's fingerprint etched on the side of a handy pocket knife.
10. Cufflinks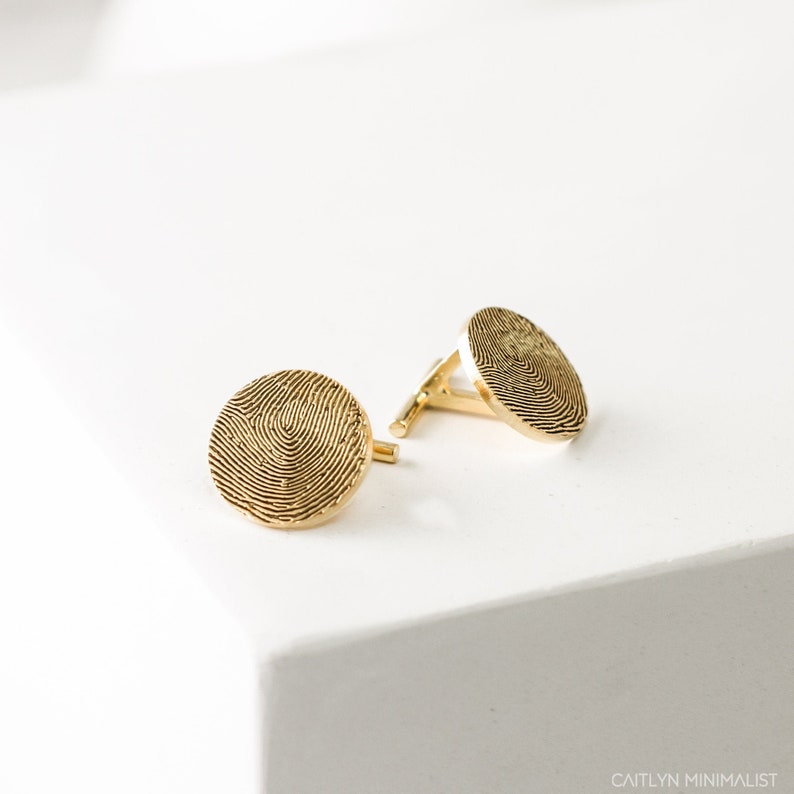 Even if you aren't a daily cufflink wearer, you can break out these commemorative pieces on special occasions.
11. Teardrop pendant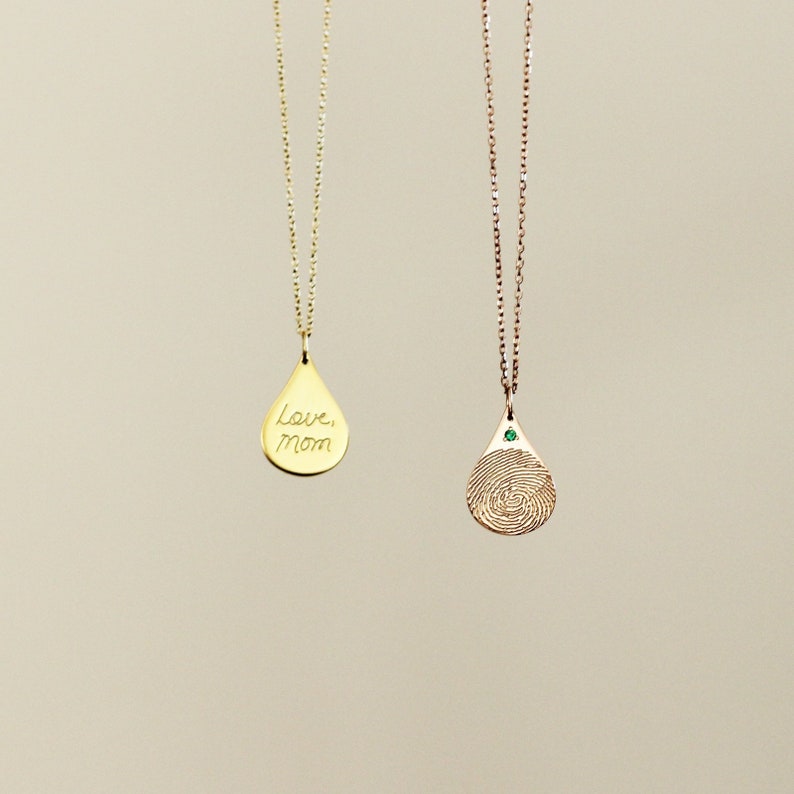 A teardrop might be the most fitting pendant shape for the situation. Etch your loved one's fingerprint or thumbprint on a teardrop pendant.
12. Handwriting fingerprint pendant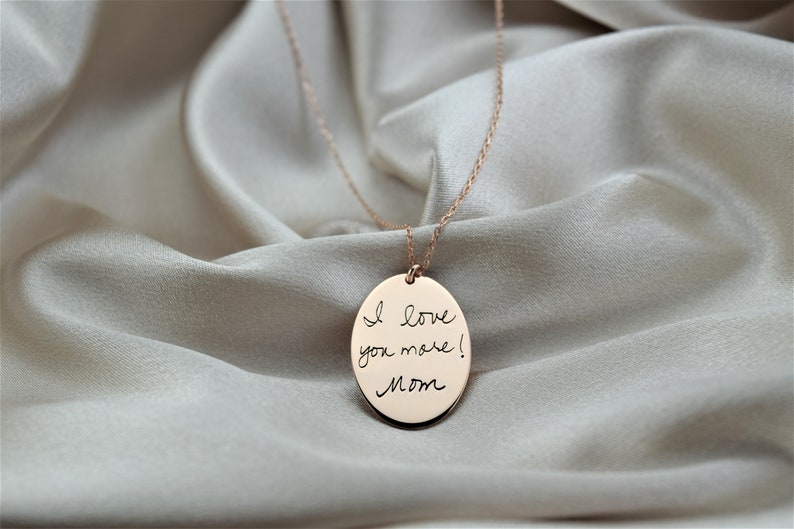 Some companies allow you to print on both sides of a pendant. You can personalize one side with your loved one's fingerprint and the other side can have a sample of his or her handwriting.
13. Photo fingerprint pendant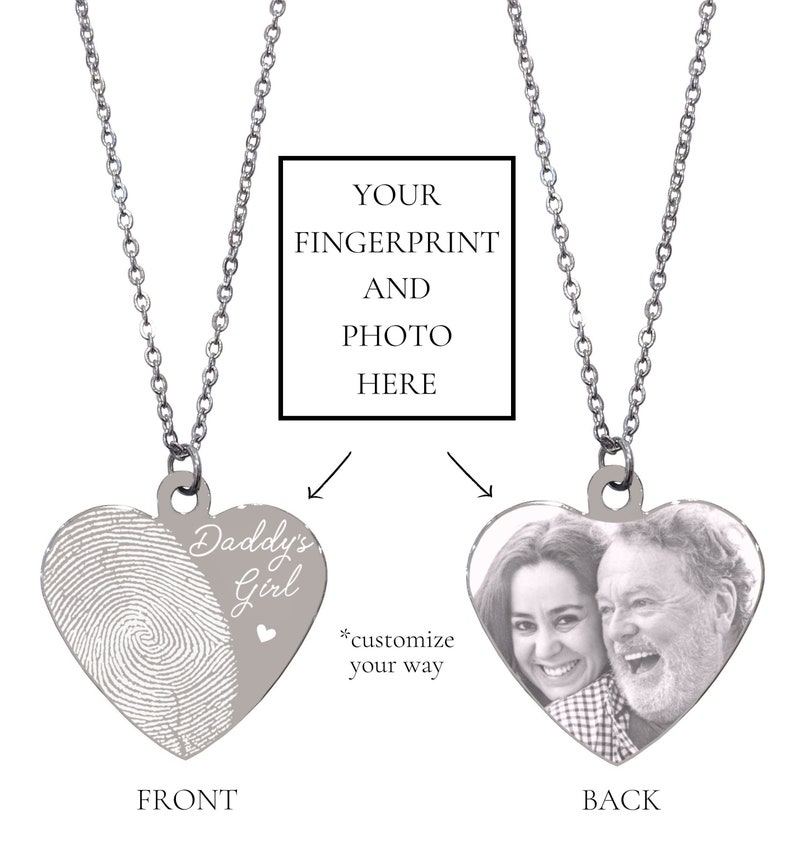 Instead of purchasing a locket to hold your loved one's photo, have the photo etched on one side of a pendant or keychain. The flip side can showcase your loved one's print.
14. Bar fingerprint jewelry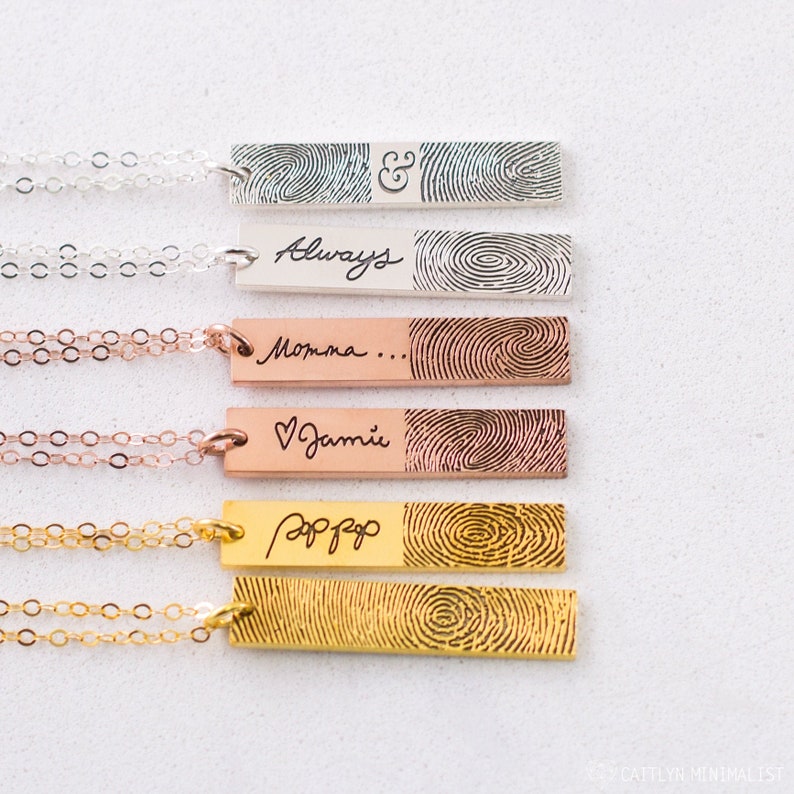 Not all fingerprint jewelry has to be round. Showcase a portion of your loved one's fingerprint on a rectangular bar, a popular shape for those who love jewelry.
15. Fingerprint locket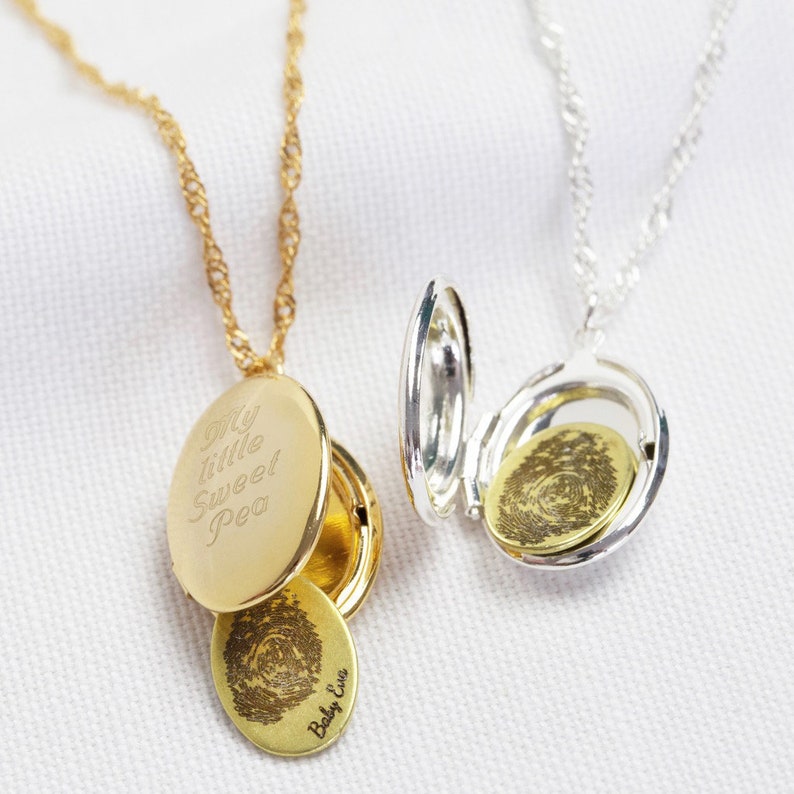 Place a photo or lock of hair in a locket etched with a fingerprint.
16. Fingerprint wrapped in an angel wing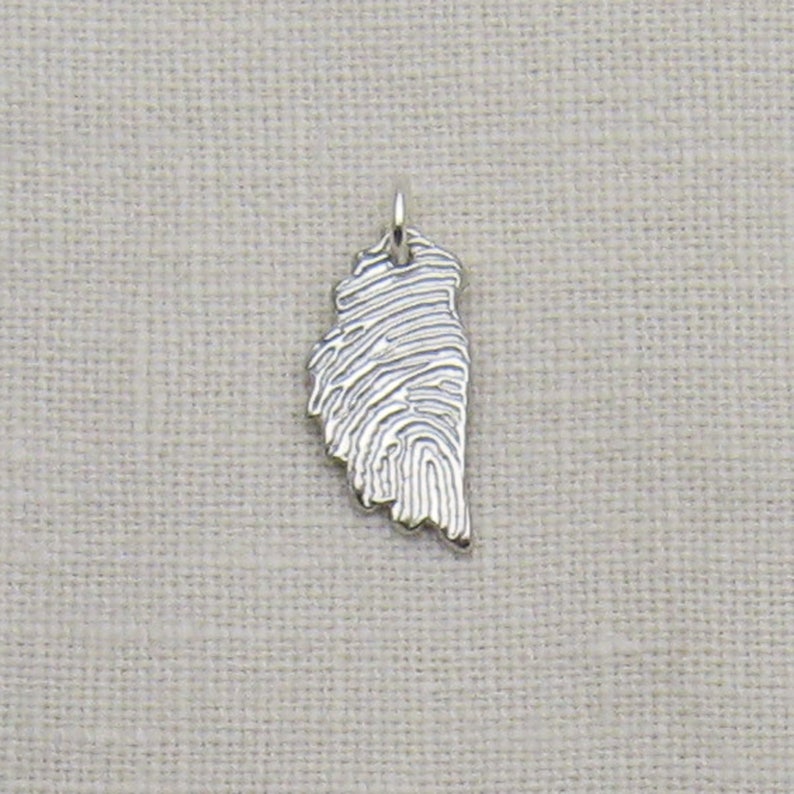 Jewelry designers have made creative use of the fingerprint motif. If you like thinking about how your loved one is now wrapped in an angel's arms, this is the perfect design for you.
17. Infant fingerprint jewelry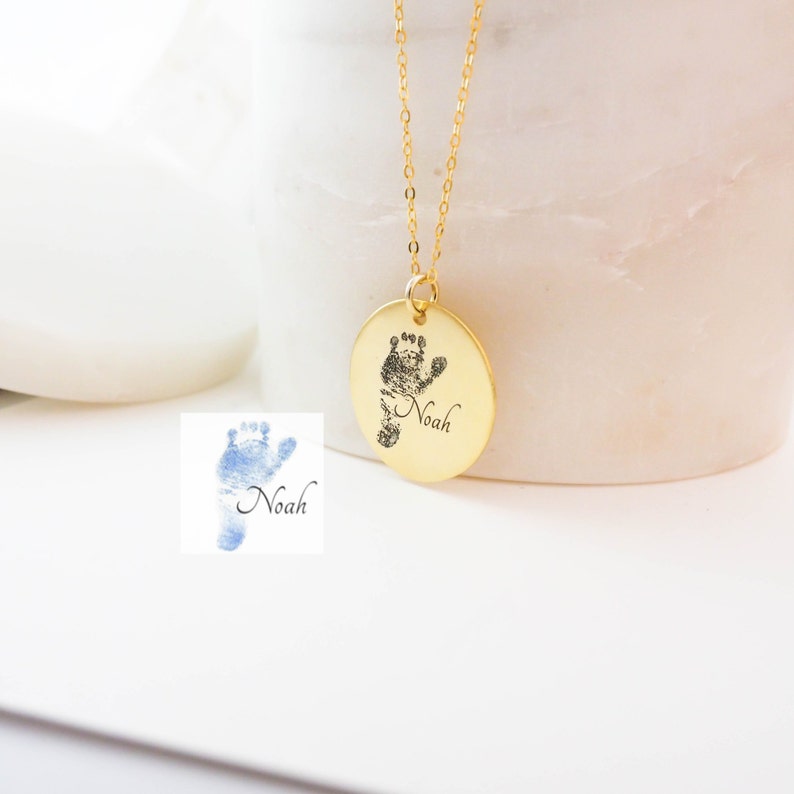 Fingerprint jewelry can be made with the tiniest of prints. You may even be able to use the handprint or footprint of a baby as a piece of jewelry.
18. Pawprint jewelry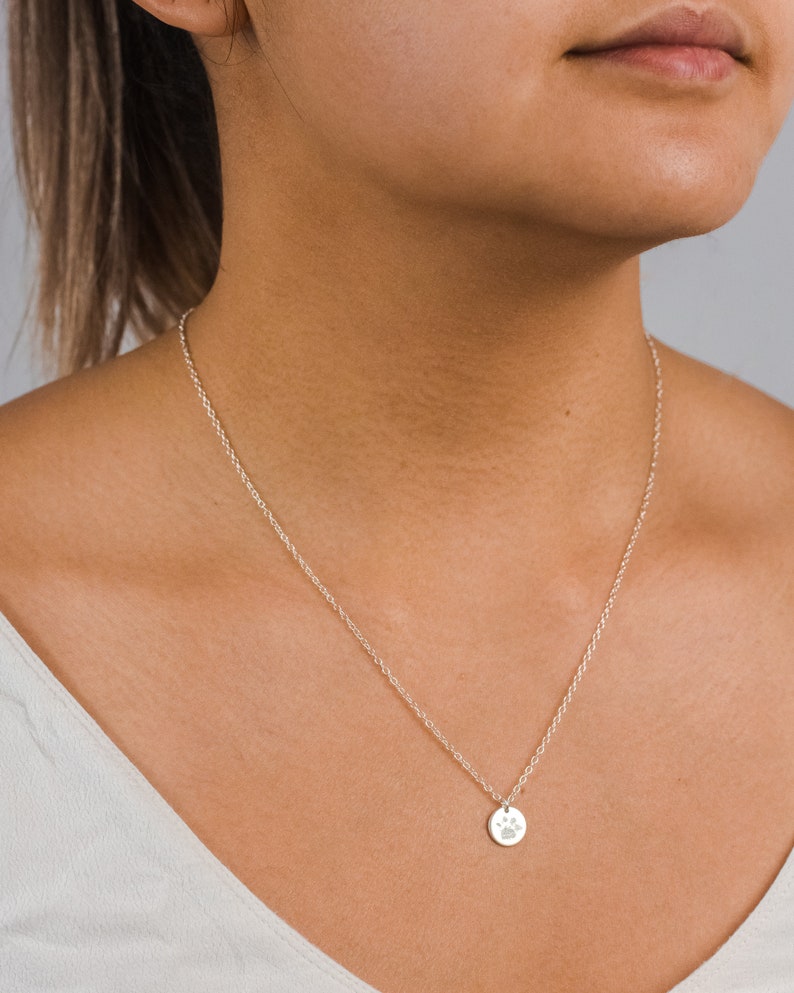 If your loved one was of a four-legged variety, you might want to purchase a memorial piece of jewelry using your pet's paw print. Pawprints can be easily obtained from living pets when they walk across a sidewalk after visiting a dew-moistened lawn. Take a close-up photo of the pawprints before they disappear off the cement.
DIY Fingerprint Memorial Jewelry
You wouldn't think that fingerprint jewelry would be something that a do-it-yourselfer could complete. While it may not be a project for a beginning crafter, it's definitely possible for someone with the right tools and a little skill.
Here are some simple steps for how to create a fingerprint jewelry pendant:
Warm a small ball of polymer clay by rolling it in your hand.

Roll the clay out on a sheet of wax paper, so it's ⅛ of an inch thick.

Press the finger or thumb into the clay and gently roll it back and forth.

Cut around the thumbprint to achieve the desired shape.

Cut a small hole into the top of the pendant so a chain or ribbon will fit through.

Brush metal powder over the top of the clay using a small brush.

Bake the pendant in the oven according to the instruction.

Place a glaze over the finished product after it cools.
A pendant can be used in a variety of ways. Besides being placed on a chain and wearing it around the neck, it can also be used as a keychain or small charm for a bracelet.
Other Ways to Memorialize Your Loved One
It's comforting to have an item that reminds you of a dearly departed loved one. It can be as small as a pocket token or personal as an article of clothing that your loved one wore.
An adventurous person may get a tattoo to memorialize a loved one. A small amount of your loved one's cremains can be mixed with the ink, so the tattoo would be intensely personal.
If you have a good friend who recently lost a family member, you may be trying to think of a memorial item to use as a sympathy gift. While a piece of fingerprint jewelry may not be possible, your friend may appreciate a simple necklace with a heart or cross pendant. You can have the piece engraved with the name of the deceased or a simple "always in my heart."
Whether you've lost a family member or plan to buy a gift, do not overlook the comfort that comes from a favorite photograph of your loved one, enlarged and placed in a beautiful frame.