The world of online wills is a rapidly growing place. In the past, the only option for getting your legal and financial forms in order was to either do it yourself or work directly with an attorney. Both of these options are complicated and often expensive, making a lot of people feel like creating a will isn't an option for them.
Today, not only are there more tools than ever that generate an accurate, comprehensive will in just a few minutes, but some of these tools are free. One of the leading free online will tools is FreeWill. As the name implies, this online platform is a free place to build your own will.
Jump ahead to these sections:
But, can free online will tools pull the same weight as their more expensive counterparts? Michael T. Flannery, an attorney and estate planning expert, and I tried FreeWill's online will service and found out for you. We tested things like user experience, legal implications, and premium features. While this review will mostly come from my experience, you'll find Michael's tips, tricks, and observations labeled as "attorney's 'note" throughout the article.
Ultimately, we found that as long as you can answer a few basic questions about your family situation and end-of-life wishes, you can make a will online with FreeWill. But, how does this tool stack up against other free and paid resources? In this guide, we'll review FreeWill to determine its pros, cons, and whether it's worth it.
Overview: FreeWill Review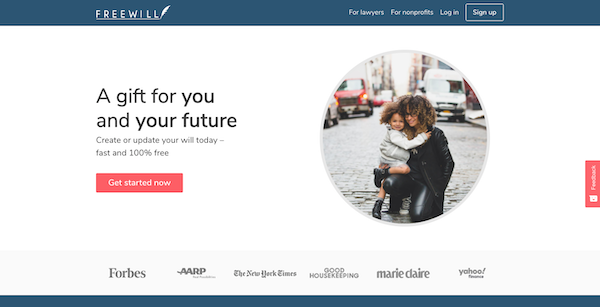 Cost:

Free

How you receive your will:

PDF for download

User experience:

Sleek interface, easy to understand

Time to complete:

15 minutes

Policy for updating:

Update anytime

Support:

No support
FreeWill is one of the few free online will makers that's actually free. There's no trial or paid membership needed to get started. As long as you have a few minutes, you can download your completed will online without the hassle. FreeWill not only has a modern, sleek design, but it's incredibly easy to use.
Pros
Modern, easy-to-use design

Simple terminology that's easy to understand

No fee or membership required

Focus on charitable giving
Cons
Limited in coverage

No support available
When we compared and reviewed 13 online will making services, FreeWill made it on our "Best Overall" and "Best Value" lists. Check out our picks for the best online will platforms for the full results.
FreeWill's Pricing and What You Get
After looking into multiple online will tools, you'll quickly realize "free" is hard to come by. While some forms claim to be free, they require credit card information to activate a "trial," or they're incredibly limited without paid upgrades. FreeWill breaks this mold by offering an online tool that's legitimately free, no strings attached.
Why is FreeWill free for all users? It's able to offer its tool at no charge because FreeWill partners with nonprofit organizations. FreeWill's questionnaire asks users if they wish to leave a portion of their estate to a charitable group when they die. By partnering with specific organizations, FreeWill ensures its product is free for all — and it does good in the process.
Situations FreeWill Does and Does Not Cover
For a free tool, FreeWill is surprisingly comprehensive. While it won't cover every situation, it goes above and beyond to provide enough protection for the average user. It also goes above and beyond in terms of charitable giving, and this is something many users could excited about.
What FreeWill covers
FreeWill aims to cover as much as possible for most users. The average user can ensure their wishes and final plans are met with these things below:
Guardianship: Specify guardians for any dependent children, as well as someone in charge of any children's inheritance until they reach adulthood.
Pet guardianship: In case you're unable to take care of your pets, FreeWill makes it easy to name someone else as the caretaker.
Advance directive: Unlike other forms, FreeWill includes important healthcare documents like an advance directive (also known as a living will), which allows you to name someone as your healthcare decision-maker in case of an emergency.
Durable financial power of attorney: With FreeWill, you can name someone who takes charge of your finances if you're unable.
Charitable gifts: Add a charitable gift to one of FreeWill's partnered organizations or list your own.
Specific bequests: List any specific assets you'd like to give away to individuals upon your passing. With so many assets to include in a will, special requests are common.
Beneficiaries: Name a beneficiary (or several) to receive your property when you die.
Digital assets: Leave specific instructions about your digital assets.
Final wishes: Finally, leave any final instructions about your resting place or memorial.
This is a very comprehensive list of important coverage everyone should have in preparation for the future. You don't need to know how to write a will to get started. As we mentioned above, it only takes a few minutes.
Attorney's note: Compare to its counterparts, FreeWill provides more detail and a broader scope of legal issues, such as guardians for children, provisions for pets, charitable donations, digital assets, and a no-contest clause, and includes a self-proving affidavit.
What's not included in FreeWill?
Since FreeWill is a free tool, not everything is included in the online service. There are some things you might need to add-on to your FreeWill online will with the help of an attorney, or you might choose another platform that includes these extras.
If you're not a property owner, and you don't have any specific wishes to protect in a trust, FreeWill is an excellent choice. However, when in doubt, review your situation with an attorney.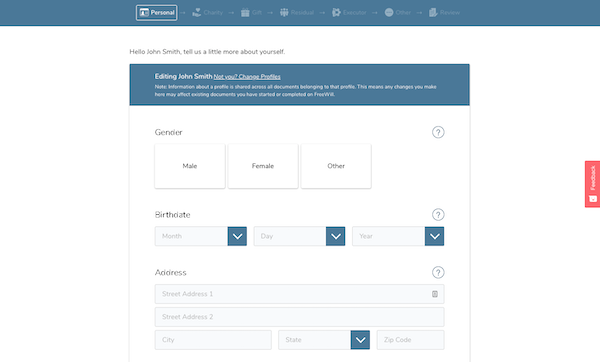 FreeWill's Policy for Updating Your Will
Sometimes you might find yourself needing to update your will once you've completed your document. This is normal since life comes with normal changes and challenges. Whether you've had kids, gotten married, or changed your final wishes, updating your will is simple with FreeWill.
As long as you have a free account, you can access your will anytime. From there, it's simple to update your forms, depending on what's changed. Once you print your new will, be sure to destroy the old one and notify your family.
FreeWill's User Experience
FreeWill is one of the easiest online will makers. Despite being a free tool, it's very modern and well designed. Each section is divided simply, making it easy to keep track of your progress. It makes the process of completing a will for yourself very pain-free, even if you've never completed a will before.
FreeWill also excels in its descriptions. There's no complicated legal jargon that gets in the way of the experience. Everything is simple and straightforward. They've taken a notoriously intimidating process and made it a pleasant experience.
FreeWill's Customer Support
While FreeWill excels in almost all areas, it falls behind other platforms when it comes to customer support. As a free tool, it's not a surprise that they don't have a lot of assets to help. FreeWill is very firm in explaining that it is not a legal service. If you have any legal questions, they encourage users to work directly with an attorney.
However, FreeWill does help connect users with the right attorney for their needs. They direct users to attorney resources and provide guidance on finding the right person to talk to.
Are There Any Extra Steps to Legalize Your Will With FreeWill?
Like with all online will tools, your will isn't legal as soon as you click complete. Aside from needing to download and print your document, there are also steps to take to legalize it. The specific protocol depends on your particular state, so check with state guidelines before getting started. Most states require the following:
Witnesses:

You need two witnesses to sign your document. These people must be non-relatives, and they can't be included in your will.

Signature:

You also need to sign your will either physically or digitally.

Notary:

Most states require your will to also be notarized.
From there, your will should be legal, depending on your state. Store your document somewhere secure, and let your family know how to access it.
Attorney's note: FreeWill will produce a valid will, so you'll just need to take the steps above to legalize your will. The service also provides more specific advice to consult with an attorney for large or complex estates, so take note if you consider your estate either of these things.
Should You Create a Will With FreeWill?
FreeWill is one of our favorite online will tools, including both free and paid platforms. It's highly flexible, suiting almost every situation and need. Though it lacks support features, you can't beat the cost. In addition, FreeWill's partnership with well-known charities makes it the ideal tool for those with a passion for giving back.
No matter your experience with legal documents, FreeWill offers a lot to the average user. For those worried about the cost and time of an in-person attorney, this is a great option. Have you created your own will?
Still aren't sure if you should use FreeWill? Head on over to our picks for the best online will makers, take our online will maker quiz.