A funeral program is both a way to honor the deceased and guide guests through a funeral or memorial service. Featuring a tribute to your deceased loved one, this is an essential part of any funeral, memorial, graveside service, or celebration of life.
However, planning a funeral is a lot of work. You already have so much on your plate, not to mention the feelings of loss after losing someone special. A free funeral program template for Word and Google Docs makes it simple to customize and create a heartfelt program without the hassle.
We've done the hard work so you don't have to. These easy-to-use templates are 100% free to download. In just a few clicks, you'll be ready to print your document for your loved one's service. Though simple, we hope this program eases some of the burden of planning for a funeral.
COVID-19 tip: If you're planning or attending a Zoom funeral using a service like GatheringUs, the order of service, etiquette, and timing will vary. Consult with the funeral director, event planner, or religious leader to see what changes will be made to the ceremony, wake, and reception.
What's a Funeral or Memorial Program Template?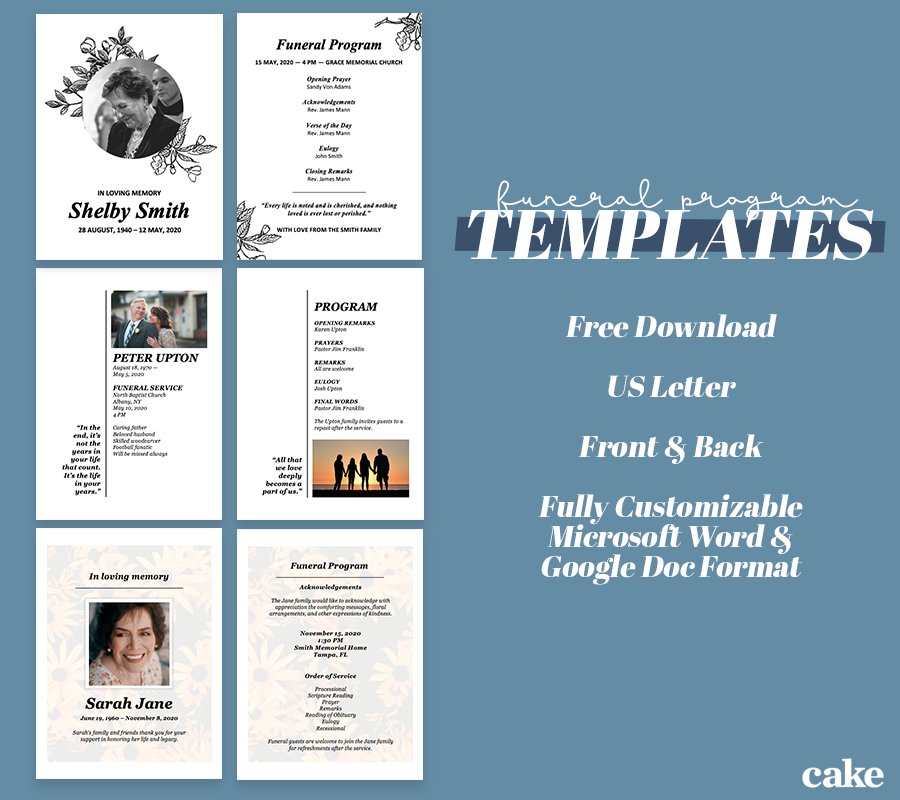 A funeral or memorial program template is an easy-to-customize download that allows you to create the perfect program. It's common to have a program at a modern funeral or memorial service. These include a photo of the deceased, important tribute information, and the order of service.
Because these can be expensive and complicated to make on your own or with a professional, a template simplifies this process. By downloading the free template, you can easily input your own information to suit your needs.
Not only is this a thoughtful memento for funeral guests, but it's also useful for organizing the schedule of the event itself. Our downloadable funeral program templates include:
Photo or photos of the deceased

Important names and dates

The location of the funeral

Thank you message from the family

Order of service
How to Download Your Template
To download your template, click the download link below. You'll have access to a zip file with all the templates. It's that easy, no tech skills or graphic design know-how necessary. From there, you'll need either Microsoft Word or Google Docs to customize your chosen template.
Download Funeral Program Templates (zip)
How to Customize and Print Your Funeral Program
It's easy to customize and print your funeral program. Whether you choose to print your programs yourself or with a professional service, follow these steps below.
How to edit and print in Microsoft Word:
Start by opening your document in Microsoft Word. Open the Microsoft Word version of the template, not the Google Doc version.

To replace the photo, right-click on the image and select

Change Image

. Select a photo from your computer. For best results, choose an image that's a square shape to match the image size.

Replace the preset text by clicking on the text boxes (name, date, poem, etc.) and adding your own.

Save your template by going to

File > Save As.

You can now print your template yourself or send it to a professional printing service.
How to edit and print in Google Docs:
Upload the Google Doc version of the template you want and open it in Google Docs.

Follow the instructions on the Doc to upload your photo by deleting the placeholder.

Click the text to edit it to your needs.

Adjust the text sizing as needed to fit the space.

Save your Doc within Google Docs or download it to your computer by going to

File > Download.
Make Your Own Funeral Program
Funeral programs are one of the many things that go into planning a memorial service. With so many other things to worry about, download one of these free funeral program templates to create the perfect printable in minutes.
A funeral program isn't just a practical part of the service, it's also a way to honor the life and legacy of your loved one. Our customizable funeral programs are designed with your needs in mind.
Post-planning tip: If you are the executor for a deceased loved one, you have more than just the details of the funeral to think about. Handling their unfinished business can be overwhelming without a way to organize your process. We have a post-loss checklist that will help you ensure that your loved one's family, estate, and other affairs are taken care of.