Social workers are truly unsung heroes. They're patients' advocates, families' support, and paperwork geniuses. At the very least, they're a crucial part of an interdisciplinary care team.
Overview: Oure Top Picks
Holiday or Christmas Gift Ideas for Social Workers
Funny or Fun Gift Ideas for Social Workers
Gifts for National Social Workers Month
'Thank You' Gifts for Social Workers
Jump ahead to these sections:
You may feel compelled to get the social worker in your life a gift. But what should you get? What's useful and appropriate?
We've compiled a list of 18 great gift ideas for these superheroes.
Holiday or Christmas Gift Ideas for Social Workers
The holidays don't slow down a social worker's busy schedule or lessen his or her caseload. They may be helping an individual with end-of-life planning or supporting a grieving family.
Gift ideas don't have to be elaborate. It's the thought that counts, so opt for a small gift instead.
1. Coffee gift card
Many social workers run on coffee (or tea)! A gift card is a great way to ensure you're giving a useful, appreciated gift. You choose how much you spend, which can also help your own holiday budget.
2. Ornament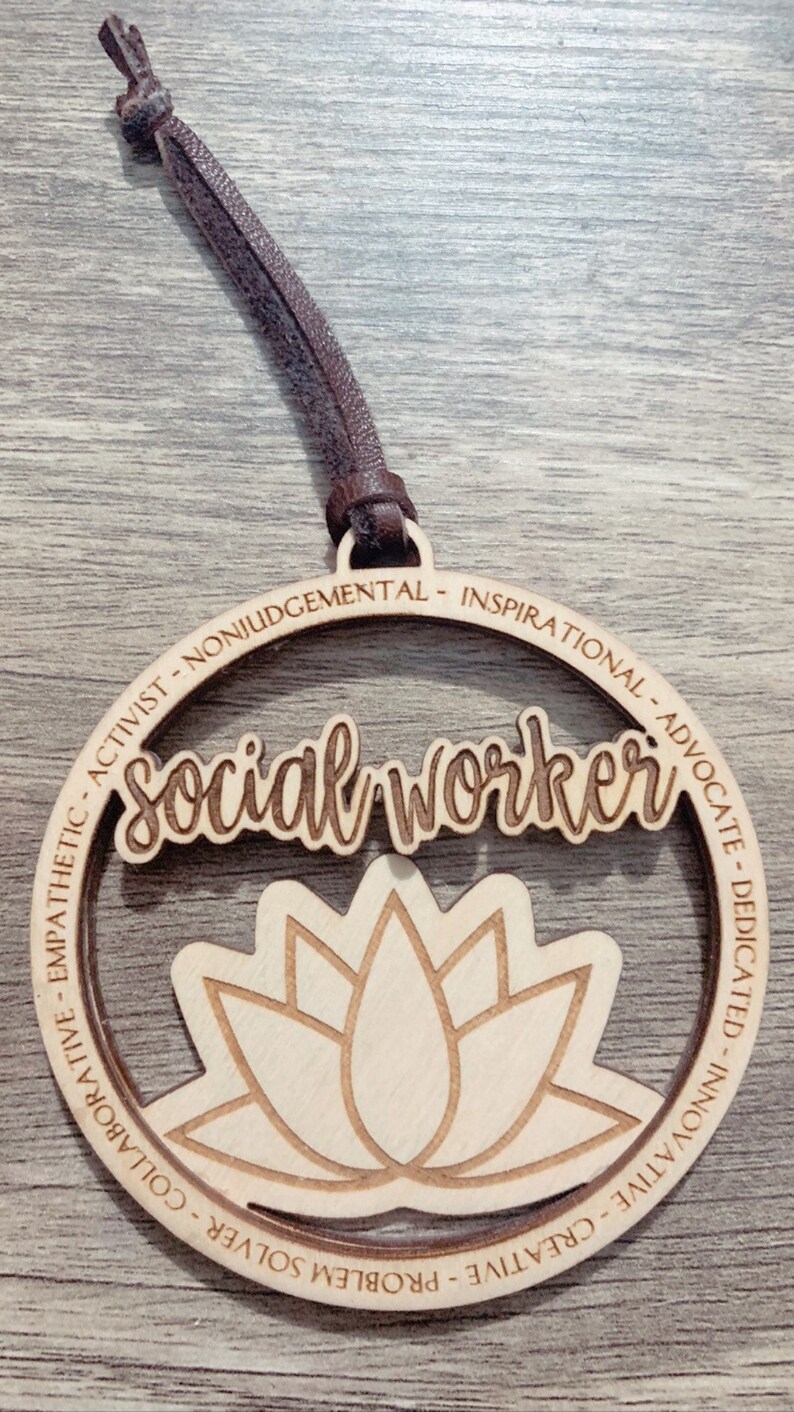 There is an endless selection of ornaments out there, and they can be personalized, too. Try checking out a local boutique or an online Etsy shop for a handmade, one-of-a-kind ornament.
Better yet, take a crack at it yourself with some materials from the craft store. An ornament is a sweet, small gift that will remind a social worker of your appreciation and support each holiday season.
3. Homemade treats
You don't need to break the bank to show you care. Jump on Pinterest and look up "easy baked goods to gift." You'll find holiday-themed ideas like Santa cookies and Hanukkah brownies.
4. Notebooks
A notebook might sound like a boring gift, but you can find notebooks that come in all sizes, colors, and styles. Some notebooks offer writing prompts and some have inspirational quotes on them.
We like "642 Things to Write About," which is available on Amazon.
You could also choose a notebook with a positive quote so each time your social worker uses it, he or she will feel inspired.
5. Watch
Social workers are busy! Their days are filled with deadlines and meetings, and a watch is a great gift for any busy professional.
Snag a good deal on Black Friday or online for Cyber Monday. Watches vary greatly in price and style so you can choose the price that works for you.
Funny or Fun Gift Ideas for Social Workers
Social workers can deal with some heavy situations. A fun or humorous gift could take the edge off a tough job. Think of what you do to relax or how you practice self-care — use this as your inspiration. Anything that makes your day brighter or gives you an opportunity to relax will make a great gift.
6. T-shirt or other apparel
Take time to hunt down a special shirt for a social worker. Lots of websites personalize shirts. You've seen them—the ones that say "#1 Dad" or "Best Big Brother." Those don't end at family.
You might make your social worker giggle with a shirt that says something like "Social Work It!" Hop on Google and search "T-shirt for social worker" and you'll find endless possibilities.
7. Wine glasses
We all have ways to wind down after crazy days, and depending on your connection with the social worker, you might feel comfortable giving them a set of wine glasses. Consider pairing it with your favorite wine or charms for the stem.
8. Shower speaker
A shower speaker is a fun gift for anyone. The social worker in your life probably uses his or her shower time to relax. Why not provide some tunes to unwind to or prepare for crazy days ahead? These speakers can be found all over the internet and in many retail stores. Make sure it's Bluetooth-enabled for easy use!
9. Self-care items
Self-care is so crucial because of the stress and emotion that comes with the job. Items like bath bombs, candles, or soft blankets are great options that promote relaxation.
10. Desk decor
Social workers are on their feet often, but at their desks, too (probably doing paperwork). It's nice for them to have a personalized, fun space for themselves. Desk items can include a small desk calendar with a positive quote, a figurine, or a pen cup with colorful pens.
Gifts for National Social Work Month
March is National Social Work Month in 2020. Coworkers, bosses, and family members may be looking for a gift for Social Work Month. The thought and recognition mean more than anything, so keep it simple.
11. Tote bag
Just about anyone can use a tote bag. They come in all shapes, sizes, and styles, and they can be personalized. You can also turn to the internet for personalization or try your hand at puff-paint or iron-on patches to make it special and one of a kind.
We love this tote bag for social workers, pictured above.
12. Books
There are lots of books on various subjects that social workers dip into daily. Books on grief, end of life, childhood illness, family dynamics, and so many more topics are constantly coming out and being updated.
Provide your social worker with a fresh copy of a tried and true classic, or scope out a new publication with "social work" in the title. You'll have snagged him or her a useful yet thoughtful gift.
13. Charm for name tag/badge
Within the healthcare industry, it's important to identify yourself. Your social worker likely wears a tag or badge for this purpose. It's common for these name tags to show some personality, and getting a charm for his or her lanyard or badge is a great gift and surprise.
Confirm which type of badge he or she wears first. Have you seen a sports team's merchandise in your social worker's office? Is he or she constantly quoting a show? Turn to trusty Google with keywords "healthcare badge accessory" and you'll find what you're looking for.
14. Mug or tumbler
Mugs and tumblers are also great gifts. You find a unique, social worker tumbler, or you find a sticker to spice up a plain mug or tumbler. If you go DIY, make sure your stickers are waterproof so they survive the dishwasher and other wear and tear.
15. Agenda
Agendas are a busy person's best friend. You might want to give your favorite social worker an agenda for Social Work Month—but it's in March.
Most calendars typically start at the beginning of the year! Pick out an undated agenda so your social worker can personalize it and start on any date he or she chooses.
We recommend a Panda Planner Pro (shown above) paired with some felt-liner pens for colorful daily planning
» MORE:
An online memorial is a perfect ending to honor and celebrate someone's life.
Create one for free.
'Thank You' Gifts for Social Workers
A thank you gift might differ from what you would get for a holiday or Social Work Month. A thank you gift is more from the heart. You may be willing to pay a bit more or get a little more personal with this gift. Here are some ideas as you decide how to say "thank you."
16. Massage gift card
Who doesn't love a massage? A massage is a great way to relax, and it's something most people don't buy for themselves.
Paying for a massage for the social worker is a great way to say thank you. You can often find great deals at local spas and discount apps like Groupon.
17. Card
A thank you does not need to cost money to be appreciated. Keep it simple with a card.
A card with meaningful handwritten words can be the best gift of all. Cover a blank card with your own words, or create a sentimental poem. It'll be a keepsake for your social worker.
18. Framed photo
This gift idea can double as desk decor. A nice frame with a smiling patient can brighten your social worker's days. Organize a group photo or use an updated photo of the individual he or she helped.
The Perfect Gift
The perfect gift doesn't have to be expensive — it's really about the thought behind it. Whether you go the self-care route, silly or practical route, a gift for your social worker will mean a lot, regardless of the price tag.