Quotes can help you express what you're feeling or sympathize with others. If you don't know what to write in sympathy messages, these "gone but not forgotten" quotes are a great option.
Jump ahead to these sections:
Taking the time to remember someone you love is essential. It can help with the grieving process and your emotions.
Share your final wishes, just in case.
Create a free Cake end-of-life planning profile and instantly share your health, legal, funeral, and legacy decisions with a loved one.
'Gone But Not Forgotten' Quotes for Mom or Grandma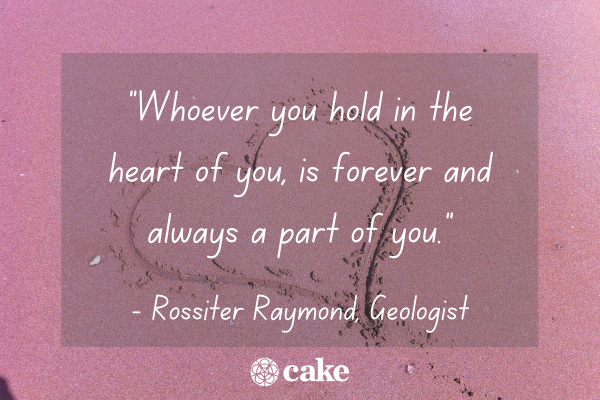 These quotes are great inspiration for condolence messages, tattoos, or to share on social media.
1. "It has been said, 'time heals all wounds.' I do not agree. The wounds remain. In time, the mind, protecting its sanity, covers them with scar tissue and the pain lessens. But it is never gone." - Rose Fitzgerald Kennedy, Philanthropist
Being told that 'time heals all wounds' is painful. Even if the person saying it loves you, it can feel like an attempt to minimize your pain. Taking a realistic, yet comforting, approach is better. Losing someone you love changes you forever, but that doesn't mean the pain will always be with you.
2. "Whoever you hold in the heart of you, is forever and always a part of you." - Rossiter Raymond, Geologist
Someday, you may panic because it feels like you 'forgot' someone. You might not be able to remember the exact pitch of their voice.
You might not be able to remember if they preferred Starbursts or Hershey's Kisses. How could you forget these things? Details like that may feel minor, but If you love someone, their true essence is always in your heart.
3. "You can't truly heal from a loss until you allow yourself to really feel the loss." - Mandy Hale, Author
Hiding from a loss sometimes feels like the best way to cope. It may end up hurting you in the long run, though. If you're able to, take the time to sit with your emotions will help you through the loss.
4. "Like a bird singing in the rain, let grateful memories survive in time of sorrow." - Robert Louis Stevenson, Author
Gratitude for the time spent with someone is often the last thing on our minds. Sorrow and loss tend to blot out everything else — and that's understandable. But if you can, try to take a few moments to reflect and remember the good times.
5. "Those we love and lose are always connected by heartstrings into infinity." - Terri Guillemets, Author
Death feels like a lost connection. There's nothing to bind you together after a loss. This isn't always true. Your hearts may bind you together, long after your loved one dies.
'Gone But Not Forgotten' Quotes for Dad or Grandpa
You use these as funeral quotes in a handout, memorial collage, or eulogy.
6. "What you remember saves you." - W. S. Merwin, Poet
Sometimes, memories are the only things that keep you afloat. Treasuring memories is a good way to feel gratitude for the time spent with them.
7. "Someone mentioned your name today, / took me down memory lane, / to a time very much younger, / a time more pure, more sane." - Adiela Akoo
Wandering down memory lane may make you feel happy and nostalgic.
8. "You remember only what you want to remember. You know only what your heart allows you to know." - Amy Tan, Author
It's always good to remember that you might have a limited perspective. There's no way you can hold the contradictions of an entire person in your mind. If you had a difficult relationship with your father or grandpa, keep this in mind.
9. "They shall grow not old, as we that are left grow old: / Age shall not weary them, nor the years condemn. / At the going down of the sun and in the morning, / We will remember them."
- Laurence Binyon, Poet
If your dad or grandpa died young, this may be comforting. They won't have to deal with the exhaustion of age or the painful sickness it can bring.
10. "When wasteful war shall statues overturn / And broils roots out the work of masonry, / Nor Mars his sword nor war's quick fire shall burn / The living record of your memory. / 'Gainst death and all-oblivious enmity / Shall you pace forth; your praise shall still find room / Even in the eyes of all posterity …" -William Shakespeare, Playwright
Shakespeare insists that not even war will erase his memory of someone, but that their memory will last and be praised forever.
'Gone But Not Forgotten' Quotes for a Brother
Coping with a brother's loss is difficult. You can copy these quotes in a journal, along with information from other resources. Whether it's advice from friends or books on grief, you can create a journal as a personal resource.
11. "I have to live if I want to be remembered." - Suzanne Young, Author
Some people live so loudly that it's impossible not to think of them every day.
12. "..we should be remembered for the things we do. The things we do are the most important things of all. They are more important than what we say or what we look like. The things we do outlast our mortality …" - R.J. Palacio, Author
Some people make their mark by loving others. Some people are remembered for what they say. Others do things that impact others, no matter how big or small.
13. "I think it is all a matter of love; the more you love a memory the stronger and stranger it becomes." - Vladimir Nabokov, Author
Memories have a unique power. They're one of the only things that grow bigger as you love them more.
14. "You must learn some of my philosophy. Think only of the past as its remembrance gives you pleasure." - Jane Austen, Author
Sometimes, memories can make you feel pain… or joy. But, Austen suggests that we only remember things that give us pleasure.
15. "To live in hearts we leave behind is not to die."
- Thomas Campbell, Scientist
Memories are a great way to immortalize those you love.
'Gone But Not Forgotten' Quotes for a Sister
Keeping a sister close to your heart is easy. You may have some of your best memories with a sister.
16. "Silently, one by one, in the infinite meadows of heaven, / Blossomed the lovely stars, the forget-me-nots of the angels." - Henry Wadsworth Longfellow, Poet
Longfellow gives us the idea that those we love become stars, shining in the night sky.
17. "Do you not know that a man is not dead while his name is still spoken?" - Terry Pratchett, Author
Keeping someone alive in your heart only requires space in your memories.
18. "When we think of the past it's the beautiful things we pick out. We want to believe it was all like that." - Margaret Atwood, Author
If you had a difficult relationship with your sister, you might be struggling. You might remember that honesty is more important than sentiment, though.
19. "Wherever a beautiful soul has been there is a trail of beautiful memories." - Ronald Reagan, President
Some people leave beautiful memories behind to comfort those they love.
20. "As long as we live, they too will live; for they are now are a part of us; as we remember them." - Jewish Prayer
The cyclical nature of remembrance is important in Judaism.
'Gone But Not Forgotten' Quotes for a Friend
These quotes are great for friends that meant everything to you.
21. "There are no goodbyes for us. Wherever you are, you will always be in my heart." - Mahatma Gandhi, Lawyer and Civil Rights Activist
Saying goodbye is difficult for some people. For others, it might be easier to say "see you soon."
22. "Trying to remember you / is like carrying water / in my hands a long distance / across sand. Somewhere people are waiting. / They have drunk nothing for days." - Stephen Dobyns, Poet
Sometimes, grappling for memories feels desperate.
23. "Someone mentioned your name today, took me down memory lane, to a time very much younger, a time more pure, more sane." - Adiela Akoo, Author
Remembering your youth, with a great friend, is a special time.
24. "You are remembered for the rules you break." - Douglas McArthur, Soldier
How do you remember your dad or grandpa? This is a great funeral quote for someone who was always willing to push their boundaries.
25. "Carrying a photograph of someone in your pocket is like carrying a little bit of their soul."
- José Saramago, Writer
Carrying a photograph can help you feel like your friend is still with you. Whether you carry a physical photograph, wear a locket, or keep pictures on your phone, it still matters.
'Gone But Not Forgotten' Quotes for a Spouse or Partner
Building a partnership with someone over the years makes them an integral part of your life.
26. "To bring the dead to life / Is no great magic. / Few are wholly dead; / Blow on a dead man's embers / And a live flame will start." - Robert Graves, Poet
Bringing the dead to life only requires remembering them.
27. "Those we love never truly leave us. There are things that death cannot touch." - Jack Thorne, Screenwriter
Love is always more enduring than death.
28. "What we have once enjoyed we can never lose; all that we deeply love becomes a part of us." - Helen Keller, Educator and Activist
The idea that your spouse or partner is beyond loss is comforting.
29. "We understand death only after it has placed its hands on someone we love." - Anne L. de Stael, Philosopher
Death can feel like a vague concept. It's hard to understand until it touches those we love.
30. "The sorrow we feel when we lose a loved one is the price we pay to have had them in our lives." - Rob Liano, Speaker
The great joy of loving someone outweighs the pain of losing them.
Using Quotes to Grieve and Remember
Picking the right quote for the occasion can help you reflect on and grieve the death of someone you love. And, if you're at a loss for words, a well-placed quote can help you discover and express your feelings.
---
Sources
O'Bryant, Fred. "Quotations."

University of Virginia,

n.d., www.people.virginia.edu/~jfo/quotes/quotes1.html