A will is a type of legal document that spells out who gets your assets when you die. In many cases, wills also include clear directions for guardianship of any minor children, special wishes, or requests about how to handle your body. Since most people don't know how to write a will since this process is complicated, it used to be the norm to do this process with the help of an attorney.
Jump ahead to these sections:
As you might imagine, working with an attorney was a costly process. This means a lot of people either felt they didn't need a will or they couldn't afford one. In reality, wills should be accessible to everyone. Within the last few years, there has been a rise in online will tools that make this process both affordable and accessible. One of these platforms is LawDepot.
So, should you use LawDepot? Michael T. Flannery, an attorney and estate planning expert, and I sat down and went through LawDepot's online will process. We took notes to see if it had elements to make a valid will, pricing structure, user experience, and other features. This review will mostly come from my perspective, a married 20-something, but you'll find Michael's observations and tips labeled as "attorney's note" throughout the article.
How does LawDepot compare to similar tools? What are the pros, cons, and costs to know about before you get started?
Overview: LawDepot's Online Wills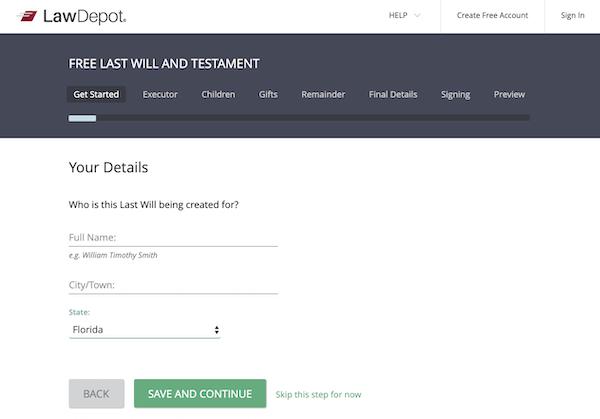 Cost:

Free with seven-day trial

How you receive your will:

PDF download of your will

User experience:

Very simple, but easy to use

Time to complete:

10 minutes

Policy for updating:

Only with paid account

Support:

Option to talk to non-attorney agent
Try LawDepot's Law & Testament
LawDepot is one of the leading providers of free legal documents, forms, and contracts. They make it simple for both businesses and individuals to get their legal needs met without needing an expensive attorney. Their Last Will and Testament tool is easy to use and claims to only take five minutes to complete.
For people looking to make a basic online will, LawDepot is a natural option. It has a range of coverage options, and it fits the average user's needs.
Pros
Inexpensive

Easy to use

Simple terminology
Cons
Limited coverage

Limited support
When we reviewed 13 online will platforms, LawDepot didn't make it on our "Best Value" or "Best Overall" list. Check out our picks for the best online will platforms for the full results.
» MORE:
An online memorial is a perfect ending to honor and celebrate someone's life.
Create one for free.
LawDepot's Pricing and What You Get
LawDepot advertises itself as a free tool, but this is a misleading statement. It isn't until you've completed the online will questionnaire that you're presented with a checkout screen. LawDepot describes this as "choosing a license," but really it's an attempt to upsell users. You can choose from three options:
One Year Pro Subscription ($7.99/month):

You can start with a pro subscription at $7.99 a month. To get this price, you'll need to prepay for the entire year.

Single document access ($49.95):

If you only need access to your will, you can purchase 10-year access for this flat fee.

Free trial:

Finally, if you enter your credit card information, you can sign up for a free trial for one week. After the week, this jumps to $33/month.
Situations LawDepot Does and Does Not Cover
Each online will tool has situations it does and does not cover. LawDepot is designed to meet the needs of the average user. If you don't fit under this definition, you'll either need a different will tool or the assistance of an attorney. What coverage will you find under LawDepot's questionnaire?
What does LawDepot cover?
LawDepot has a relatively simple form for creating your online will, but it's more limited than similar platforms in terms of coverage. Take care of the following with LawDepot:
Executor: Name an executor of your estate. This is someone who oversees carrying out your will after your death.
Guardianship: If you have minor children, you can name someone as their legal guardian in case of an emergency.
Delay inheritance: If one of your beneficiaries is a minor, you can delay their inheritance until they're a certain age.
Special gifts: Leave a special gift (bequest) to someone in your will.
Asset distribution: How do you want your assets to be distributed after your debts and bequests? While you can name a beneficiary, there isn't much customization for dividing things up.
Pet guardian: Name a guardian for your pet in case of an emergency.
Additional instructions: There's a section with LawDepot for adding any additional instructions.
If you're unsure what documents you need specifically, talk to an attorney. A skilled estate attorney is the only person who can direct you in the coverage that's right for your needs.
What isn't covered with LawDepot?
Compared to similar will tools, LawDepot has the most gaps in coverage. You'll need additional documents for any of the following:
Digital assets: Digital assets could be anything like photos, software, and even your social media accounts. With so many assets to include in a will, you don't want to exclude anything important.
Health planning: LawDepot does not include any living will, health care proxy, or advance directive, which ensures your medical wishes are honored in case of an emergency.
Estate planning: LawDepot also has very limited abilities with planning your estate beyond the basics. For example, you can't create a trust. Knowing the difference between a trust and a will is key to protecting your assets.
Power of attorney: Naming a power of attorney allows you to designate someone who can make legal and financial decisions on your behalf. This is not included with the basic will on LawDepot.
While many of these extras can be purchased for another fee, this adds to the overall cost of using LawDepot. If you're looking for greater coverage, using a more comprehensive tool is a better choice.
LawDepot's Policy for Updating Your Will
With LawDepot, you get what you pay for when it comes to updating your will. If you have a paid premium membership, you can update your will at any time as long as you have an active account. This starts at $7.99 per month.
If you pay for single-document access, you can update your will for up to 10 years. This could be a good fit for someone who doesn't anticipate needing to update their will very often, but they still want the option in case of marriage, divorce, or children. You are unable to update your will once your trial ends without upgrading to a paid membership.
LawDepot's User Experience
The user experience for LawDepot was pleasant overall. It's easy to find the document you're looking for, and the questionnaire is very straightforward. The process does take around 10 minutes, which is very short compared to similar tools. While it only has limited coverage, it's likely a good fit for most people's situations.
However, needing to sign up for a free trial took away from the entire experience. There was no indication that a credit card was needed on the first landing page, so this surprise might be off-putting to users. In addition, the costly jump between a "free" trial and $33 a month feels unnecessarily high. There are less expensive tools with fewer hoops to jump through.
Attorney's note: Given how few questions there were and how simple the process was to complete, I did not expect the final product to offer much substance beyond the basic information I had just provided. However, I was quite pleasantly surprised to see that when I completed all the questions and prepared my will to print, the will contained quite a lot of substance compared to the amount of information I had clicked-on or answered to create the draft.
The will contained numerous paragraph regarding the powers of the executor and extensive paragraphs on testamentary trusts for minor beneficiaries, and provisions for pets—none of which I had provided any detailed information about other than to answer "Yes" when asked if I had children or pets, and to name my executor. The final will also included a paragraph on severability and a no-contest provision, neither of which was referenced in the "filling-out" stage.
LawDepot's Customer Support
LawDepot does not provide attorney support for users. Anyone who needs help with the process can contact a non-attorney support agent via chat or email. Assistance is available during business hours. While these agents can explain things further, they cannot provide attorney advice.
For anyone in need of more support, LawDepot might not be the best choice. However, if you know what you want and you're familiar with the basics, this tool provides more than enough guidance.
Are There Any Extra Steps to Legalize Your Will With LawDepot?
Once you download your will with LawDepot, there are still a few more steps to complete. Each state has specific laws that explain how to legalize a will. Be sure to check with your state's requirements before getting started. In most cases, you'll need to:
Signature:

You'll need to sign your printed will.

Witnesses:

You'll need between 1-3 witnesses, depending on the state. These usually need to be non-relatives who are not listed in your will.

Notary:

Finally, your will should be notarized. This is a good habit for all legal documents.
Be sure to secure your document somewhere safe. If you update your will at any point, destroy the original and store the new one somewhere your family can find. Be sure to share the completed, updated document with loved ones in case of an emergency.
Attorney's note: LawDepot had sufficient elements to make a valid will.
Should You Use LawDepot?
While limited in coverage, LawDepot is a way to create an online will in just a few minutes. If time is your main concern, this might be one of the fastest wills on the web. However, needing to sign up for a free trial with credit card information puts a damper on the entire experience.
If you're considering making a will online, you're in the right place. There has never been a better time to find the coverage you need in just a few clicks. However, pay close attention to your specific situation to make sure you're protecting your assets and your future.
In addition to online will tools, there are even options for virtual funeral and memorial events now, with services like GatheringUs.
Still aren't sure if you should use LawDepot? Head on over to our picks for the best online will makers, take our online will maker quiz, or take a peek at our top picks below.
Best online will makers

| Online will platform | Cost | Key features | Get started |
| --- | --- | --- | --- |
| | $69, one update per year | Easy to use, most comprehensive | |
| FreeWill | Free, update anytime | Sleek interface, better suited for simple estate situations | |
| Willing | $69, update anytime | Simple to use, may need to upgrade for more complex will | |