Having a will is an important way to protect yourself, your assets, and your end-of-life decisions. No matter how many conversations you have with your family about your wishes, it's still essential that you create a legal will and testament to get everything legalized in writing. You don't need to know how to write a will yourself to get started. In fact, you don't even have to visit an attorney's office.
Jump ahead to these sections:
We're in the new age of online legal tools. This means it's now simple to create a will online in just a few minutes. LegalZoom is one of the most well-known and recognizable online legal services, and they have a number of automated tools that help individuals and businesses alike protect themselves legally. One of their most popular services is their online will maker. How does LegalZoom's online tool compare to others like it?
Michael T. Flannery, an attorney and estate planning expert, and I tried out LegalZoom so you don't have to. We completed the will-making process and took notes on things like user experience, pricing, premium features, and any legal considerations.
While this review will come mostly from my perspective as a married twenty-something, you'll find Michael's observations labeled as "attorney's note" throughout the article.
Overview: LegalZoom Review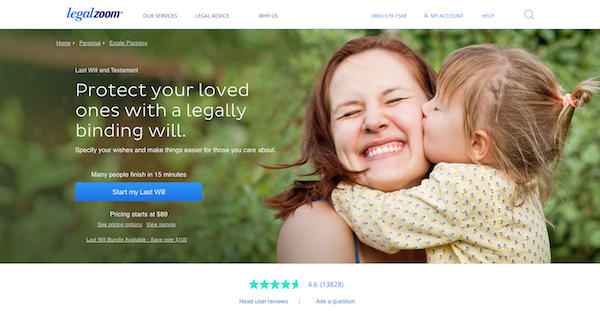 Cost:

$89

How you receive your will:

PDF after a review period

User experience:

Clunky interface, somewhat difficult to understand

Time to complete:

25 minutes

Policy for updating:

Only with a paid account

Support:

Option to talk to an attorney
Try LegalZoom's Last Will & Testament
LegalZoom has focused on helping consumers with their legal needs for over 14 years. With a variety of personal products, including estate planning, real estate, and marriage and divorce, it's easy to see why they're a favorite for many. Their last will and testament maker claims to only take 15 minutes, and it helps people of all backgrounds clarify their wishes.
This particular online will maker boasts a 4.6-star rating from over 13,000 reviews. However, with plans starting at $89, is this tool the best option? When is it best to use LegalZoom for your will and testament?
Pros
High-level support from attorneys

Simple to use questionnaire
Cons
Basic coverage in the limited plans

Very costly compared to similar tools

Outdated design
When we reviewed 13 online will platforms, LegalZoom didn't make it on our "Best Value" or "Best Overall" list. Check out our picks for the best online will platforms for the full results.
LegalZoom's Pricing and What You Get
While it's easy to see why LegalZoom is such a well-known, trusted service, it's important to note that it is also the most costly. Most online will makers are under $70 for the basic plan, and there include a lot of add-ons that are beneficial for average users. LegalZoom has a more expensive, complicated pricing structure.
Basic ($89):

With the basic plan, you get access to your will and no extra documents.

Comprehensive ($99):

An upgraded plan includes will documents and a 14 day trial of the Legal Advantage Plus subscription service (access to a 30-minute call with an attorney)

Bundle ($179):

Receive all of the above with a year membership to the Legal Advantage Plus subscription. In addition, access living will and financial power of attorney documents.
Situations LegalZoom Does and Does Not Cover
All online will makers have some limitations. They won't always be the right fit, depending on your needs. LegalZoom's basic plan is designed to meet the needs of the average user, so the majority of common situations are covered. If you need any additional documents, it would be worth going with a different online will tool or consulting with an attorney.
What does LegalZoom cover?
LegalZoom fits most average users' needs with the following coverage in the basic plan:
Guardianship: Name a legal guardian (and alternative guardian) for any minor or dependent children.
Pet guardian: Provide a caretaker for your pet in case of an emergency.
Bequests: You can choose to leave specific gifts to people in your LegalZoom will. There are a lot of assets to include in a will, and many people like to personalize this process for friends and family.
General assets: Describe how to give your assets to friends and family based on percentages, like if you want to leave 50% to a spouse.
Charitable gifts: With LegalZoom, you can easily give to charities or organizations with your legal will.
Trust: There are some options for securing your assets in a trust. The key difference between a trust and a will is that your trust sets restrictions for receiving your property.
Final wishes: List any final wishes about your resting place, funeral, or handling your remains.
While this fits most situations, there are some things excluded from this basic plan.
What doesn't LegalZoom cover?
With the basic plan, there are some important aspects of coverage excluded from the will. While many of these can be added with an upgraded plan, this limitation might be a problem for some users with more complex situations.
Medical forms:

There are no medical forms included in your basic will, such as an advance directive. This is an important area of protection, and you'll need to complete this separately unless you have the highest-tier plan.

Power of attorney:

A power of attorney document names someone who can take over your legal and financial decisions if necessary. This is only included in LegalZoom's most expensive plan.

Homeowner documents:

Finally, if you're a property owner, there are no specific protections for this in the basic will plan.
If you're not sure what type of coverage is best for your situation, talk to an attorney. They're the only ones who can assess your specific needs.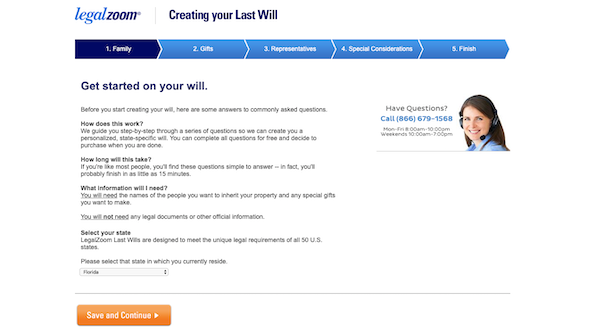 LegalZoom's Policy for Updating Your Will
LegalZoom has a relatively flexible policy for updating your will. While most people don't need to update their wills frequently, sometimes life changes happen. If you get married or divorced, have kids, or have any changes to your final wishes, it's important to update your will.
With LegalZoom, you can update your existing will for up to 30 days after you create your first one. From there, you'll need to start from scratch with a new plan. Though you can access your will at any time, you'll need to keep this in mind when choosing the right will tool for your needs.
LegalZoom's User Experience
LegalZoom effectively simplified the process of creating your own online will. This is one of the oldest will makers online today, but this might be more of a liability than an asset in terms of design. While newer platforms are sleek and modern, LegalZoom feels stuck in the past. The questionnaire loads slowly, and each screen seemingly has more information than is necessary.
While everything is explained in simple terms, LegalZoom doesn't compare to the modern will makers offered today. With such a high price tag, users might expect a more innovative and pleasant experience.
Attorney's note: LegalZoom offered a few items that others didn't, such as the option to choose a residuary beneficiary other than a spouse and to establish a trust, including a credit shelter trust. It also included options for the designation of digital assets and co-personal representatives.
However, if it's going to introduce more expansive items like these, I thought it could have offered a little deeper legal explanation. I tried to pursue the trust option, but it didn't really explain much about it—at least in the will maker.
LegalZoom's Customer Support
One of the areas where LegalZoom excels is with its customer service. All users can access live chat support or contact one of the support agents for assistance while creating your online will. This is a big help for those who have never created a will before, whether on their own or with an attorney.
However, the only way to receive attorney support is with a Legal Advantage Plus membership. This is included in the upgraded plans, but it costs a monthly or yearly fee depending on the pricing tier. With this plan, users receive a 30-minute phone consultation with an attorney on an unlimited number of legal matters. They also access attorney reviews of any of their documents.
Are There Any Extra Steps to Legalize Your Will With LegalZoom?
While online will makers are great tools, they're not a one-stop-shop. You'll need to take additional steps to legalize your will, even though an attorney-backed service like LegalZoom. Each completed document comes with state-specific steps for legalizing your completed will. Most states require the following:
Witnesses:

You'll need two non-relative witnesses who are not included in your will.

Signature:

Your printed document needs your signature.

Notary:

Finally, your will needs to be notarized.
In most states, these steps above are all you need to make your document legal. From there, save it somewhere secure and share it with members of your family. A will is only enforceable if it can be found!
Attorney's note: LegalZoom's online service has sufficient elements to make a valid will.
Should You Use LegalZoom for Your Online Will?
Is LegalZoom right for you? In short, it's a well-known, trusted tool that's been used for over a decade. While its interface is outdated and overpriced, it does successfully walk users through the will and testament process. If you're just getting started with your legal coverage, this could be the right choice for you.
As long as you're giving thought to your end-of-life decisions, you're on the right path. Now is the time to think about what you want to be included in your will.
Still aren't sure if you should use LegalZoom? Head on over to our picks for the best online will makers, take our online will maker quiz, or take a peek at our top picks below.
Best online will makers

| Online will platform | Cost | Key features | Get started |
| --- | --- | --- | --- |
| | $69, one update per year | Easy to use, most comprehensive | |
| FreeWill | Free, update anytime | Sleek interface, better suited for simple estate situations | |
| Willing | $69, update anytime | Simple to use, may need to upgrade for more complex will | |