One of the biggest challenges people face after the death of a loved one is trying to figure out what accounts and valuables that person had, and where to find them, so they can properly manage their estate. They also need to know what bills and subscriptions to cancel or continue paying.
Now you can create a sharable list of your bank accounts, subscriptions, important documents, property, and more. This practical information will be incredibly helpful to your family if anything happens to you.
What to include

in your list of accounts and assets:
Financial Accounts

– Make sure someone you trust knows where your money is. This includes bank accounts,

investments, employer benefits, and more. For many of these accounts, you don't have to list private account details, just noting the financial institution can be enough to help someone contact the right person to get access to your account after you die

.
Debts and Liabilities

–

It's also important that

someone knows

what debts you have, like loans and credit cards, as they'll need to

account for

these

debts

. They also need to know what you owe so they can accurately calculate the value of your estate.
Bills, Subscriptions, and Memberships

–

Someone

needs to know what bills, su

bscriptions, and memberships you have so they can cancel

or continue paying them

after you die.

This includes your gym membership,

utilities,

any app

s

you subscribe to, the cleaning company you hire, and more.

Many of these aren't services that a family member or friend might readily discover, so it can be quite helpful to list them out. This can prevent your assets

from

going towards unnecessary services after you die simply because no one

knew to cancel your subscription

.

It can also help loved ones know who to contact to let them know you won't need their services anymore.
Property and Valuables

–

To value your estate and locate the possessions you want to pass on, your executor first needs to know what valuables you own and where to find them. Some assets, like your house or TV, might be easy to find after you're gone. But items like jewelry, smaller electronics, or collectables may be harder to locate, especially if someone doesn't know they exist.

You may

own

valuable art or collectables

t

hat may

be looked over

without your

instruction

.

Likewise, your executor might need help knowing how to find digital property that's worth money (

e.g., a

website, manuscript

, patent

,

music

).
Insurance

– If you have insurance policies, such as life insurance, home insurance, or auto insurance, it's helpful to let loved ones know that these policies exist and with which company. This will help ensure beneficiaries can claim what's owed to them, and that

loved ones know who to get in touch with to

cancel your policy or transfer it.
IDs and Papers

–

Birth certificates,

social security cards,

deeds,

military papers,

licenses,

passports. These are all important documents that loved ones may not know how to find

if you die.

Listing where they can find these

can make it easier for them after you're gone.
How to add a

new item to your

list

of accounts and assets

:

 1. Navigate to "List of Accounts and Assets" in your checklist, and click "Get started."
2. Click "Add" to list a new account or asset.
3. Select the"Category" and then "Type" that best matches the asset you want to add.
4. Provide the details you wish to share about the asset. Click "Save" to finish adding it to your list.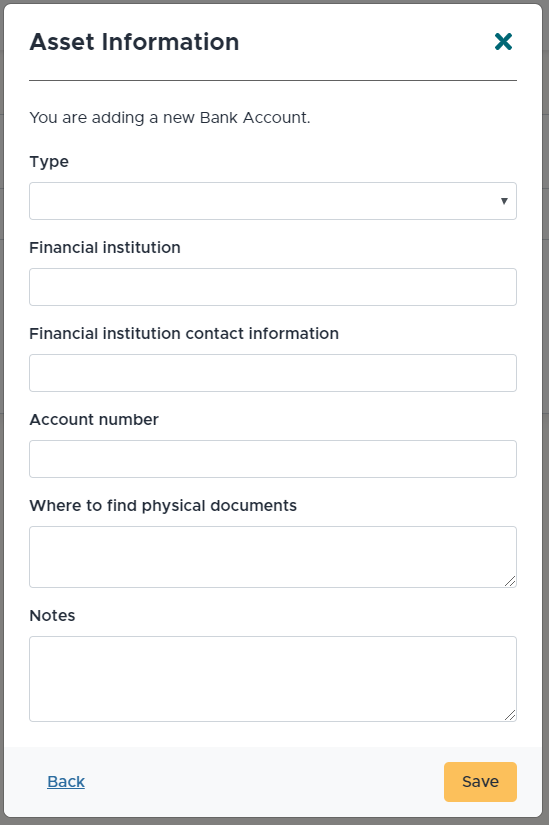 5. Be sure to share your Cake profile with people you trust so someone has access to your list. You can learn how to share your profile here.
That's it! If you check out our tool to list assets and accounts and have suggestions for additional functionality you would like to see added, please send us a note with your thoughts to support@joincake.com.