Nurses play a critical yet often overlooked role in the lives of virtually all of us. If you know a recent graduate who chose to pursue this career, you can both congratulate them on graduating and thank them for choosing such a noble profession by giving them the perfect gift.
Jump ahead to these sections:
Don't worry if you're not sure what "the perfect gift" is. This list of nurse graduation gifts will help!
(Note: Many of these make great gifts for doctors as well!)
Newly Graduated Nurse Gift Basket Ideas
A gift basket is a wise option to consider when you don't want to give just one graduation gift. Here are some gift basket ideas to keep in mind:
1. Self-care gift basket
Being a nurse can be very rewarding. However, it can also be very stressful. Nurses work long hours in environments that are often hectic. They also may be frequently assisting in the treatment of people struggling with severe health conditions.
This can take a toll on anyone's emotional state. Thus, a gift basket with items that promote self-care and relaxation, such as soothing candles, soaps, and beauty products, could be an ideal nurse graduation gift.
2. Personal Protective Equipment basket
Personal Protective Equipment (PPE) refers to the various items nurses and other medical professionals use to promote both their own safety and the safety of patients. Examples of PPE include face masks, protective goggles, gloves, and respirators.
Sometimes hospitals and medical offices run out of PPE. When this happens, nurses are more likely to be harmed or contract illnesses.
Help a recent graduate guard against the risk of illness with a gift basket featuring PPE items. This may not be a sentimental graduation gift, but it's one any nurse is very likely to appreciate.
3. Coffee or tea basket
Many busy nurses rely on caffeine to help them stay alert during long shifts. If you know a recent graduate who loves fine coffees or teas, put together a gift basket featuring a variety of selections. If you're not sure which types of coffee or tea to include, many suppliers offer pre-made baskets for that hard-working caffeine lover.
4. Energizing snack basket
Some nurses feel uncomfortable relying on caffeine to stay awake. In this case, you could instead put together a gift basket featuring nutritious and energizing snacks a nurse can easily eat during a busy shift.
Personalized Gift Ideas for a Newly Graduated Nurse
Almost any gift is better with a personal touch. Options to keep in mind include:
5. Stethoscope case
A stethoscope case is an essential item for many nurses. However, it doesn't need to be generic and bland.
You can order a personalized stethoscope case from a designer or supplier. Or, you can purchase a basic stethoscope case and decorate it yourself.
6. Nurse desk signs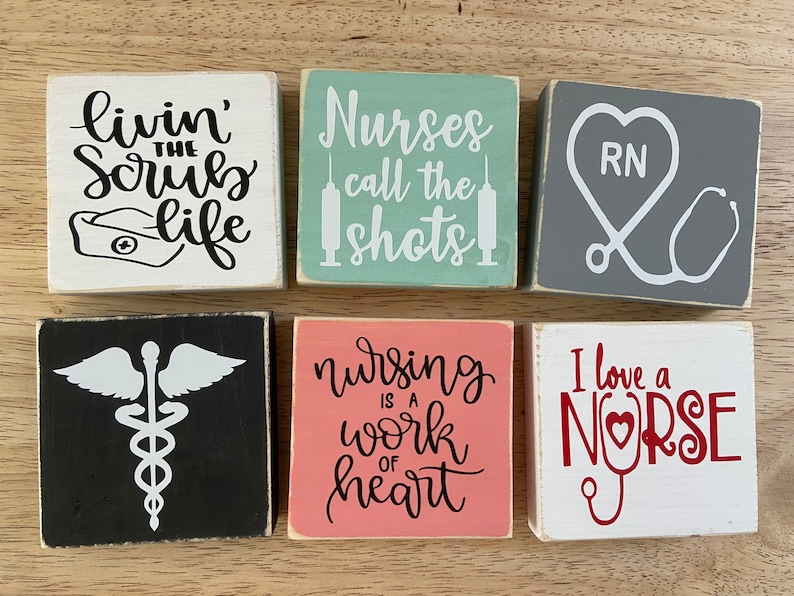 Many designers and artists on platforms such as Etsy sell small desk signs featuring inspirational and motivational sayings about the important role nurses play. Often, they're willing to personalize these signs. Give one to a nurse to ensure they remember how proud you are of them every day.
7. Cameo
Cameo is a relatively new service that's grown quite popular in a short period of time. It lets customers send gifts in the form of personalized videos featuring celebrities.
There may be a celebrity on the service that a recent graduate would love to receive a personalized congratulation from. Bonus points if the celebrity played a nurse or medical professional on TV or in a movie!
Jewelry or Wearable Gift Ideas for a Newly Graduated Nurse
Jewelry and wearable gifts for nurses can be sentimental, practical, or both.
8. Badge clip
Virtually all nurses have to wear ID badges while at work. Many choose to add some flair to them with unique badge clips.
This is a simple personalized gift many recent nursing school graduates will love. If you have the necessary arts and crafts skills, you can make it yourself. If not, you can hire someone on a platform such as Etsy to make one for you.
9. Lapel pin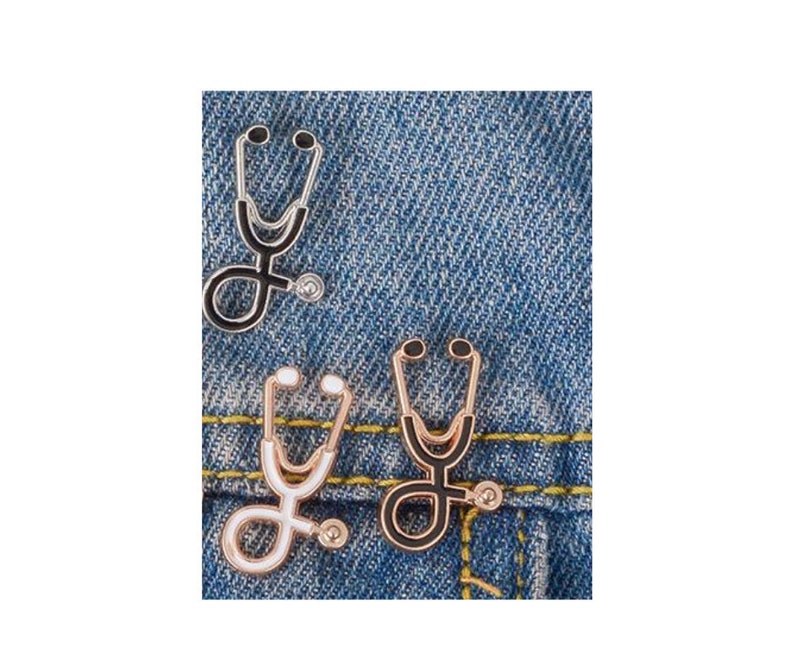 A nurse-themed lapel pin is another small graduation gift to consider. Many online and brick-and-mortar retailers carry such items.
10. Heartbeat necklace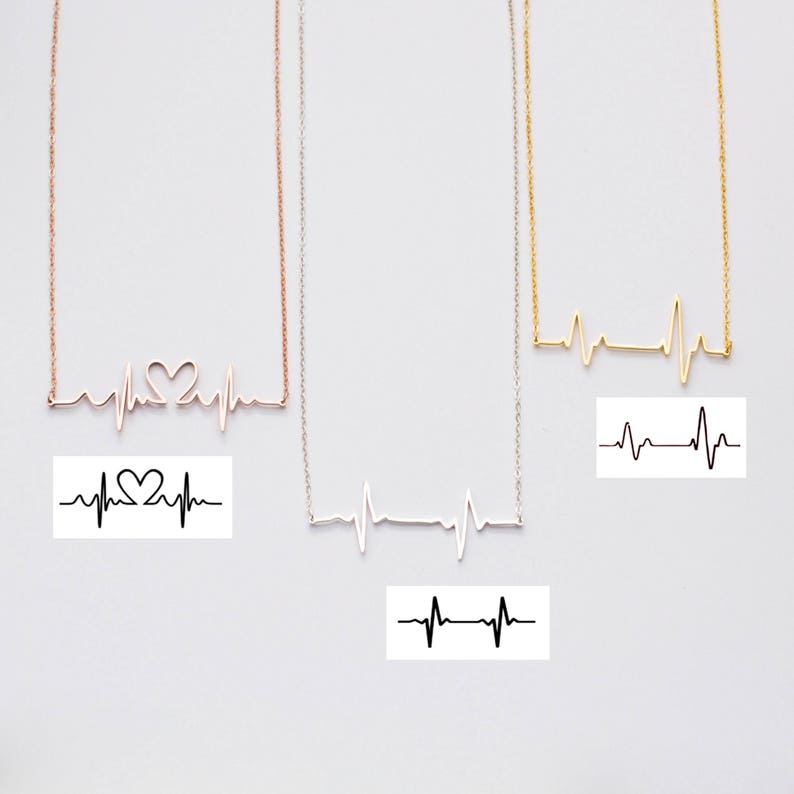 A popular design for a nurse-themed necklace features a pendant whose shape recalls a heart rate monitor reading connecting to a heart shape. Although a nurse likely wouldn't be allowed to wear this at work, they can sport it proudly outside of work.
11. Fitness watch
A Fitbit or similar health and fitness tracking watch is a wearable nurse graduation gift that can serve many purposes. By monitoring a nurse's physical activity and basic wellness indicators throughout the day, it can help guard a nurse against overexertion.
12. Silicone ring band
Are you married or engaged to a recent graduate of nursing school? If so, you might give them a hospital-approved silicone ring band.
Most hospitals don't allow staff to wear traditional diamond rings or similar jewelry while at work. However, they often allow them to wear approved silicone alternatives. Several suppliers offer these.
Practical Gift Ideas for a Newly Graduated Nurse
Sometimes, the best nurse graduation gifts are useful in practical ways such as these gift ideas below.
13. Eye mask
Again, it's not uncommon for nurses to work very long hours. Because of this, getting some rest when the opportunity arises is often the main priority for a busy nurse.
Help a newly graduated nurse get some much-needed shuteye with an eye mask. Some eye masks also come with earplugs, ensuring a nurse can completely block out potential distractions when they need rest.
14. American Nurses Association membership
The American Nurses Association (ANA) is an organization supporting the professional development of nurses throughout the US. ANA members have access to industry-specific events, webinars, new research, educational resources, and much more.
The ANA membership fee is $15.00 a month. Consider paying the fee for one year if you want to give an ambitious graduate the chance to thrive in their career.
15. Pressure cooker
Pressure cookers are useful for many reasons. One reason is that it's possible to cook a wide range of meals with just one. Perhaps more importantly, the amount of time it takes to cook a meal in a pressure cooker is often a fraction of the amount of time it would take to prepare the same meal without one.
A nurse with a busy schedule relies on nutrition to stay alert at work. Unfortunately, a busy schedule can make preparing nutritious meals a challenge.
That doesn't need to be the case! Give a nurse a pressure cooker as a graduation gift, and you'll be giving the gift of fast, simple meal preparation. Although some deluxe model pressure cookers are somewhat expensive, many basic models are reasonably affordable, while still boasting a wide range of useful features.
16. Blackout curtains
An eye mask isn't the only gift you can give to help a nurse get better sleep. A set of blackout curtains is also an option to consider. Just make sure you're familiar enough with the recipient's tastes to know they'd be comfortable hanging the curtains you choose in their home.
17. Meditation or fitness app membership
Some ways nurses can handle the stress of their work involve meditating or engaging in a similar restorative practice. Others prefer to work out to burn off steam.
Think about the way the person you're buying a gift for tends to manage stress. Whether they're more inclined to meditate or work out, there are many premium meditation and fitness app memberships you can give them.
18. Coffee or tea subscription
Worried the nurse you're buying a gift for will go through all the coffee or tea in a gift basket too quickly? If so, give the gift of a recurring caffeine boost with a tea or coffee of the month subscription.
19. Coffee maker
What better way to complement a coffee subscription than to give a new coffee maker?
20. Personal assistant device
A nurse's shift can leave them drained both physically and mentally. Luckily, a basic personal assistant device, such as an Amazon Echo, can at least simplify various tasks in their home life.
21. Blue-light blocking glasses
Many nurses spend hours looking at screens every day. This can cause eye strain. Help prevent it with blue-light blocking glasses.
Luxe or Expensive Gift Ideas for a Newly Graduated Nurse
If you can justify spending a decent amount of money on a graduation gift, you might give something like:
22. A weekend getaway
The right graduation gift doesn't need to be a physical item. For example, you may treat a recent graduate to a weekend away at a fancy resort.
Even better, buy them a gift card for a resort. Some recent graduates may prefer to go away for the weekend soon after graduating to take a break from their academic work before diving into a career. Others may want to save the gift card for later, so they can take a vacation after they've been working for a few months.
Just make sure you've considered practical factors when choosing a resort or spa! For example, if you can't find an ideal location that's close to where a nurse lives, consider paying for their travel as well as for the weekend itself.
23. Robotic vacuum
Nurses already have extremely busy lives. Many don't love the idea of spending their limited free time cleaning up a house.
That's what makes a robotic vacuum a smart graduation gift. A nurse can program one to vacuum their home's floors automatically, eliminating at least one task from their to-do list.
24. Massage devices
The stress of being a nurse can cause major physical tension. Help a recent graduate minimize physical discomfort by giving them a high-end massage device.
There are many options to consider. Some devices are strictly foot massagers. Others are devices a nurse can drape over a chair to release tension in their back and shoulder muscles.
Essentially, massage devices exist for almost any muscle group that's prone to tension. If you're willing to spend a little more money, instead of buying one deluxe massage device for one part of the body, you might consider buying multiple devices, giving a nurse the chance to enjoy a full-body massage from the comfort of home.
25. Deluxe home fitness machine
Staying fit is a priority for almost everyone. It's particularly important in a physically demanding profession such as nursing.
However, a nurse may not have much time to go to the gym in between shifts. With a gift like a Peloton machine or Mirror home fitness setup, that's not a problem.
Rewarding a Milestone
Remember, someone who chooses to be a nurse is choosing a stressful career because their personal character inspires them to help others. These nurse graduation gifts can help you express just how much you admire them for making that choice.