Online memorial sites make it easier than ever to celebrate and honor a departed loved one. And there's a wide variety of memorial sites out there. They provide everything from simple yet elegant guest books to full-service virtual events.
Jump ahead to these sections:
With so many options available, you might not know which site to choose. If you don't have the time to look into each of them yourself, you're in luck. We looked at the most popular online memorial sites and spent several hours doing the research for you.
With the simple guide below, we'll help you pick the best online memorial site based on cost, features, and the range of services it offers.
Tip: If you are the executor for a deceased loved one, closing accounts and other aspects of handling a loved one's unfinished business can be overwhelming without a way to organize your process. We have a post-loss checklist that will help you ensure that your loved one's family, estate, and other affairs are taken care of.
What Is an Online Memorial Site?
Every online memorial site offers something different. But all online memorial sites have a common goal: to help you commemorate and celebrate a loved one.
Celebrating a life
Most online memorial sites cater to people who've recently lost a loved one. They let you create a profile dedicated to the family member or friend that you lost.
Most memorial profiles include photos and a tribute to the person. They can also feature videos, music, event invitations, and much more.
Coming together
Online memorials bring people together to share memories of the departed.
This way, an online memorial site allows you to record the impact your loved one left on the people around them.
Why Do People Use Online Memorials or Virtual Funerals?
People use online memorials and virtual funerals for multiple reasons. Online remembrance pages and virtual funerals can serve in place of an in-person event, or in combination with a traditional service.
Forgoing funerals
You might not be able to hold a funeral due to cost limitations, social constraints, or other personal reasons.
But you still might want to gather family and friends to celebrate the life of your loved one. If that's the case, an online memorial might be the perfect compromise.
Adding more
Even if you're having an in-person funeral, an online memorial can be worthwhile. Often, some family members can't attend the funeral due to distance. Hosting a virtual funeral can let them watch the service in real-time. And an online memorial allows them to offer condolences at any time.
An online memorial creates a permanent space for remembering a loved one. Where a funeral only lasts a day, an online memorial can last forever.
You can also use an online memorial site autobiographically. Many people create their own pages while they're still alive. And some sites allow you to assign a legacy administrator to run the page when you're gone.
What Are the Different Types of Online Memorial Sites?
Most online memorial sites fall into one or two of the categories described below.
Guest book
The first and most common type of online memorial page is the guest book. Most memorial sites, even if they also fit into one of the categories below, include a guest book.
A guest book is like an online version of a guest book you'd put out at a funeral. With an online guest book, visitors sign their names and write tributes to the departed.
Virtual funeral
A virtual funeral site lets you host a virtual event. You can use it as a replacement for an in-person funeral or live-stream an in-person event.
Invitations and RSVPs
Some online memorial sites help you get the word out about a funeral service or event.
They might include GPS directions for your guests or easy RSVP tracking. Some sites also let guests send gifts or flowers to the location of the funeral.
Obituary listing
This kind of memorial site works together with local newspapers and other publications to host obituaries online.
Although they tend to be simple and straightforward, they often include tributes and a guest book.
Social memorials
A social memorial site works in much the same way as a guest book. But with social memorial sites, each user creates their own profile with a biography and photo.
You use your personal profile to communicate with others on the site, similar to a social media website.
How Did We Compare Each Online Memorial Site?
To find the best online memorial websites, we rated each site according to these key data points.
Price:

Some memorial sites are entirely free, while others charge a one-time or recurring fee. Many sites have a free version and a paid version.

Online guest book:

Most memorial sites have some sort of online guest book. The guest book must be streamlined and easy to use, as well as visually appealing.

Upload features:

Most memorial sites let you upload at least one photo. Some of them allow both administrators and guests to share photos, videos, and audio.

Donation feature:

We looked at whether or not the memorial site has any donation feature and how easy it is to access and use it.

User interface:

You can't undervalue a beautiful and intuitive interface when it comes to an online memorial honoring your loved one.

Customer service:

Some sites only offer a contact form, while others provide 24/7 email support or a phone number.

Privacy or control of content:

Some memorial sites provide no privacy controls, while others let you manage privacy settings in minute detail.

Invitation features:

Some sites have invitation features and RSVP tracking, and others don't have any invitation options.

Virtual events:

An online memorial site might have hosting capacities for virtual events. Or, you might have to take your event elsewhere.

Resources:

We judged the resources, such as blog articles and how-to videos, the site provides.

Added services:

Some memorial sites go above and beyond the points already listed. We looked at unique services like memory book printing and more.
Each site had the opportunity to score high or low in each data point. We separated paid memorial sites from free memorial sites to keep the rankings fair.
Best Online Memorial Sites Compared
So here are the best online memorial sites based on our in-depth research and carefully chosen data points. As mentioned, we'll separate the paid memorial sites from the free sites. If you don't want to scroll through the entire list, read our shortlist of picks below.
Best free online memorial sites
Best paid or subscription-based online memorials
Best free online memorial sites
You don't have to pay anything at all to create a thoughtful, beautiful, and long-lasting online memorial. Below, we'll provide our top choices for the best free online memorial sites.
---
Price: Free
Strengths: Fundraiser tools, resources, guest book, user interface
Weaknesses: Design features
Of course, the first recommendation on this list is our very own online memorial and fundraiser tool. Created by grief experts, we made this tool with legacy in mind.
Cake's online memorial page and fundraiser tool offer an easy user experience, with a minimalistic and intuitive process. With just the features you want and need, Cake's memorial creation process takes just a few short minutes.
In addition to its user-friendly interface, Cake's online memorials stand out in the category of resources. The website provides an extensive database of articles and tips from experts in the death and funeral planning industries. At each step of the memorial creation process, Cake will offer you a relevant article (or two or three) to help you accomplish your task.
Cake also provides an easy upload feature for guests to the page to use, and it lets you create your own fundraiser free of cost. Raise money for funeral expenses, an important cause, or memorial fund with ease. It just takes a few minutes to set up and share, and our tool does the rest.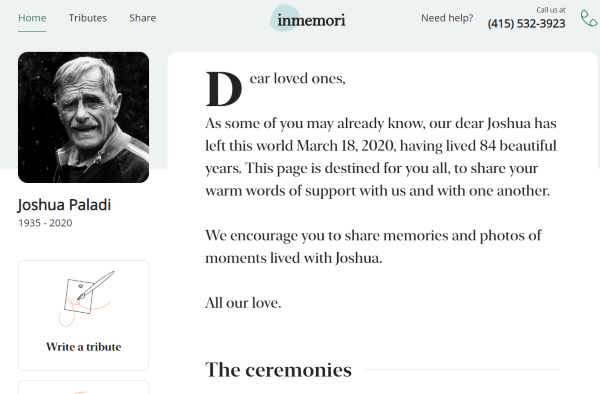 Price:

Free

Strengths:

Guest book, upload features, user interface, customer service, added services

Weaknesses:

Resources, virtual events, donation feature
InMemori features a soothing, simple interface, with only the features you want and need in an online memorial site. The guest book is easy for you to manage and for guests to add condolences. You can upload photos, and so can visitors to the page.
InMemori provides you with a secure access link, and your site doesn't appear in search engines, offering a high degree of privacy. The site can only be accessed via your secure link. You also have access to invitation features for both virtual and in-person events. InMemori provides a customer service phone number, and it offers added services like printed memory books.
InMemori doesn't host its own virtual events, but it does let you easily link out to a service like Zoom or YouTube Live. The site doesn't include many resources, such as a blog, but it does have an FAQ page.
Price:

Free trial, $199 for full, lifetime access

Strengths:

Guest book, user interface, upload features, resources, privacy, customer service

Weaknesses:

Donation feature, virtual events
Memories is a visually appealing, guest book-style online memorial site. It's simple and elegant in design and easy to navigate. When you invite a guest to the memorial page, Memories asks them to add a memory, which can include a short message, a photo, a video, and so on.
When a guest adds a memory, the site asks them to include a date on it. It then uses those dates to arrange the memories chronologically, so the memories form a timeline of your loved one's life. You, as an administrator, can also add memories to the page.
Memories provides unlimited photo and media storage, so you and your family and friends can continue adding memories as long as you like. The site also has a wide variety of grief resources and help information for creating an amazing online memorial page.
There is a customer support phone number as well as a contact form and online support centre if you need any help along the way. Currently, the site doesn't have a virtual event or donation feature.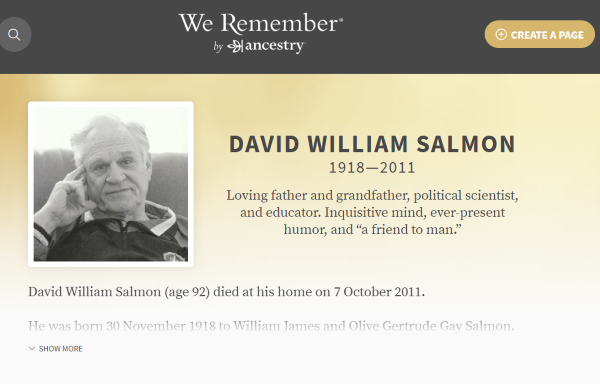 Price:

Free

Strengths:

User interface, guest book, resources, added services

Weaknesses:

Privacy, donation feature, customer service
We Remember is a free online memorial site from Ancestry.com. It features a simple user interface, and it allows you to link your page with your Ancestry account. This creates unique family-tree building opportunities that you don't get with other memorial sites. You can create a page for yourself or for anyone, whether they're alive or deceased.
The guest book is well-organized and easy to navigate. Guests can upload photos when they share a tribute, creating a group scrapbook-style site. We Remember also has a rich database of resources to help you create your ideal memorial page, as well as cope with grief.
We Remember offers some privacy settings, but the "Tribute" section (the main body of your memorial page) is always visible via search engine. The site also lacks in customer service, only providing a contact form to request help.

Price:

Free (depending on your local newspaper)

Strengths:

Invitation feature, donation feature, added services, resources

Weaknesses:

User interface, upload features, privacy.
Legacy.com partners with regional newspapers to host online obituary pages. This can get complicated since you're essentially working with two different businesses to put together your memorial page. But the memorial you create is highly functional and aesthetically pleasing.
A Legacy memorial page includes an obituary-style tribute, which prominently displays event information. It also includes donation features and unique dedication features like real-life tree planting (a paid service). Guests to the memorial page can even send flowers and other gifts to the funeral location via Legacy's gift system.
Where Legacy falls behind is in its upload features, as well as its privacy features. Your Legacy memorial page is based on your local news service, and people can search for obituaries via Legacy and any search engine. The site also has ads.
Best paid or subscription-based online memorial sites
First, we'll go over the top paid or subscription-based online memorial sites. Most online memorial sites that offer a paid version also have a free version. But for this ranking, we judged the paid version of the site.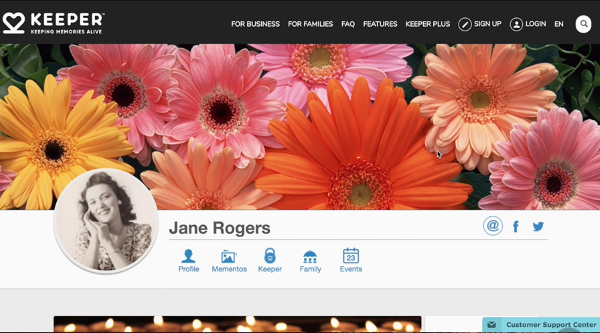 Price:

Free or $74.99

Strengths:

User interface, guest book, invitation features, donation feature

Weaknesses:

Resources, customer service

Promotion: Use 'JOINCAKE' at checkout for 10% off your purchase
Keeper offers an optimized mobile experience, and its paid version gives you access to unlimited photo storage and dedicated "Event Pages."
Keeper lets you easily send invitations to in-person or virtual events, as well as track RSVPs. When you or your page visitors upload photos and write memories in the guest book, Keeper creates a beautiful timeline of your loved one's life. You can also create your own Keeper memorial page and assign a legacy administrator to take over the page when you're gone.
What makes Keeper even more unique is its geotagging capability, which lets you give exact directions to a loved one's final resting place. And although the price of $74.99 might seem steep at first glance, it grants you access to your memorial forever.
Where Keeper lacks is in resources (it doesn't have a how-to guide or blog) and customer service (there's no phone number listed on the site).
Keeper also offers virtual memorial facilitation, where their experts guide you through the planning processes, facilitate the event, and create things like slideshows, thank you emails, invitations, and other materials.
They offer two tiers, and both are fairly priced: Core ($1,200) and Premium ($1,900.) However, the Premium Experience sets Keeper apart from its competitors with unique offerings like a professionally written eulogy, mindfulness and meditation sessions, and a custom legacy activity.
Save 10% Off Keeper With Code 'JOINCAKE'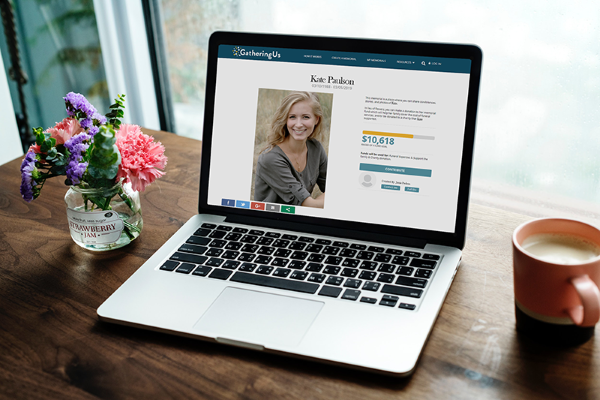 Price:

Online memorial site is free, virtual services are between $1,400 and $3,500

Strengths:

Invitation features, virtual events, user interface, resources

Weaknesses:

Price
GatheringUs offers two kinds of online memorial services. The site's free version is a relatively simple, social memorial-style online memorial site with some extras. The paid version offers the memorial page plus full-service event hosting.
On the memorial site side, your GatheringUs memorial page functions a lot like a social media profile. People create their own profiles before leaving short messages and condolences on the memorial profile you create. You and your guests can add photos and videos, too.
If you want to host a full-scale virtual funeral with up to 1,000 guests, GatheringUs can put it all together for you. The cost depends on how many guests you want to invite and whether the event is entirely virtual or hybrid.
Where GatheringUs falls behind is in the price (there's no middle ground between free and a large investment.)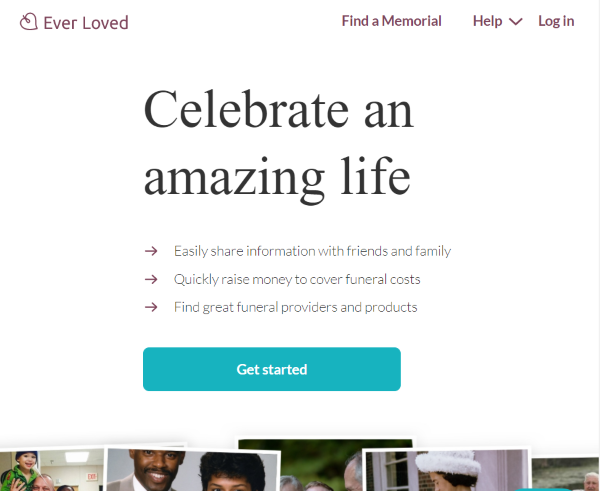 Price:

Free or 7-day free trial, then $49.95 for the first month, then $4.95 after for Everloved Premium

Strengths:

Invitation features, upload, feature, donate feature, customer service, user interface, resources

Weaknesses:

Pricing
Ever Loved offers a straightforward online memorial service with an emphasis on helping people plan a funeral for their loved ones.
The onboarding process is easy. It asks standard questions about the deceased, the funeral planning process, even asking for feedback about your planning experience to assist other users in your area. If you need help planning, the platform offers a full funeral home directory, funeral RSVP tracking, and a grief and loss forum.
The free version comes with most of the features listed, but Ever Loved Premium offers enhanced security and privacy, like the ability to control who can post content and password-protected websites.
While Ever Loved Premium's price is fair, but a little complicated. You start out with a 7-day free trial, then the first month is $49.95. Once the first month is up, you pay $4.95 per month but can cancel at any time. Other online memorial sites have simpler pricing structures, like a one-time fee, which means you can just pay once and forget about it.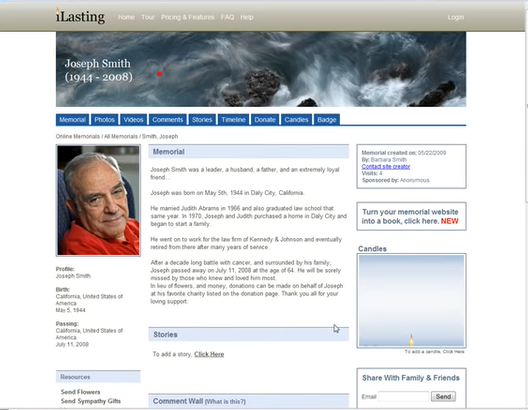 Price:

Free or $49 for one year or $99 for a lifetime membership

Strengths:

Guest book, upload features, donation feature, privacy

Weaknesses:

Invitation features, virtual events, resources, added services
iLasting is a simple-yet-effective online memorial site. With both paid versions, it lets you add a substantial amount of content to your page. Your memorial page functions as a self-contained site with several tabs.
iLasting has upload features for photos, and each memorial page has a dedicated "Photos" tab. You can also embed YouTube videos through the "Videos" tab. Your memorial page also has a "Donations" tab, where you can post links to the donation site of your choosing. iLasting stands out in its privacy features, allowing you to set your site as private, as well as track visitors to the page.
iLasting doesn't have invitation features or virtual event functionality, and it doesn't provide any additional resources or services.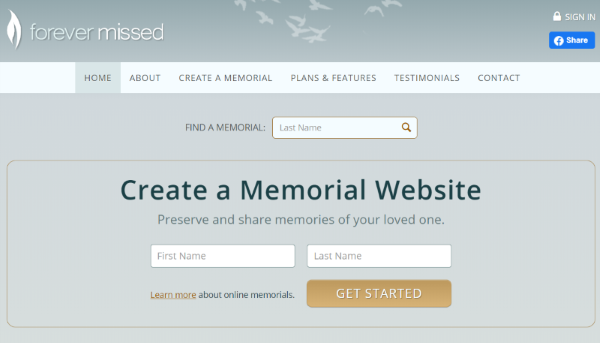 Price:

Free or $6.99 per month, $64.99 per year, or $124.99 for a lifetime membership

Strengths:

Guest book, user interface, upload features, privacy

Weaknesses:

Price, invitation features, donation feature, virtual events
Similar to iLasting, Forever Missed lets you create a memorial page with multiple tabs. These tabs include a "Stories" tab where guests can write longer tributes or stories about your loved one. The guest book has options for guests to leave a written tribute, as well as "Light a Candle" or "Lay a Flower."
You can customize your memorial site by choosing one of several themes. And Forever Missed's user interface is modern and serene. You have full control over the privacy of your page content, including an option to make the page completely private so that only you can see it.
Where Forever Missed falls behind is in its added features, like invitations, donations, and virtual events. And its monthly, yearly, and lifetime prices are higher than similar sites.
Learn More About Forever Missed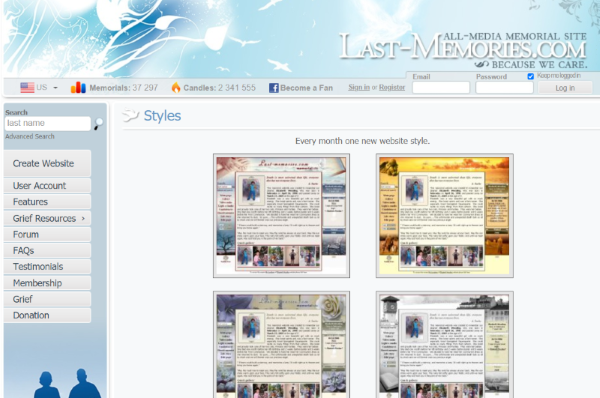 Price:

Free or $4.90 per month or $99.90 for a lifetime membership

Strengths:

Upload features, resources, added services

Weaknesses:

Price, privacy, user interface
Last Memories touts itself as the "All-Media Memorial Site," and for good reason. Depending on your level of technical ability, you can add a wide range of details and functions to your online memorial site. Out of all the memorial sites we reviewed, Last Memories had the widest range of customizability options.
The paid version of Last Memories includes a printed version of your memorial page and guestbook. The site also shares many useful resources with its users.
However, the range of options may be overwhelming, and the user interface can be difficult to navigate. Last Memories lets you adjust your privacy settings in detail, but the site itself unsecured. Additionally, the lifetime price of $99.90 is higher than some other services.
Learn More About Last Memories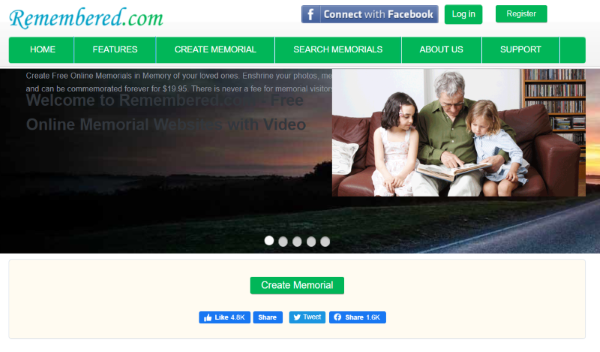 Price:

Free or $19.95 or $79.99

Strengths:

Privacy, guest book, user interface

Weaknesses:

Donation feature, upload features, added features
Remembered is another online memorial site that lets you create a site with multiple tabs. And although the site isn't as streamlined as some of the others, it is easy to navigate and create your memorial site.
Guests to your site can easily write a "Tribute" or "Light a Candle." Another strength of the site is privacy: you can set your entire memorial to invitation-only.
The paid versions of Remembered offer unlimited photo storage, but the free version does not. And the $79.99 price point includes only one extra feature: a memorial slideshow that gets created once you've uploaded at least 60 photos.
Online Memorial Sites: Frequently Asked Questions
Choosing an online memorial site that has everything you want and need is hard enough.
And once you decide on a memorial site, you may still have questions about how to get started. Below are some of the most frequently asked questions when it comes to online memorial sites.
Q: What do you need to set up an online memorial?
Most online memorial sites only require a name and an email address. You might need to enter your name, as well as the name of the deceased. But that's just to get your profile started.
To complete the memorial, you should plan on writing a short tribute or biography about the person, as well as uploading or attaching a photo of them.
Q: What are the steps for signing up for an online memorial site?
Here are the steps for signing up for and creating an online memorial.
Create an account.

First, you'll create an account with the memorial site you choose. You'll use your name and email address and create a password, or connect using a social media account.

Choose your version.

If you choose a site that has both a free and paid version, you'll need to enter your payment information for the paid version (if that's what you go with).

Add a biography.

If you made the page for a loved one, write a short tribute to them. You can include obituary information, like the date of death and the date of their funeral, as well as a personal description. If you made the page for yourself, add a short autobiography that you want to feature on the page.

Upload photos and media.

Now it's time to add the photos and other media you want to appear on the page. Choose photos that display what the person (or you, if the page is for yourself) looked like in everyday life.

Share the page.

Finally, send the link to friends and family members you'd love to share memories and tributes.
Q: What happens to the online memorial years after the person's death?
Most online memorials last indefinitely. The memorial page you create will stay active as long as your profile with the site is active. And that usually means it's active until you cancel your account. If the site is paid and subscription-based, your memorial may revert to the free version if you fail to make a payment.
If you want to know more about how a specific site handles data over time, and what happens to your data in different specific circumstances, look to the site's Terms and Services. Most sites link to their Terms and Services at the very bottom of each page.
Creating a Memorable Memorial
Creating a perfect online memorial starts with choosing the best memorial site. When you pick the right online memorial site, you can focus on memorializing your loved one, rather than navigating features you don't need or looking for features that aren't there.
The right online memorial site for you depends on what you want your memorial to look like, what you want it to do, and how much you want to pay. But no matter which site you choose, your online memorial should be a place where family and friends can come together to honor and remember the one you love.
---
Source: