Quicken is one of the recognizable legal software tools available. It's a popular choice for tax season, and now it's popular for wills. And, the world of online wills is growing rapidly. Gone are the days of needing to work one-on-one with an attorney. You don't need to know how to write a will or anything about the legal process.
In addition to online will tools, there are even options for virtual funeral and memorial events now, with services like GatheringUs.
Jump ahead to these sections:
As long as you have a few minutes and can answer some questions about your situation, you can create a will on your own. The Quicken WillMaker is one of the many tools online available for making a legal will in just a few minutes. Updated regularly by Nolo's experts, this is an effective way to save on legal fees. How does Quicken Willmaker compare to similar tools?
Michael T. Flannery, an attorney and estate planning expert, and I reviewed 13 online will makers, including Quicken WillMaker. We went through the entire will-making process and took notes on elements like if it'll produce a valid will, pricing, user experience, and more. Most of this review comes from my perspective (a married twenty-something with a dog), but you'll find Michael's observations throughout the review labeled as "attorney's note."
So, what are the pros, cons, and costs? Let's find out.
Overview: Quicken WillMaker & Trust by Nolo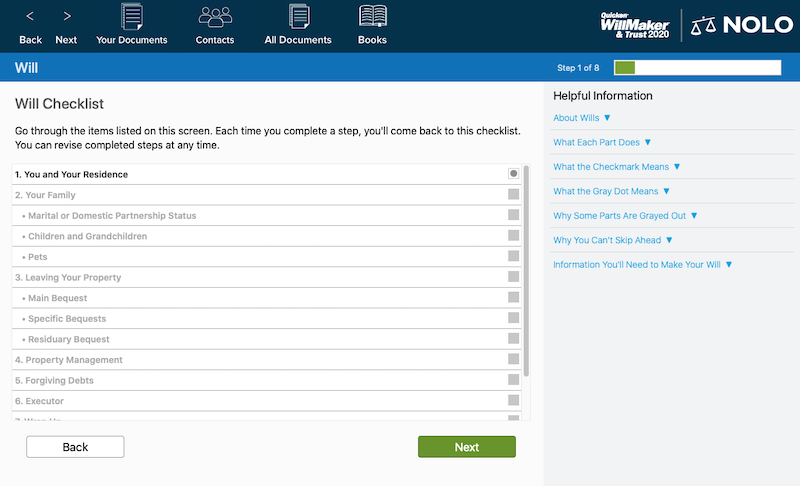 Cost

: $67

How you receive your will

: PDF download of your will

User experience:

Have to download software, lengthy

Time to complete:

35+ minutes

Policy for updating:

Update easily within software

Support:

Option to talk to a non-attorney agent
Unlike other online will tools, Quicken has a will making software that needs to be downloaded. From there, users are walked through the online will process and answer questionnaires about their situation and end-of-life wishes. Created by Nolo's experts, this is a trusted way to protect your assets and your wishes without the typical legal costs.
Pros
Attorney-vetted software

Wide range of coverage
Cons
Need to download software

Outdated appearance and design

Expensive
When we reviewed 13 online will platforms, Quicken WillMaker didn't make it on our "Best Value" or "Best Overall" list. Check out our picks for the best online will platforms for the full results.
» MORE:
An online memorial is a perfect ending to honor and celebrate someone's life.
Create one for free.
Quicken WillMaker's Pricing and What You Get
Quicken WillMaker Plus is a comprehensive software for creating a trusted will, but it comes at a cost. This is one of the most expensive will tools on the market. While most other online platforms are either free or in the $60-$70 price range, this software starts at $89.99.
With your payment, you access the software via download. From there, you'll be able to print your completed document and revise it as needed. You can purchase the latest software version online or in some software stores.
Situations Quicken WillMaker Does and Does Not Cover
Each online will maker covers a different range of situations. There is no magic solution that covers everything. To get that level of customization, you'll need to consult with an attorney. That being said, you might be surprised just how many different things Quicken WillMaker covers for the average user.
What does Quicken WillMaker cover?
As the tool that claims to be America's #1 estate planning software, it's not a surprise that Quicken WillMaker has a wide range of coverage. It likely fits the average user's needs.
Guardian: Name a guardian for your minor children in case of an emergency.
Pet guardian: You can also name a pet guardian to take care of your pet if you're unable.
Asset distribution: With so many assets to include in a will, you can decide how to divide things up between your heirs. You can also make exceptions for special gifts (bequests) for particular people.
Trust: While not always needed, it helps to know the difference between a trust and a will. Having a trust in place creates greater protection for your assets, especially if you have minor children.
Debts: WIth Quicken WillMaker, you can forgive debts owed to you upon your death.
Executor: An executor is a person who enforces the terms of your will. This could be a spouse, family member, friend, or anyone you trust.
Health care directive: Create a living will and power of attorney to ensure your medical wishes are met in case of an emergency.
Final arrangements: Finally, explain any final wishes for your resting place, memorial, and so on.
For most users, this is more than enough coverage. If you're not sure the level of coverage you need, talk to an attorney about your situation.
Attorney's note: Unlike some other online will makers, Quicken WillMaker offered detailed trust provisions for children, guardian and property-management provisions for minors, alternatives for primary beneficiaries and specific devises of property, and the opportunity for co- and successor-executors and trustees.
What Quicken WillMaker doesn't cover
Quicken WillMaker does not include everything someone might need when it comes to end-of-life documents. While it's basic software likely covers the average user, they upsell many add-on programs for additional documents. Some of the things not included are:
Digital assets:

Your digital assets are your photos, software, social media accounts, and so on. How you want these handled after your death is not included in Quicken WillMaker.

Property protection:

While the basic software does include some provisions for protecting your property, you'll also want to invest in creating documents to transfer the deed on death.

Charity:

Many people give assets or money to charity upon their death. This is not included in the basic software and needs to be entered through a more complicated process.
Again, these situations are not always needed in a basic will. The majority of users will have no trouble with Quicken WillMaker's coverage.
Quicken WillMaker'sPolicy for Updating Your Will
With Quicken WillMaker Plus, you can easily update your will at any time through the software. You don't need to pay additional fees or upgrade anything. However, it's important to note that the software updates regularly to include the latest legal changes. If you're not using the latest version, you might need to pay to upgrade.
Quicken WillMaker is a good fit for anyone who needs to update their will long-term. Most services require you to pay an ongoing membership fee or add-on cost, but this is not true with this software.
Quicken WillMaker's User Experience
While the Quicken WillMaker Plus software is very comprehensive, it does fall short with the user experience. The main issue here is with the software itself. Through this process of needing to download the tool made sense a decade ago, it no longer does today. Most online will makers work through the browser or a mobile app, reducing the need to download anything to one's computer.
Not only does it take a while to download and get started, but the software interface itself is outdated. It looks like it needs an update, and the influx of information is confusing. Everything is explained clearly, but it's not easy to get started. Compared to similar will tools, Quick WillMaker feels outdated.
Attorney's note: Even though you had to download it, the Quicken platform was extremely easy to use. Unlike the over simplicity of the LawDepot platform and other online services, Quicken's software provided explanations with its questions, but still asked very basic but relevant questions about your family and estate planning circumstances.
Quicken Willmaker's Customer Support
Because this is a software download prone to problems, Quicken offers technical support for the duration of the product's version year. For example, if you download the 2020 edition, you'll have access to tech support through the end of 2020. However, later editions will not have the same tech support unless you make a new purchase.
As for customer support, there is no option to speak to an attorney or a customer service representative when filling out the software questionnaire. You can utilize Nolo's resource library as well as their (paid) books on the subject of wills.
Are There Any Extra Steps to Legalize Your Will With Quicken WillMaker?
All online wills need extra steps to ensure they're legal. They aren't complete as soon as you download and print your document. The specific laws for legalizing your particular will depend on your home state. You'll always need to check with the rules for your state before completing an online will. For most states, this means you need to do the following:
Sign:

To start, you need to sign your will.

Witnesses:

Most states require at least two witnesses. These must be non-relatives and they shouldn't be included in your will.

Notary:

Finally, most states also require the legal will to be notarized.
From there, you should be done. Make sure your will is secured somewhere safe and share it with loved ones just in case. If you update your will at any point, destroy the old one and save the new copy.
Attorney's note: QuickenWillMaker Plus has sufficient elements to make a valid will.
Is Quicken WillMaker Right for You?
There's no denying that Quicken WillMaker Plus is one of the most comprehensive tools for creating a will from your own home. However, having to download software feels very outdated in today's world, and it presents a lot of technical challenges. Overall, the tool is effective but not efficient.
Making a will has never been more important. No matter your age now is the time to protect your assets and your wishes. Have you given much through to your end-of-life plans? If not, get started today. With so many online tools, there's no excuse to put this off.
Still aren't sure if you should use Quicken WillMaker? Head on over to our picks for the best online will makers, take our online will maker quiz, or take a peek at our top picks below.
Best online will makers

| Online will platform | Cost | Key features | Get started |
| --- | --- | --- | --- |
| | $159, one update per year | Easy to use, most comprehensive | |
| FreeWill | Free, update anytime | Sleek interface, better suited for simple estate situations | |
| Willing | $69, update anytime | Simple to use, may need to upgrade for more complex will | |