When pets pass away, many people believe that they go to a place called the "Rainbow Bridge." This is a place where animals of all kinds get to romp and play, roll around in the grass, and enjoy the sunshine while waiting to meet up with their owners once more.
Our Top Picks
DIY Gifts
Gifts for Cats
Gifts for Dogs
Gifts for Horses
Gifts for Birds
Gifts for Other Animals
Jump ahead to these sections:
For pet owners that long to see their pets that have passed away, a rainbow bridge gift can bring encouragement and comfort.
DIY Rainbow Bridge Gift Ideas
While there are many beautiful rainbow bridge gifts that you can purchase, some of the more thoughtful ones are DIY gifts. If you want to make a keepsake or memorial gift that has an extra personal touch for your friend, consider one of these gifts.
1. Rainbow bridge memorial stone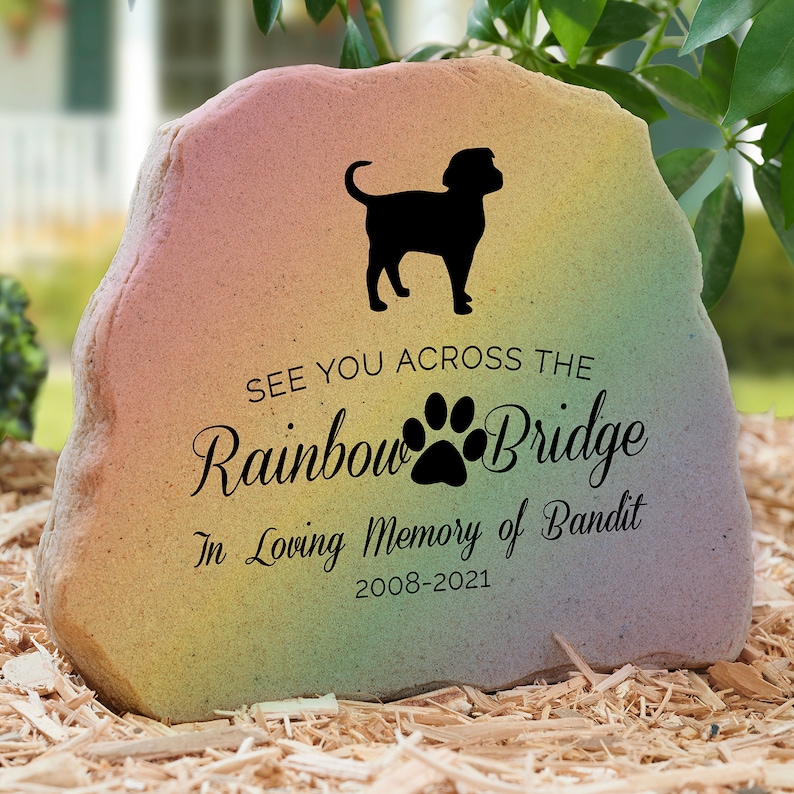 Memorial stones are simple to craft and personalize for the loss of someone's pet. Many come in kits and you can add extra decorations while the cement is still setting.
Be sure to inscribe the pet's name, the dates, and include a mosaic or painting of a rainbow to represent the rainbow bridge. These stones are perfect for owners who are planning to set up a pet memorial outside in the garden or backyard.
2. Rainbow bridge figurine
For those who have a flair with clay, craft a one-of-a-kind figurine with a dog or cat and a rainbow.
Combined, the figurine can represent the animal that passed away and the rainbow will represent their passing. It may also help the owner remember that their pet will be there for them waiting.
3. Rainbow bridge bracelet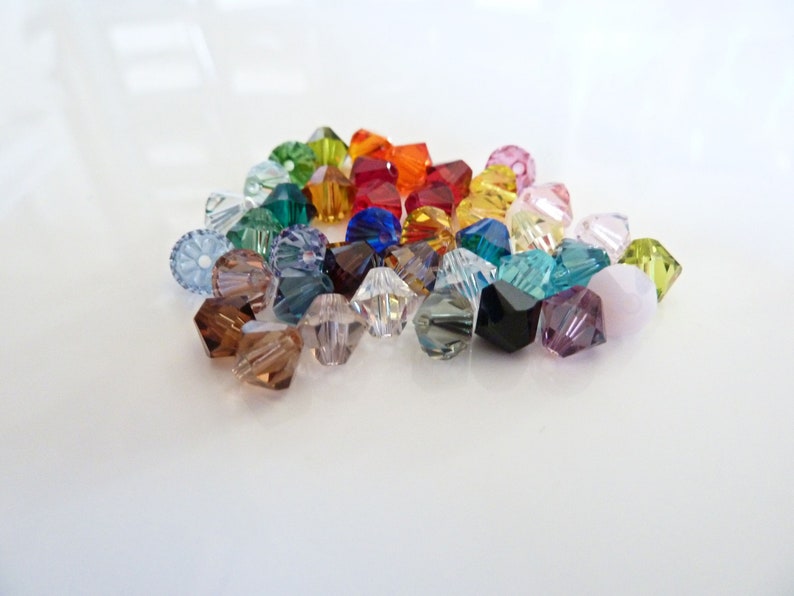 Rainbow Bridge bracelets are simple to make and can be crafted to match any style of preferred jewelry.
These are also ideal to make for the younger members of a family that may be missing their best friend. Consider making a rainbow bridge bracelet by using rainbow Swarovski colored crystal beads for adults, stone beads for teens, and plastic beads for children.
4. Rainbow bridge painting
If you're a budding painter, consider crafting an original painting for your friend or loved one.
Create an image of their beloved cat or dog romping through a meadow, blissful and happy, with a rainbow in the background. The depiction may give their owner encouragement knowing their furry friend is happy and well-fed in a new place.
We like the VISWIN 78 Pcs Premium Acrylic Painting Set, Painting Kit with Tabletop Easel, 48 Colors Acrylic Paints, Acrylic Markers, Nylon Paint Brushes, Canvas Panels, and So On, for Adults, Students, Beginners to get you started.
5. Rainbow bridge scrapbook
If you're particularly close to the person who lost their pet and you have pictures of your friend and their pet, use those pictures and put together a scrapbook. Make it as creative and colorful as you want with paper picture frames, notes about what is happening in the picture, and fun stickers like speech bubbles for the dog, fish, or cat.
To connect the scrapbook to the rainbow bridge concept, decorate the front of the cover with a rainbow, a prominent picture of the pet that passed away, and their name. Add a few pages to the back of the scrapbook, as well, with a rainbow bridge theme.
6. Rainbow bridge ornament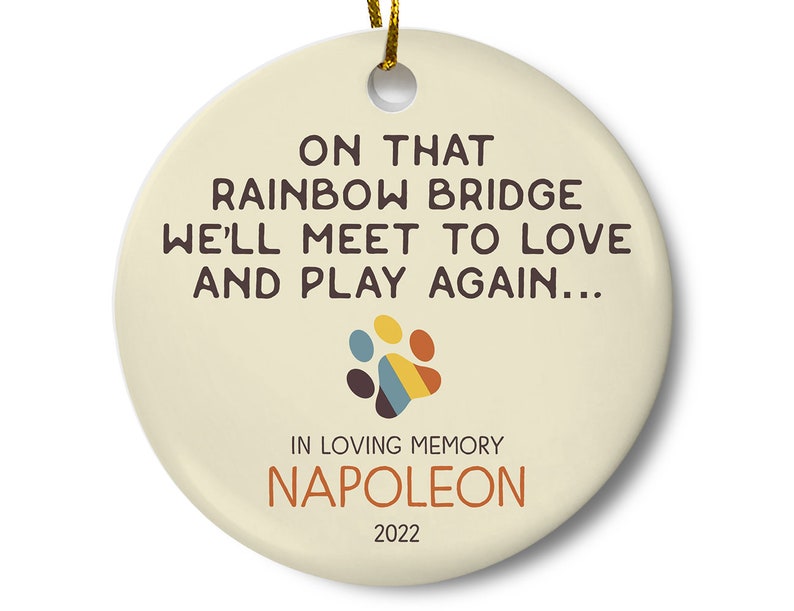 Rainbow bridge ornaments can be easily handmade and given as a special gift when someone's pet passes away around the holidays or as a way of remembering a pet that passed away during the year.
No matter what type of pet memorial ornament you choose, you'll create a special remembrance that will be deeply meaningful.
7. Rainbow bridge sympathy card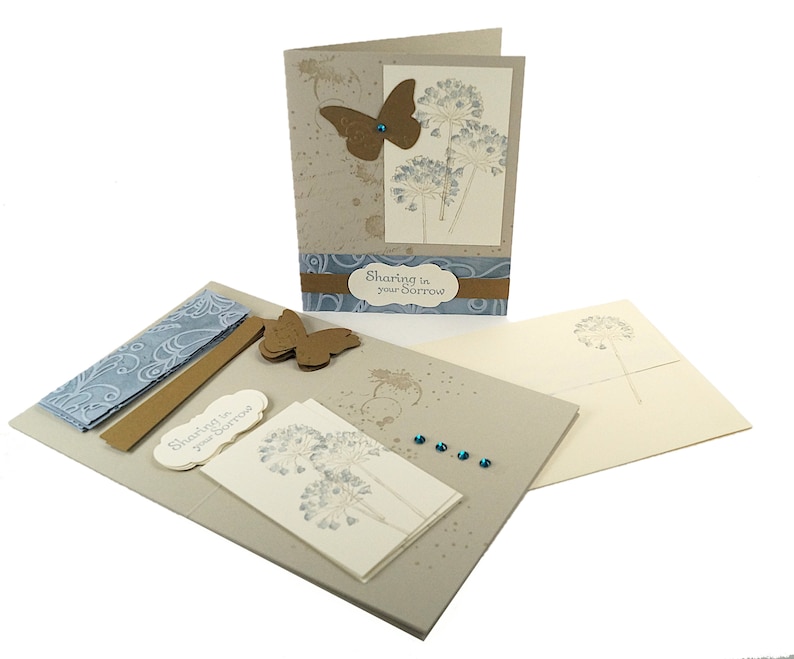 Craft your own rainbow bridge sympathy card with a DIY card kit or by getting creative and layering cardstock yourself. This can be done with a cutout of the animal that is placed in the foreground of the card with a rainbow in the sky. Color it with watercolors, markers, or colored pencils to make the dog or cat look just like the one your friend lost.
If you struggle with what to say when someone loses a pet on the inside of the card, simply write something like, "Fluffy loves you and so do I. I'm so sorry for your loss."
8. Rainbow bridge necklace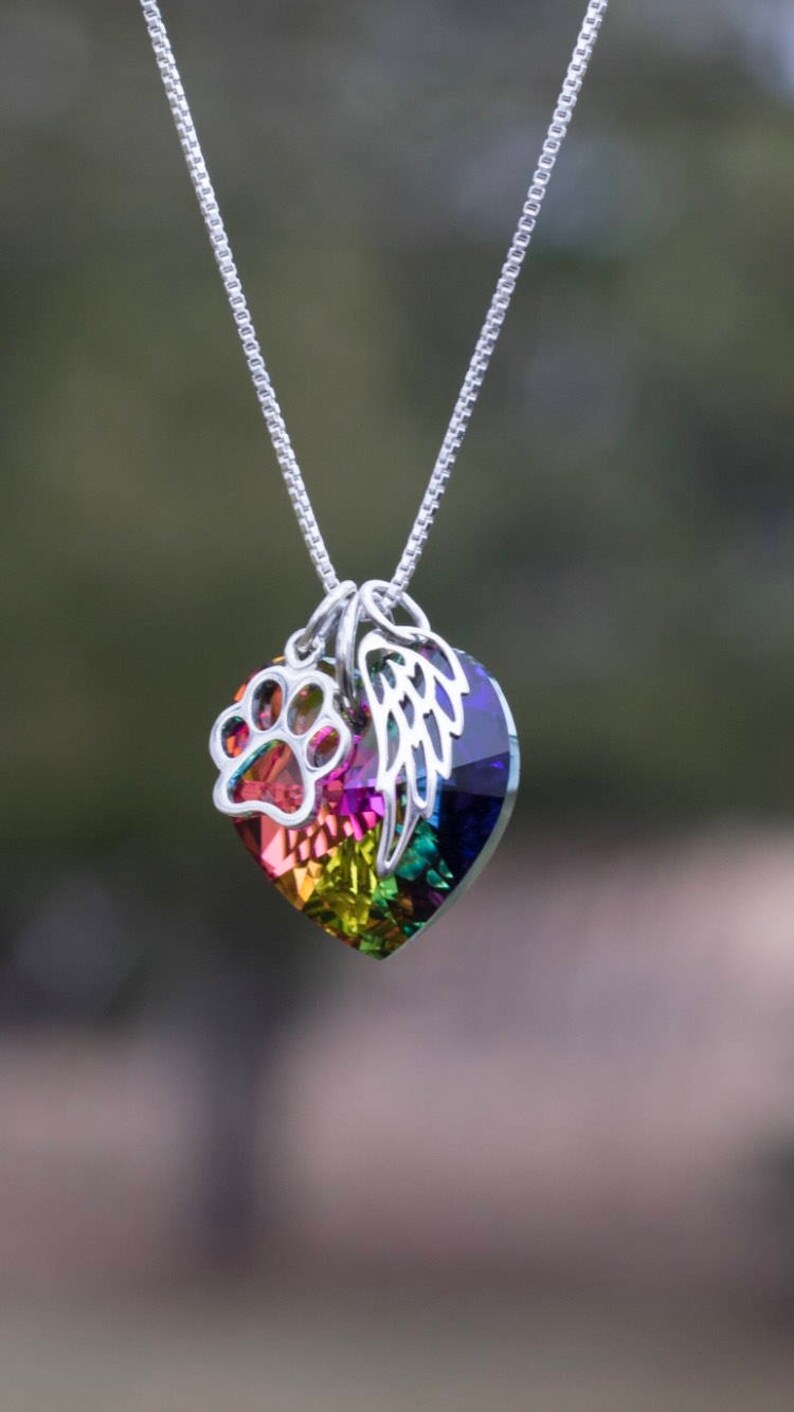 A rainbow bridge necklace is a project that can easily be adjusted for the age and maturity of the receiver.
For adults, craft necklaces with crystals in a rainbow-color pattern and personalize with charms. For teens, use stone beads and use plastic beads for children. Include a sympathy card with each necklace expressing your sorrow over their loss.
Rainbow Bridge Gift Ideas for Cats
While many rainbow bridge gifts can be used for any animal, there are some that are cat-specific. If you're looking for a cat-specific gift rainbow bridge gift, choose from one of these ideas.
9. Rainbow bridge cat urn
If you know your friend is going to or has cremated their cat, consider gifting them a cat rainbow bridge urn to hold the remains of their pet.
These can often be personalized with the name and dates of the pet that has passed away. If you have one hand-painted, you can personalize it further by having the likeness of the cat painted playing in a meadow at the rainbow bridge.
10. Rainbow bridge cat keychain
Keychains are perfect ways to commemorate the loss of an animal. Though simple, they get used every day when placed on a set of house or car keys.
Personalize the keychain by adding a charm of a kitty, including the name and dates of the cat that passed away, and other baubles such as a bead that represents the birth month of the cat.
11. Rainbow bridge tumbler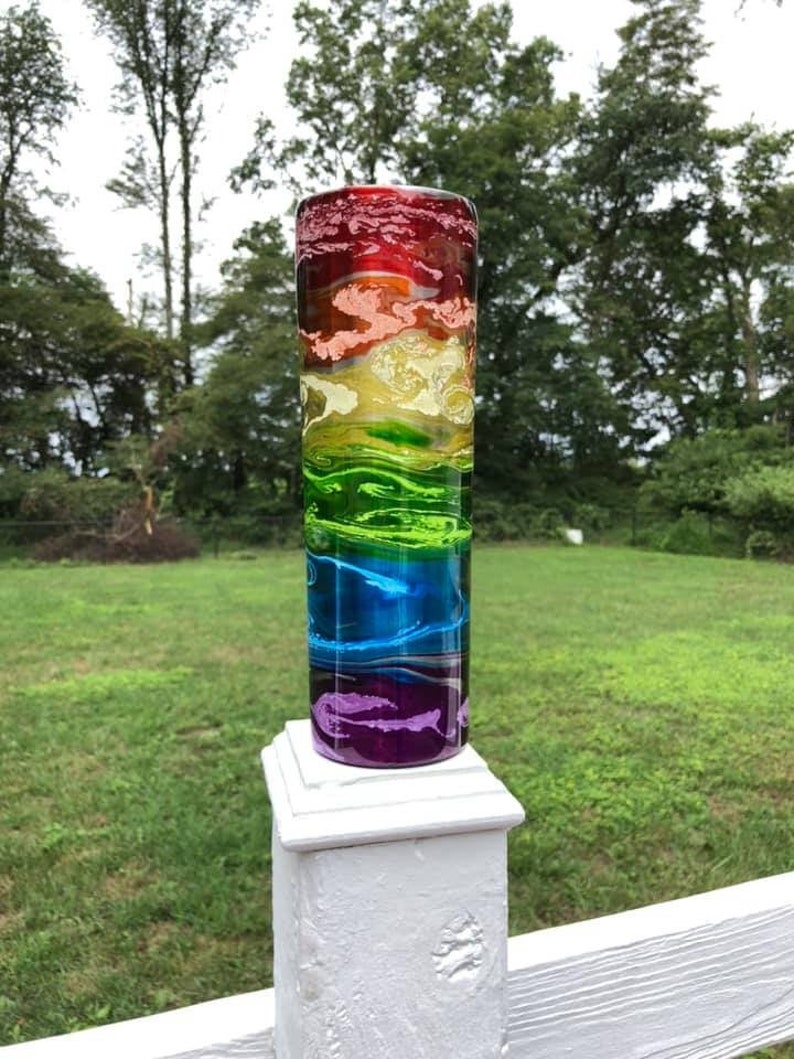 This is both a practical and sentimental gift. If the pet owner you know drinks coffee or tea on a regular basis while commuting to work, give them a customized rainbow bridge tumbler.
Customize it with a picture of the type of cat they had, their pet's name, and the dates. You can also have a phrase such as, "I'll meet you at rainbow bridge" placed on the cup. This is sure to bring a smile to their face when they use it and help them remember that their kitty is in a better place.
12. Rainbow bridge car decals
Many pet owners enjoy adorning their cars with pet decals that show off how many cats and dogs they have.
It can be a difficult and painful process to remove one of those decals once their beloved pet passes away. Rather than simply removing the decal, give them one to replace it with. A cat and a rainbow will represent their pet's place at the rainbow bridge while giving their owner a place to pay tribute to the pet they loved.
Rainbow Bridge Gift Ideas for Dogs
Personalized and customized rainbow bridge gifts are a perfect way to pay tribute to a much-loved dog. Here are some K9-specific rainbow bridge ideas for the pet owners in your life.
13. Rainbow bridge paw print windchime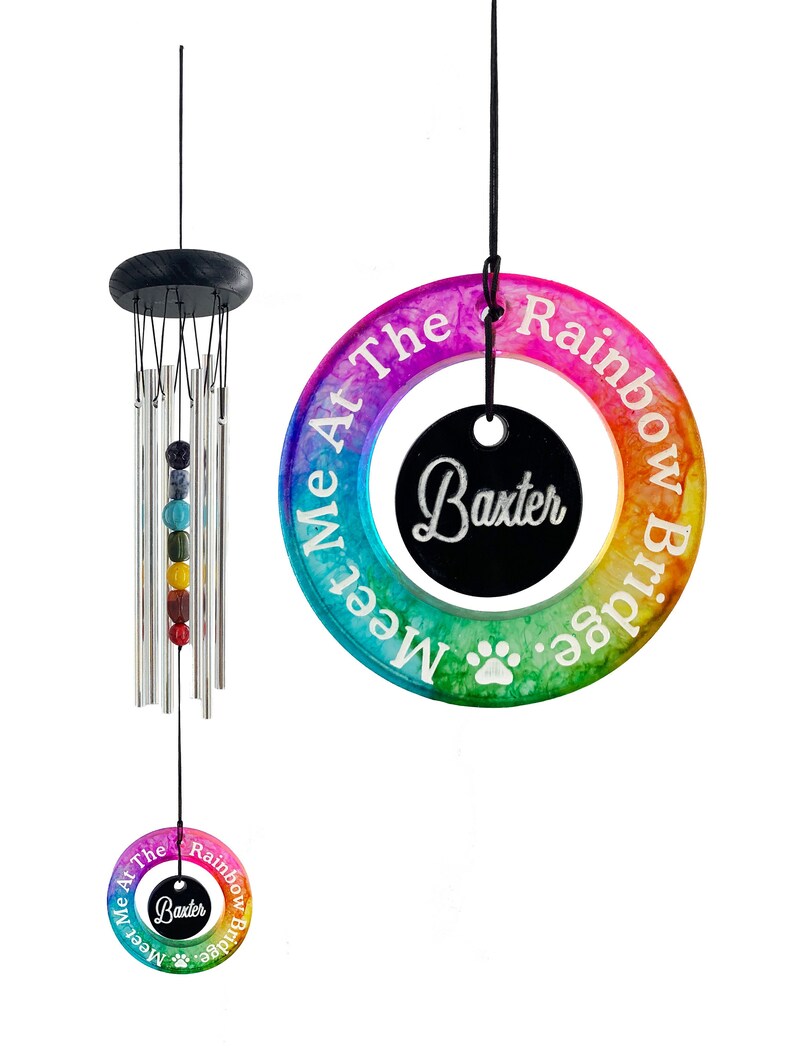 Windchimes are both beautiful and meaningful. Custom make a suncatcher with the outline of a doggie face for the clapper.
Have it painted to look like the owner's dog on one side and inscribe the name and dates on the other side. Choose a windchime that uses the colors of the rainbow for the chimes to represent the rainbow bridge.
14. Rainbow bridge doggie coaster
For pet owners that enjoy regular morning coffee or tea, consider getting them coasters customized with K9 rainbow bridge scenes.
This serves as a memorial to their pet and is also something they'll enjoy using on a day-to-day basis. Have the pet's name and dates or a phrase such as, "In loving memory of" inscribed on one or all of the coasters.
15. Rainbow bridge memorial plaque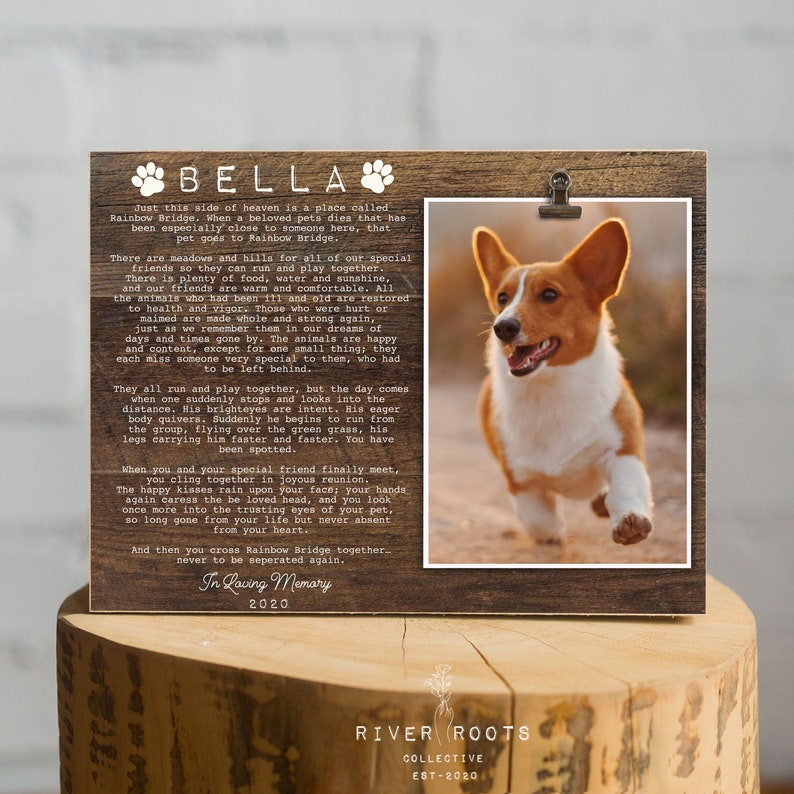 Memorial plaques can be put up on a wall, stood up on a counter stop, or displayed on a mantel.
If the owner you know is planning to create a memorial with some of their pet keepsake items, a plaque would be a perfect gift to round out their collection. Have it customized with the pet's name and dates or include part of the rainbow bridge poem.
16. Rainbow bridge t-shirt
Doggie lovers often proudly display their enjoyment of their furry friends by wearing shirts and hats. When a doggie passes away, some of those favorite shirts might be difficult to wear.
Rather than putting them away forever, give your friend a rainbow bridge t-shirt that memorializes their best friend that passed away. They'll be able to honor their pet and continue to share their love of dogs with those around them.
Rainbow Bridge Gift Ideas for Horses
Horses often become a special part of the family, sometimes growing up with their young owners and experiencing life together through the years. The loss of a horse doesn't just mean the loss of a riding companion; it often means the loss of a dear friend. Commemorate the life of a horse you knew with one of these beautiful Rainbow Bridge gifts.
17. Rainbow bridge horseshoe locket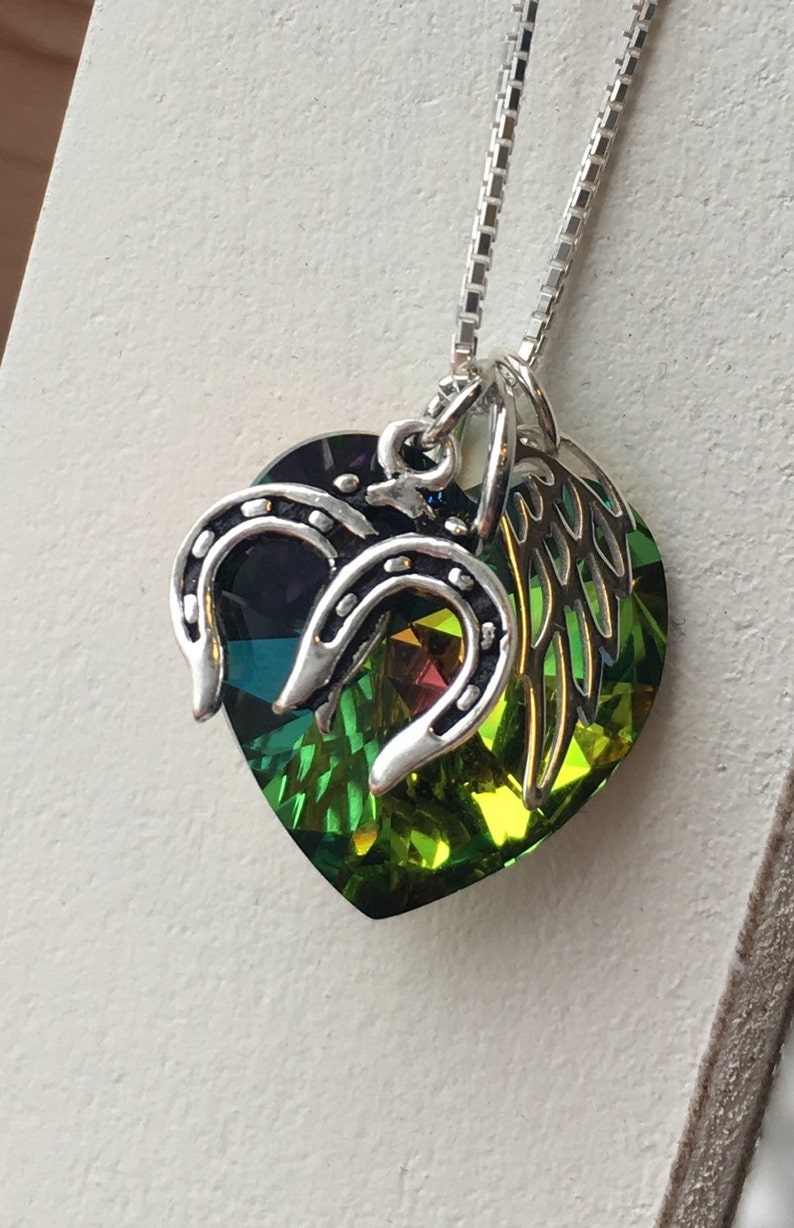 A rainbow bridge horseshoe locket is a perfect gift for someone who enjoys wearing jewelry and wants to keep their horse companion close even when they're no longer present.
One popular locket option comes with a heart-shaped, rainbow-colored charm and a horseshoe charm that lays over the top, or a small metal disk that provides space to customize the charm with the horse's name, birth date, and death date.
18. Rainbow bridge horse ornament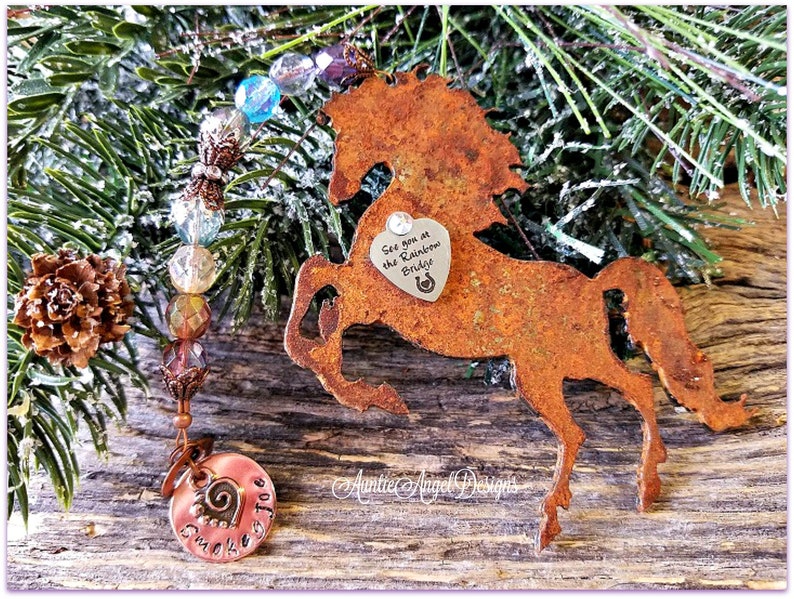 As with all Christmas ornaments, there are numerous styles and options to choose from. Many ornaments allow you to personalize them by having the horse's name and dates engraved somewhere on the ornament.
One of the most popular options is a metal horse with a small rainbow crystal charm attached to it, and the name and dates stamped into the metal figure.
19. Rainbow bridge horse picture
If you have a picture of the horse that passed away, consider asking a photographer with photoshop skills to create a Rainbow Bridge picture with the horse. With photoshop, you can combine a beautiful scene, a rainbow, and a poem such as the Rainbow Bridge poem all into one picture.
Once complete, you can frame the picture and gift it to your friend or loved one.
20. Rainbow bridge horse painting
This option will require a greater amount of time and is one of the more expensive options on the list, but it makes for a stunning gift. If you have a favorite picture of your loved one's horse, consider commissioning an artist to create a painting from the picture. Ask them to incorporate a rainbow to tie in the Rainbow Bridge theme. When finished, have it professionally framed before you gift it.
21. Horseshoe car charm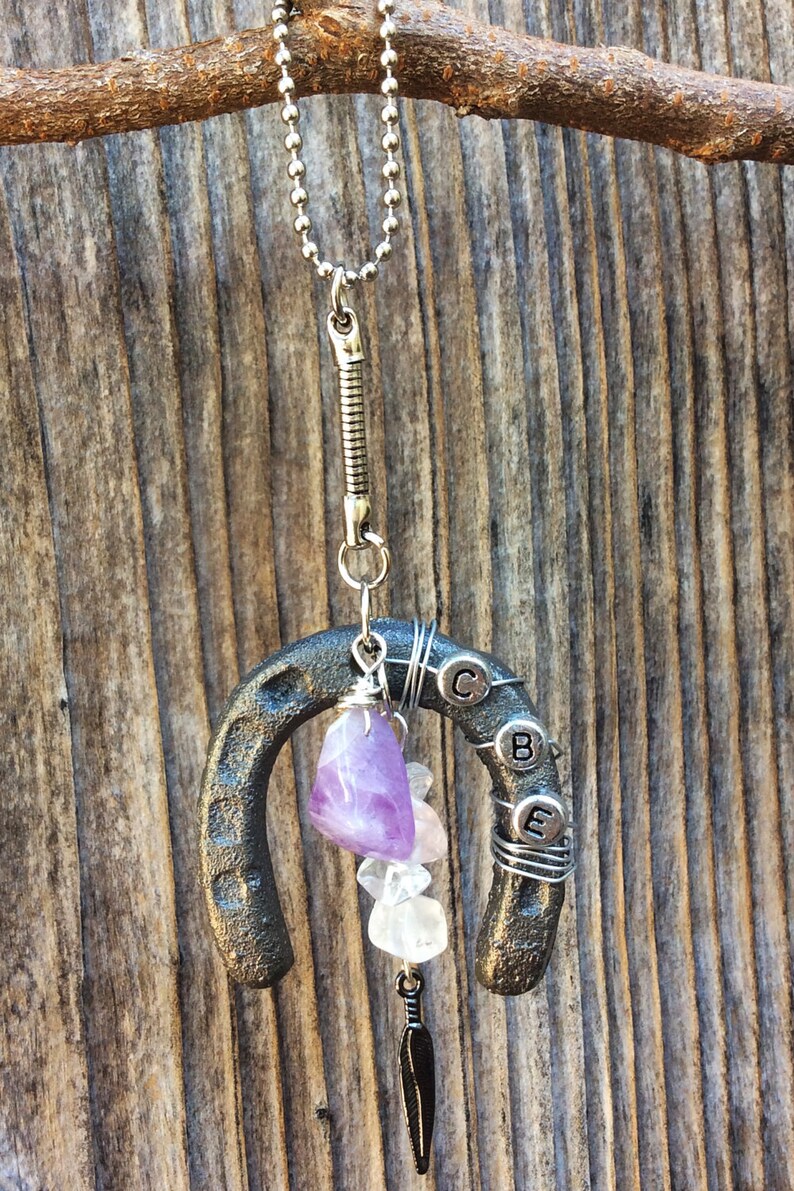 This is a simple but thoughtful gift that can accompany your friend or loved one whenever they drive. A horseshoe car charm functions similarly to a graduation tassel. It is designed to hang from your rear-view mirror as an ever-present reminder of your animal friend.
A popular Rainbow Bridge car charm features seven beads for the colors of the rainbow and a metal animal figurine, such as a horse. It's small and dangles down without getting in your line of sight.
Tip: Check local regulations to make sure car charms aren't illegal in your area.
Rainbow Bridge Gift Ideas for Birds
Birds are unique pets, known for bringing light, joy, and laughter to all who encounter them. The loss of a bird can leave a gaping hole in the lives of their owners, and it can be a difficult season of adjustment without their friendly twittering and chirping each day. Help bring some comfort to a bird owner you know with one of these thoughtful gifts.
22. Rainbow bridge bird toy
If your friend or loved one lost a bird but still has one or two birds left, this could be the first option to memorialize the pet they lost. A Rainbow Bridge bird toy is a cage toy that attaches from one side of the cage to the other. Birds can play with it, sit on it, and interact with the toy.
This can help keep the missing bird close for the owner since they'll be reminded of the bird each time they look in the cage. It can also help the other birds adjust to the change in their social group.
23. Wood rainbow bird figurine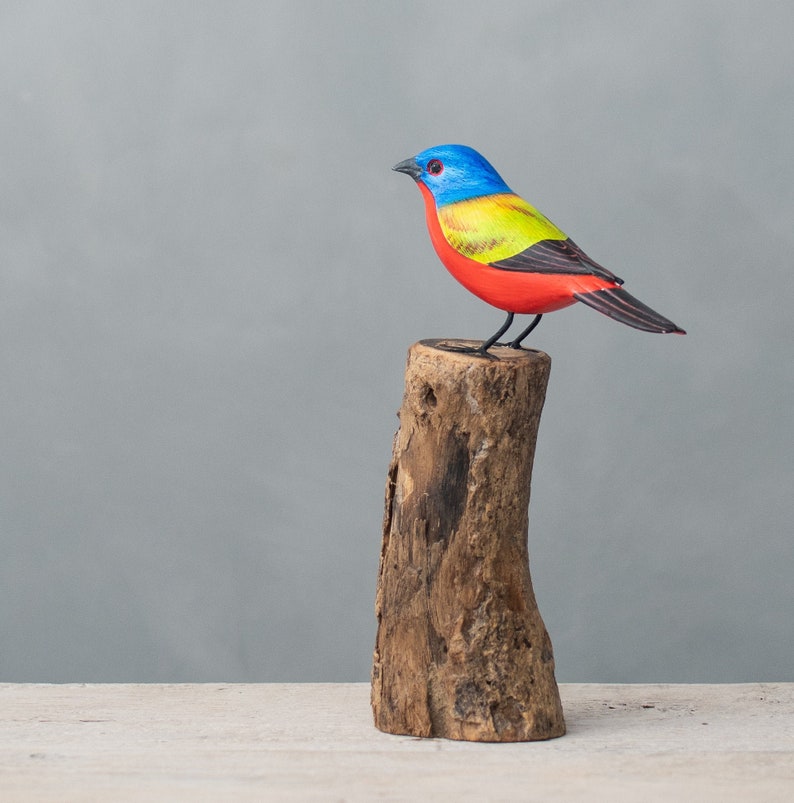 Figurines can be purchased from places with pre-made options like Amazon, or custom-made items like Etsy. Rainbow Bridge bird figurines are made of wood and commonly feature rainbow colors on the bird's front or wings. These figurines stand up on their own and are perfect for placing on a windowsill, mantle, or bookcase.
Pro tip: Custom crafters such as Etsy sellers can often accommodate requests to personalize a figurine by writing the bird's name and dates on the front or back.
24. Miniature birdcage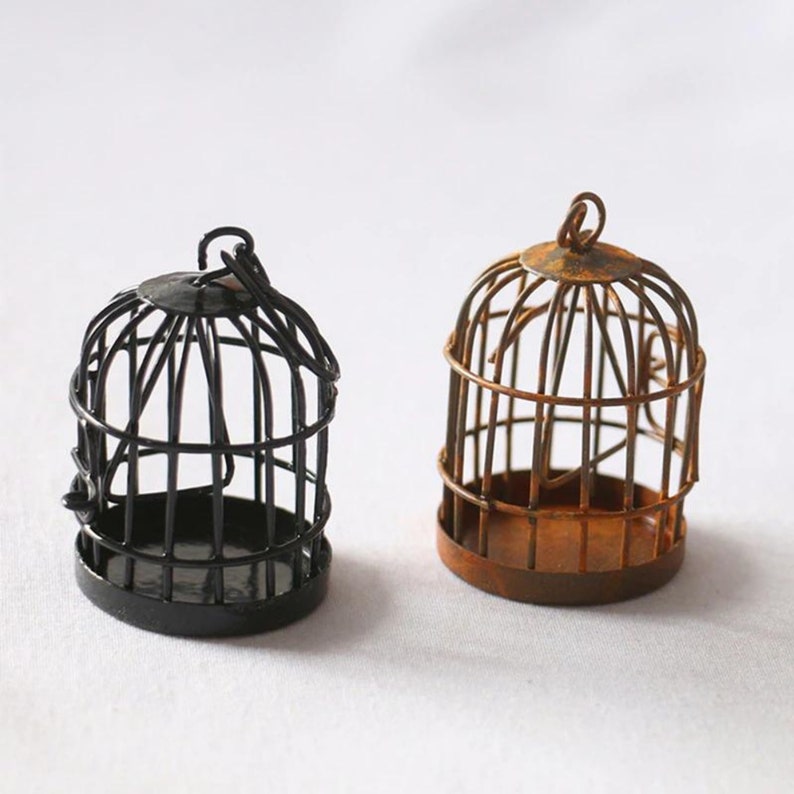 This gift can be given alone or along with a bird figurine placed inside. A miniature birdcage is ideal for setting up as part of a memorial or tribute to the bird that died. The birdcage, along with a small figurine or picture of the bird, can be placed anywhere in the home to keep the bird close by. Give the birdcage to your friend or loved one with the door open to symbolize the bird's flight over the Rainbow Bridge.
25. Rainbow bridge bird feeder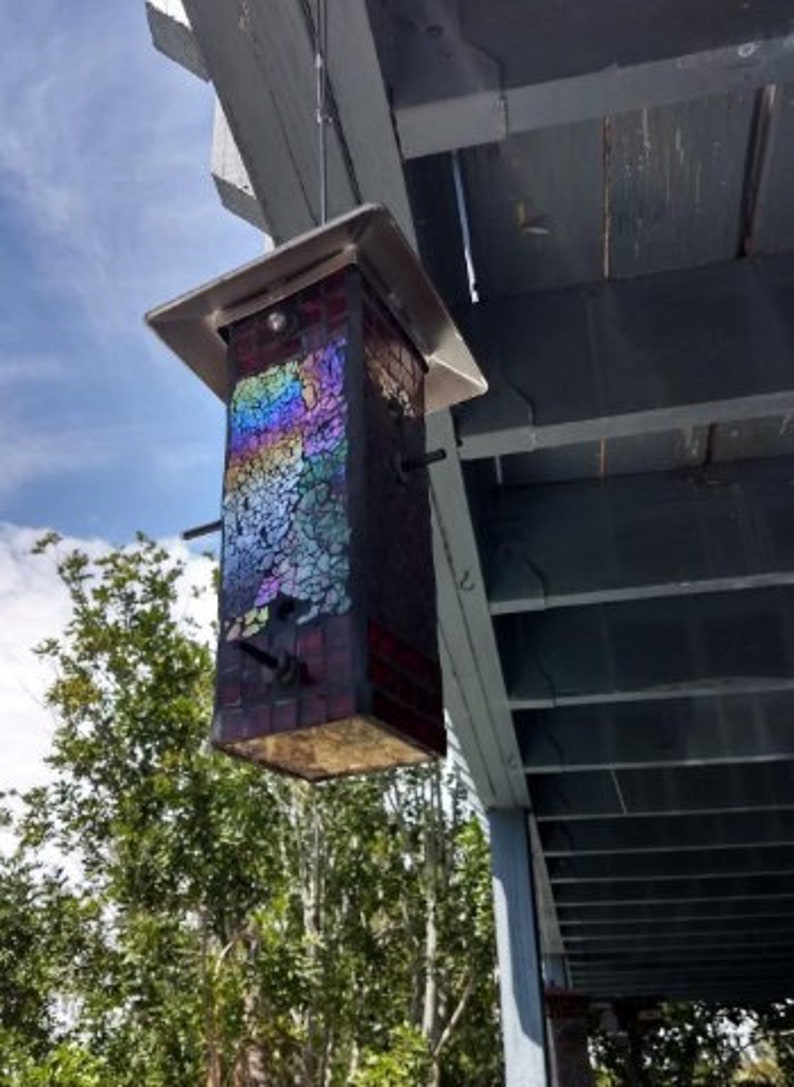 A bird feeder could be just the item that helps memorialize the bird that passed on and keeps them close by providing a daily reminder of their presence in the garden.
These bird feeders frequently feature a sketch of a bird and a rainbow, along with the Rainbow Bridge poem. The feeders can be personalized with the name and dates of the bird.
26. Rainbow bridge birdbath
Is there any better reminder of a bird's life than a birdbath? Customize a birdbath with a plaque commemorating the bird's life and gift it to someone who has a place in their garden or yard for this thoughtful item.
Rainbow Bridge Gift Ideas for Other Animals
The rainbow bridge isn't just for dogs and cats. It's for all beloved animals who have passed away and eagerly await meeting their owners once more. Use one of these ideas to personalize a rainbow bridge gift for any type of animal.
27. Rainbow bridge memorial candle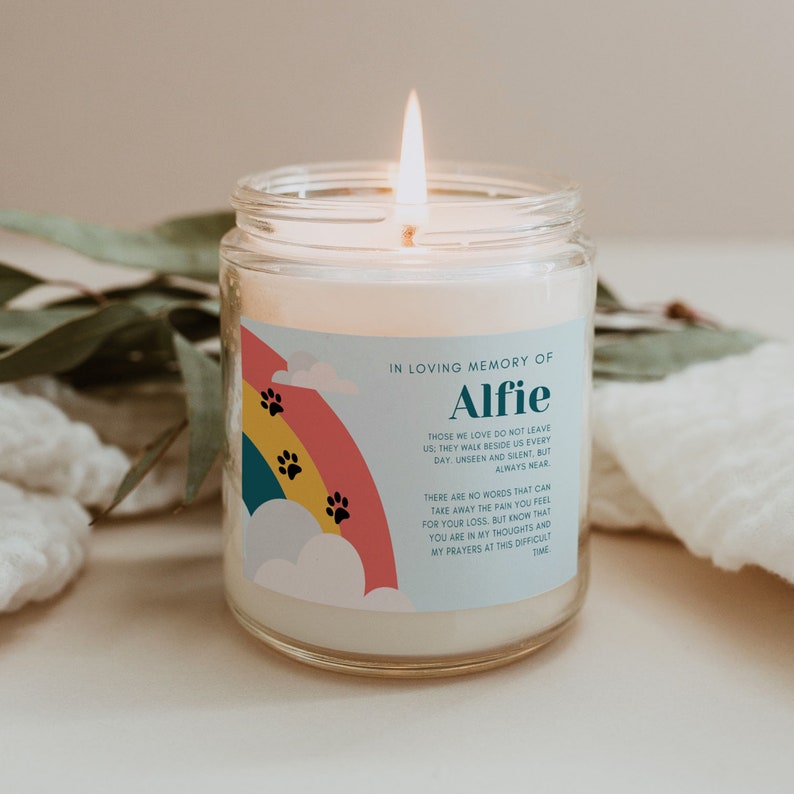 Memorial candles work well no matter what type of animal is being honored. These usually come with a rainbow bridge scene and a variety of animals on the front, or a rainbow-colored heart.
Some places allow customization so you can have the type of animal that passed away featured on the front of the candle.
28. A glass rainbow bridge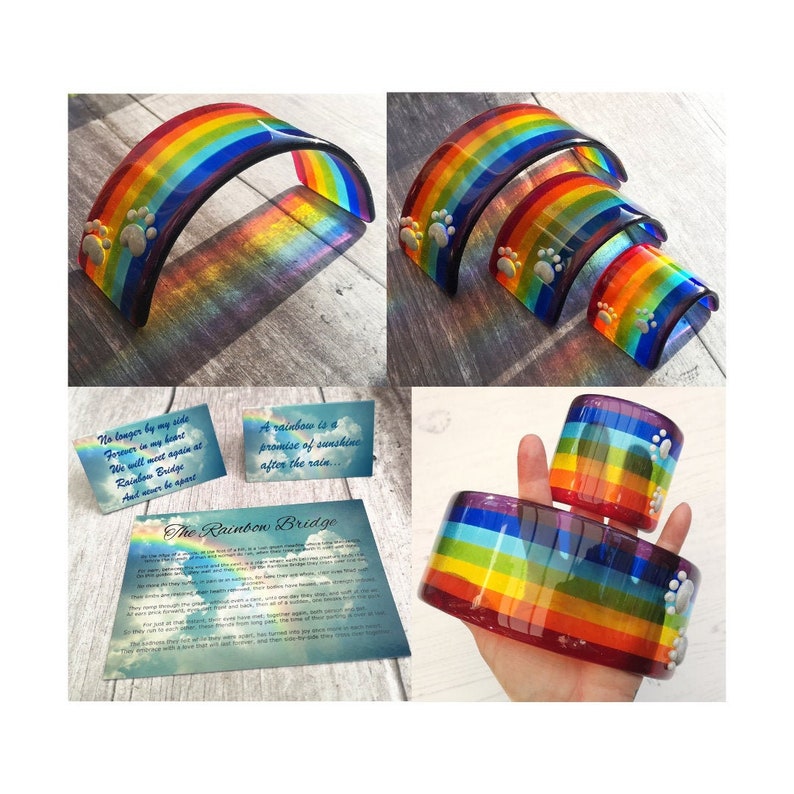 These bridges are made of blown glass and made to look both like a bridge made out of rainbow colors.
You can customize these by having paw prints, cat prints, hoof prints, bird tracks, or other animal footprints placed on the bridge before you give it as a gift. You can also give the bridge without any animal tracks at all.
Commemorating the Loss of a Pet
Rainbow bridge gifts are a perfect way to commemorate the loss of someone's pet while encouraging the owner to remember that their pet is in a better place. Though the pain of loss is still just as difficult, memorial gifts such as these will give their owner an opportunity to keep their pet's memory on display.
If you're looking for more way to commentate your pet, read our guides into how to plan your dog's funeral and how to turn your pet's ashes into glass.