Technology is changing the way we approach end-of-life planning. With plenty of new resources available, you can even arrange virtual funeral and memorial events with online services like GatheringUs.
Creating legal forms online in just a few minutes has never been simpler. With a hefty marketing budget, you might have noticed Rocket Lawyer building some momentum as one of the most well-known digital legal services. No attorney is needed to complete vital documents like your very own will and testament.
Jump ahead to these sections:
More and more people are wondering how to write a will that protects their wishes and assets. With Rocket Lawyer, this process is simplified. But, with so many new online will providers on the market, how do you know if Rocket Lawyer is right for you?
Michael T. Flannery, an attorney and estate planning expert, reviewed Rocket Lawyer's online will service. We took notes on pricing, user experience, premium features, legal implications, among other features. While this review will mostly come from my perspective as a married twenty-something, you'll find Michael's observations throughout the article, labeled "attorney's note."
In this guide, we'll assess the pros, cons, and cost of Rocket Lawyer compared to other tools.
Overview: Rocket Lawyer's Online Wills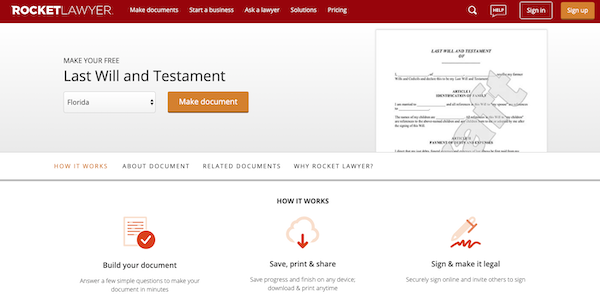 Cost:

Free with seven-day trial

How you receive your will:

PDF download of your will

User experience:

Clunky interface, somewhat difficult to understand

Time to complete:

25 minutes

Policy for updating:

Only with paid account

Support:

Only with paid account
Try Rocket Lawyer's Online Will Maker
Rocket Lawyer has helped both businesses and consumers access digital legal services since 2008. This makes their online tool one of the oldest in the industry, and also one of the most reliable.
Where Rocket Lawyer really excels compared to other online will makers isn't in its design, rather, in its support features. It's one of the few online wills that makes it simple to access an attorney one-on-one without leaving your home. This support makes it a solid option for those who need more assistance with their will and testament.
Pros
Comprehensive online will tool that covers a wide range of situations

Access to an attorney for support with paid plans (starting at $39.99 after free trial)
Cons
You need to enter your credit card information to access your document (though it's free during the trial period)

Outdated design

Difficult to understand some legal terms
When we reviewed 13 online will platforms, Rocket Lawyer didn't make it on our "Best Value" or "Best Overall" list. Check out our picks for the best online will platforms for the full results.
Rocket Lawyer's Pricing and What You Get
Rocket Lawyer is a free tool for creating an online will. However, the "free" service isn't all it appears at first glance. While Rocket Lawyer advertises their online will platform as completely free, this is a bit misleading. After completing the questionnaire, you must enter your credit card information to register for a seven-day free trial in order to download your completed document.
After the trial period, you are charged a monthly subscription fee. The pricing structure is as follows:
Free:

You can input credit card information to access a 7-day free trial. After the trial ends, you'll be charged $39.99 a month. A trial is the only way to access your completed document.

Premium ($39.99):

You can opt-out of the trial by simply paying for the paid premium plan. This comes with additional support and ongoing access to your legal documents.

Per-document fee ($39.99):

If you simply want access to your will document, you can pay a one-time fee of $39.99. This gives you lifetime access to your document.
While Rocket Lawyer offers a free trial, it's not ideal to enter your credit card information at the end of the questionnaire. However, their one-time fee is very affordable compared to other services.
Situations Rocket Lawyer Does and Does Not Cover
Like all online will platforms, there are some limitations to what you can accomplish. While Rocket Lawyer does include a comprehensive will and testament, you'll want to ensure it's the right fit for your situation.
What does Rocket Lawyer cover?
Rocket Lawyer offers a lot of coverage for the price. The questionnaire is very thorough, including a lot of complex situations.
Asset division:

How would you like to divide up your assets after you die? There are a lot of key

assets to include in a will

, and Rocket Lawyer makes naming specific bequests simple.

Digital assets:

Digital assets include any digital "property" like photos, software, social media profiles, etc. You can assign these to a beneficiary with Rocket Lawyer.

Beneficiaries:

You can name someone (or multiple people) as the beneficiary of your estate.

Order of death:

If your beneficiary passes before you, who would receive your estate?

Guardians:

If you have minor or dependent children, you can name a guardian, co-guardians, or secondary guardian.

Pet guardianship:

Name protections and guardians for your pets in case of an emergency. You can also set up a fund for your pet's care.

Last wishes:

Finally, you can include special last wishes for how to handle your remains, your funeral service, and so on.
As you can see from this extensive list, Rocket Lawyer has a robust questionnaire that includes many specific situations.
What's not covered?
However, there are some things not included in Rocket Lawyer's will. These are things you'll need to consult another service or attorney for, if necessary.
Home estate: If you have a home, you'll need additional documents to ensure the deed is transferred properly upon your death.
Trust: If you have any plans for a specific trust, you'll need to set up an estate trust separately. What's the difference between a trust and a will? A trust has specific conditions that must be met before the asset belongs to the beneficiary.
Medical planning: Rocket Lawyer does not have any section for inputting your medical wishes or a health care proxy.
Power of attorney: There is no option to include someone who can make financial decisions on your behalf if you're unable.
If you're not sure what you need for your specific situation, it's a smart idea to consult with a qualified attorney. You don't want to leave any gaps in coverage.
Rocket Lawyer's Policy for Updating Your Will
Whether you're able to update your will with Rocket Lawyer depends on your particular plan. If you use one of their free trials, you only have access to your documents for the duration of the trial. After that, you'll need to pay for a premium membership or begin again.
If you have a premium membership, you can update your will while it remains active. If you need unlimited access to your will, the best choice is to pay the flat fee for lifetime access to that document.
Rocket Lawyer's User Experience
While Rocket Lawyer offers more coverage than most online will makers, its major drawback lies in its design. Because it's one of the oldest online will makers, it also feels very outdated. The questionnaire itself is clunky and not as easy to use as other tools. It's more time consuming, and the process feels more intimidating than with other services.
In addition, the terminology is very complex compared to alternative online will makers. It's difficult to understand most of the questions upon a first read-through. Though it's possible to access support, the questions are unnecessarily complicated. While this tool might be a good fit for those familiar with legal terms or who have already completed a will themselves, it's not ideal for first-time will makers.
Attorney's note: At first, as I went through the will-making process, I was unsure if the will was state-specific. The "Legal Will Checklist," along with mentions of "some states do X" and "some states do Y," made me question whether I was filling out the right form.
Ultimately, I realized I was filling out a state-specific will, but the confusion made me feel less confident as I completed the process.
Rocket Lawyer's Customer Support
Rocket Lawyer offers a lot of customer support options to help you. While completing the form, you can ask an attorney any questions you submit after they receive your payment. You will hear back from an attorney in one business day.
In addition, live chat and support are available from customer service agents. However, the real support comes from one of their premium plans. With a premium membership, you can access attorney consultations, email support, and more.
Attorney's note: Rocket Lawyer didn't provide a lot of legal definitions throughout the will-making process compared to its competitors. Instead of breaking down any legal jargon, the service just kept insisting that you should talk to an attorney, which you'll have to pay for.
Keep this in mind if you aren't comfortable with legal definitions and don't want to spend money to get clarity on basic information. Other services have definitions or FAQs built into their onboarding process.
Are There Any Extra Steps to Legalize Your Will With Rocket Lawyer?
With Rocket Lawyer, you'll need to go through a few more steps to legalize your will. The specific steps depend on your state's laws, but they usually include the following:
Witnesses: You'll need one or two witnesses, depending on your state. These are people who can't be related to you, and they also cannot be part of your will. Rocket Lawyer has an option for your witnesses to sign digitally while you complete the questionnaire.
Notary: Your will must be notarized once it's been printed.
Signature: You'll need to sign your will either digitally or in-person.
Once these steps are completed, your will is legal. Again, be sure to check with your state for specific laws.
Attorney's note: We found that Rocket Lawyer's platform has sufficient elements to make a valid will.
On a separate note, the "Legal Will Checklist" ends with "When to Consult a Lawyer," yet the only issue it raises is the possibility of needing someone else to sign the will for the testator. This was an oddly-specific example given the number of times the instructions suggested seeing a lawyer throughout the process. Other online will makers do a better job outline when it may be appropriate to talk to an attorney.
Should You Use Rocket Lawyer for Your Will?
There's no denying that Rocket Lawyer has helped countless users create a will online without the hassle of visiting an attorney in-person. However, it's outdated design and complex questionnaire makes it challenging for those who need a simpler platform. While it includes a wide range of coverage, most of these add-ons aren't necessary for the majority of users.
Creating an online will has never been easier. Whether you choose Rocket Lawyer or another service, you're taking a step in the right direction towards a more prepared tomorrow. Have you considered making an online will?
Still aren't sure if you should use Rocket Lawyer? Head on over to our picks for the best online will makers, take our online will maker quiz, or take a peek at our top picks below.
Best online will makers

| Online will platform | Cost | Key features | Get started |
| --- | --- | --- | --- |
| | $69, one update per year | Easy to use, most comprehensive | |
| FreeWill | Free, update anytime | Sleek interface, better suited for simple estate situations | |
| Willing | $69, update anytime | Simple to use, may need to upgrade for more complex will | |