End-of-life planning used to be a complicated process. Aside from making complicated decisions, you also need to seek out an attorney or learn how to write a will yourself. Today, things are a lot simpler, thanks to the latest tech tools and platforms, like Tomorrow.
Jump ahead to these sections:
So, we set out to learn whether each online platform can produce a valid will—or if they fall flat. Both myself and Michael T. Flannery, an attorney and estate planning expert, completed Tomorrow's online will process, and took notes on pricing, user experience, and any possible legal implications. This review will mostly come from my first-hand experience, but you'll find Michael's tips, tricks, and comments throughout, labeled as "attorney's note."
So, as one of the few mobile-only tools, how does Tomorrow measure up against other online will makers? In this guide, we'll explore the pros, cons, and cost of Tomorrow's mobile will maker.
Overview: Tomorrow's Online Wills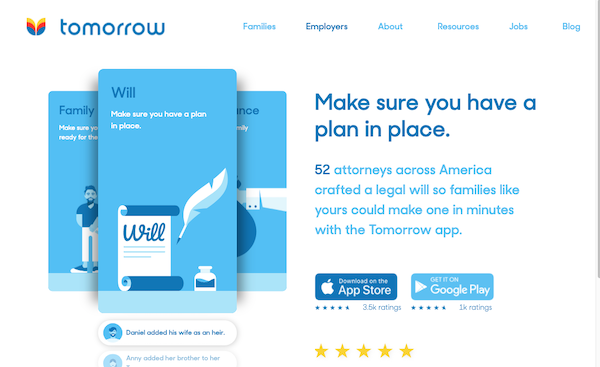 Cost:

Free

How you receive your will:

PDF for download

User experience:

Sleek interface, easy to understand, mobile-only

Time to complete:

30 minutes

Policy for updating:

Update anytime through the app

Support:

Option to talk to non-attorney agent or chatbot
Try Tomorrow's Online Will App
Tomorrow was launched in 2016 by three founders who know the importance of making tough decisions for their families. Designed for families with kids, Tomorrow is an accessible way to stay in control of your end-of-life planning decisions. Created with a network of 52 attorneys across the United States, Tomorrow is an online will making tool that works through a smartphone app on your phone.
With a 4.7 rating on the app store, Tomorrow is the leading mobile tool for creating an online will. They've helped people make decisions about what matters most since 2016, and now they're expanding into a range of new and premium services.
Pros
Easy to take your will and plan on the go with the mobile app

Simple and sleek design

One-click sharing to add people to your plan
Cons
Mobile-only formatting might be harder for some users

Lengthy process to go through every step

Limited support available
When we reviewed 13 online will platforms, Tomorrrow.me made it on our "Best Value" list. Check out our picks for the best online will platforms for the full results.
Tomorrow's Pricing and What You Get
Tomorrow is a free tool for all users. However, their initial pricing structure is a bit confusing. For families, Tomorrow's mobile app is 100% free. You can add your family, your accounts, belongings, job benefits, and create a customized will without needing any premium features.
Employers also have the option of purchasing Tomorrow Plus plans for employees. This includes things like life insurance, disability insurance, and more. For those not covered with Tomorrow Plus through an employer, this premium service costs $39.99 per year.
Again, users only need a free account to get started. Tomorrow makes money through employer partnerships and selling life insurance quotes. As a licensed life insurance broker, Tomorrow also guides users through an optional life insurance process if this is something they're interested in.
Situations Tomorrow.me Does and Does Not Cover
Each online will maker has its own coverage options. Some are better for parents, while others are better for those who want to give to charity, and so on. There is no one-size-fits-all solution that works perfectly for everyone. That's why it's essential to ensure you're picking the right option for you.
What situations does Tomorrow cover?
When you download the Tomorrow app, it guides you through the process of creating your will. From there, you can choose additional add-ons to get more coverage if necessary. Situations Tomorrow covers include:
Guardian: If you have minor children, you can name a guardian who acts as their caretaker in case of an emergency.
Beneficiaries: Easily name your heirs (beneficiaries) as well as how much you wish to give them upon your death.
Executor: Your executor is the person who is in charge of carrying out your will.
Special gifts: You can leave specific assets to friends or family in your will with Tomorrow. With so many assets to include in a will, many people have special valuables they'd like to pass down.
Homeownership: The tomorrow app is one of the few online will makers that include a section about your home. If you're a homeowner, this gives you more control over what happens to your property.
Record of values: Another unique aspect of Tomorrow is its valuable record keeper. It's easy to document all of your valuables to keep a list in a secure place.
Trust: A lot of people don't understand the difference between a trust and a will, but it's essentially another way to protect your assets to avoid the probate process.
Wealth planning: Finally, you can make sure all of your financial accounts are in order and secure with Tomorrow.
Overall, Tomorrow offers a lot of support for the average user. Having all of this through a mobile app is a big perk for those who prefer a smartphone option.
Situations Tomorrow doesn't cover
While Tomorrow offers comprehensive coverage, it's not a complete solution for every possible end-of-life planning need. Some things are excluded, such as:
Digital assets:

Digital assets include photos, software, and social media accounts. How you have these handles upon your death is not included in your Tomorrow will.

Power of attorney:

A power of attorney names someone who can take over your legal and financial decisions in case you're unable to act for yourself. This is not included within the Tomorrow platform.

Medical documents:

Finally, there's no ability to complete medical forms, like an advance directive, with Tomorrow.
If you're not sure what documents are needed to stay covered, talk to a skilled attorney. They're the only professionals who can offer personalized legal advice for your situation.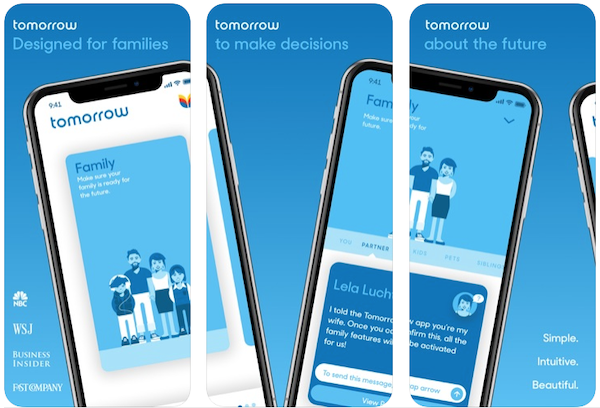 Tomorrow's Policy for Updating Your Will
With Tomorrow's app, updating your will is a simple process. All members can access their will and make changes anytime. Once you complete your will questionnaire, you can have the document emailed to you. It takes only a few clicks, and you can also share it with family members all within the app.
There is no fee to update your will or make changes. However, be sure you always destroy or delete the old copy of your will. You want to make sure your family always knows which document is the most up-to-date.
Tomorrow's User Experience
Tomorrow has a unique user experience compared to similar tools. Since it's a mobile app only, it's difficult to compare it to other online-only options. First, it's important to recognize that its mobile interface is both a blessing and a curse. While many people prefer a mobile option, having this as the only way to access the will maker could be an inconvenience for those who want a larger screen.
In addition, while the design is sleek and modern, it does take a few minutes to get the hang of it. The mobile-only interface is a bit confusing at first, and finding certain tools is a bit complicated. Ultimately, Tomorrow offers a very customizable, easy-to-use platform for creating a will on your own.
Attorney's note: For people who prefer a more professional or serious-looking platform, beware. I do, so the cartoonish experience and family tree identification left me fairly frustrated. If you're looking for a platform that matches the seriousness of end-of-life planning, look elsewhere.
Tomorrow's Customer Support
Compared to other online will makers, Tomorrow lacks great customer support. However, for the price, it's hard to complain. There are a lot of guides and helpful tools to assist users through the will process on Tomorrow, but there's no option to speak to someone directly.
There is an AI chatbot that answers basic questions, but there's no option to talk to an attorney or even a non-attorney agent. While you might be able to talk to an agent after requesting it through the chatbot, this is a lengthy process. Because of this, Tomorrow is best for those who don't anticipate needing additional support.
Are There Any Extra Steps to Legalize Your Will With Tomorrow.me?
While online will makers have come a long way, you'll still need to take additional steps to ensure your will is legal. Once you've downloaded your completed will, you'll need to follow the specific guidelines for your state. Each state has different requirements, but most require the following:
Witnesses:

First, you'll need at least two witnesses. These must be non-relatives who are not already included in your will.

Signature:

Your printed will needs your signature.

Notary:

Most states also require the document to be notarized.
When in doubt, consult with the requirements for your state. From there, store your completed, legal will somewhere safe and share it with friends and family.
Attorney's note: Tomorrow had the sufficient elements to make a valid will, you'll just need to follow the steps above to legalize your document.
Should You Use Tomorrow to Make a Will?
The Tomorrow app simplifies wills with a mobile-first approach, walking users of all experience levels through protecting their families, assets, and more. You don't need any legal know-how to get started. As long as you can answer a few questions about your situation, you can make a will without the help of an attorney.
Still aren't sure if you should use Tomorrow? Head on over to our picks for the best online will makers, take our online will maker quiz, or take a peek at our top picks below.
Best online will makers

| Online will platform | Cost | Key features | Get started |
| --- | --- | --- | --- |
| | $69, one update per year | Easy to use, most comprehensive | |
| FreeWill | Free, update anytime | Sleek interface, better suited for simple estate situations | |
| Willing | $69, update anytime | Simple to use, may need to upgrade for more complex will | |