Over 1 million people have used TotalLegal's Last Will & Testament to create an online will customize to their situation. As more and more people of all ages recognize the need for a comprehensive will to protect their assets and end-of-life wishes, online will makers spiked in popularity. In addition to online will tools, there are even options for virtual funeral and memorial events now, with services like GatheringUs.
Jump ahead to these sections:
Today, there's no need to know how to write a will or even work with an attorney. As long as you can answer a few key questions about your situation and your end-of-life wishes, you can create an online will in seconds. From there, with just a few steps needed to legalize your will, you're ready for anything life might bring.
One of the longest-running online will platforms is TotalLegal. TotalLegal has a range of legal documents to choose from, but how does their will-maker stack up against other tools?
Michael T. Flannery, an attorney and estate planning expert, and I put TotalLegal to the test. We went through the will-making process and observed elements like user experience, pricing, situations they cover, and any legal considerations. The majority of this review will from my perspective (a married twenty-something with a dog), you'll find Michael's notes labeled as "attorney's note" throughout.
In this review, we'll find out once and for all whether this platform is right for you.
Overview: TotalLegal's Online Wills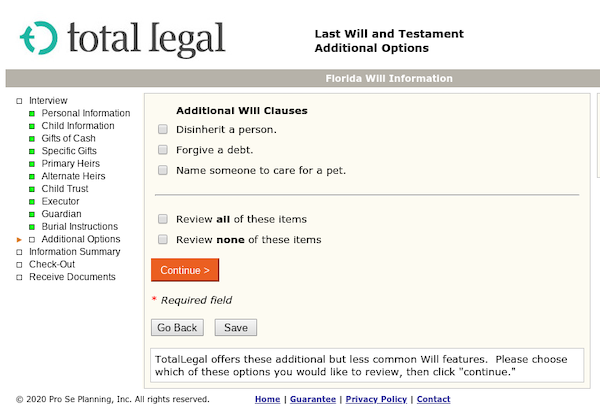 Cost: $19.95
How you receive your will: PDF download of your will or the document shipped to you
User experience: Outdated design, not easy to understand
Time to complete: 10 minutes
Policy for updating: Update online easily
Support: Option to talk to a non-attorney agent
Try Total Legal's Last Will & Testament
TotalLegal describes themselves as the "self-help" tool for online legal documents. Instead of needing to work with an attorney one-on-one or pay costly fees, you can create everything you need online in just a few minutes. In addition, TotalLegal connects users with attorneys who can review their individual situations.
However, this veteran platform raises a few questions at first glance. While it's true this tool has been used for years, it also has a lot of questionable reviews and concerned users. The outdated appearance of this platform leads to a lot of "Is TotalLegal Wills a scam?" questions on search engines. That being said, TotalLegal is a legitimate service, and it does offer comprehensive wills at a low cost.
Pros
Inexpensive basic plan

Option to add more documents if necessary
Cons
Outdated system

Clunky questionnaire

Unclear cost
When we reviewed 13 online will platforms, TotalLegal didn't make it on our "Best Overall" or "Best Value" lists. Check out our picks for the best online will platforms for the full results.
TotalLegal's Pricing and What You Get
TotalLegal is a low-cost option, but it does charge a fee for your online will. While there is no fee listed on the homepage, you'll need to enter your credit card information to access your completed will document. This is a bit misleading, and it's easy to see why it might frustrate first-time will makers. Here is a clear breakdown in the price structure:
Will and Testament

($19.95)

Power of Attorney

($19.95)

Living Will

($19.95)
With the options above, you get a download of your single document. Any additional documents cost the added fee. You can also choose to become a member of their premium subscription (starting at $7.49 per month) to access unlimited documents, storage, and attorney services.
Situations TotalLegal Does and Does Not Cover
Each online will tool has specific things it does and doesn't cover. Unfortunately, there is no "perfect" platform that does it all. Knowing what you specifically need is the best way to choose the right online tool for your situation.
What does TotalLegal cover?
For a low-cost tool, TotalLegal offers a decent amount of coverage. Its basic plan likely fits most users. For extra needs, there are paid add ons. With the basic will and testament plan, you receive coverage for:
Cash gifts: If you wish to give specific cash gifts to an individual or charity, you can with TotalLegal.
Bequests: A bequest is a special gift to an individual. With so many assets to include in a will, it's common to specify unique gifts like a beloved piece of jewelry.
Heirs: Name your heirs to receive your estate upon your passing. This could be your spouse, children, or someone else.
Trust: It's vital to understand the difference between a trust and a will. With TotalLegal, you can create trusts for children.
Executor: Name someone to oversee the instructions in your will.
Guardian: Name a guardian, co-guardian, and alternative guardian for any children upon your passing.
Pet guardian: There's an option to name a guardian for any pets as well.
Burial instructions: With TotalLegal, you can list any specific disposition instructions for your remains (ie. burial).
Debt: Though optional, you can name a debt you'd like to forgive.
For the majority of users, these options above provide more than enough coverage. If you're not sure what document you need specifically, talk to an attorney.
What doesn't TotalLegal cover?
Like all online will tools, there are situations TotalLegal does not offer coverage for. While some of these things are available as add-on documents, this will add to the overall price. Things not covered in the basic will plan include:
Power of attorney: When you name someone to have power of attorney, they have legal authority to make financial and legal decisions on your behalf. This can be added to your TotalLegal plan for an added fee.
Living will: A living will document includes your medical wishes as well as a health care proxy who makes medical decisions on your behalf. This is also included for an additional fee.
Digital assets: Digital assets include things like photos, software, and social media accounts. There is no coverage for these assets under TotalLegal.
Final wishes: Aside from your burial wishes, there is no way to provide final wishes in your TotalLegal document.
Ultimately, only you know the type of coverage you need. Depending on your personal situation, TotalLegal might offer the right level of preparedness.
TotalLegal's Policy for Updating Your Will
TotalLegal offers unlimited updates for any document-only plans (flat-rate pricing) for up to 60 days. After the 60 days, you'll need to repurchase the document (starting at $19.95). Otherwise, for unlimited access, you need to be an active member (starting at $7.49 per month).
Pay attention to how often you expect to need to make changes to your will before deciding on the best tool. Most people only need to make changes after big life events (children, marriage, etc.).
TotalLegal's User Experience
While TotalLegal does have a high-quality system for creating a legal will, the user experience is lacking. The questionnaire feels very out-of-date and is in need of an update. The wording is simple to understand, but the text is very small on the page. Because some sections are optional, it's not always clear what is or is not needed.
The design and layout of TotalLegal makes it seem like it's intended for an older audience, and it's also led to a lot of questions about its credibility. Ultimately, TotalLegal is in desperate need of a redesign if it wants to compete with newer tools.
Attorney's note: TotalLegal is another acceptable platform that seemed to offer just a standard, basic package for a simple will. It was not overly complicated but, like most, could have included more depth and more descriptions of the legal consequences of all the provisions.
TotalLegal's Customer Support
TotalLegal has a variety of customer support depending on your paid plan. For those who only purchase access to a single document, support is available through email or phone during limited support hours. This assistance comes from a non-attorney agent who is not able to provide legal advice.
For premium members with active paid plans, TotalLegal offers attorney support. With TotalLegal, users get what they paid for. Most users with simple situations don't likely need additional attorney support through the questionnaire.
Are There Any Extra Steps to Legalize Your Will With TotalLegal?
Once you complete your document with TotalLegal, you're not done quite yet. Each document comes with additional steps to ensure it's legal. These steps depend on your particular state, but they usually include the following:
Witnesses:

You'll need at least 2 non-relative witnesses to sign your document.

Signature:

You also need to sign your printed document yourself.

Notary:

Most states require your will to be notarized.
Once these steps above are completed, it's time to store your document somewhere safe and secure. Ensure your family has access to your document in case of an emergency.
Attorney's note: TotalLegal's Last Will & Testament had sufficient elements to make a valid will.
Is TotalLegal's Last Will & Testament Right for You?
For the average will-maker, TotalLegal is a good fit. However, if you're in need of additional support and access to your document, it's best to choose something more comprehensive. At the end of the day, it's important to recognize just how far online will tools have come. In just a few short years, these have gone from fringe tools to mainstream services.
It's important to take steps to protect yourself and your end-of-life wishes. While asking these questions about what you want when you die is hard, they're an essential way to lessen the burden for your family. Are you prepared?
Still aren't sure if you should use TotalLegal? Head on over to our picks for the best online will makers, take our online will maker quiz, or take a peek at our top picks below.
Best online will makers

| Online will platform | Cost | Key features | Get started |
| --- | --- | --- | --- |
| | $69, one update per year | Easy to use, most comprehensive | |
| FreeWill | Free, update anytime | Sleek interface, better suited for simple estate situations | |
| Willing | $69, update anytime | Simple to use, may need to upgrade for more complex will | |