With endless online wills to choose from nowadays, how do you find the right tool for your needs? In this day and age, it's not always realistic or financially possible to see an attorney in-person for your will. Luckily, there are a lot of comprehensive online will builders that do the heavy lifting for you.
Jump ahead to these sections:
If you're wondering how to write a will, Trust & Will is one of the leading options online today. Trust & Will is an online service for building your will or other legal documents. Built by an experienced legal team, this is one of the easiest online will makers, and it's pretty affordable.
Yet, if you've never completed a will before, how do you know that Trust & Will has everything you need to stay protected? How does it compare to other online will platforms?
We reviewed Trust & Will so you don't have to. Michael T. Flannery, an attorney and estate planning expert, went through the Trust & Will's will-making process and took notes on things like pricing, user experience, and if it had the elements to make a valid will. This review will mostly come from my perspective as a married twenty-something, but you'll find Michael's observations and tips (labeled "attorney's note") throughout the article.
In this guide, we'll review the pros, cons, and more of Trust & Will so you can decide if this is the best option for your situation.
Overview: Trust & Will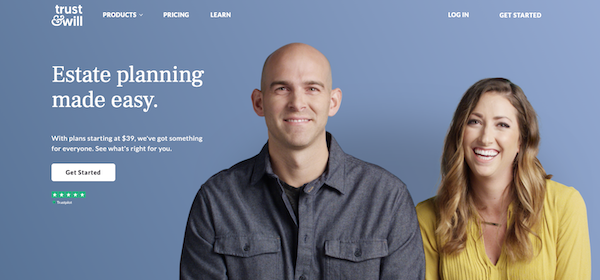 Cost: $159
How you receive your will: Printed copy mailed to you
User experience: Sleek interface, easy to understand
Time to complete: 10 minutes
Policy for updating: One update per year
Support: Option to talk to support agent
Trust & Will knows that most people today don't have hundreds (or thousands) of dollars to spend working with a lawyer to complete a will, yet this is an essential part of being prepared for the future. Even though other digital platforms offer similar services, the experience isn't very user-friendly or easy for first-time will makers. The founders of trust & Will knew there needed to be a better way.
Today, Trust & Will is one of the many companies seeking to modernize the $180 billion trust and estate planning industry. Through their online tool, users can create a will, a trust-based estate plan, and a guardian plan for any children. Trust & Will's design and mission are surely impressive, but how does the tool compare to others?
Pros
Easy to understand will creation process

Modern, sleek design

Comprehensive coverage
Cons
Limited division of assets

Priced higher than similar tools
When we reviewed 13 online will platforms, Trust & Will made it on our "Best Overall" list. Check out our picks for the best online will platforms for the full results.
Trust & Will Pricing and What You Get
There are several price tiers at Trust & Will, depending on your needs. While it's always free to create an account and get started, you'll need a paid plan to access your files.
Will:

$159 for individual, $259 for spouses

Trust:

$599 for individual, $699 for spouses

Guardian:

$39 for individual, $69 for spouses
You can purchase as many plans as you need for your specific situation. With your purchase, you get access to your documents and a year of unlimited updates. When your year ends, you can subscribe for unlimited updates at any time with a $12 annual fee.
Once you've completed your forms, Trust & Will mails them to you. The cost of postage and printing is included in your one-time fee.
Situations Trust & Will Does and Does Not Cover
is one of the more comprehensive online will platforms available today. Many are limited in scope, but Trust & Will offers a lot of coverage. This is good for those who might have complex family situations or specific wishes about their end-of-life plan.
Under the will plan, there are a lot of add-ons not typically seen in a basic tool. These include:
Will: Of course, it starts with the basic will. This includes your final wishes for your possessions, dependents, and any arrangements.
Living will: This is an optional section where you specify any wishes for medical treatment if you're unable to make decisions for yourself.
HIPAA Authorization: This form authorizes someone to receive your protected health information for specific medical purposes.
Power of Attorney: Finally, the optional power of attorney form authorizes someone to act on your behalf for legal and financial matters.
In addition to these optional add-ons included in the will plan, you can also add a trust. The difference between a trust and a will is that a trust includes a customized, specific estate plan for how to distribute your assets during life and after death. If you have children, you can also include a guardianship plan to customize their care in case of an emergency.
Knowing what's included, Trust & Will is a good fit for parents, first-time will makers, and people who want comprehensive coverage. Because Trust & Will offers a range of support, this is the ideal choice for anyone who isn't entirely sure what steps they want to take to protect their family and end-of-life plan.
Trust & Will's Policy for Updating Your Will
With your paid Trust & Will plan, you can update your will an unlimited number of times for up to a year. Updating your will is as simple as logging into your online account and making the necessary changes.
After the year is up, you still have access to your account. If you need to make changes, you can pay an annual fee of $12, which gives you access to unlimited updates for another year. Ultimately, Trust & Will has a straightforward and fair will updating policy.
Trust & Will's User Experience
Trust & Will is the Apple of online wills. It's a very sleek, modern platform that walks you through the entire will making process from start to finish. Unlike other tools that feel outdated or slow, Trust & Will was created in the past few years. The founders understood the importance of high-quality user experience—and it shows.
To complete the will, users are prompted through a questionnaire. Everything is explained in simple terms anyone can understand. To help users along, there's an indication of which answer is "most common" for the majority of people. This gives a sense of confidence and trust in the process.
Because each question is listed one at a time, there is no stress. If you can answer a few simple questions about your current situation and end-of-life wishes, you can make a will with the Trust & Will platform. The fun graphics and colors make this a pleasant experience from start to finish.
Attorney's note: Trust & Will includes several more legal issues and explanations than some other services we reviewed. For example, it raises such issues as "simultaneous death," compensation for executors, digital assets, some tax references, an "in terrorem" or "no-contest" clause, and a significant focus on the specific powers of the executor.
» MORE:
Cake members focus on family, not confusing logistics.
Sign up now.
Trust & Will's Customer Support
Trust & Will assures users there is help available during any part of this process. Aside from the comprehensive guides and FAQ section, there's a chat option always available. However, it's important to note that the chat and support representatives with Trust & Will are not attorneys. There is no attorney-client relationship, and you are ultimately responsible for your own documents.
However, you can contact a live chat agent from 9 am to 5 pm PST during weekdays. They respond quickly to all questions, and they can help set you on the right path.
You can trust that your forms were built by a strong legal team. For more specific assistance about your legal needs, talk to an experienced attorney.
Are There Any Extra Steps to Legalize Your Will With Trust & WIll?
It's important to recognize that your online will isn't complete once you submit your questionnaire. While this is the first step, you'll need to take some measures to ensure it's legally enforceable. Each state has specific laws about how to make your will legally valid, so be sure to check with your specific state before continuing with this process.
In most cases, you'll need to do the following:
Sign your document:

First, you need to sign your form. With Trust & Will, your document is sent to you in the mail to sign.

Witnesses:

You'll also need two witnesses to sign your document on the witness page. In most states, these must be non-relatives who are not included in the will document as beneficiaries, executors, or heirs.

Notarization:

Finally, your document usually needs to be notarized.
Once you've completed these steps, your will is typically considered legally binding in most states. However, you'll need to also be mindful of any changes to your family situation or the assets to include in a will. If anything changes, you'll need to update your will accordingly.
Attorney's note: Trust & Will's online will service had sufficient elements to make a valid will.
Is Trust & Will Right for You?
Overall, Trust & Will is a comprehensive, effective way to create an online will if you're on a budget. You no longer need to worry about arranging a meeting with an attorney to get your end-of-life affairs in order. It's as simple as answering a few key questions about your situation and legalizing your form.
Still aren't sure if you should use Trust & Will? Head on over to our picks for the best online will makers, take our online will maker quiz, or take a peek at our top picks below.
Best online will makers

| Online will platform | Cost | Key features | Get started |
| --- | --- | --- | --- |
| | $159, one update per year | Easy to use, most comprehensive | |
| FreeWill | Free, update anytime | Sleek interface, better suited for simple estate situations | |
| Willing | $69, update anytime | Simple to use, may need to upgrade for more complex will | |