Creating a will hasn't always been a simple task. In the past, you would need to visit with an attorney or learn how to write a will. Since this was complicated and costly, there's been a push for a more affordable, accessible alternative.
Today, there are a growing number of online will makers that make the process of building your own will a breeze. You can even arrange virtual funeral and memorial events now, with online services like GatheringUs.
Jump ahead to these sections:
One of the most well-known will makers is US Legal Wills. With US Legal Wills, it's easy to create a lawyer-approved will in just 20 minutes, depending on your situation. However, how does this online will maker compare to other similar tools?
Both myself and Michael T. Flannery, an attorney and estate planning expert, put US Legal Wills to the test. We reviewed the platform based on pricing, user experience, and any legal implications. While this review will mostly come from me (a married twenty-something with a dog), you'll find Michael's tips, tricks, and comments throughout labeled as "attorney's note."
In this review, we'll break down the pros, cons, and cost of US Legal Wills to decide if it's right for you.
Overview: US Legal Wills Online Wills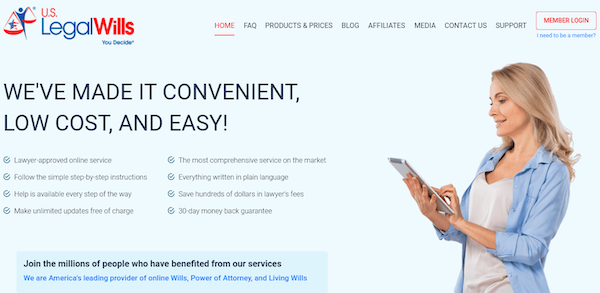 Cost:

$39.95

How you receive your will

: PDF download of your will

User experience:

Outdated design, not easy to understand

Time to complete:

25 minutes

Policy for updating:

Update online easily

Support:

Option to talk to an attorney
US Legal Wills has been providing online wills for over two decades. Since the start, thousands of legal documents go through the platform each week. With hundreds of positive reviews and a low price tag, it's easy to see why this tool is so popular when it comes to creating a will you can trust.
US Legal Wills claims to remove all the obstacles that come along with writing a will. With their online will tool, you only need to answer a few questions about your situation to generate a will customized to your needs. No legal expertise or know-how is needed to get started.
Pros
A large variety of (paid) add-ons to get comprehensive coverage

Easy to update long-term

Low cost compared to similar tools
Cons
Outdated design

Limited support available
When we reviewed 13 online will platforms, US Legal Wills didn't make it on our "Best Value" or "Best Overall" list. Check out our picks for the best online will platforms for the full results.
US Legal Wills' Pricing and What You Get
Compared to similar tools, US Legal Wills is relatively affordable. There's only one flat fee for access to your online will. You don't need to worry about subscribing to a premium membership. However, you will need to pay extra for any add-ons. The general pricing is as follows:
Last will and testament ($39.95):

Access your will and testament document for this flat price.

Mirror will for spouse ($23.97): Create a mirror will for your spouse or partner with a 40% discount.
Power of attorney ($29.95):

Many online will tools also include the power of attorney documents, but this is an extra fee with US Legal Wills.

Living Will ($19.95):

A living will is also an extra cost with US Legal Wills.
The à la carte pricing structure of US Legal Wills makes it a customizable solution. Compared to other platforms, it's easy to choose what you do and don't need without any complicated extra steps. However, for someone looking for a flat price for more comprehensive coverage, another online will-maker might be a better fit.
Situations US Legal Wills Does and Does Not Cover
All online wills have their limitations. Unless you're working directly with an attorney who creates each will from scratch, you'll need to work within the online will makers system. This means knowing what each tool does and doesn't cover.
What does US Legal Wills cover?
As mentioned before, you'll need to pay an extra fee to get many of the additional aspects of coverage through US Legal Wills. Here's what you get with the basic will plan:
Executor:

Name someone to carry out your will once you pass away.

Guardians:

Appoint someone as the caretaker or guardian of any minor children in case of emergency.

Trusts:

Many people struggle to understand the

difference between a trust and a will

. With a trust, there are more requirements to be met before delivering assets to an heir. This is an additional protection.

Property:

Within US Legal Wills, there is some distinction for how to handle property (ie. your home) after you die.

Bequests:

With so many

assets to include in a will

, many people choose to leave special gifts to friends or family.

Debts:

You can leave specific requests for how debts are to be handled with US Legal Wills.

Beneficiaries:

Name beneficiaries to receive your assets upon your death.

Noncontestability:

Complete additional noncontestability forms to protect your special gifts.

Final wishes:

Leave any final wishes within your will with US Legal Wills.
US Legal Wills covers the majority of needs for the average user. This list above is typically enough, but there is no one-size-fits-all solution. When in doubt, speak to an attorney about your particular needs.
» MORE:
An online memorial is a perfect ending to honor and celebrate someone's life.
Create one for free.
What doesn't US Legal Wills cover?
Like all online will tools, US Legal Wills has some blind spots. You're able to add many of these things with an upgraded plan, but not everything is offered. Services not covered in the basic will plan are:
Power of attorney:

This is an additional document you can add for another fee. When you name a power of attorney, you name someone who can act on your behalf legally or financially.

Living will:

You can add a living will with an added fee. A living will confirms your healthcare wishes in case of an emergency. It also enables you to name someone as your health care proxy to make decisions on your behalf.

Digital assets:

There is no way to say what you wish to happen to your digital assets with trust and will. For example, what do you want to happen to social media accounts?

Pet guardian:

Finally, you can't name a guardian for your pets.
While US Legal Wills likely fits most situations, it's important to know your specific needs before deciding on a will tool.
US Legal Wills' Policy for Updating Your Will
US Legal Wills' policy for updating your will is similar to other paid tools. You have access to unlimited changes for up to a year after first creating your will. From there, you'll need to pay a flat fee to increase the time you have access. For example, you can pay to add an extra year, 5 years, 10 years, and so on.
It's a good idea to consider how often you'll need to make changes to your will before deciding on a service. If you don't plan on making any changes in the near future, a year might be more than enough time.
US Legal Wills' User Experience
While US Legal Wills has a lot of advantages, it falls behind other tools in terms of the user experience. It's true that this is one of the oldest will makers online, but this might also harm the platform as a whole. Much of the website appears not to have been touched in a decade. The stock photos and design are outdated, and it doesn't feel modern or trustworthy upon first glance.
The questionnaire is straightforward and easy to understand, but it's clunkier than similar systems. Working one's way through the will creation process isn't as easy as other tools. For users looking for a seamless user experience, US Legal Wills is not the right fit.
Attorney's note: US Legal Wills struck me as the most comprehensive and most well-balanced platform in terms of legal content, at least between the final product and the instructions that accompany it. It covered all of the major issues that you should think about, but also offered what I thought was adequate descriptions of each of the topics in the instructions.
It gave very good practical tips that can be relevant to problems down the road, such as signing the document in blue ink, covering pages when the witnesses sign, where to keep the will after signing, and what challenges to anticipate in probate court. While there could always be more detail included, this platform did a good job of drawing a balance between relevance and simplicity.
US Legal Wills' Customer Support
US Legal Wills does have a lot of support options for those needing extra help during the will-making process. The biggest form of help is through the attorney review feature. For a flat fee of $69.00, you can have any of your legal documents reviewed by an attorney for accuracy.
Other than talking to an attorney for a fee, users also can access the support team through phone, email, or chat. While this is a non-attorney support agent, it's helpful to know someone is there to answer basic questions about the platform.
Are There Any Extra Steps to Legalize Your Will With US Legal Wills?
All online will tools require extra steps to make sure they're legal. You don't walk away from the platform with a ready-to-go legal document. The burden of legalizing it falls upon the user. The specific requirements vary depending on the state, but they're usually as follows:
Witnesses:

You'll need up to two witnesses to sign your document. These must be non-relatives, and they can't be listed anywhere in your will.

Signature:

Your document needs to be printed and signed by you.

Notary:

Finally, most states also require the document to be notarized.
Once these steps above are complete, store your will somewhere safe. Make sure to tell friends and family where to find it in case of an emergency.
Attorney's note: US Legal Wills had sufficient elements to make a valid will.
Should You Use US Legal Wills?
While it's a bit more outdated than similar tools, US Legal Wills is overall a quality will-maker. The low cost and add-on services make it a good fit for someone who knows exactly which documents they need. In addition, the basic plan offers comprehensive coverage for the majority of users.
No matter which tool you choose, make sure to take the right steps to protect yourself. Having a will, whether it's completed online or with an attorney, is a must.
Still aren't sure if you should use US Legal Wills? Head on over to our picks for the best online will makers, take our online will maker quiz, or take a peek at our top picks below.
Best online will makers

| Online will platform | Cost | Key features | Get started |
| --- | --- | --- | --- |
| | $69, one update per year | Easy to use, most comprehensive | |
| FreeWill | Free, update anytime | Sleek interface, better suited for simple estate situations | |
| Willing | $69, update anytime | Simple to use, may need to upgrade for more complex will | |