You are not legally required to publish an obituary for your loved one. A death certificate is a legal, required document. Some situations require a death notice to be posted. An obituary, on the other hand, is a personal record of someone's life and is not a necessary part of death documentation.
Jump ahead to these sections:
Family members sometimes write obituaries. At times, a funeral home employee may write the article as a part of the service they provide to their clients. Increasingly, people are choosing to prewrite their own obituaries.
If you are tasked with writing an obituary, here is an obituary template to help you with the job. Keep in mind that there are some details that people include that are not necessary or appropriate. Here are some items you may wish to leave out of your loved one's obituary.
Tip: Writing an obituary might be just one of the many tasks you're undertaking for the first time after the loss of a loved one. If you need help prioritizing your responsibilities or working through the details, our post-loss checklist can help.
What You Don't Have to Include in an Obituary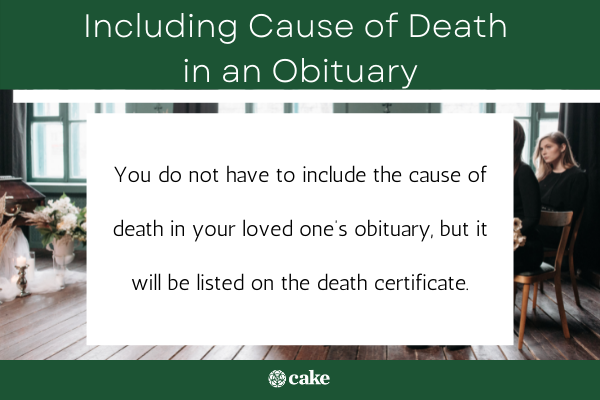 Most families try to paint the deceased in the best light possible when writing an obituary. They may leave off details that would be embarrassing to the dead or his or her survivors. They may also refrain from giving too much information, so the deceased's identity is protected.
Here are some things you may consider leaving out of your loved one's obituary.
Exact birth date
More people are choosing to leave out the deceased's exact birth date when writing an obituary.
Unfortunately, scammers can use this information to steal the identity of the deceased. It is common for families to list the age of the deceased at death, but more people leave off the details of the birth.
Mother's maiden name
Since your mother's maiden name is often the answer to security questions, some people choose to leave out this detail when writing an obituary.
This is bothersome to some people since the mother's name is an essential part of a person's identity. Unfortunately, scammers also usually want it as well.
Address
Never include the exact address of the deceased in an obituary. Criminals sometimes use obituaries to learn when family members will be out of the home to attend the funeral. Don't make it easy on these crooks by including the location that will be unattended at a specific time.
Unfortunately, this information is available with a simple internet search. Because of that, you may want to alert your neighbors to be on the lookout while you attend the services of your loved one.
Education
You don't need to include any details of your loved one's education, but some people choose to list the graduating high school or college to help others identify the deceased.
However, if your loved one's educational accomplishments were a source of pride, include it in the obituary. If your loved one was always conscientious about never achieving a specific educational level, consider leaving this detail out of the obituary.
It is worth noting that some families see it as a source of pride that their loved one never graduated from high school. Some people are able to achieve great things without a formal education, and if this happened in your loved one's life, you might share his or her story with others as a source of inspiration.
Parents
Not everyone has a cookie-cutter family that includes a mom, dad, and 2.5 kids. In fact, your loved one may never have known the identity of his or her father. This is not a necessary detail to include in the obituary. Or, if your loved one only had a relationship with one parent, you may choose to list that individual and leave the person listed on the birth certificate off the list.
You may also want to review the etiquette for predeceased family before writing the obituary of your family member, which is also known as the "preceded in death by" section.
Ex-spouses
You do not have to include the names of ex-spouses or partners in your loved one's obituary, even if the relationship resulted in several children.
Of course, you may include this information, especially if everyone involved is on friendly terms. If the relationships are rocky, you may consider only listing the names of the children that came from the relationship.
Children
For that matter, some people have estranged relationships with family members. This may include the children of the deceased. Such relationships make it tricky to write an obituary, which is probably one reason why some families choose to forgo this tradition.
Before you write the obituary of your loved one, consider the power of your words. Merely leaving off a person's name from a list in an obituary may ruin subsequent relationships with that individual. Even if you know that the deceased struggled with a particular relationship, how you label a person in an obituary may repair years of hurt.
Jobs or careers
Career is extremely important to some people. Many people are proud of achieving success in particular industries. Others only view their job as a means to obtain money to do the things they enjoy.
You don't have to list your loved one's jobs if they weren't particularly enjoyable. Instead, you can include hobbies or activities that your loved one enjoyed.
Cause of death
It is human nature to wonder "what happened?" when someone dies, but that is not anyone's business. You do not have to include the cause of death in your loved one's obituary, but it will be listed on the death certificate.
This detail may be especially painful for some family members to share, so leaving it off is prudent in some situations.
Survivors
The AARP suggests that families not include the names of survivors in obituaries. This is based on earlier advice suggesting that including these details may make you the target of criminal activity.
Negative feelings
Not everyone who walks on this Earth is easy to get along with in life. You may be tasked with writing the obituary for such a person, and you may be tempted to write some of the negative details regarding your relationship in the text of the obituary. Please know that you will probably regret this decision.
If you can't write the obituary for your family member without your negative feelings getting in the way, leave it unwritten.
Details for the service
Some families choose to have closed funeral services. This may be for a variety of reasons, and it is their prerogative to do so.
If the general public is not invited to the funeral, do not include the details for the service. You may add the line, "a private funeral will be held at a later date."
» MORE:
An online memorial is a perfect ending to honor and celebrate someone's life.
Create one for free.
Jokes
You may be the life of the party, but when it comes to writing an obituary, put a lid on your comedic talent. Jokes do not come off well in an obituary. The only time this may work is if the deceased wrote the obituary before he or she died.
What You Can Include in an Obituary Instead
So how do you write an obituary if you don't include all the previous details? There are many things you could add to an obituary to celebrate your loved one's life.
Hobbies
Was your dad a motorcycle enthusiast? Did your mom never miss a Kansas City Chiefs football game?
Include these details in your loved one's obituary. Future generations will be delighted to get a peek inside the personality of previous generations, and current friends and family will be comforted by the memory.
Favorite volunteer projects
Perhaps your sister donated hundreds of hours to the Big Brothers Big Sisters organization.
Maybe your daughter was passionate about fostering kittens. Consider sharing this with others in her obituary. You can learn a lot about someone based on how and where they spend their time.
Positive personality traits
If your loved one was beloved by many, share this trait in his or her obituary. Some people show such evident generosity, kindness, or calmness that those traits should be celebrated.
Accomplishments
Your loved one may have accomplished amazing things in life that have little to do with education or professional endeavors. List those accomplishments in the obituary.
Perhaps you can write about how he or she participated in the New York City Marathon. Maybe your loved one traveled to all the continents or all the national parks. These are the kind of details that people enjoy reading about in obituaries.
Final Words
When writing an obituary or a eulogy, it is best to give yourself plenty of time to complete it. Writing something in a hurry and then sending it off to the funeral home is never advised. Instead, take a more systematic approach.
Look at examples, write a rough draft, have others read it and contribute, then sleep on it. People in mourning sometimes do not think clearly. Give yourself time to remember to include your dad's military service in his obituary, and that your mom lost a sister in infancy. You'll be glad you did.
If you're looking for more obituary writing resources, read our guides on how to write an obituary for yourself and our obituary writing exercise.