You've got a long checklist ahead of you when a loved one dies — this is especially true when your loved one was a military veteran. Not only do you need to plan for a funeral, but you also need to be aware of the veteran death benefits that you and your loved one can receive for serving our country.
Jump ahead to these sections:
A military funeral often includes a military funeral flag presentation and some other benefits, too. But did you know about the financial benefits you're entitled to that can help cover some of your loved one's final expenses? Your loved one may even qualify to be buried in one of the 139 national cemeteries scattered throughout the country.
Here's a basic checklist so you know what to do when a veteran dies.
Share your final wishes, just in case.
Create a free Cake end-of-life planning profile and instantly share your health, legal, funeral, and legacy decisions with a loved one.
1. Who's Responsible for Taking Care of This?
The deceased's spouse, children, or next-of-kin is traditionally responsible for taking care of funeral details, but your funeral director will be particularly helpful during this process if your loved one was a veteran.
Funeral directors are well versed in all of the paperwork involved when a death occurs, including Social Security death benefits and obtaining enough copies of a death certificate. He or she probably also has contacts within local veterans' groups and will assist you with the paperwork involved to receive veteran's benefits.
As you choose a funeral home, ask about the funeral directors' experiences holding funerals for veterans. They should be able to walk you through this sometimes-complicated process.
2. Report the Death
A member of the medical community must be on hand to legally pronounce the death of your loved one. If your family member dies in the hospital or under hospice care, this pronouncement can be obtained easily. The process is more complicated if the person dies outside of a medical facility.
Once this happens, the family member usually contacts a funeral home to arrange transportation for your loved one's body. At this point, you will need to make decisions on how the body will be prepared. Check to see if your loved one had an end-of-life plan or a prepaid funeral.
3. Notify the Department of Defense
Call the Department of Defense at 800-538-9552 or 800-321-1080 to report the death of your loved one. You will need your loved one's date of death when you talk with the military representative over the phone. This person is also a useful resource for any questions you have about military benefits.
4. Gather the Necessary Documents
It takes a great deal of paperwork to have a military funeral. Here are the documents and information you should start gathering:
A certified copy of the deceased's service records and discharge papers

Social Security numbers of the deceased, the deceased's spouse, and any dependent children

Copies of insurance policies

Certified copies of the marriage license and birth certificates of children

Certified copy of the death certificate of the veteran

Veteran's VA claim number

Copy of the veteran's will
Hopefully, your loved one left his or her affairs in order, but you may need to dig through personal papers to find the documentation. The funeral could be delayed if the documents and information cannot be located easily.
5. Learn Who is Eligible for Veteran Death Benefits
To receive veteran death benefits, the honorably-discharged veteran needs to meet one of the following requirements. He or she must have died:
As a result of a service-connected disability

While receiving VA pension or compensation

In a VA hospital

On or after October 9, 1996, while a patient at a VA-approved state nursing home
Visit the VA website for a full list of situations in which a veteran is eligible to receive benefits.
6. Identify Who Can Collect the Veteran's Death Benefits
The federal government pays a flat amount to assist family members to pay for a veteran's funeral.
Payment is made to the veteran's surviving spouse, the veteran's children, the veteran's parents, the executor or administrator of the veteran's estate, or the survivor of a legal union with the veteran. The first person who applies for compensation will be paid.
7. Find Out How Much the Government Pays for Veteran's Death Benefits
The VA pays various amounts for death benefits, which depend upon a variety of factors. If the veteran passes away from a service-related death, he or she is entitled to a higher amount than a veteran who dies of other causes. The date of death also affects how much is survivors are paid.
If the veteran died on or after October 1, 2017, his or her survivors will receive up to $1,524 to help cover funeral expenses. Many extenuating circumstances can affect how much the survivor receives in death benefits. There is a deadline to apply for the benefits, and currently, survivors are asked to submit claims within two years of a loved one's death.
8. Schedule a Burial in a National Cemetery
Your funeral home director will help you schedule a burial in a nearby national cemetery. To start this procedure, the director will ask for your family member's official discharge papers. This paperwork is required to proceed with the process.
A rather lengthy form needs to be filled out to have your loved one buried in a national cemetery. Be prepared to provide your loved one's Social Security number as well as Social Security numbers of survivors. You also need to have a couple of national cemeteries in mind where you'd like to have your loved one buried — you'll need to be prepared with a first and second choice.
This same form asks whether you would like to have military honors performed at the funeral. You'll be able to request the particular branch of the military that will present the honors.
A gravestone will be placed if your family member is buried in a national cemetery. The stone will include your loved one's name, birth, and death dates, the highest rank held, and your loved one's branch of service.
9. Request a Burial or Interment in Another Cemetery
Your loved one can still receive military honors even if he or she is buried in a private cemetery. Again, your funeral home director should assist you with this process, but survivors can also contact the local Veterans of Foreign Wars (VFW), the Disabled American Veterans Charity (DAV), Vietnam Veterans of America (VVA), or American Legion Group for assistance. You can also contact your local military recruiter to help schedule military honors.
At least two uniformed representatives of your loved one's military branch will attend the funeral. The military funeral honor ceremony includes folding and presenting the U.S. flag to the survivors playing "Taps."
Even if you choose to have your loved one buried in a private cemetery, he or she may be eligible to receive a headstone marker from the federal government. The VA will inscribe the name of the deceased, birth and death years, his or her highest rank held, and the branch of service. This marker will be shipped for free anywhere in the world. The family is responsible for paying to have the marker placed at the gravesite.
10. Discover Benefits for Military Spouses
Military spouses may also be eligible to receive death benefits. For example, a veteran's spouse may be buried with him or her in a national cemetery.
11. Learn About Benefits for Military Spouse Survivors
Your loved one could have had a GI life insurance policy. Survivors should also check whether or not they are eligible for dependency and indemnity compensation or death pension upon the death of their loved one. Survivors may also receive counseling after a family member's death.
12. Other Steps of Planning for a Veteran's Funeral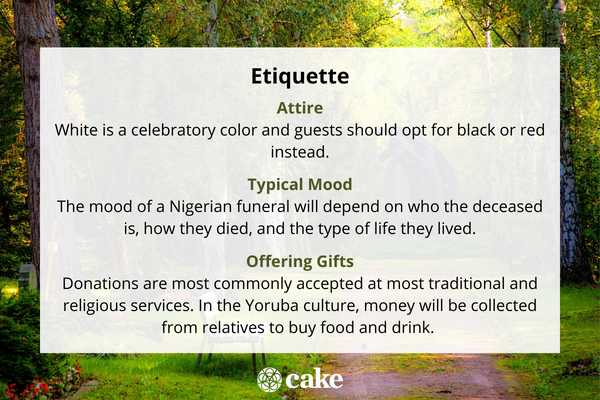 We've given you many of the steps you need to consider as you plan a veteran's funeral, but there are many more to consider. Survivors need to make many other choices, including picking out a casket and the burial clothing for your loved one.
You'll need to choose music for the funeral service and select the pallbearers. Someone needs to write the obituary and the eulogy for your veteran. You'll need to order the flowers for the casket and decide where the memorial money should go.
These decisions may be overwhelming for a veteran's spouse, so it's important to offer support to all survivors during this difficult time.
Getting Your Loved One's Affairs Settled
If you're the survivor of a military veteran, we thank you for your sacrifices. We know that being a spouse or child of a member of the military may have been extremely difficult at times. At the very least, you may have had to move many times in the course of your family member's military career. At most, you may have lost your loved one as a result of this service.
Remember, you and your deceased loved one deserve to receive all the honors and compensation you are entitled to because of their sacrifices.
---
Sources
"How to Apply for a Veternan's Burial Allowance." Veterans Affairs.

www.va.gov/burials-memorials/veterans-burial-allowance/

"Schedule a Funeral for a Veteran or Family Member." Veterans Affairs.

www.va.gov/burials-memorials/plan-a-burial/

.