When someone passes away, finding the right words to provide encouragement and offer condolences can feel impossible. It can be difficult to express sympathy without sounding trite or cliche.
Sympathy Gifts to Pair with Your Message
Jump ahead to these sections:
The most important thing to remember is to let your sincerity shine through, even if you stumble over your words. Here are some ideas to get you started if you need to share a word or two with a friend or relative who lost someone close.
Tip: An online memorial page allows family and friends to share sympathy and tributes to the departed all in one place. If someone in your life has recently experienced a loss, check to see if they've created an online memorial.
What to Say When Someone Dies Unexpectedly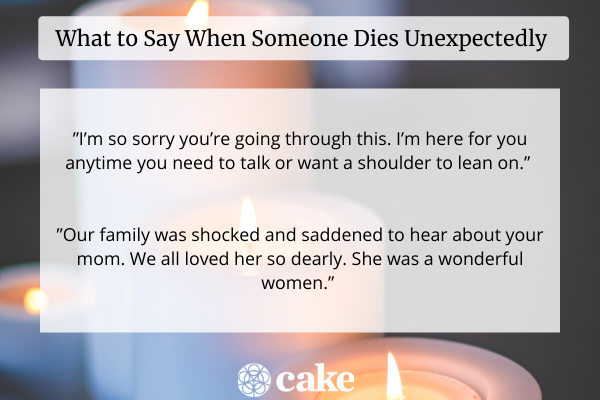 Death and loss are always difficult to face. Unexpected death, however, takes everyone by surprise and has the potential to make the loss, shock, and grief even worse. Here are several things you can say that might help.
1. "I can't express how sorry I am to hear of Bruce's passing."
This is simple and heartfelt and works for a variety of situations.
2. "Your brother was one of a kind. My son will miss having him as his teacher."
This can apply to any kind of teacher from elementary and junior high to high school or college.
3. "I'm so sorry you're having to go through this. I'm here for you anytime you need to talk or want a shoulder to lean on."
They may not take you up on it, but knowing they have your support will be comforting.
4. "Our family was shocked and saddened to hear about your mom. We all loved her so dearly. She was a wonderful woman."
Share sympathy on behalf of the whole family with a few sentences like this.
5. "I just heard about Sidney's death. I know you're dealing with a lot right now, but I'd like to provide the funeral flowers. Let me know what you need and it'll be done."
Is there something you can provide your friend or loved one to help with funeral arrangements? If so, now is the time to pull out your expertise and provide it gratis.
What to Say When Someone's Parent Dies
Share these words of comfort with someone you know who lost a parent.
6. "I'm so sorry to hear about the loss of your mom/dad."
This simple sentence speaks deeply and communicates your felt loss, as well.
7. "Your mom loved you very much. She was so proud of the young lady you've become. She told me about you every time we met."
Share sentiments like these to keep the mother or father's thoughts present even though they are gone.
8. "Your father was an inspiration to me. I'm grateful to have known him and been his friend."
Share what you appreciated and admired about the person who passed away.
9. "I never met your mom personally, but from all the stories you shared with me, I felt like I got to know her. Thank you for sharing her wonderful life with me. I'll treasure her memory."
Let your loved one know that the legacy of their parents will live on in the lessons and stories.
10. "Your dad was one of the most amazing people I worked with. He was a hardworking guy who always had a good word for everyone he met. I'll miss him very much."
Did you learn something from your friend's parent? Share this to provide comfort.
What to Say When Someone's Sibling Dies
Siblings often share a special bond, connection, and friendship. Here are several ideas for what to say when someone loses their sibling.
11. "I'm so sorry to hear about your sister. She was always so gentle and kind to those around her."
Share a few words about the positive attributes you saw in the person who passed.
12. "Your brother was the funniest guy; he could always make my son laugh. We'll miss his bright smile."
If the person was a friend of your child, reference this connection and share the good impact they had on your child's life.
13. "I'm so sorry you've lost your best friend. I know you and your sister were close and she'd be here today if she could."
Acknowledge how difficult and heartbreaking a sibling loss can be.
14. "Please don't worry about dinner this week. I'd like to send you meals each night. Are you allergic to anything?"
Can you organize a meal train or provide meals for your friend? Offer to do this and take a burden off their shoulders.
15. "I know it's not the same, but we feel your loss with you. Your sister was the heart and soul of our cheer team."
Share your connection with the person who passed and let your friend or relative know they're not alone in their loss.
What to Say When Someone's Partner or Spouse Dies
Losing a partner can feel like losing half of yourself. Provide comfort with phrases such as these.
16. "I'm here for you. I'm so sorry and I love you."
Simply letting them know that they have your support can be very comforting.
17. "Don loved you so much. He'd always tell us what an amazing wife he had."
Did you know the deceased? Share something endearing they said about their significant other.
18. "Your fiancee was a wonderful person."
Sometimes, stating the simplest sentiment is the best.
19. "The love you shared with Charlie has been such an example to Bobby and me."
Did you admire your friend's marriage or relationship? Tell them.
» MORE:
Cake members focus on family, not confusing logistics.
Sign up now.
20. "I know the loss of your partner is unbearable right now, but I know their love will be with you forever."
Are you and they the type that believes love is an unbreakable bond? Then this is appropriate.
What to Say When Someone's Child Dies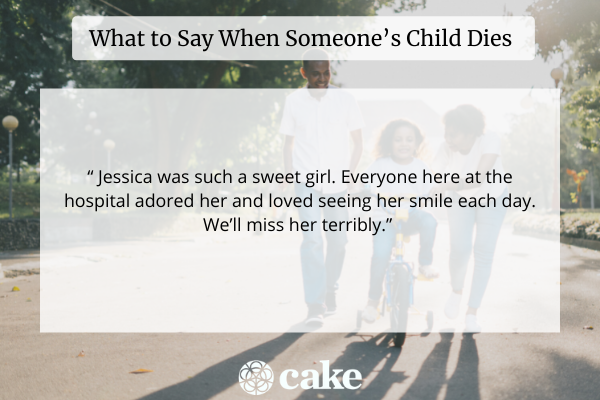 Experiencing the loss of a child might be one of the hardest kinds of deaths to face. Share these words with someone in this situation.
21. "Jessica was such a sweet girl. Everyone here at the hospital adored her and loved seeing her smile each day. We'll miss her terribly."
If you worked with the child in the hospital or a medical setting, communicate a sentiment such as this.
22. "Geo was a wonderful young man who was loved by everyone at school. He was one of my best students and loved you both tremendously."
Teachers can share a sentiment like this to honor the child and communicate his or her love for their parents at the same time.
23. "I remember when Patrick…."
If appropriate, share a sweet anecdote from the child's life.
24. "There are no words for this kind of loss."
This is true on many levels. If this is all you can say, it's okay.
25. "No parent should have to go through this. I'm so very sorry."
Acknowledge the shock and devastation a parent experiences with the loss of their child.
What to Say When Someone's Friend Dies
Friendship is a precious treasure. When someone loses a friend, it can feel like a family member has died. Share these words to provide encouragement and comfort.
26. "Jeannine was such a kind person. She always said hi to me when she came into work."
Share a word or two about the good attributes of the deceased.
27. "I just heard about Aubrey. I'm so sorry."
This sentence works well whether you knew the deceased person or not.
28. "I know you and I have never met, but Bob spoke of you highly."
Did the deceased mention his friend to you in a positive light? Share that with them.
29. "I know Caroline's friendship meant the world to you, and I know your friendship meant just as much to her."
Did you know how much the deceased treasured their friendship with another? Share that.
30. "I was so surprised to learn about Mark's passing. I can't imagine how hard this is on you."
Acknowledge the devastation that the loss of a friend can bring.
What to Say When Someone's Pet Dies
Pets can be just like a member of the family. Honor this bond when you communicate your sympathy.
31. "You gave Bruno such a wonderful life. I know he loved you and your family."
Bring to mind the love the family and pet shared.
32. "Pixie was the sweetest little bird. I can't believe how much you taught her to do."
Recall the special things about their pet.
33. "Dixie was such a special horse and I know she'll be waiting for you at the Rainbow Bridge."
Does the pet owner like the idea of the Rainbow Bridge? Bring that into your sentiments.
34. "Pedro was the fastest Chihuahua I've ever known. I'll miss him trying to race me when I come to visit."
If you shared a fun experience with the pet, speak about it.
35. "I'm so sorry to hear of Speedy's passing. He was such a cute little turtle."
Share your sympathy and recognize that the passing of any pet is hard on the family.
What to Say When Someone Dies of Cancer or Another Serious Illness
Terminal illness claims many lives each year. Provide comfort to their loved ones when you speak with them.
36. "I just want you to know my family and I are praying for you and your family."
Knowing they're being prayed for can be a great comfort to religious families.
37. "I'd like to watch the kids for you when you need some time on your own. Let me know what days you'd like me to take them."
Offer to help however you can.
38. "I'm sorry to hear about Jack's passing. I didn't know him very well, but I know everyone really respected him."
Share something special about the person who passed.
39. "I'm so sorry you've had to endure so much hardship over these last several months."
Acknowledge how difficult the journey has been for the person left behind.
40. "I just want to let you know you're in my thoughts and prayers."
Let them know that they're thinking of them and, if appropriate, praying for them.
What to Say When Someone Dies in a Sympathy Card
Write a heartfelt sympathy message in a card to give when attending a funeral or wake, or via email or snail mail when unable to go in person.
41. "Dear Norma, I'm so sorry to hear Charlie's passing. He had a wonderful heart and was a joy to have in class. We will all miss his bright smile and sense of humor."
As a teacher, share a few words about the special qualities you saw in someone's child.
42. "Sis, I can't begin to express how deeply sorry I am over the loss of your fiance. I'm here for you whenever you want a shoulder to lean on, a listening ear, or someone to sit with you."
Offer to be their shoulder to lean on as you acknowledge the deep pain a loss like this brings.
43. "Pauline, your husband was a pillar of our community, and his steadfast ways will be missed. He loved you so dearly and could never say enough about his 'dear Polly.' Keep his love with you, and he'll be with you forever."
Share sweet sentiments the deceased spoke about their spouse.
44. "Caroline, I'm so sorry to hear about the loss of your sister. The bond you both shared was so special. I know she'd be here today if she could."
Acknowledge special bonds and friendships shared between siblings.
45. "Patty, your mom was a wonderful woman who I looked up to and learned so much from. She truly lives on in you, for I see her kindness, patience, love, and generosity in the way you love those around you."
Share how the deceased person impacted your life and how their legacy will continue on.
Quotes to Share When Someone Dies in a Sympathy Card
Add a time-honored quote to a sympathy card or a sympathy note for flowers along with a message of your own.
46. "When someone you love becomes a memory, the memory becomes a treasure." – Author Unknown
Those we love are treasures, indeed.
47. "There are no goodbyes for us. Wherever you are, you will always be in my heart." – Mahatma Gandhi
We can carry the person's memory with us forever.
48. "What we have once enjoyed we can never lose. All that we love deeply becomes a part of us." – Helen Keller
A person's influence continues long after they are gone. This same sentiment is reflected in the next two quotes.
49. "
Do not think of me as gone. I am with you still in each new dawn
." – Native American Proverb
50. "A great soul never dies." – Maya Angelou
More Ways to Share Your Message
Depending on your relationship to the person who has experienced a loss, a sympathy card may or may not feel like the ideal way to share your words of sympathy. Here are some other places you can share one of the messages included above.
An online memorial page
Online memorial pages have become popular over the past decade, and they're still growing in use as a way to say goodbye. If you knew the person who passed away, you can share a tribute to them and your sympathy at the same time on the online memorial page. If the family hasn't created a page yet, consider recommending Cake's memorial page tool, which is completely free and very easy to use.
By phone
Calling someone who has just experienced a loss might feel like the most appropriate option, and sometimes it is. However, it depends how close you are to the person and how used to speaking with you on the phone they are. For example, a cousin who you talk to on the phone every weekend might be happy to receive your call. A co-worker who you've only spoken to on the phone once or twice would probably prefer a text, email, or sympathy card. After all, it's common to feel overwhelmed by sympathy phone calls after someone you love passes away.
Email
Email is an appropriate way to offer sympathy to someone you're not extremely close to, such as a coworker. An email sympathy message lets the person know you're thinking of them but doesn't demand their immediate attention during an already stressful time.
Text
Similar to an email, a text lets you offer your sympathies right away, without waiting on the delivery of a sympathy card (if you're sending it through the mail rather than hand-delivering it). A text is more informal and might be suitable for a friend or loved one who doesn't like speaking on the phone, or if you know the person is extremely busy with funeral planning and making arrangements.
Honoring a Life
What you say in light of someone's death has the power to bring comfort and encouragement to the grieving and honor to the person who passed away. Choose your words carefully and remember it's okay to simply sit in silence and let your friend, loved one, or acquaintance simply feel their pain with you there for support.