Cremation jewelry is a powerful way to keep your loved one close, no matter what. These types of jewelry pieces, including white gold cremation jewelry, often include an urn or vial of some sort to hold a selection of ashes from a cremation. They make thoughtful gifts for a grieving friend, and they're something to hold onto for years to come.
Jump ahead to these sections:
One popular type of cremation jewelry is white gold cremation jewelry. This type of gold is a special mixture of gold and white metals, creating something that's the perfect balance between durable and beautiful.
Whether you're shopping for yourself or a loved one, this guide explores the beautiful types of white gold cremation jewelry. These are the perfect way to honor someone who is no longer here.
Tip: If you're looking for something very unique to display (think a game, a classic car, or instrument of choice), you can custom order an urn from a store like Foreverence. You submit a design idea or sketch, then the company designs and 3D prints your urn, so you get a 100% unique container. Another unique alternative is transforming ashes into cremation stones with Parting Stone.
What Is White Gold?
There are a lot of misunderstandings about what white gold is. Is it real gold? How does it differ from other types of gold jewelry?
In short, white gold is a mixture of both pure gold and other white metals. The pure gold is usually mixed with nickel, silver, and palladium. It's also often coated with rhodium. White gold is still real gold, but it's not entirely made of gold like solid gold jewelry.
Why opt for white gold compared to platinum or yellow gold? It comes down to durability. Gold is easily nicked and damaged, making it higher maintenance when used in jewelry. Since we're talking about cremation jewelry, it's important for this piece to stand the test of time.
Because white gold is pure gold mixed with other, stronger metals, it's more durable than its counterparts. It's also a more affordable choice, though it looks identical to other types of gold.
» MORE:
Our members can save an average of $1000 when funeral planning.
Join now.
What Should You Look for in a Good Piece of White Gold Cremation Jewelry?
When choosing your white gold cremation jewelry, there are some things to look for. Aside from working with a jeweler or experienced retailer, there are some factors both unique to this type of gold and this type of jewelry.
Consider the following during your search:
Karat:

Like other types of gold, the higher the karat, the more expensive it is per gram.

Nickel content:

If you're allergic to certain metals, look for white gold cremation jewelry that is nickel-free. This is less likely to create any reactions with sensitive skin.

Security:

Some cremation jewelry contains a small vial or container for ashes. You'll want to ensure this is secure and sealed to prevent any accidental spillage.

Plating:

White gold jewelry is often rhodium plated. This makes the gold thicker and more durable. If the layer isn't thick enough, it might wear off quickly, which exposes the yellowish under-layer.

Shapes:

The shape of the jewelry should also have significance to you, the deceased, or your family.
Like all jewelry, there's no one-size-fits-all style. White gold cremation jewelry is a classic choice that's unlikely to go out of style anytime soon. They make long-lasting family heirlooms, perfect for passing down through generations.
Types of White Gold Cremation Rings
Cremation rings are rings that honor a loved one after a cremation, usually with the cremated remains themselves. Like the ring itself, these are a symbol of eternal love and never-ending remembrance.
1. White gold diamond rings
One common choice for memorial rings is to include a memorial diamond. This is a diamond that's created with someone's ashes through a pressurization process. It creates a gorgeous, eye-catching diamond perfect for a white gold cremation ring.
After a consultation and a few months of waiting for the diamond to grow, you'll have a custom diamond that you can get set on a ring, necklace, or other jewelry.
Some companies, like Eterneva, create lab-grown diamonds and allow you to pick from several cuts and colors for your gemstone.
2. Resin cremation ring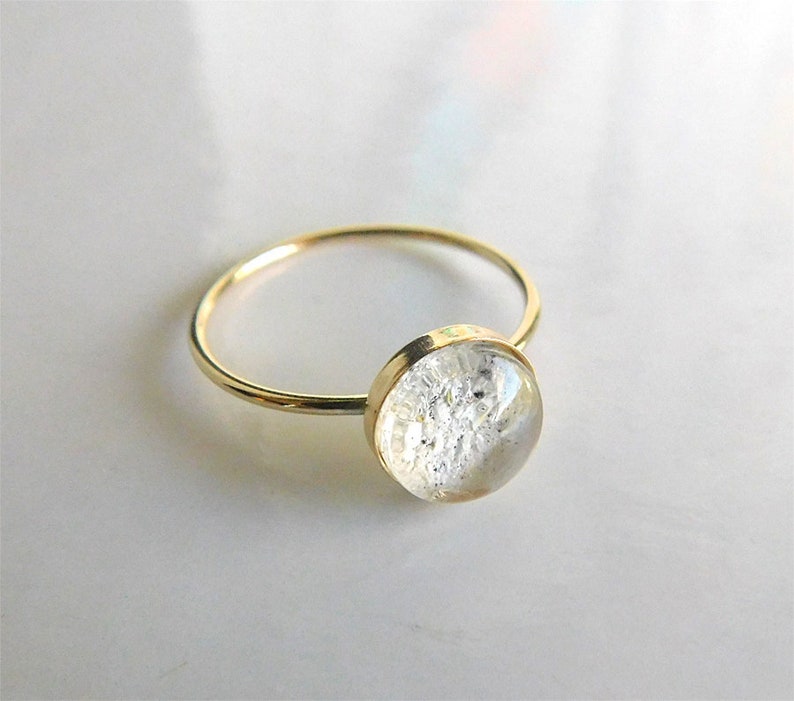 Another alternative to a memorial diamond is the resin ring. These are white gold rings with solidified cremains set into the top, similar to the placement of a gemstone.
The cremated remains are mixed with resin and sometimes even color to create a gorgeous design that's one-of-a-kind.
3. Heart rings
For many, the heart is a reminder of the love they shared with their loved one during their time on earth.
The heart of these white gold cremation rings holds a selection of ashes, securing them inside, much like the memories inside one's heart.
View Product on Jewelry Keepsakes
4. Simple white gold band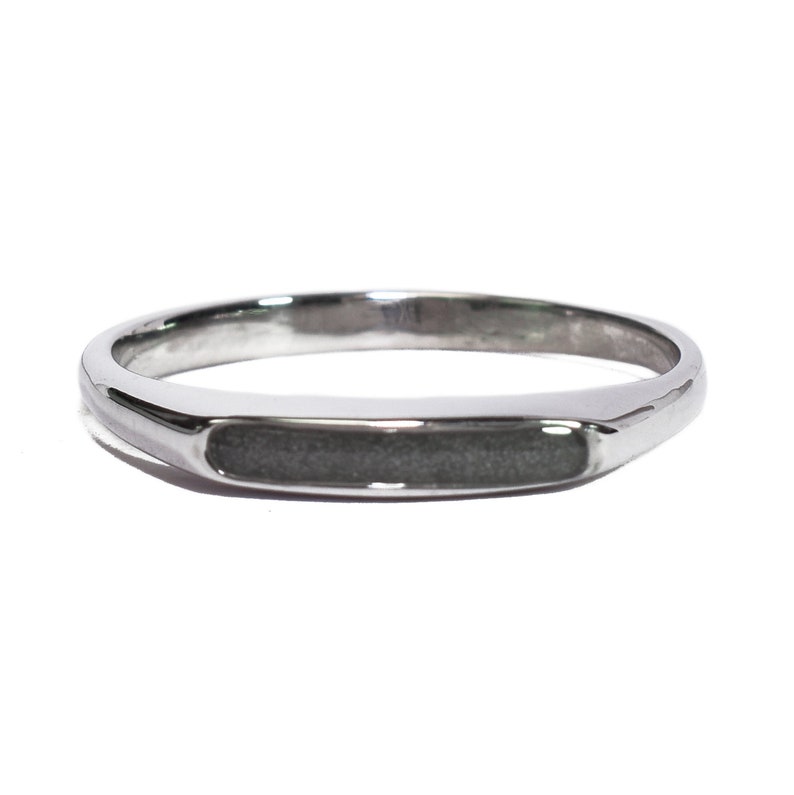 Lastly, it's also possible to choose a simple white gold band that's hallowed enough to hold ashes.
These are sealed inside discreetly, a small reminder that the ones we love never leave us. Timeless and classic, this is a ring design that never grows old.
Types of White Gold Cremation Bracelets
White gold cremation bracelets are also a popular way to hold your loved ones close. Easy to wear and versatile, these are something you'll want to wear on a daily basis.
5. Charm bracelet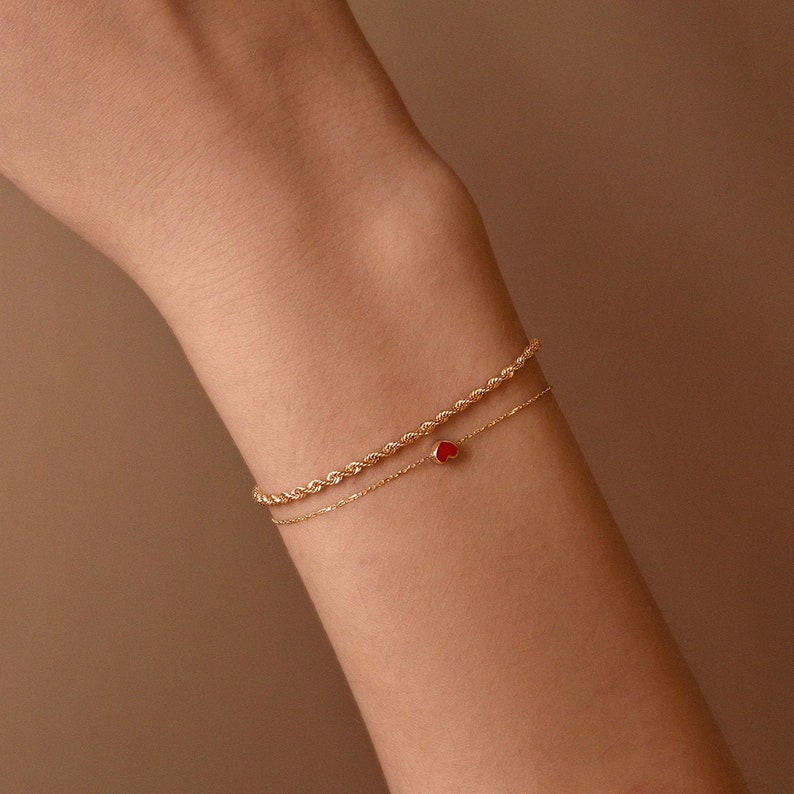 The simplest option is a white gold charm bracelet. There are many white gold urn charms that are perfect for adding to your charm bracelet. Fill the jewelry with your favorite reminders of your loved one and the future to come.
6. Urn bracelet
White gold urn bracelets are increasingly common, and they're more discreet than the name implies. These are small, woven bracelets that have space for including your loved one's ashes. Their memory literally wraps around your wrist, a gentle reminder that they're with you every day.
7. Cremation bangle
For a bolder option, opt for a cremation bangle. These are thicker, white metal works of art that have a hallowed interior for ashes. They're a louder statement piece, but the light jingle of them throughout the day is a form of peace in itself.
View Product on Modern Memorials
8. Locket bracelet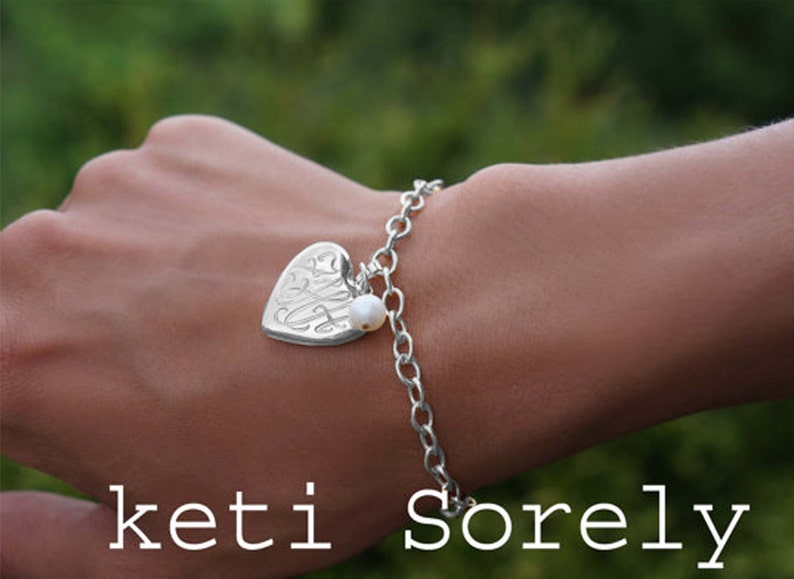 A fillable locket bracelet is a good choice for something that symbolizes the love you hold for your lost loved one. These simple white gold cremation bracelets appear like any other piece of jewelry, but they contain a locket for your loved one's ashes.
Types of White Gold Cremation Necklaces
When you wear a cremation necklace, you hold your loved one close to your heart. This gentle presence on your chest is a powerful form of comfort in a time of pain.
9. Locket necklace
Like a locket bracelet, you can also find a cremation locket necklace. These have a fillable space for cremated remains, and they also usually have a space for a cherished photograph. This truly brings memories to life.
View Product on Jewelry Keepsakes
10. Engraved white gold necklace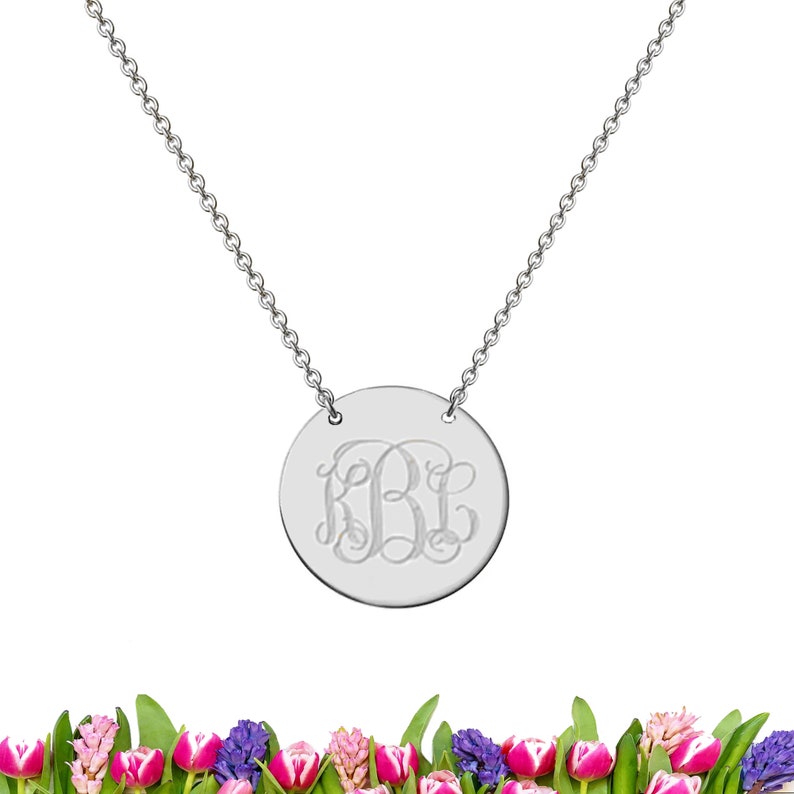 While the urn itself is a great reminder of your loved one, having an engraving can also be powerful. It's possible to have your white gold necklace engraved with the name, initials, or birthdate of your loved one.
11. Bar necklace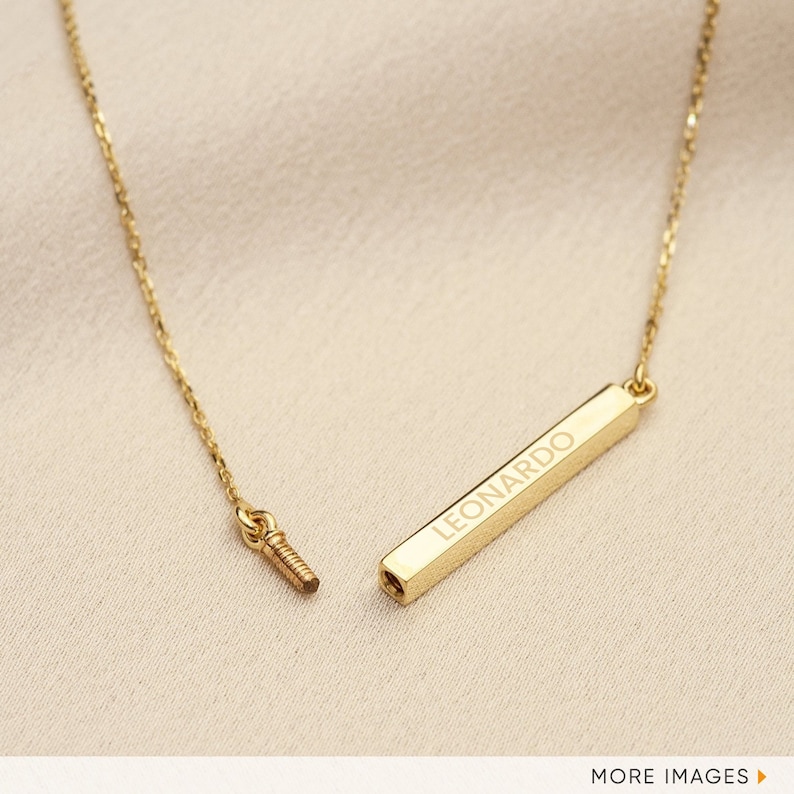 A popular, trendy choice in recent years is to wear a white gold bar necklace. These simple necklaces don't lack in style, though they easily blend in with your other style choices.
The bar itself is as durable as it is stylish, designed to hold your loved one's ashes safely inside.

12. Angel jewelry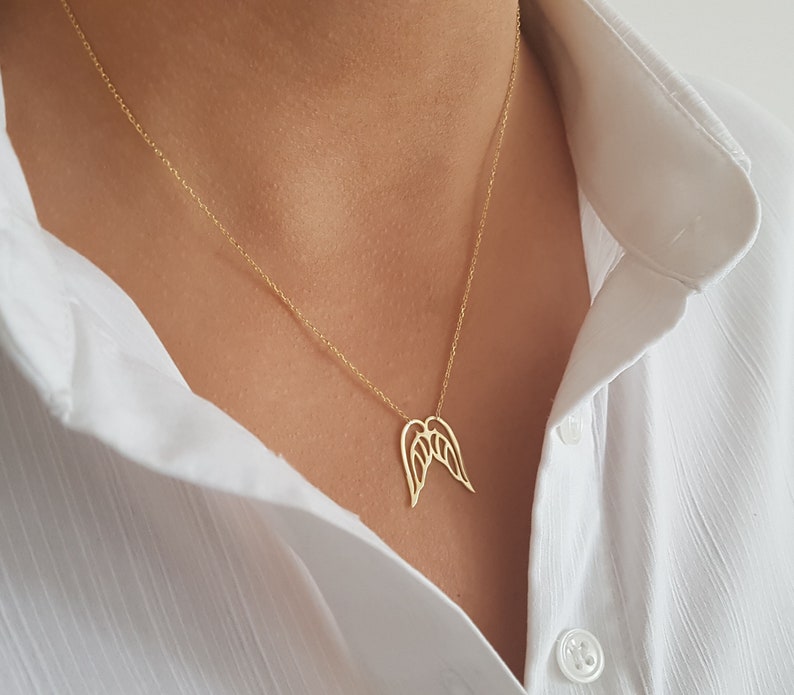 One of the most common white gold jewelry options to honor a loved one after death is to incorporate angel symbolism with angel wings jewelry.

These wings remind the wearer that they have a guardian angel nearby, always watching over them.
Types of Masculine White Gold Cremation Jewelry
White gold is a versatile metal that fits both masculine and feminine styles. For those looking for a more masculine choice, try these masculine cremation jewelry ideas.
13. Wooden ring
For men, it's possible to choose a design that incorporates both white gold and wood to create a more masculine style. Like other simple bands, these are hallowed and include a space for cremated remains.
14. White gold keychain
If you don't wear jewelry often, but you still want a reminder of your loved one, a cremation keychain is a good compromise.
A white gold cremation keychain has a small container for securing your loved one's ashes, but it's easy to take with you everywhere.
15. White gold hourglass necklace
A simple choice for a memorial necklace is to choose a white gold hourglass shape. These are discreet, holding ashes without drawing too much attention. It's also a versatile shape to match all design styles.
16. White gold and metal bracelet
For a simpler cremation urn bracelet, choose something that blends both the traditional white gold style with a metallic shade. These are durable enough for everyday wear, but they don't stand out as memorial jewelry.
Wear Your Cherished Memories
Having a constant reminder of your deceased loved ones to hold close is a powerful thing. Whether you recently lost someone special or you're honoring a special memory, white gold is the perfect choice for your cremation jewelry. Strong enough to hold ashes securely without compromising on style, this is something you'll cherish for the rest of your life.
Cremation jewelry is rapidly growing and expanding as more people look for ways to find peace after a passing. Though not for everyone, having your loved one's ashes near you can be a source of comfort.