If you're getting serious about your finances, end-of-life plan, and future, making a will is a natural part of that process. While in the past, the only option would be to do your own will yourself (not recommended) or work with an attorney, many people felt like a legal will was out of their grasp. Luckily, thanks to technology, times are changing.
Jump ahead to these sections:
It is now possible to create your own will online without ever leaving your house. You don't need any legal skills or any knowledge about how to write a will to get started. There are online tools that do the heavy lifting for you. One well-known online will tool is Willing. This digital platform made a name for itself by providing complete estate planning tools.
But, should you use it? Michael T. Flannery, an attorney and estate planning expert, sat down and reviewed Willing's service. We took notes on if it had elements to make a valid will, pricing, user experience, customer support, and other features. This review will mostly come from my perspective, a married 20-something, but you'll find Michael's observations and tips labeled as "attorney's note" throughout the article.
So, with so many similar tools, how do you know how Willing compares to others? In this guide, we'll review the Willing online will maker to share the pros, cons, and costs.
Overview: Willing's Online Will Maker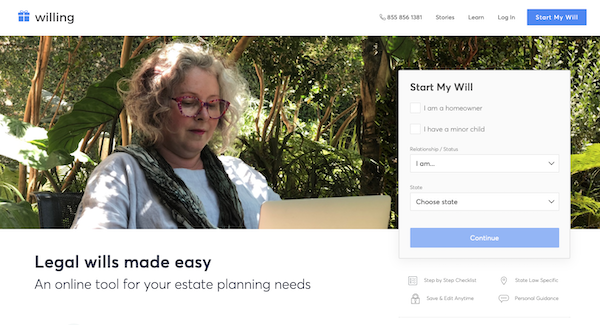 Cost:

$69

How you receive your will:

PDF for download

User experience:

Sleek interface, easy to understand, but no FAQs

Time to complete

: 15 minutes

Policy for updating:

Update anytime

Support:

Option to talk to a support agent
Try Willing's Online Will Maker
With Willing, you can create a legally-binding will in less than a half hour. While not free, Willing is an affordable alternative to working with an attorney one-on-one. In addition, there are several upgrades you can add to your plan for additional coverage.
Developed by a team of attorneys, Willing uses the information from your questionnaire to input your information into an auto-generated will. While that might leave you wondering about whether you're fully covered, Willing includes a lot of key questions to make sure your needs are met. You don't need any experience or know-how to get started. Everything is explained simply, making this one of the leading online will platforms.
Pros
Sleek and easy-to-use design

Comprehensive coverage options

No complicated legal jargon
Cons
Higher cost than other online will tools

The low-cost plan is limited
When we reviewed 13 online will platforms, Willing made it on our "Best Overall" list. Check out our picks for the best online will platforms for the full results.
Willing's Pricing and What You Get
Willing is competitively priced, and there are different tiers, depending on your specific needs. The lowest cost plan is the individual plan, but it might be worth upgrading if you need more comprehensive coverage for your situation.
Individual ($69):

The individual plan is for those making a will for themselves only. You receive a will and testament, living will, durable power of attorney, and state-specific signing instructions to legalize your documents.

Homeowner ($299):

If you own a home and want to keep it out of probate court, this is the plan for you. It includes all the documents from the individual plan plus a transfer on death deed, revocable living trust, and deed information for your county.

Ultimate Care ($399):

With this plan, you receive everything from the other plans as well as premium customer support and overnight delivery of your documents.
For most people who don't have a complicated plan, an individual plan is likely more than enough coverage. When in doubt, an attorney can direct you towards which forms are best for your situation.
Situations Willing Does and Does Not Cover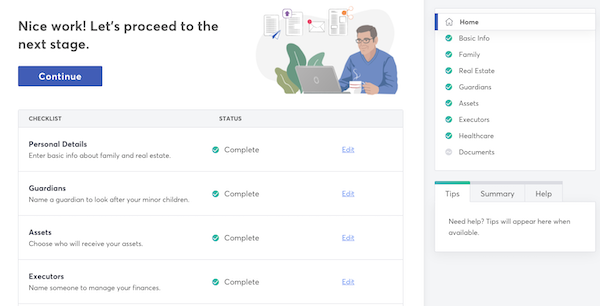 For the price, Willing is a comprehensive option. However, like all online wills, it does have its limitations. Most people should be able to complete a will with Willing's platform.
However, more complex situations might require a different tool or assistance from an attorney. You can begin your plan with Willing for free, so you could try it for yourself before you buy it.
Situations Willing covers
Willing covers a lot of situations for the majority of users. With over 500,000 wills completed using their platform, they're familiar with what the bulk of people need when they're creating an online will. Situations covered include:
Guardianship:

Basic guardianship for dependent children is included with the basic plan. You can set a primary and secondary guardian in case of an emergency.

Assets:

You can decide the

assets to include in a will

yourself. The basic plan allows you to add specific gifts and choose who to leave your assets to after you die.

Executors:

Willing allows you to assign someone as the executor of your estate. This means they manage your finances if you're no longer able to do so yourself, and they'll assist with executing your will.

Healthcare:

Wiling also includes a healthcare section for naming someone to make decisions about your healthcare if you're unable. There are also questions about your medical wishes.
For most people, this is more than enough. However, if you have specific end-of-life wishes or you own a home, you might consider upgrading.
Attorney's note: If you're looking for something more comprehensive, take note that other instruments, like a living will, durable power of attorney, etc., were included in the same document as the will.
» MORE:
An online memorial is a perfect ending to honor and celebrate someone's life.
Create one for free.
Situations Willing does not cover
As mentioned above, Willing doesn't cover everything. You'll need an upgraded plan to do these services, or you'll need to use a different service.
Pet guardianship:

There's no option to include a pet guardian in any of the Willing plans.

Home or estate plan:

For more complex home or estate plans, you'll need an upgraded plan.

Power of attorney:

This allows someone to take over your finances or act on your behalf if you're unable. You'll need an upgraded plan for this document.
If you're not sure what documents you need, you could speak with Willing's support or speak to a qualified attorney.
Willing's Policy for Updating Your Will
Willing has some limitations with how frequently you can update your will. You only have access to your will once you pay for your plan of choice. From there, users have unlimited changes for up to six months without any additional charges.
After the first six months pass, you'll need to either start from scratch with a new plan or pay a fee to gain access to your will. If you don't expect to need any updates in the near future, this might be a good compromise.
Willing's User Experience
Overall, Willing is one of the easier online will platforms to use. Each question is presented in easy-to-understand terms. Even for those without any experience making a will or understanding legal terms, it's incredibly simple.
Compared to other online will tools, Willing is modern and sleek. The design is functional, loads quickly, and is compatible with multiple devices. Making your will with Willing only takes a few minutes, and it's a pleasant experience from start to finish.
Willing's Customer Support
The level of customer support through Willing depends on the plan you choose. All users have the option to speak to a customer support representative through the online chat feature or to contact the support email. While this is a non-attorney agent, help is available.
However, ongoing, priority customer support is only offered for the more comprehensive plans. The Ultimate Care plan ($399) includes priority support every step of the way. It's important to recognize that while attorneys did build this tool, you are ultimately responsible for the legality of your will.
Are There Any Extra Steps to Legalize Your Will With Willing?
Once you complete your will through Willing, you'll have access to your documents digitally. You aren't done from this point. You need to take a few steps to legalize your will. These steps depend on the laws in your particular state, but they're usually as follows:
Witnesses:

First, you'll need witnesses (usually 2) to sign your document. Most states require these to be people who are not relatives and who are not listed in your will.

Notary:

Your document also needs to be notarized.

Signature:

Finally, you'll need to sign your document yourself in front of your witnesses.
Once these steps are complete, your will is officially a legal document. Store it somewhere safe and share it with your family members just in case.
Attorney's note: Willing's online platform has sufficient elements to make a valid will.
Should You Create an Online Will With Willing?
It's easy to see why Willing is such a popular tool for creating a legal will in minutes. Whether you're creating a plan for your home or just completing a basic will, there are a lot of flexible options with Willing. However, before you begin, make sure it's a good fit for your situation.
There's no one-size-fits-all when it comes to online wills. As long as you're taking your unique needs into account, you're taking a proactive step in the right direction. Being prepared for the future doesn't have to be complicated.
Still aren't sure if you should use Willing? Head on over to our picks for the best online will makers, take our online will maker quiz, or take a peek at our top picks below.
Best online will makers

| Online will platform | Cost | Key features | Get started |
| --- | --- | --- | --- |
| | $159, one update per year | Easy to use, most comprehensive | |
| FreeWill | Free, update anytime | Sleek interface, better suited for simple estate situations | |
| Willing | $69, update anytime | Simple to use, may need to upgrade for more complex will | |