How it works
GatheringUs helps you plan a virtual memorial event after the death of a loved one. They will be there for you every step of the way.
Here are some of the ways they can help:
Program Planning
Work with an experienced planner to create a meaningful and personal service
Event Facilitation
An on-screen coordinator will begin the ceremony and guide your guests
Memorial Page
Create a page to share info about the event, including a place for photos, guestbook comments and donations
Schedule a free consultation
Find out how GatheringUs can meet your specific needs.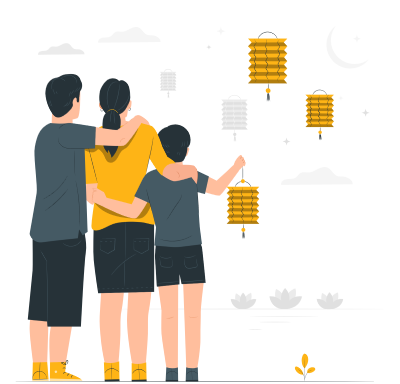 Still not sure?
Here are some answers to the most common questions we receive.
How much does a virtual funeral cost?
The cost of a virtual funeral ranges from $1400 to $3500 depending on the event. This is often cheaper than a traditional funeral service, yet more accessible to friends and family across the world.
What if I'm not comfortable using technology?
GatheringUs offers technical support to make sure all the speakers can log into the event on Zoom and their sound, video, and lighting are working. For hybrid events, they work with you, a funeral director, or clergy member to connect audiovisual systems, determine the optimal position and settings for cameras/microphone. They can connect to a funeral home, church, or another location, and no additional equipment is required.
Why should I use a service like GatheringUs instead of organizing a virtual event on my own?
Memorial events are about honoring our loved ones and giving us space to get support from our communities. Planning your own event might mean that you're busy focusing on logistics rather than being in the moment with family and friends. It can also be quite stressful trying to create the perfect event to celebrate your loved one. Getting help from experienced professionals, like those at GatheringUs, means you can worry less about the event and focus on being present with your community.
Have a different question? Reach out to GatheringUs.
What people are saying about GatheringUs
"I thank you from the bottom of my heart for your partnership in creating Aunt Patt's Celebration. Frankly, I'll miss talking (and laughing) with you! I feel as though you've become a friend. You probably get that from lots of folks with whom you work. The last two weeks were amazing. It was odd to be the person to spearhead event, but it was such a privilege to focus on Aunt Patt and honor her life. The experience enriched my life - and you were there holding my hand. Thank you."
"It was exactly what we were hoping for— a meaningful tribute to our mother despite the physical barriers preventing us from being together. We appreciate your smooth coordination and quick turnaround. It enabled us to be present in the moment. We are getting so many messages from our family and friends who felt it was a wonderful service."
"It was a beautiful service and tribute to our dad. We can't thank you all enough. I had tears again watching the video again, but good tears. I thought the next day would be crippling for me given that it would be our first Father's Day without him, but having the mass and having it well done helped a lot. My heart felt lighter and at peace."